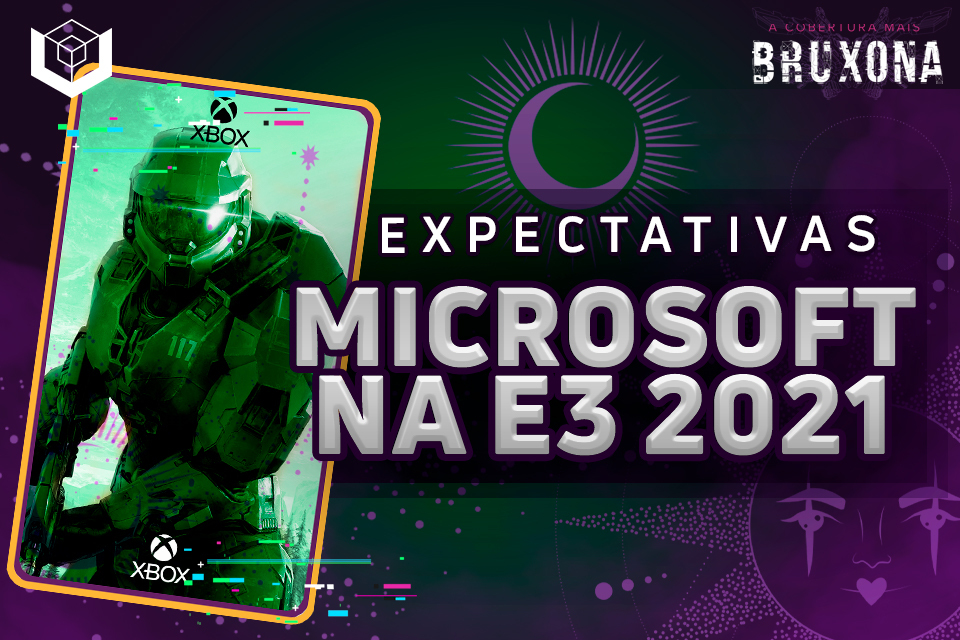 Among the various conferences already scheduled for E3 2021, few generate as much expectation as Microsoft's. After all, it recently launched its new Xbox Series X and S consoles, the Game Pass continues to prove a successful example with its enviable backlog, and the company has acquired several studios under the baton of master Phil Spencer.
The biggest example of this comes precisely at the end of last year, when the purchase of Bethesda was completed. In addition to shaking up the industry by itself, this acquisition already has clear effects for this year's E3, when Microsoft and Bethesda will unify their presentations, which until then used to be separate events.
Now called "Xbox & Bethesda Games Showcase", the broadcast is scheduled for June 13 at 2:00 pm GMT. A website about the event is also already online, and an official tweet has started to warm up the engines for some of the news we'll see there:
Games, Games, Games ???
World Premieres ??
New titles on @XboxGamePass ?

Save the date for the Xbox & Bethesda Games Showcase: https://t.co/ezcMtO6JM6 | #XboxBethesda pic.twitter.com/WHVbgZl5Fo

— Xbox (@Xbox) May 26, 2021
"Games, games and more games! World premieres! New Xbox Game Pass titles!" promised the Xbox account. "Write down the Showcase date in your calendar!" Sounds pretty self-explanatory, doesn't it? But let's break this down and discuss a little bit about what might or might not show up at this year's fair! Oh, it's worth remembering: we'll be doing a separate story about Bethesda's expectations at E3 2021!
Xbox Game Pass, the star of the show
In January of this year, Microsoft had already revealed that its main subscription service has passed the 18 million subscribers mark, and what we've seen since then has been an incredible growth of its game catalog, as well as the expansion of the service with even more force. in the cloud and smart devices.
It is to be expected that not only during E3 but also throughout the year, the company will continue to invest heavily in initiatives such as Xcloud, and it is possible that at least a little of the transmission time will remind us of this exciting technology. But the focus should really be on the games, and it wouldn't be surprising to see several of them being added to the download catalog on the showcase day itself!
June is our favorite month. it rhymes with soonhttps://t.co/7ZXUoatGwV pic.twitter.com/BtHI0uLVOF

— Xbox Game Pass (@XboxGamePass) June 1, 2021
After all, earlier this month Microsoft continued its tradition of revealing which titles would soon come into service, but limited itself to quoting just four of them. It was practically a consensus among the community that the best is in store for E3! A hot rumor suggests there's even a chance that Ubisoft's Uplay service will be integrated into Game Pass, just as it did with EA Play, but we'll just have to wait and see.
While big games and heavyweight partnerships are to be expected, it's worth noting that Microsoft has always shown a lot of appreciation for indie developers, and traditionally devotes a good deal of conference space to them. So, whether on the Xbox Game Pass or beyond, betting on a slew of indie revelations seems like a safe bet.
More information about games already revealed
There are a fair amount of very promising games on the horizon, including some of the top classic Microsoft franchises and even interesting projects from established studios that haven't gained much information or trailers yet. Starting with the most obvious, as the franchise features prominently in the showcase art, this is the definitive time for Infinite Halo!
After several controversies about its look, which ended up contributing to the postponement of the game originally scheduled to come out with the new consoles, developer 343 Industries showed several images more neat and consistent with the fun gameplay we saw in the first trailer. E3 2021 is a golden chance to win over even the most skeptical fans and bring the company's flagship exclusive series to its rightful place in the pantheon of video games.
Another game that will possibly show up is Senua's Saga: Hellblade 2, the hyped sequel to the award-winning hellblade. All we have so far is a brief teaser trailer shown there at The Game Awards 2019, so Ninja Theory has had a good time to prepare a little gameplay and maybe even a release preview.
Another safe guess is the appearance of Psychonauts 2, another long-awaited sequel, as the first game has a legion of fans in love with the captivating characters created by legend Tim Schafer. As he himself told us in an exclusive interview, the director's idea is to celebrate humanity and empathy, exploring the mind from new and exciting angles. This game already looks pretty close to being ready, so how about dreaming of an immediate release at E3?
The Rare Factor
Although the traditional media does not resonate with the subject as much, Sea of ​​Thieves is now one of the best multiplayer games to enjoy with your friends, and one of the most popular titles on Twitch, where it is always on the rise. This is the result of excellent work by Rare, who proved to be in top form and released one of the most underrated games of the generation.
It would be nice to see the British studio taking advantage of the momentum to show more content from the high seas adventures to the large audience of E3 2021, and it's quite possible that that will happen. But a more likely bet is to see a little more of your newest project, the interesting one everwild, which was unveiled in late 2019 with a wonderful trailer filled with beautiful backgrounds and creatures. The showcase is a great opportunity to pique our curiosity even more with an unprecedented trailer!
Partnerships or purchases from other studios
One of the main reasons to look forward to the Microsoft conference was the effort exerted by Phil Spencer and his team to buy several studios and supply the company's lineup of exclusive releases over the past few years. Maybe they'll step on the brakes now, or maybe we'll have the announcement of the acquisition of more talented teams? This type of ad is always perfect for E3!
Microsoft's stage also often makes room for long-awaited partner companies or third parties. Although the launch of the game was quite controversial and disappointing, one of the best moments of E3 2019 happened precisely at the Microsoft ceremony, when actor Keanu Reeves appeared to promote cyberpunk 2077, giving birth to the "You're breathtaking" meme:
This might just be a very optimistic shot, but have you ever wondered if the most anticipated third of the moment, the game The Elden Ring from FromSoftware, decided to drop in at the conference? It would go down in history!
And there's more!
While we're talking about buying studios, it's worth remembering that Obsidian, now part of the Xbox family, released the first teaser trailer for its upcoming release, avowed, almost a year ago. It would not be a crazy dream to want to see some concrete gameplay of the project already in this edition of the fair.
By the way, Obsidian may appear in double dose at the conference, as its team also continues to work hard on Grounded, a very fun adventure that went into early access in July 2020. The timing couldn't be better for a glimpse into the future of this game!
Who might not show up is the new fable, since the trailer shown last year only had very vague animations, still far from what should be the final product. As the title still seems to be in the early stages of development, it's more logical that other games closer to release take up its screen time.
Now in the field of rumors, it seems like a great time for one of Microsoft's top franchises to shine on the next generation of consoles. The rumors about Forza Horizon 5 they are accelerating at full speed, endorsed by respected journalist Jeff Grubb.
Another very hot and recent rumor points to the revelation of Outer Worlds 2 already at this showcase, so our fingers crossed! It would be especially cool if that happened right after the announcement of more content via DLC for the franchise's first game.
With so many great games already confirmed, immersed in rumors or with great chances to show their faces at the fair, Microsoft seems to have the knife and cheese in its hands to make one of the best E3s in its history.
But what about your expectations, how are they? Let us know in the comments below!