Last week, the news that the G Suite will be discontinued left platform users upset. For many, migrating to the Google Workspace is not an option because of subscription costs. For others, there is an aggravating factor: the impossibility of transferring purchases made with these accounts. That's why a US law firm is considering filing a class-action lawsuit against Google.
For users affected by the change, what weighs most, in general, is the G Suite dependency relationship developed over several years.
Several years, even. Originally called Google Apps, the platform was introduced in 2006 as a set of services that included chat (Google Talk), calendar (Google Calendar) and, of course, Gmail, but with its own domain.
Since this package was free, many people used Google Apps to create small business emails or personalized addresses in the style meudominio.com. Initially, each customer could count on 100 free Gmail accounts. Some users report that later this number was revised up to ten accounts.
But at the end of 2012, the "party" was over. Google Apps has stopped admitting users with free accounts. Fortunately, those who had created accounts before this change could keep them, even when, in 2016, the platform was rebranded to G Suite.
This means that, for more than 15 years, many people have been able to maintain free accounts on the platform, with a custom domain. Not infrequently, these accounts were (and are) used to purchase or subscribe to content on YouTube or the Google Play Store, for example.
Google may face class action
It is at this point that the lawsuit begins to be considered. With legacy G Suite, as it's called, being discontinued, users who don't want to pay to take their accounts to Google Workspace will have to turn to services from other companies; but in this process, they won't be able to transfer subscriptions or purchases to a standard Gmail account.
The court case is being prepared by Chimicles Schwartz Kriner & Donaldson-Smith. The firm has a history of class action lawsuits against Google. One of them, not yet judged, has to do with an infinite loop problem at boot on the Nexus 6P.
At the moment, the lawyers are collecting information to study the possibility of the process being opened. Perhaps this will put pressure on Google to provide a mechanism that allows for the migration of subscriptions or purchases to other accounts.
For now, that's not in the plans. To the Android Police, Google confirmed that "no, customers cannot migrate these subscriptions and purchases to a free Google account".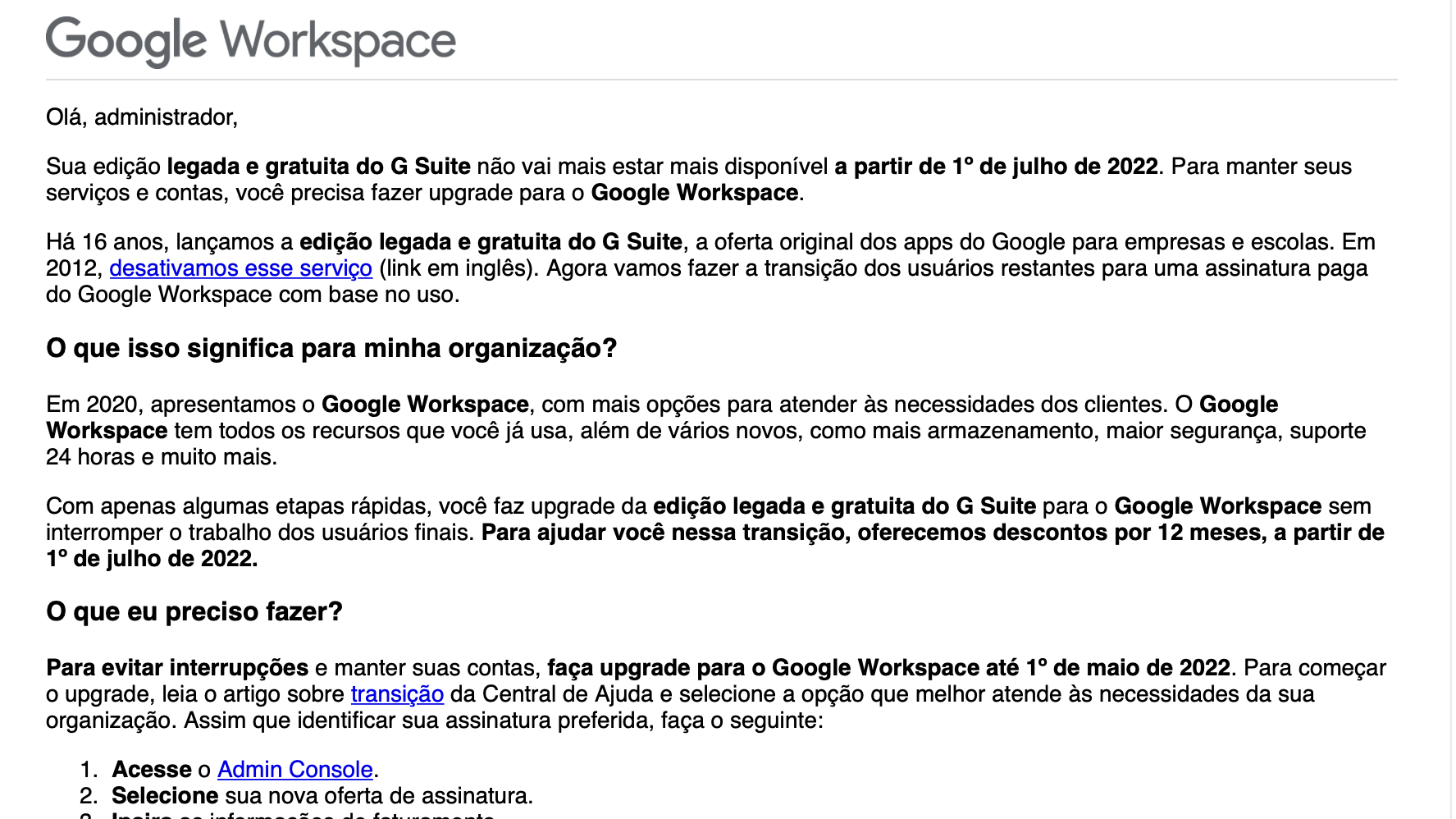 The company also said that customers who do not upgrade to Google Workspace will not lose login credentials for services such as YouTube and Google Play, for example, however, they will not be able to send or receive emails, not even for password recovery.
Based on this limitation, Benjamin F. Johns, one of the lawyers handling the matter, suggests that the chances of the class action being opened are not small:
This seems to be a classic bait and switch strategy: luring people and businesses to sign up for a supposedly free service and then, years after customers get used to using their G Suite accounts, forcing them to make an unsustainable choice between pay for that service or basically lose access to it. Imagine if, suddenly, Facebook started charging its users.
Free G Suite ends July 1
Legacy G Suite users must migrate to Google Workspace or another platform before July 1st. If the user doesn't make any decision by May 1, Google itself will start the migration to Workspace, whose cheapest plan, in Brazil, costs R$ 24.30 per user per month.
For customers who choose to migrate to another company's platform, this tutorial explains how to download data from a Google account via Takeout.
With information: Android Police.