Among the many technical specifications that you find when buying an electronic screen, either a television or a cell phone, or a camera, a new acronym has appeared in recent years. It is HDR, which is seen as a differential, that will elevate your experience of creating and consuming content. But what is it exactly? Does it really change a lot or is it just one of those marketing moves?
To begin, we need to check out what this acronym means. HDR is High Dynamic Range, something like "big" or "high dynamic range". In other words, this is a technique or image mode, which will capture or display content with a wider and more varied – dynamic – range of lighting resources. After all, not everything has the same brightness, even more objects at various depths of field or angle, and you will not pause the video to keep changing the brightness level on the remote control each time a film changes the scene. And HDR will ultimately show you the best possible result. The opposite of it, which is the standard image display format, is SDR, or Standard Dynamic Range.
Source: AWS
We will talk here about HDR that appears on screens and that of cell phone cameras, starting with the first.
HDR on TVs
Televisions that claim to be HDR are those capable of delivering the best possible performance in terms of brightness, color reproduction and contrast. This means that you will feel the immersion and fear of the unknown in very dark scenarios of a horror movie, for example, or even a little heat in well-lit scenes on the beach, so realistic that the representation of the light became. These changes are sometimes quite significant, sometimes more subtle, but certainly changing for the better. For this, the screen does not necessarily have to be 4K, although the higher the resolution, the more visible the result, and in the case of TVs the majority that offers HDR are already in this range.
An important factor here is the intensity of the brightness supported by the screen itself, or luminance, which is measured in nits. The higher the maximum value reached, the better. The opposite is also true, which is the ability to display the black level, without any point of brightness, a dark that feels dark.
HDR displays can achieve high quality standards in this regard, but the type of screen must also be taken into account. In OLED, for example, the pixel "off" and without light gives this feeling even better, only that it is the LED or LCD that reaches a higher brightness intensity.
The world's first 4K OLED TV with HDR capability was the LG EG9650, presented in 2015
But detailing this subject of LED, OLED, LCD, takes time, so it is a subject for another text. Oh, and the result is not super artificial, as if it were really a device gambiarra: everything is worked on so that color and brightness are intensified in the most natural way possible.
However, for this to happen, another important factor is that, for the reproduction to be perfect, you need to have HDR on both sides. That is, the device with a screen must be compatible with the technology and the content must be enabled as well. Physical media, games, video and streaming services are gradually adopting the novelty and, when it doesn't, the conversion is a little more artificial.
In addition to all this explanation, there are also several HDR standards, which are rivals in the market and sometimes favored by one or the other manufacturer.
There is Dolby Vision, which is of very high quality, but more expensive to be licensed because it is an owner; the HDR10, which uses slightly less realistic fixed brightness information, but has become quite popular for being open use, including on PS4 Pro and Xbox One X consoles; the HDR10 +, which is an evolution with dynamic tracking; HLG, or Hybrid Log Gamma, which is a little less used out there and more common on TV stations, and Technicolor's Advanced HDR, which is actually a group of standards that vary according to your model.
Got a better one? The one by Dolby is usually the most praised in contrast, but you will find the HDR10 and 10+ more easily and they will do the job. Anyway, always keep an eye on the specifications of the device you bought or intend to buy to know the standard used, and also on the information of the content consumed to see if it supports this standard.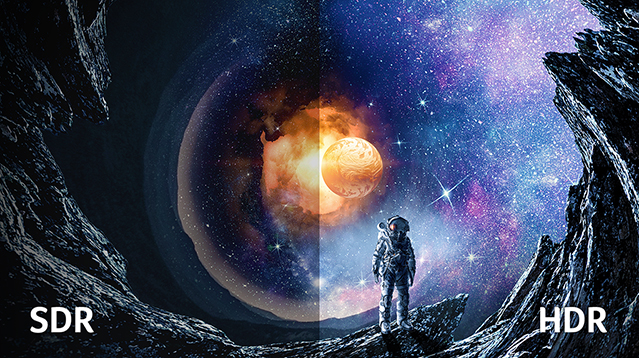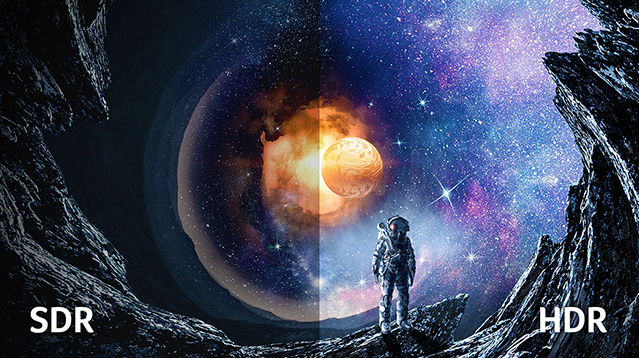 Image: Acer
HDR on cameras
In the case of cameras, it's not the same and HDR has a slightly different explanation. The idea is still to work with brightness and colors. But, in a very short way, it is as if you took exactly the same photo several times, only each time with a different light exposure: one with the sensor receiving a lot of light, the other a little less, and so on until the smallest exposure possible. And then, automatically, the system makes a combination of the results, with that dynamic range reached.
The idea is the same as for televisions: offering a balance between brightness levels, even in more complex portraits and with different lighting adjustments. Shadows are more accentuated and colors are more vivid.
The HDR technique has existed since the 19th century, as an experiment: photographers played with negatives to create differences that are impossible to make only using the camera between sky and sea, for example. Today, processing is done on the fly and almost immediately and with the built-in feature, both in digital cameras and smartphones.
HDR photography was a style of capture or even image editing by software that was very fashionable a few years ago, but not always well used. Sometimes there was a supersaturated result in colors and an 'even too realistic' look that bothered a lot of people. The HDR photo is not a magic solution to improve your click and is not indicated in all situations, like scenes with a lot of movement. But, if used well, it generates incredible results.
In short, HDR in televisions is a technology that is here to stay and brings better results. I know that a lot of people don't really see a difference, but it is well applied, with content that knows how to use contrast well and on a quality screen, the deal is really impressive. And on cameras it's a technique that can make any photographer look like a professional, but it has to be used sparingly.
So, of the HDR characteristics, which one do you think is most relevant? Is there a device with him there? Tell us in the comments!