professionals of design who work collaboratively can count on a powerful tool for creating interfaces and prototypes. THE Figma is an easy-to-use online editor that allows a team to have simultaneous access and work on the same project at the same time.
Figma is an alternative to software like Sketch and Adobe XD, bringing some interesting differences, such as a completely free plan. In addition, the ease of use and focus on collaborative work certainly represent other positive aspects for this program.
Check out more details about Figma below.
What is Figma?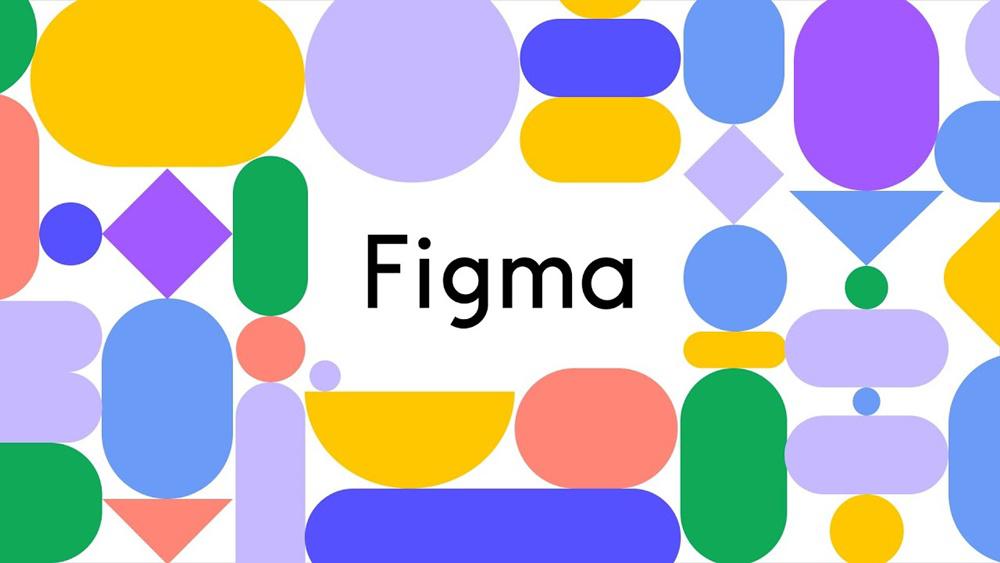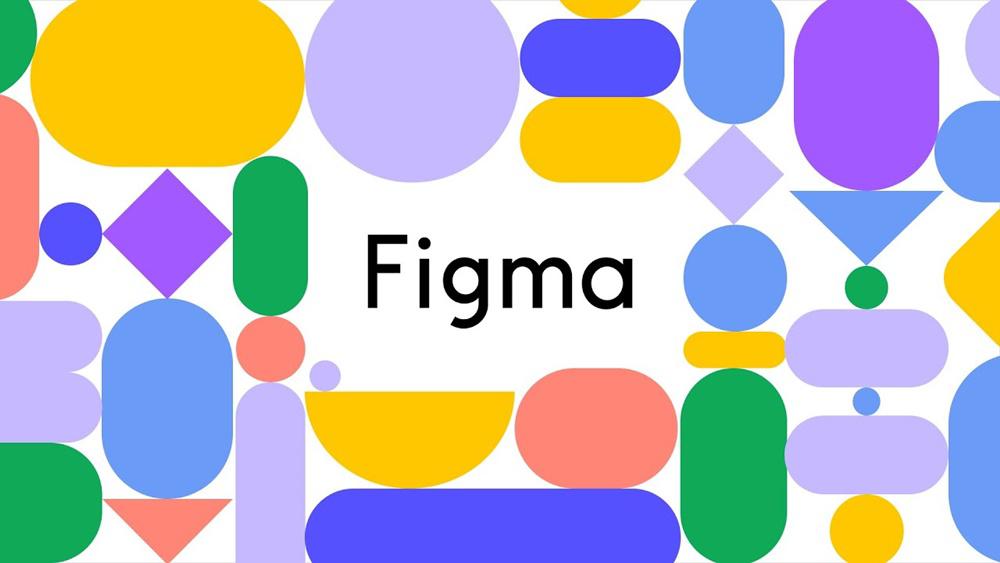 The main differential of this software is the possibility of working collaboratively and in real time.Fonte:  Figma
Figma is a web-based vector graphics editor primarily used for prototyping design projects. The program is available in three different plans, one of which is free, and has support for macOS and Windows, in addition to viewing interfaces on mobile devices (Android and iOS) through the Figma Mirror version.
The big difference between Figma in relation to competitors is the possibility for more than one person to work on a project at the same time over the internet – a way of working that has grown a lot in recent years. That way, everyone connected to the same file can view the changes made by their colleagues in real time, as well as interact and propose changes to the project for everyone to see.
How to use Figma?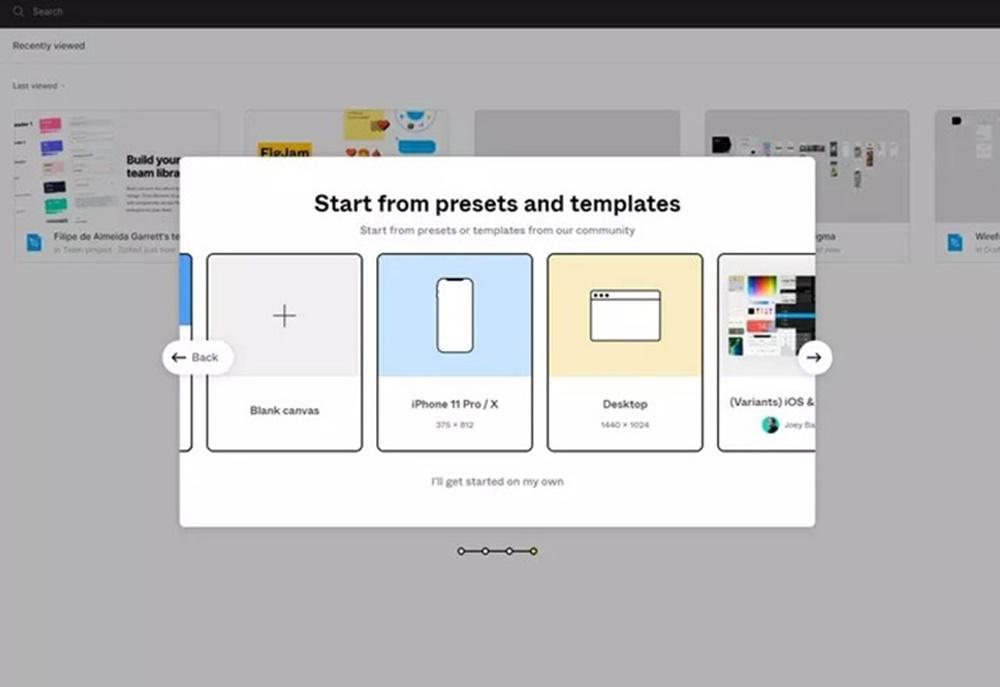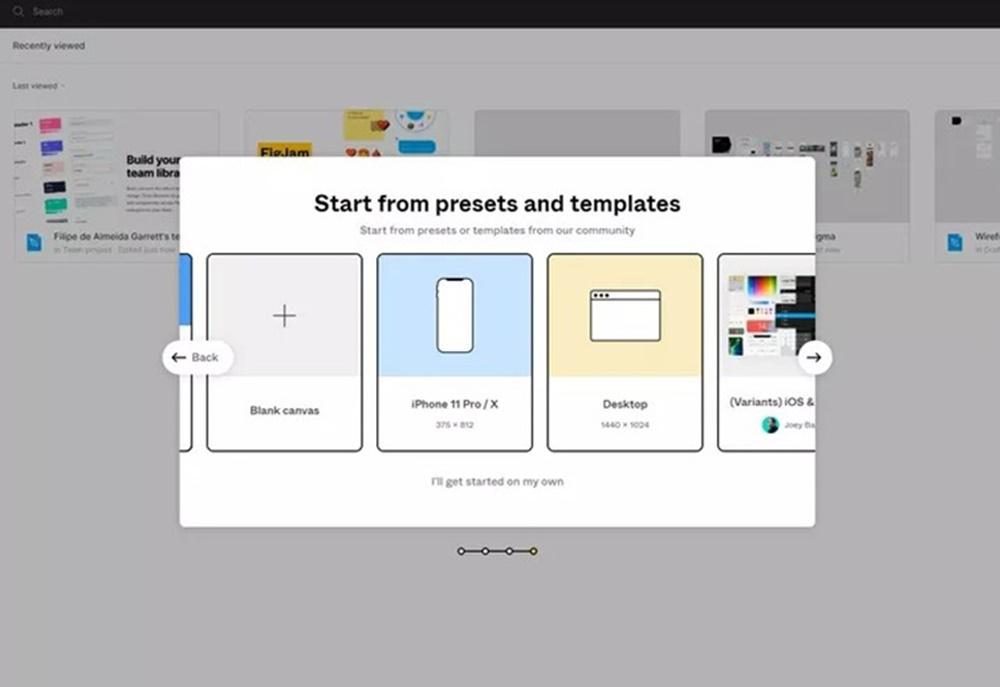 The first step is to define a template for your project or start a blank canvas for creating your design.Fonte:  Figma
The trend of many online tools is to make it easier to use and introduce to new users. Therefore, it is very easy to start using Figma, just create an account, choose a plan – we recommend the free one to start with – and dive right into a new project within Figma. software web.
When starting a new file, the program will suggest some templates to start the work. You can choose from an iPhone-based design template, a web page, software for Windows and macOS, a template for other smartphones, or simply start with a blank canvas to design the way you want.
After choosing your template, the editing tools become available, just select them and apply them according to your needs. As Figma is synced to the cloud at all times, there is no need to save the project. All changes are automatically saved, even those made by other logged in users.
collaborative work
To enjoy one of Figma's biggest differentials, just use the button in the upper right corner of the screen to share your file. When accessing the link, your colleague will need to login with their own account (or create it) to view the editing features. Even the free plan offers unlimited collaboration per project.
Discover Figma's plans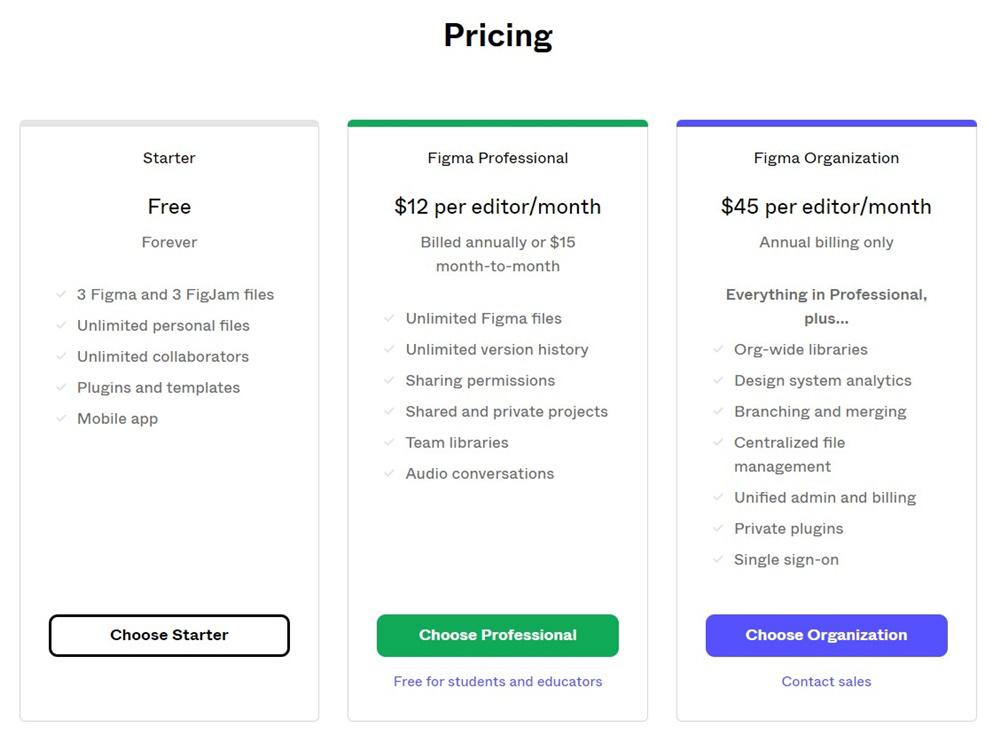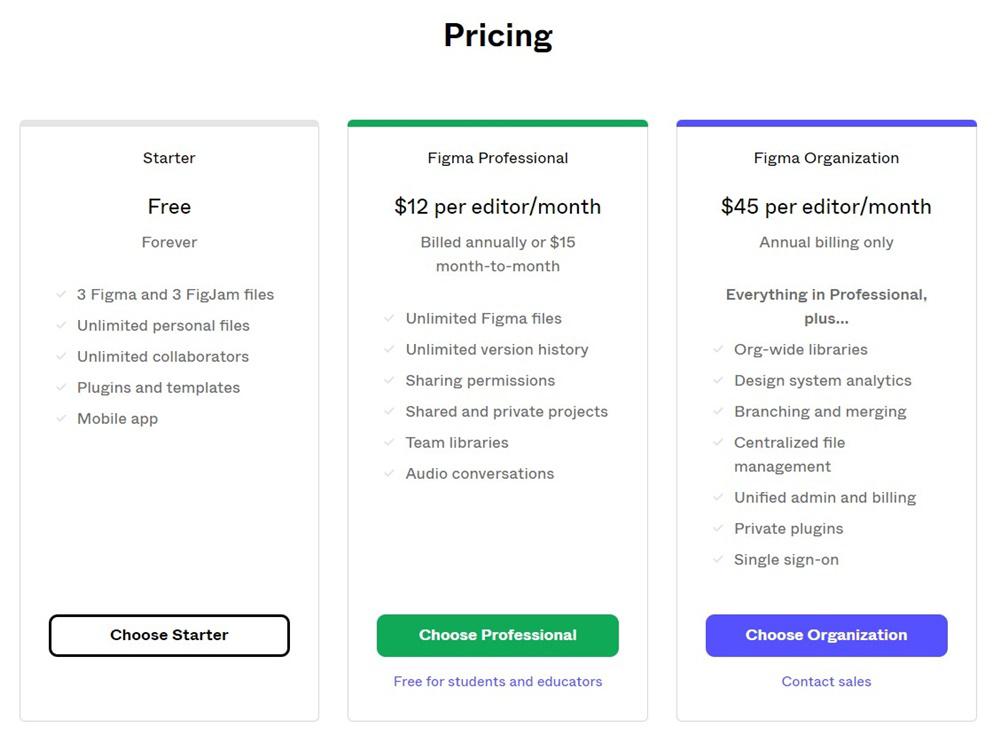 Figma has three plan options to suit all audiences.Fonte:  Figma
For those who don't want to or can afford it, Figma offers a free version with some limitations. In this subscription model, you can only have three files to access at the same time, in addition to only one team project. Another restriction is version history which is only available for the last 30 days.
Those who need to get around these limitations can resort to the professional plan, which removes the file limitation and brings other features. You can modify permission and sharing rules, create team folders, audio chats while editing and unlimited version history. This model costs US$ 15 (US$ 75 in direct conversion) in the monthly payment plan.
The last plan option is focused on organizations and companies, with advanced features for measuring performance and developing private plugins. In this modality, Figma costs US$ 2,025 per year per publisher (or R$ 10,230), with no possibility of monthly payment.
Picture or Adobe XD?
The comparison is inevitable since the two programs are used for basically the same purpose. The great advantage of Figma, as already mentioned, is the collaborative work, something that is still not possible to be done within Adobe XD.
However, Adobe XD takes advantage of the ecosystem of Adobe software, such as Photoshop, Illustrator and InDesign, all included in the same subscription plan. For those who are already users of the paid modality of these programs, using Adobe XD is something natural and very inviting to take advantage of the subscription plan.