Point and click adventures were extremely popular in the 80s and 90s. Companies like Sierra Games and LucasArts were responsible for several games that racked players' heads by presenting them with puzzles that required specific steps to result in victory. Over time, the genre lost strength, mainly due to 3D titles full of polygons and with a very large amount of commands to be executed by players.
It was then that Portuguese developer Luís António, with passages in Ubisoft and Rockstar, presented a promising idea of ​​a game that took place in a 12-minute time loop and the player, through mistakes and successes, should deal in the best way with the situation. After many years of development and thanks to the financial contribution of the publisher Annapurna Interactive that finally Twelve Minutes arrived on the market. But did the title really impress? Check out our review now.
a time triangle of secrets
In short, to avoid spoilers, the game follows a couple on one of the most important days of their lives. When everything looked perfect, a policeman knocks on the door, claims he has a warrant for his arrest and kills them both. Instead of a black screen, we go back to the moment when a man enters the house and is faced with his wife, who appears to have not gone through the same experience as us.
The plot development is very interesting, with several dialogue options that open up after new information discovered in previous attempts. It bothered me a lot that the protagonist realized that he was in a time loop right on the second run, since I wasn't even that familiar with what was happening in that house, but I managed to overcome this strangeness after a few more minutes of gameplay.
Within minutes, the situation could become critical.Source:  Voxel
Each failed attempt I had ended up giving me a new learning experience and this made me dive headlong into all that adventure. Several times I was almost yelling at my monitor for a specific character to do action X or I got frustrated when I had to wait for something to happen and so my strategy worked.
Complex suspension with more than one ending
As the game has several endings, there is no single sequence of actions that the player must take to complete the title, as in classic point and clicks adventures. I was following a very specific line of reasoning, always choosing the same actions until I ran into a wall. I needed information that I didn't have to proceed that way.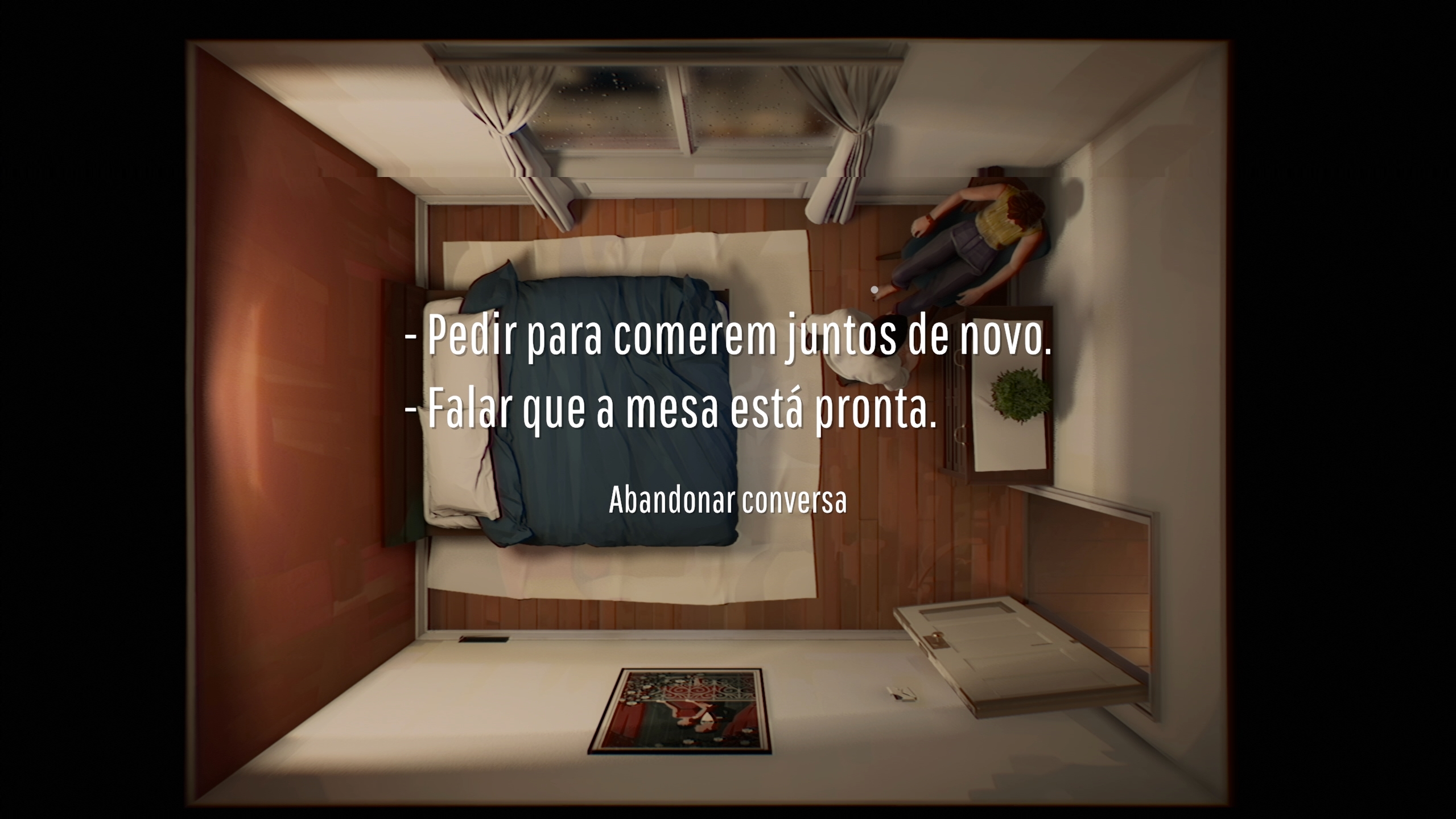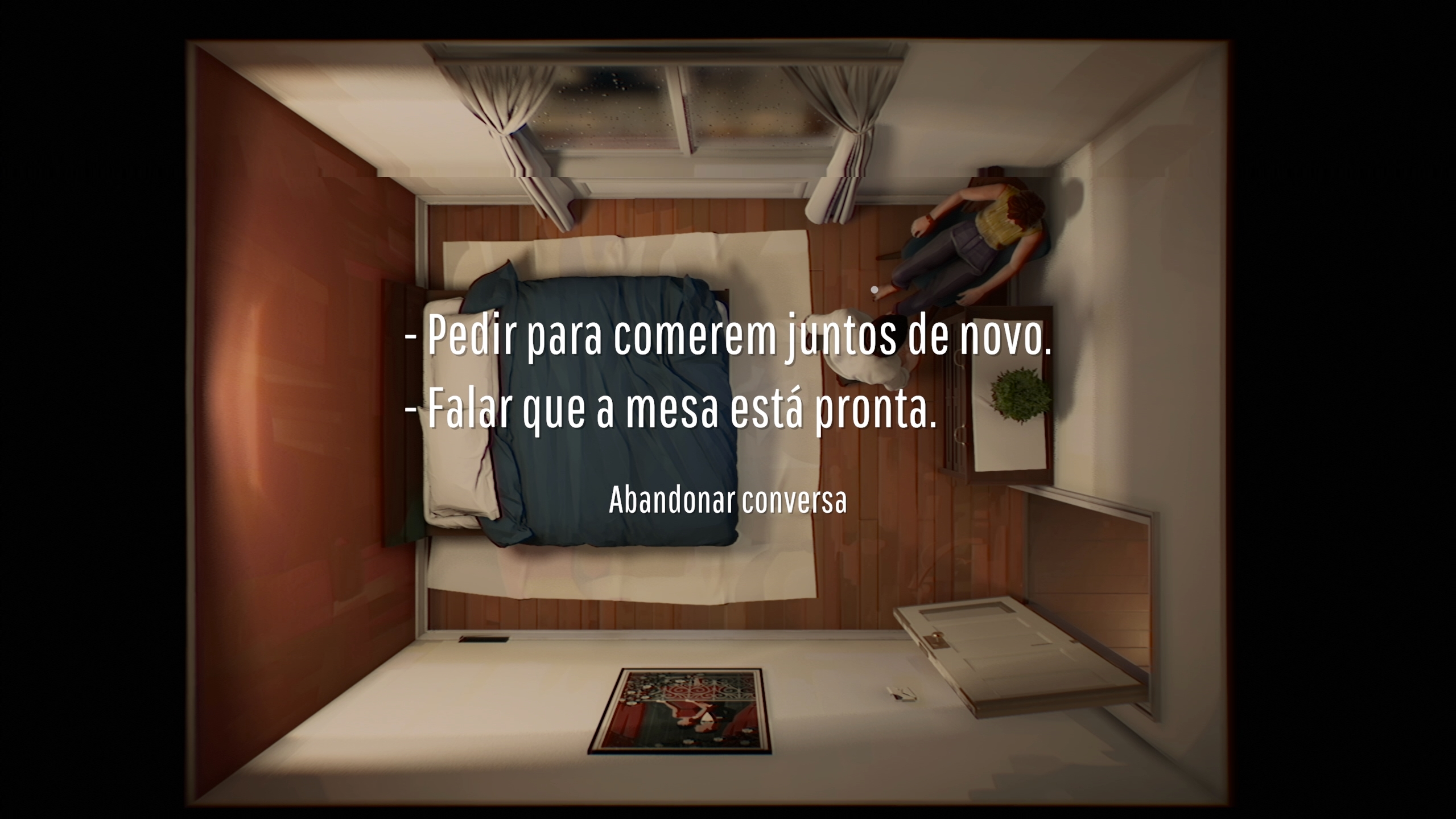 The story develops through dialogue with different optionsSource:  Voxel
After taking a break, taking a breath, and racking my brain, I tried a completely different approach to the one I was taking and it gave me a variety of new options. Frustrations like this were constant, since, even with a short duration, the game requires you to think outside the box and gather a very large amount of information so that you can continue that specific line of reasoning.
With that being said, I can say that, while the game doesn't force you to follow a cake recipe, you need to accomplish picking up all the ingredients to proceed. In fact, this generated a controversy on social networks, as the player needs to put drugs in his wife's drink and, thus, new options are unlocked. Many people have compared the attitude to the "Good Night Cinderella" scam, in which the criminal puts a drug in a woman's drink at the club without her seeing it, erasing it and allowing him to steal it or worse. These complaints are extremely valid and must be respected by everyone as this is a much more serious matter than "digital games".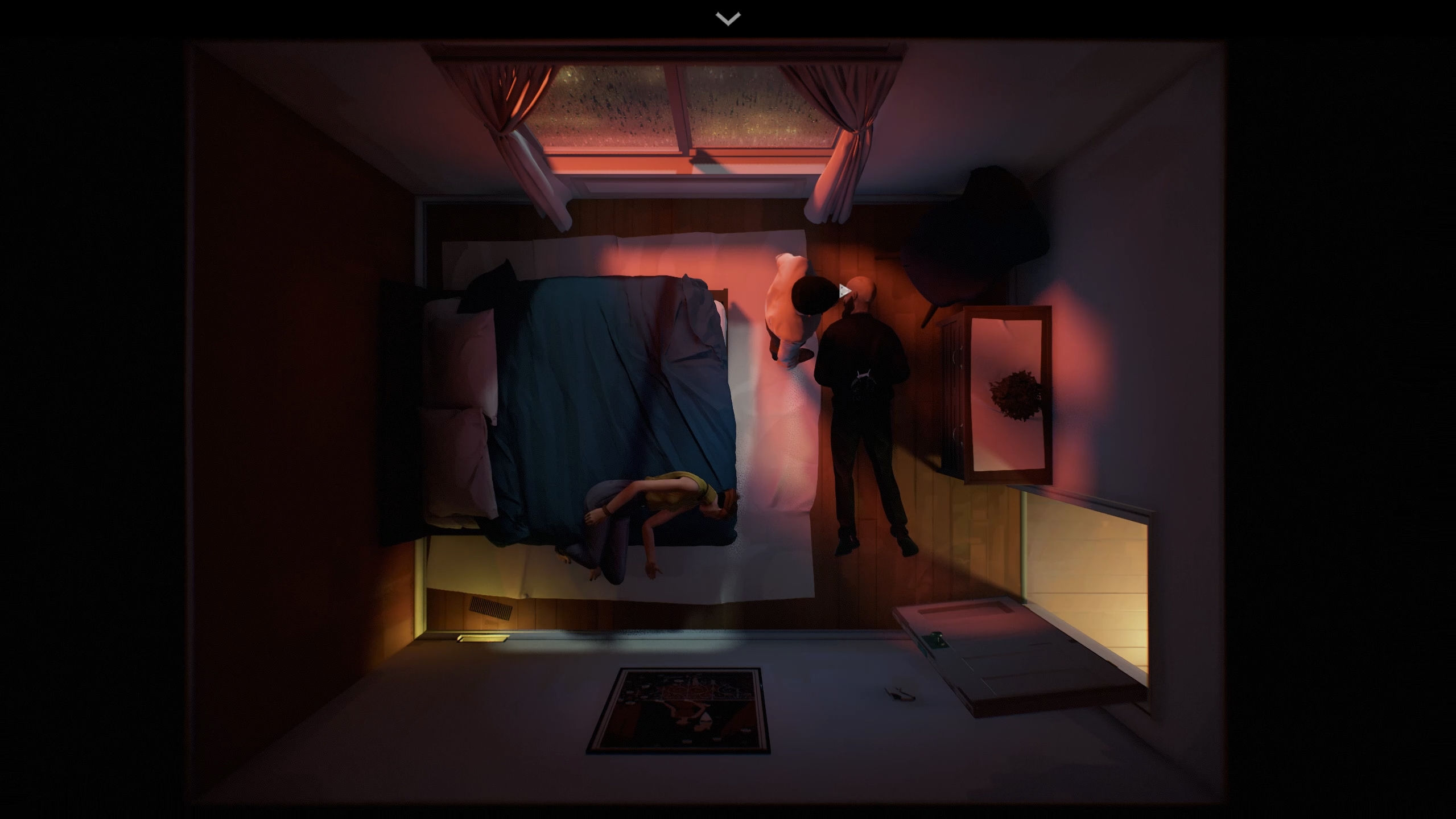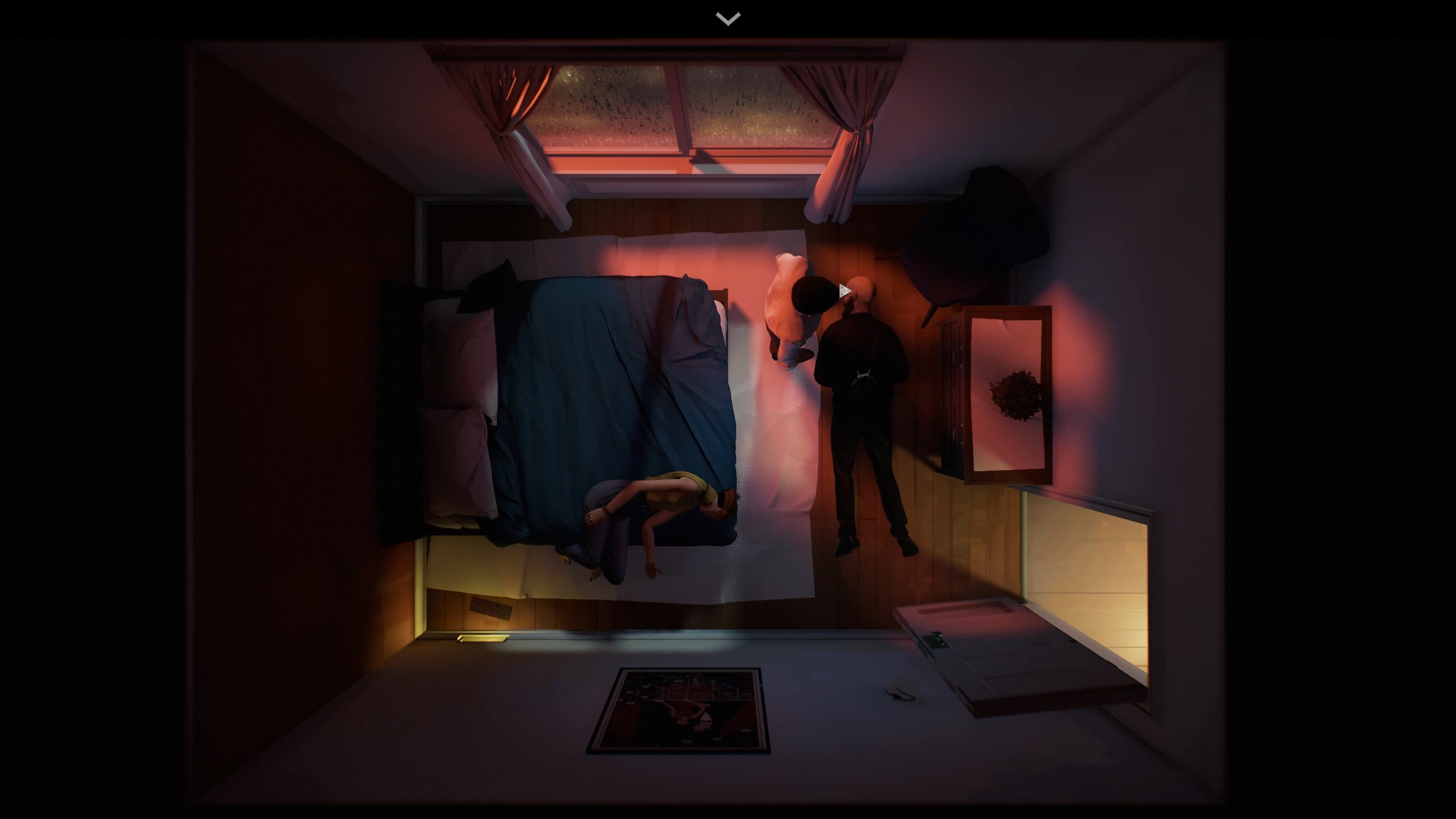 Everything can turn in your favor (or almost everything)Source:  Voxel
Getting back to the topic, I managed to make my own way through three of the supposed seven endings, including one that featured a credited screen. For each conclusion, I felt an injection of serotonin provided by my body, but I didn't always feel rewarded by the game, as if he said to me "congratulations, do you want to see another ending now?" instead of showing how each neuron burned was worth it.
8 or 80 in the technical part
The visual part is very simple but with a certain charm. It is possible to say that this is Luís António's style, as we can see this same footprint in The Witness, game that featured the arts of the Portuguese developer. Everything is seen from above, but all environments are very detailed and have very beautiful textures. His animations are mostly strange, abrupt and unnatural, which can take some of the player's immersion.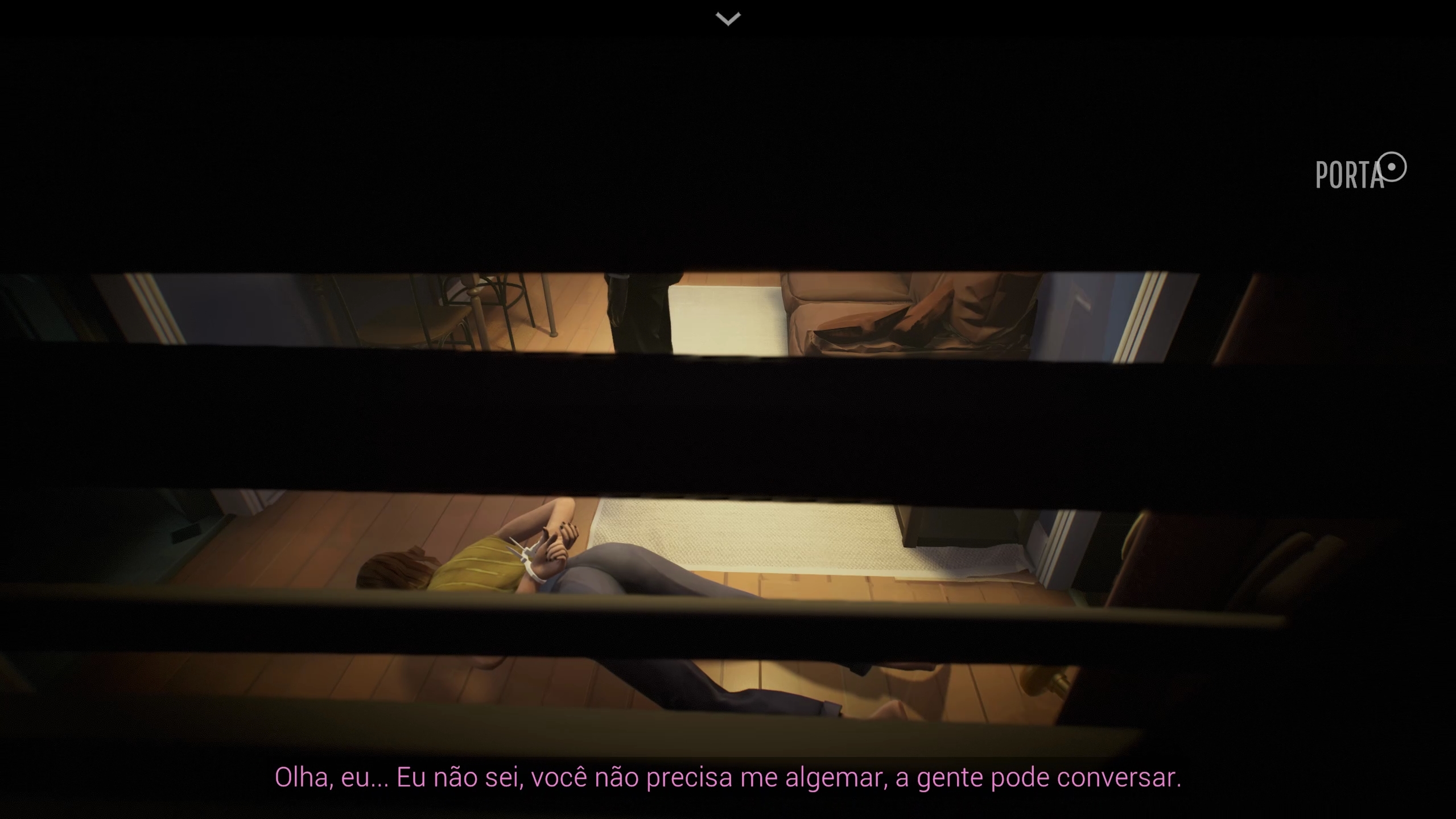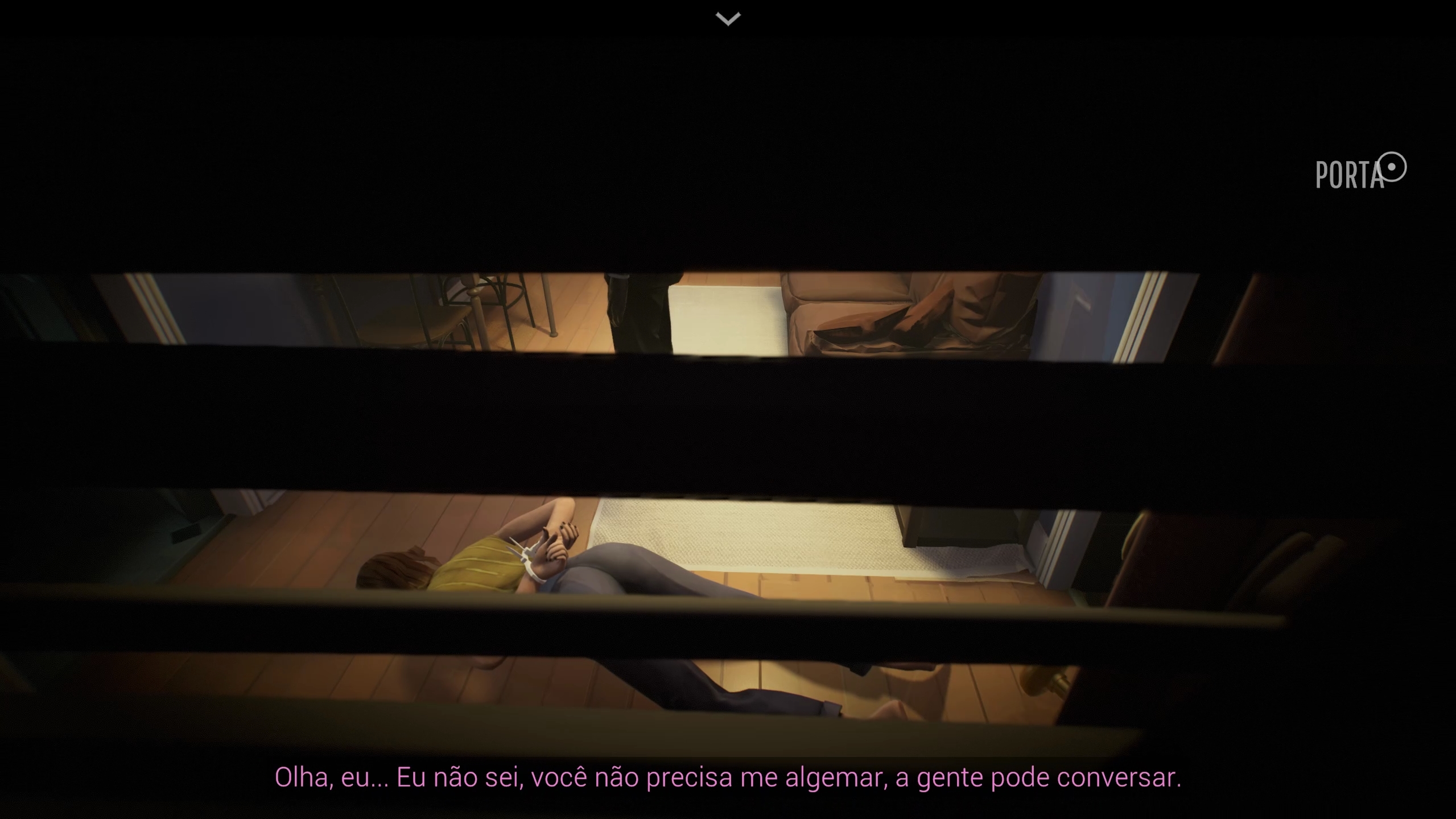 You can hear the real fear in Daisy Ridley's voice when the policeman, played by Willem Dafoe, enters the house.Source:  Voxel
Now, there is nothing simple about acting. The main trio is played by James McAvoy, Daisy Ridley and Willem Dafoe, famous names from Hollywood productions who brought depth and emotion to these almost faceless characters. The fee was probably high, but the result was worth every penny invested in Doctor Xavier, Rey and Duende Verde.
What disappointed me the most was the title's performance on PC. The game rarely went above 60 frames per second and still suffered from drops of almost 10 fps when some actions were performed, such as opening doors. Conclusion shot that the game was poorly optimized for computers and this may compromise some people's experience a bit.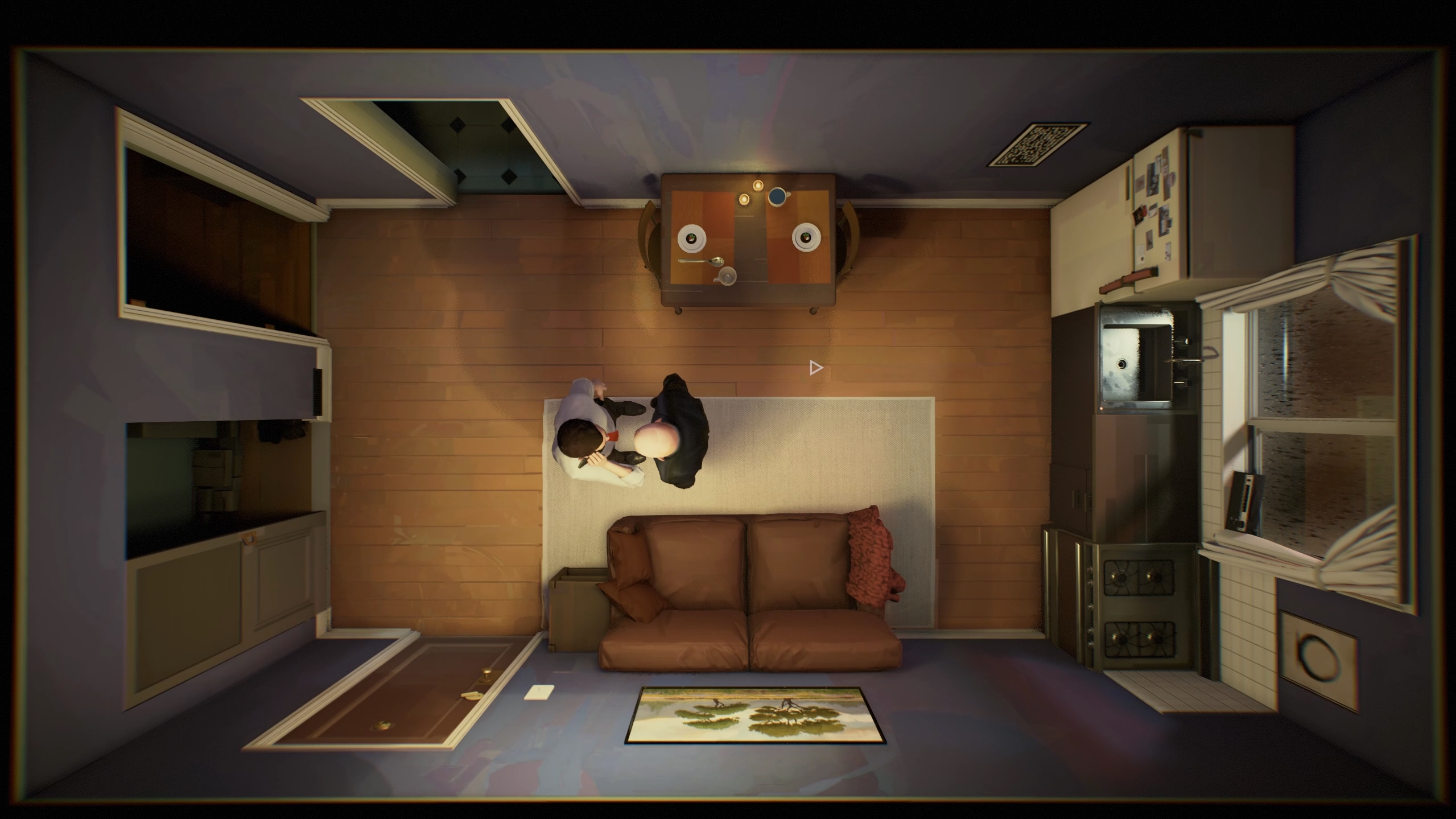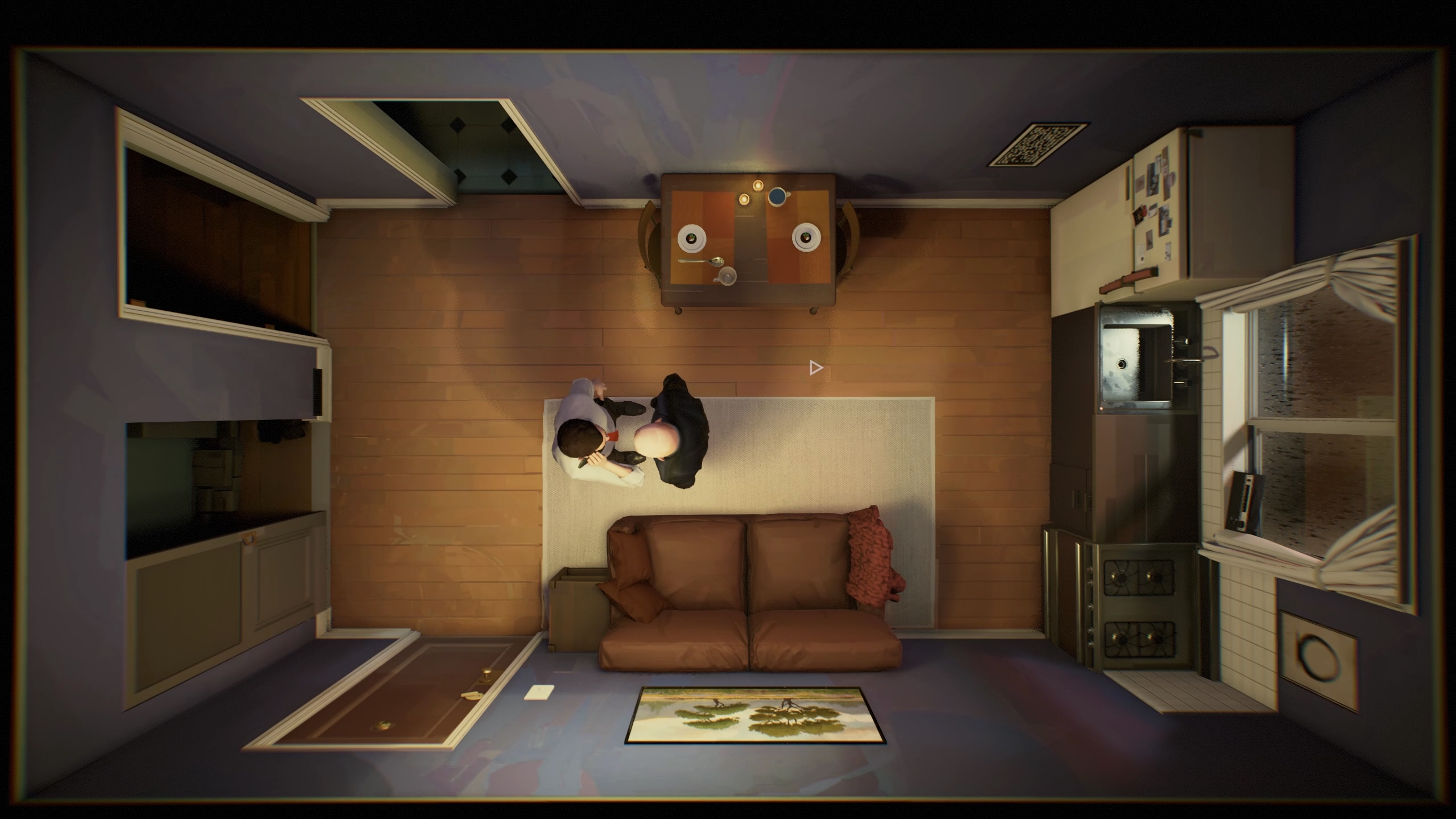 Escaping death can be a cruel task.Source:  Voxel
It is worth it?
Twelve Minutes is a title for fans of tricky puzzles and complex narratives, being an ode to movie masters like Hitchcock and Kubrick, to psychological thrillers and classic adventures. Still, it's a niche game that will go unnoticed by the general public, whether for its genre or the scope of the project. Anyone who subscribes to the Xbox Game Pass, whether on consoles or on PC, will be able to try it out at no additional cost.
Twelve Minutes is a temporal thriller that will test the reasoning and patience of anyone who has the courage to unravel its darkest secrets.