Intel has just announced its 11th generation of Core processors at an online event for everyone. The new chips, as expected, bring more performance on several fronts, but the company said very little in gross numbers.
The brand is including Iris X GPUs on the platform and has finally migrated to a 10 nm lithography. Late for this party, Intel needed to "cause" at the time of entry, and the new product looks really promising.
So much so that the company calls its new family "the best chips in the world for thin and light computers". Some demonstrations were made during the event comparing the 11th generation with similar solutions from AMD and even NVIDIA for notebooks.
Along with the new generation, a new architecture called Willow Cove was also presented, which combined with 10 nm allows smaller, more efficient processors with higher frequencies. Intel guarantees up to 4.8 GHz on these notebook chips.
Despite this, the focus was on the new possibilities that the new generation of chips will bring to the notebook market. In Intel estimates, tools for content production, such as audiovisual, were 2.7x faster. The company showed Adobe Premiere by rendering and exporting 4K videos in a fraction of the usual time. Overall, user productivity is expected to increase by 20% with new machines, according to the brand.
New generation of intel chips for notebooks migrated to 10 nm (Playback / Intel)
In addition to being improved working tools, computers with Intel's 11th generation of chips are expected to deliver twice as much performance in "popular games". Intel has made some comparisons of FPS delivery to endorse this, but we know that lab tests don't always reflect perfectly in the real world, so it's best to wait for tests done by independent vehicles in this regard.
Revolutionize the notebook
Despite the migration to 10 nm, new architecture, more performance and more powerful GPUs, what really matters among all Intel's innovations is what the brand managed to do with the Athena Project in this generation of processors.
The "marriage" of the new generation dubbed Tiger Lake with the long-awaited Intel Athena Project gave rise to the "Intel EVO" platform, which will serve as a certification mark for products from notebook manufacturers.
All products on the EVO platform will have to follow some minimum hardware and performance specifications. For example, when opening the PC cover, the system needs to be ready in less than 1 second for the user to start working.
They will also need WiFi 6 for high-speed Internet data transfer and multifunctional Thunderbolt 4 connections. This new port follows the format of USB-C, being able to connect two or more 4K monitors at 60 Hz through a single cable.
Intel will also guarantee 9 hours of battery life for EVO products in "typical use". There will also be fast charging on all models.
In the first batch of machines made in this EVO standard, about 150 different models of thin and light notebooks will be launched in the coming months by brands such as Acer, Asus, Dell, Dynabook, HP, LG, Lenovo, MSI, Razer, Samsung and some others. This both in Microsoft's Windows 10 and Google's Chrome OS.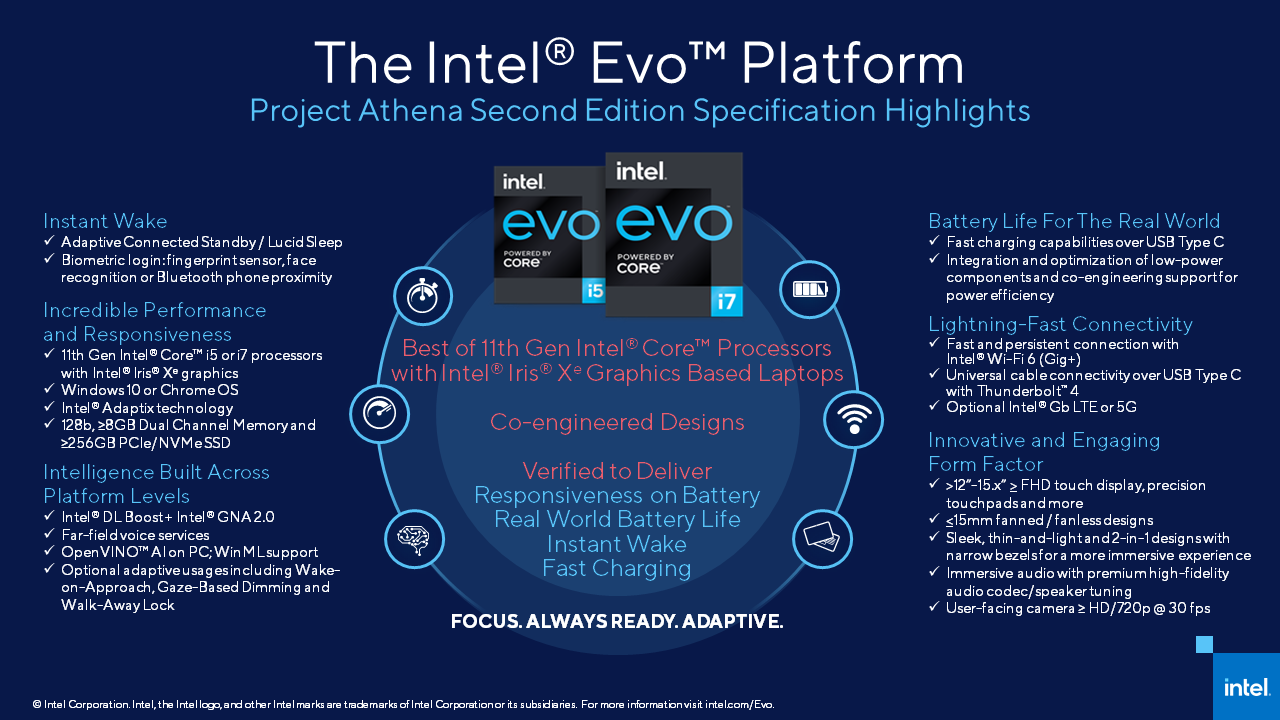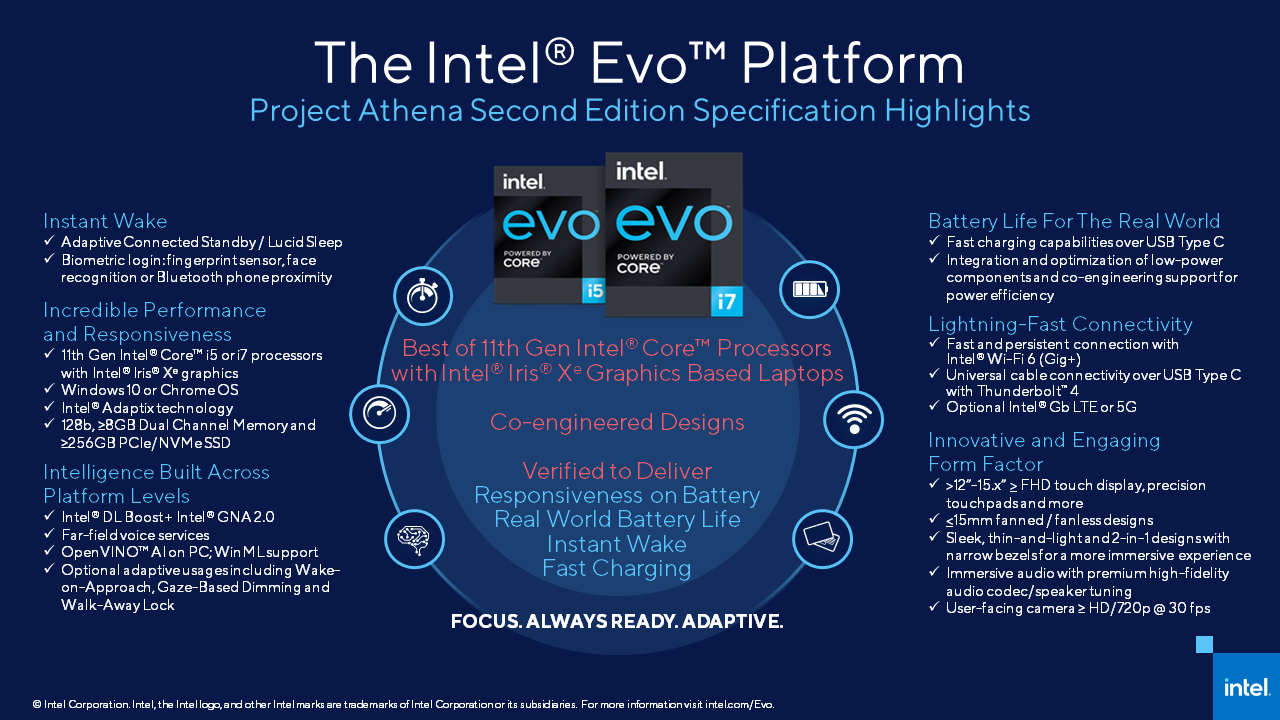 EVO platform is the result of the Athena Project (Reproduction / Intel)
Intel also talked a little about integrating AI into its new chips to achieve better efficiency in just about everything. In a demonstration, the company made a video call on Microsoft Teams showing how the chip's AI can eliminate background noise so as not to interfere with interlocutors' sound.
Despite this, no concrete date for launching new EVO products or with Tiger Lake chips has been revealed.
Check the specifications of some of the chips that the brand is launching.