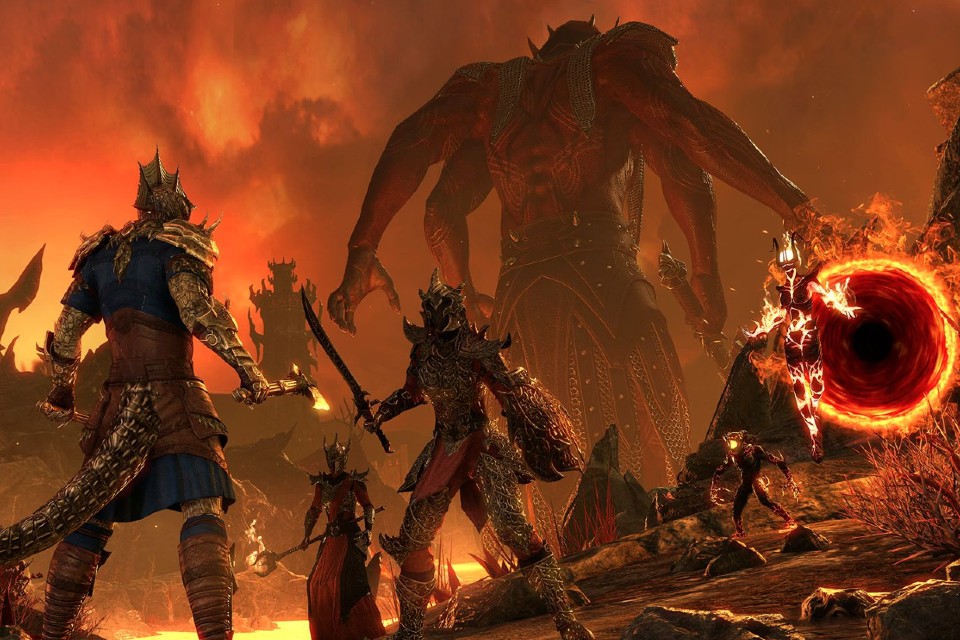 Bethesda today announced its future content plans for the successful MMORPG The Elder Scrolls Online. Get ready for a whole year of adventures in Gates of Oblivion with the new chapter Blackwood, which arrives on June 1, 2021 on PC and Stadia, and on June 8 on Xbox One and PlayStation 4!
At the invitation of the producer, we were able to speak directly with Rich Lambert, the creative director of ESO, who kindly told us first hand what to expect from all the news, in addition to sharing some more details about the unpublished content. Check out all the information and the best moments of this chat below!
A new year full of adventures
Along the journey of Gates of Oblivion, it will be possible to explore an unprecedented story that will span all the content released for ESO in 2021, as the next DLC The Elder Scrolls Online: Flames of Ambition and Blackwood. The idea is to discover Prince Daédrico Mehrunes Dagon's plans and plans some 800 years before the events seen in The Elder Scrolls IV: Oblivion.
"Dagon is one of my favorite characters, I think he's really cool," celebrated Rich. "We hadn't given him much spotlight yet in our lore, he wasn't that well known. But we're in the Second Age, so it gives us a lot of opportunities to explore other stories and spend our own reading of this world, which is very exciting it's fun!"
Our next Chapter is called The Elder Scrolls Online: Blackwood and will be coming to all platforms June 2021.https: //t.co/EB8xP9Uj6k pic.twitter.com/OVb6hCGeFc

– The Elder Scrolls Online (@TESOnline) January 26, 2021
The release schedule of Gates of Oblivion is as follows: Flames of Ambition arrives on March 8 for PC and Stadia and March 16 for Xbox One and PS4, followed by Blackwood, which comes out on June 1 for PC and Stadia and June 8 for Xbox One and PS4. After that we will still have a DLC with a dungeon pack in the third quarter, and a DLC with a history zone in the last quarter of 2021.
In Blackwood players will have more than 30 hours of new story content, exploring a colorful new part of Tamriel where the culture of the Argonians clashes with the ambitions of the Imperials.
"One of the most magical things about ESO is that you don't have to level up or go through the last seven years of content if you don't want to," explained Rich. "You can create a new character and go straight to the new content! We have a new tutorial, and from there you can choose which story you want to go to. It's up to you to choose the order and what you want to try or not."
Companions for the journey!
The new Chapter brings, in addition to the Blackwood zone, an unprecedented Companions system, a new 12-player trial called Rockgrobe, a new Oblivion Portals event, new bosses, quests and public dungeons, as well as several updates and quality improvements for life.
A new feature coming to ESO with Blackwood is the Companions system! Customize their gear, abilities, and more to help you on your adventures. pic.twitter.com/GEz5oJsbMF

– The Elder Scrolls Online (@TESOnline) January 26, 2021
Mechanically, Companions are just the most interesting addition: now you can recruit an NPC ally to travel and fight with you, each of whom has his own history and personality. They can follow you on almost every mission and their skills level up in the process.
"Companions are unlocked by completing missions, and once you release them, they can be your permanent adventure companions," explained Rich. "You can use them almost anywhere, as for now we only restrict them to PvP. You can customize each one, and then they can take on any role you want or need!"
Towards Blackwood
The Blackwood region is under the influence of dredging and its people are suffering to survive. It includes the Imperial city of Leyawiin (originally shown in Oblivion), the Niben forest and even the Blackwood Bod marshes. It will be the greatest narrative of Gates of Oblivion and totally self-contained.
"Honestly, the community is the main reason for our success," celebrated Rich. "We are always looking at forum postings on Reddit, the feedback sent within the game … and if you see the map in Blackwood, you will notice that we tried to do something different from Greymoor, which players felt was kind of difficult to navigate, so we changed that this year. "
The #GatesOfOblivion year-long adventure starts now. pic.twitter.com/d6msOQs6RC

– The Elder Scrolls Online (@TESOnline) January 26, 2021
In the plot, it is necessary to investigate a conspiracy involving the exiled Longhouse Emperors and reveal what their mortal pact was like. Behind it all, as you might imagine, is Prince of Destruction Mehrunes Dagon, but his exact plans are still shrouded in mystery. We will find out what exactly he has in mind when we get our hands on the new content.
Anyone who pre-orders it will already have the new pet Nightmare Bear Cub, and the new mount Nagahide Welwa Ravager, which will only be available for redemption until March 17, 2021. Other gifts include the outfirm Dremora Kynreeve, pet Deadlands Wamasu , a box of Iron Atronach, three treasure maps of Blackwood and two XP Scrolls.
What did you think of the news revealed today by Bethesda? Are you excited for the next DLC of ESO? Tell us in the comments below!