Launched in August 2020, the former meme currency Shiba Inu (SHIB) has captured the hearts of thousands of investors around the world recently. Since debut, its price has seen a stellar appreciation of 91.112.600,00%, driven by alleged speculation promoted by major personalities on social media, such as the Executive Director of Tesla, Elon Musk.
The rapid valuation made some investors in the cryptocurrency millionaires, in addition to making the asset become a target for scams. But, after all, what makes this "nice" asset so different from its peers?
"Dog's" trajectory
In practice? Not a lot. In summary, his initial objective was to propose an alternative satire to Dogecoin (DOGE), which is an assumed simple and unlimited parody of the already well-established Bitcoin (BTC). However, the rapid adoption rate among Internet users, reinforced by a strong sense of community (affectionately christened the "Shiba Army"), resulted in a new project objective: a decentralized brokerage (DeX) housed in the currency ecosystem itself , ShibaSwap.
While this feature seems like a positive differentiator for Shiba Inu, there is little incentive to use the platform as there are more reputable alternatives on the market, such as UniSwap and PancakeSwap. To make matters worse, ShibaSwap also does not seem to offer satisfactory security measures for its users, an alarming factor, which is reflected in the only 35% score given by the authority. DeFiSafety – below the marks of 94% and 82% achieved by their respective "competitors" mentioned above.
Interface from ShibaSwap, the decentralized brokerage for the Shiba Inu project. (Source: ShibaSwap / Reproduction)Fonte: ShibaSwap
On the other hand, it is worth emphasizing that Decentralized Finance or Brokerages are somewhat exclusionary mechanisms for the common user, who tends to carry out their transactions in more traditional brokerages, such as Binance. In this context, there is more security in the means of trading, restricting investors to the "standard" risk of volatility in the cryptocurrency market.
So, disregarding the use of Shiba Inu as a medium of exchange for other assets, what is left as "intrinsic value" for its investors?
Consolidated Fundamentals — by others
As with other cryptocurrencies, Shiba Inu's core values ​​are presented to investors through its official documentation — known as whitepaper, in the term popularized in English. In it, it is possible to check the key concepts that led to its conception, as well as part of its trajectory.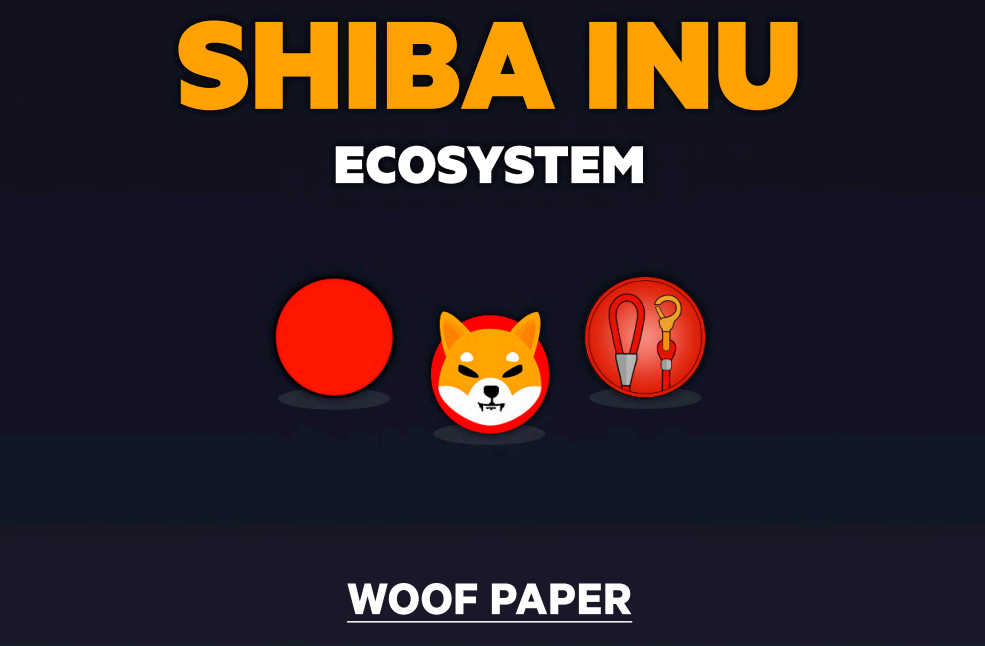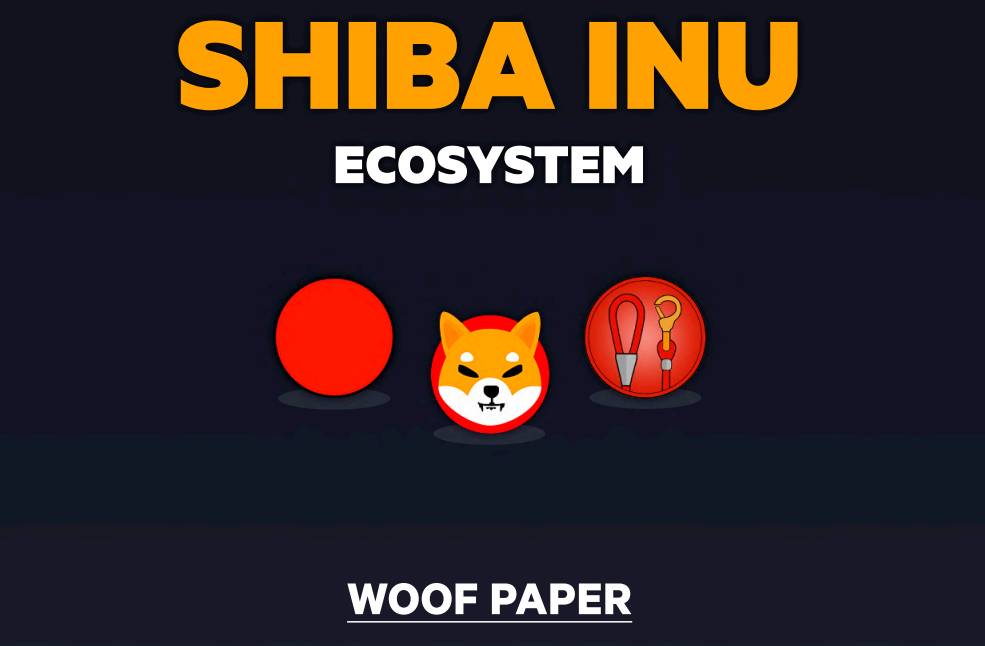 Cover of the SHIB development project documentation. (Source: Shiba Token / Reproduction)Fonte: Shiba Token
Without detailing a plan of action, the project's developers champion a concept of community revolution across its ecosystem, citing GameStop and AMC-related events as references to popular uprisings against "the centralizing powers". However, the same disruptive idea was already proposed in the creation of Bitcoin, back in 2009, and subsequently challenged by the Ethereum network, in 2015.
Therefore, there is no truly new factor in the proposal offered by the cryptocurrency-meme, leaving its "soldiers" supported by the force of the entry of new investors and, of course, by media speculation.
Appreciation: Shiba Inu will come in $1?
Given Shiba Inu's current economic fundamentals, something popularized as "tokenomy" among investors, reaching the $1 mark is effectively impossible. The impediment to this is found in the total offer of the cryptocurrency, initially defined in 1 quatrilhão of units, which would require almost all the money in circulation and in the form of derivatives in the world to match in price with one unit of the US dollar.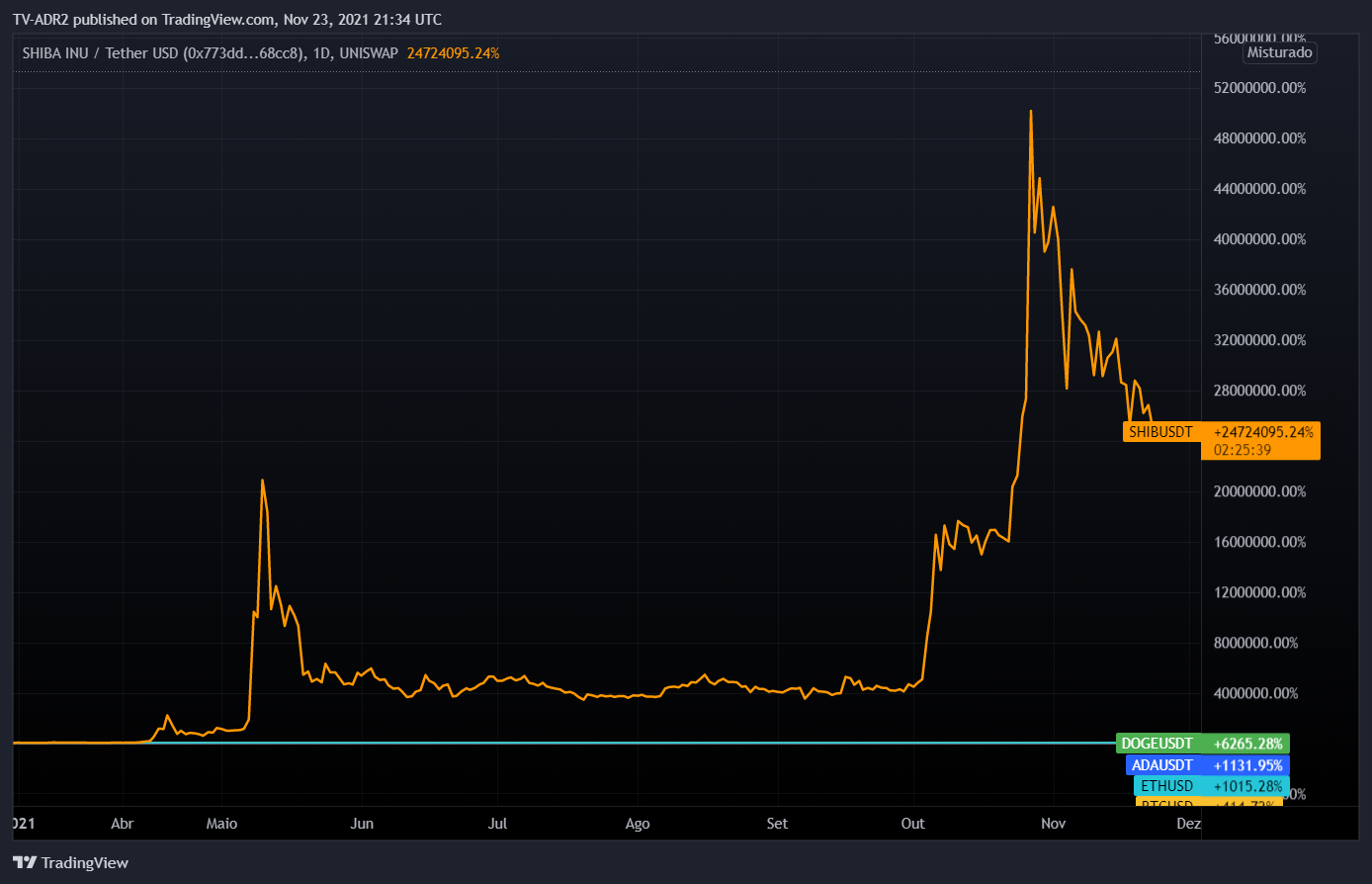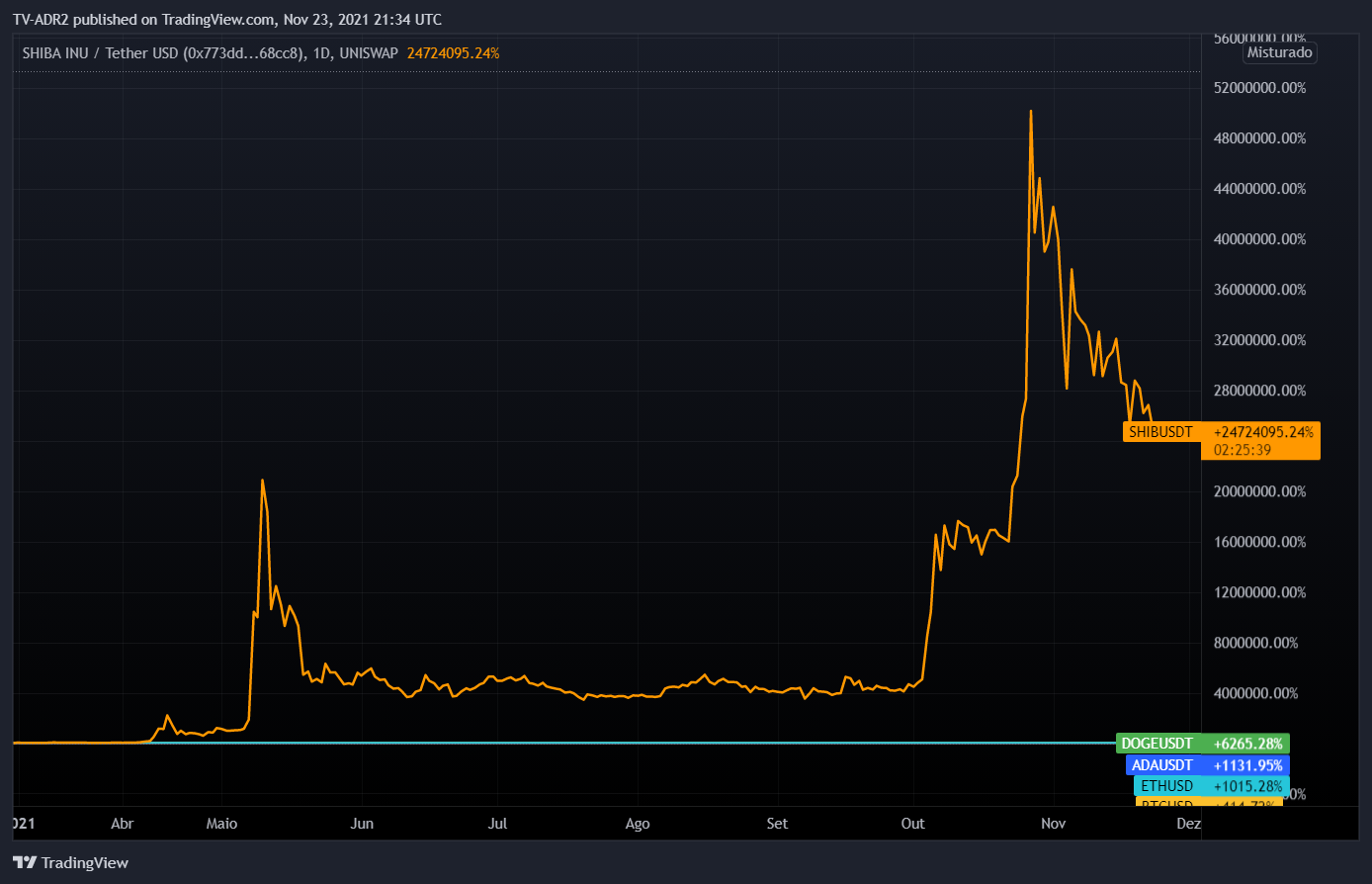 Despite the technical limitations, SHIB faces a massive increase in the last year. (Source: TradingView / Reproduction)Fonte:  TradingView
However, it is important to note that the path to the new decimal levels has become a little "shorter" for cryptocurrency in recent months, thanks to the episode involving one of the creators of the Ethereum network, Vitalik Buterin. At the time, Shiba Inu developers sent 50% of all available coins to Vitalik's wallet as a way of "assuring the reliability" of the project.
Unexpectedly, Vitalik donated $1 billion in SHIBs to India's Covid Fight Fund, equivalent to 5% of his newly acquired "fortune". Less than a week later, the Ethereum co-creator "destroyed" its remaining 410.24 trillion units, resulting in a "burn" of US$6.6 billion or R$36.75 billion in direct conversion — decreasing, in effect, Shiba Inu's total offering halved.
Even with the unusual "support", SHIB still has impressive 549.05 trillion of units in circulation, trading at $0.00004132 per currency — with a long "path of zeros" ahead.