Mercado Livre launched an application aimed at increasing the capacity and speed of deliveries of products sold on the platform. The service, which connects self-employed drivers to e-commerce, began operating in an experimental phase in São Paulo in August 2021.
The Mercado Envios Extra app offers greater predictability of routes and earnings, in addition to the possibility of a shorter workday, which has motivated many drivers of passenger transport applications to migrate their activity. The new service has almost five thousand active independent couriers and has already carried out more than 100 thousand deliveries.
Who can become a self-employed delivery person?
(Source: Mercado Livre/Reproduction)Source: Mercado Livre/Reproduction
People interested in making autonomous deliveries to Mercado Livre in their new app must use a vehicle in good condition with up to 15 years old, duly regulated by Organs competent bodies. If the option is to use a motorcycle, the delivery person must also have a backpack or trunk with at least 80 liters of capacity to transport the objects.
In addition, the person must have a valid National Driver's License (CNH), according to the category of vehicle to be driven. It is also necessary to have a cell phone with an Android 5.0 Lollipop system or higher and to hire a mobile data package from the telephone operator.
In order to receive payments, the delivery person also needs to have a National Register of Legal Entities (CNPJ), which can be of the Individual Microentrepreneur (MEI) modality, but must include one of the National Classification of Economic Activities codes as the main or secondary activity ( CNAE), as follows:
4930-2/01 Road freight transport, except dangerous goods and removals, municipal.
4930-2/02 Road freight transport, except dangerous goods and moving, intercity, interstate and international.
5320-2/01 Pouch services not carried out by national mail.
5320-2/02 Fast delivery services.
5229-0/99 Other auxiliary activities of land transport not specified above.
In which cities is the app available?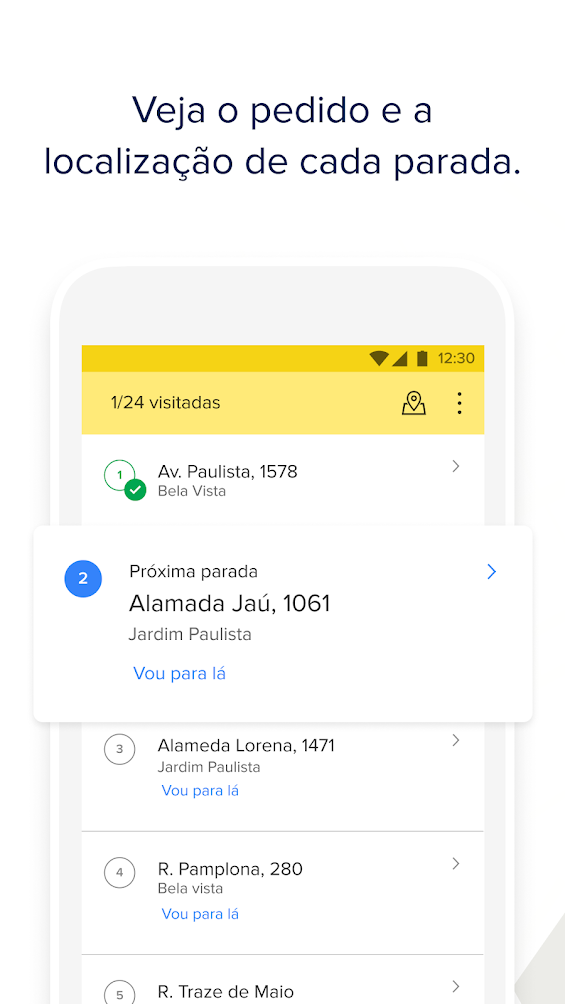 (Source: Mercado Livre/Reproduction)Source: Mercado Livre/Reproduction
In addition to the capital of São Paulo, the application is currently available in Barueri, Guarulhos, São José dos Campos, Campinas, Limeira, Belo Horizonte, Curitiba, Florianópolis, Porto Alegre, Recife and Salvador. The area of ​​operation has been progressively expanded and, by the end of November, operations will also be expanded to Brasília and Rio de Janeiro.
How to register to make deliveries through Mercado Livre?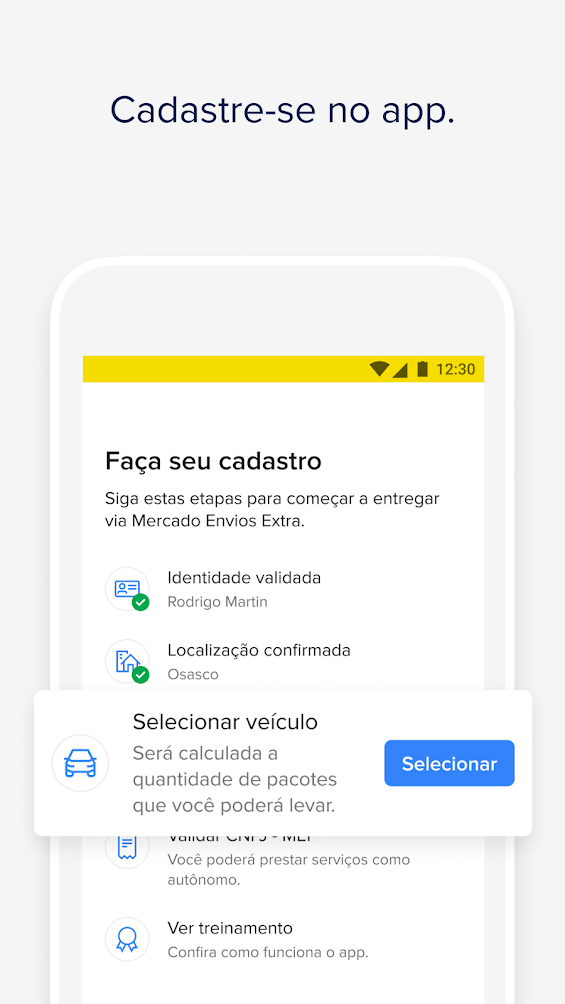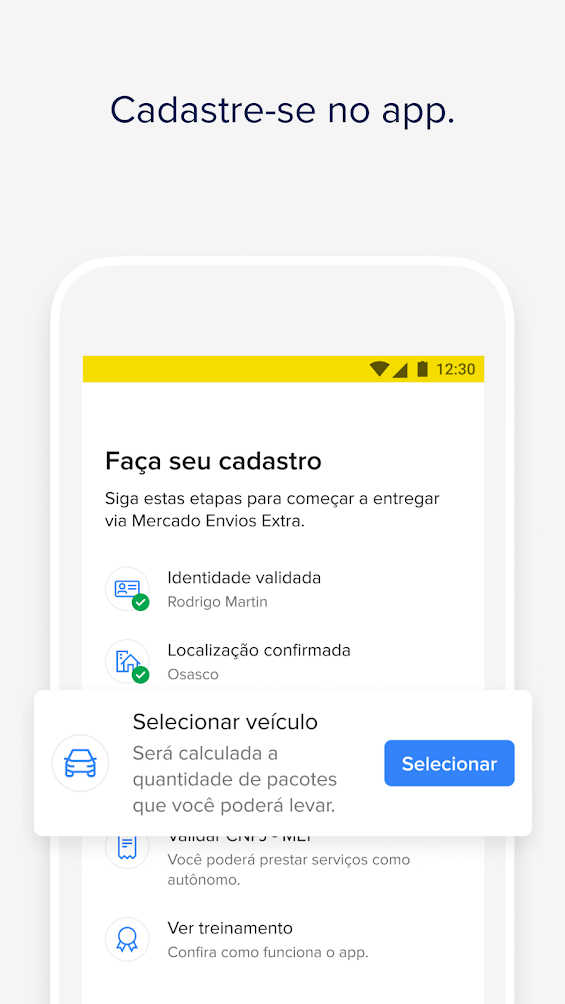 (Source: Mercado Livre/Reproduction)Source: Mercado Livre/Reproduction
The first step to register as a self-employed driver to deliver products sold on the Mercado Livre is to download the Mercado Envios Extra application from the PlayStore. Afterwards, it is necessary to follow the following steps:
Inform your Mercado Livre access credentials (if you do not have a login and password, you will need to create an account on the platform).
Perform validation by receiving the verification code via SMS, WhatsApp or phone call. If you do not have the registered telephone number, access to the platform must be carried out from a computer.
Read and accept the Application Terms and Conditions.
Confirm your location.
Register which vehicle will be used in the app. You must choose between motorcycle, car, utility vehicle and large van, and then inform the license plate and the year of manufacture.
Inform your CNPJ so that the platform can carry out the validation (this process may take a while).
Take the training to know how the app works.
Configure your preferences.
Ready! Now just wait for delivery requests.
How does Mercado Envios Extra work?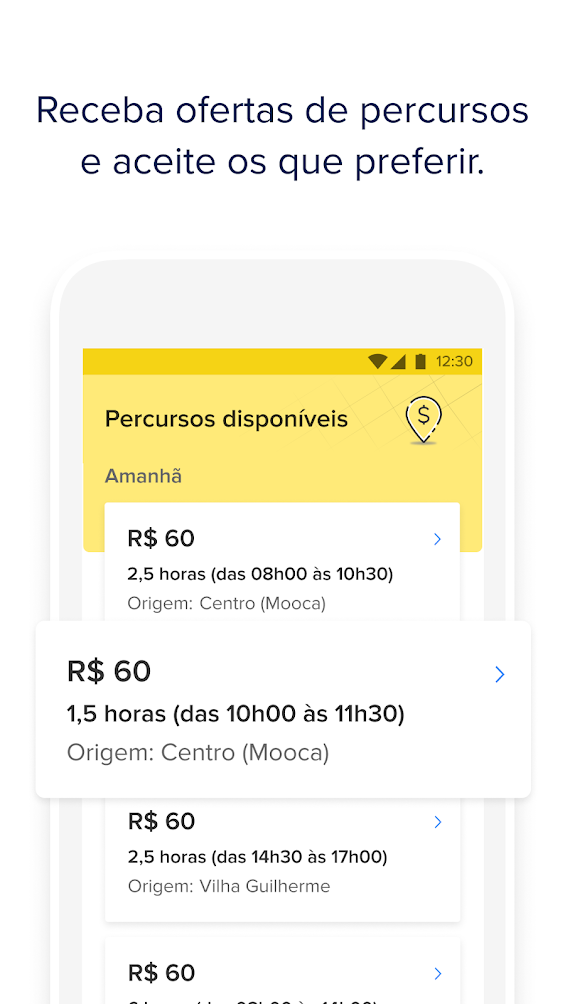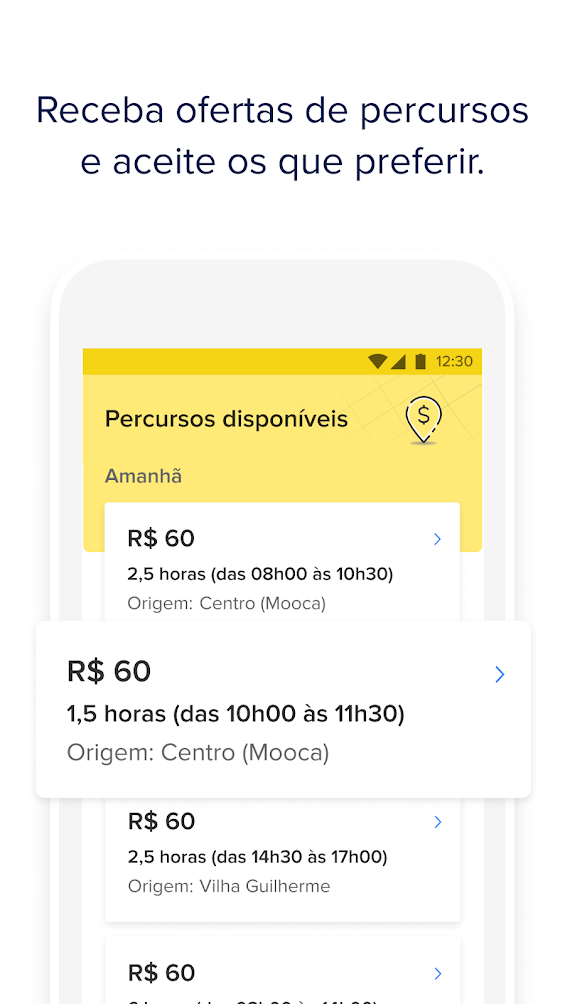 (Source: Mercado Livre/Reproduction)Source: Mercado Livre/Reproduction
Within the application, the Mercado Livre partner can choose what their deliveries will be, check the addresses of the collection points where orders can be picked up. Packages will be grouped into routes with different delivery times. Each trip can take anywhere from three to eight hours.
Through the Mercado Envios Extra app, the delivery person can also communicate with the recipient of the goods to let them know that they are on the delivery route. The application also offers a screen with the history of earnings for each item delivered. Payments take place once a week through Mercado Pago (a bank account is not required).
Is it worth being a Free Market delivery boy?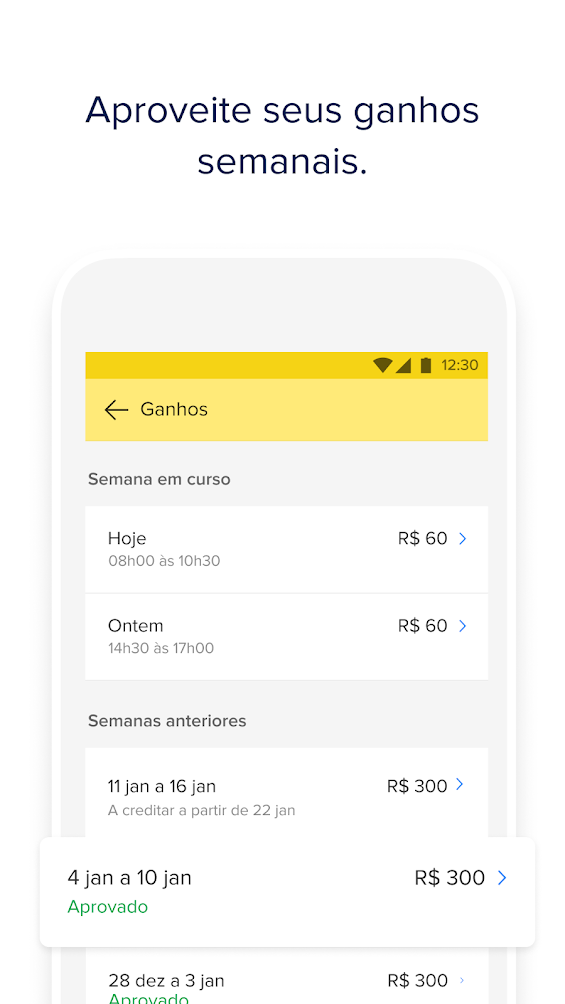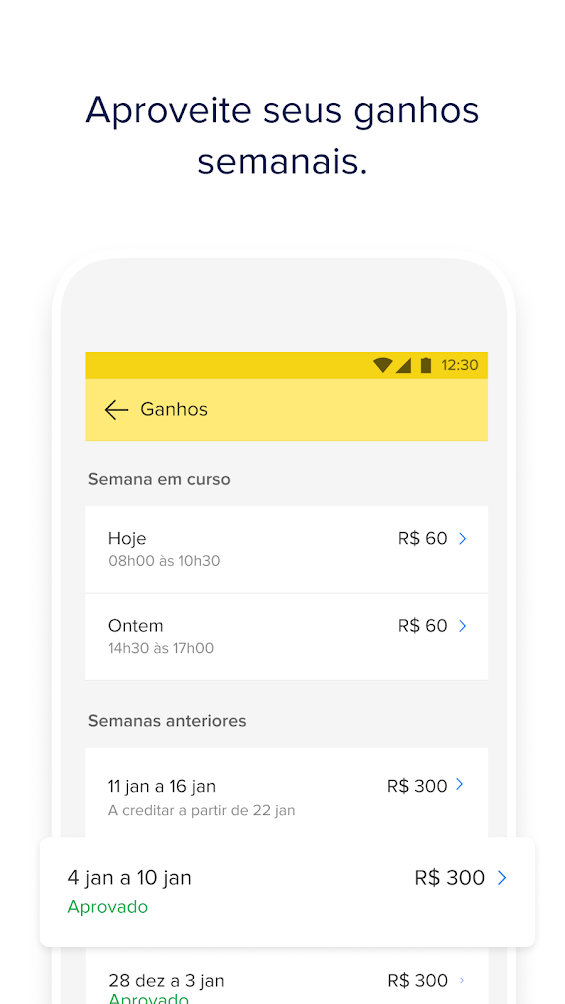 (Source: Mercado Livre/Reproduction)Source: Mercado Livre/Reproduction
The payment of daily deliveries at Mercado Extras Envio varies between R$150 and R$200, depending on the route, type of vehicle and number of objects. If the partner manages to deliver more than 80 packages on a route, it can still receive an extra R$50. The earnings exceed the average income in other transport applications. However, the delivery person must assess the vehicle maintenance costs and the price of fuel.