Scott Pilgrim vs. the World the Game Complete Edition finally is back! The game was the subject of much controversy after Ubisoft, the developer and holder of its digital rights, simply removed the original versions released in 2010 from digital stores, leaving players surrendered and without options to play it beyond piracy.
This measure put into question the idea of ​​a totally digital future for video games, since it showed how any and all titles could be removed from consoles without warning. After years of pressure and pressure, Ubisoft finally relaunched the game for PC, Nintendo Switch, PlayStation 4, Xbox One and Stadia. Check out what we think of him in our full review below!
Scott Pilgrim against time
When the original version of Scott Pilgrim vs. the World the Game was released, the beat 'em up video games were going through a very different phase than the current one. After living its golden age in the 1980s and 1990s, the advent of new technologies and hardware with 3D games ended up putting these beating games aside, with very few attempts to rekindle public interest, most of them incapable to achieve great repercussion.
Even the sphere of influence of nerds in pop culture had not yet reached the level of grandeur that we have today, when superhero films dominate mainstream cinema and people of all ages shape and define their identities around the world. around nerdy references unashamed to be happy.
So when Bryan Lee O'Malley released Scott Pilgrim's original comics, his work resonated and was embraced by an entirely different audience. At the time, the crowd saw references like the name of the band "Sex Bob-Omb" and knew that the author was speaking directly to an audience that was not yet seen in the mainstream media, a portion of consumers still extremely lacking in representation.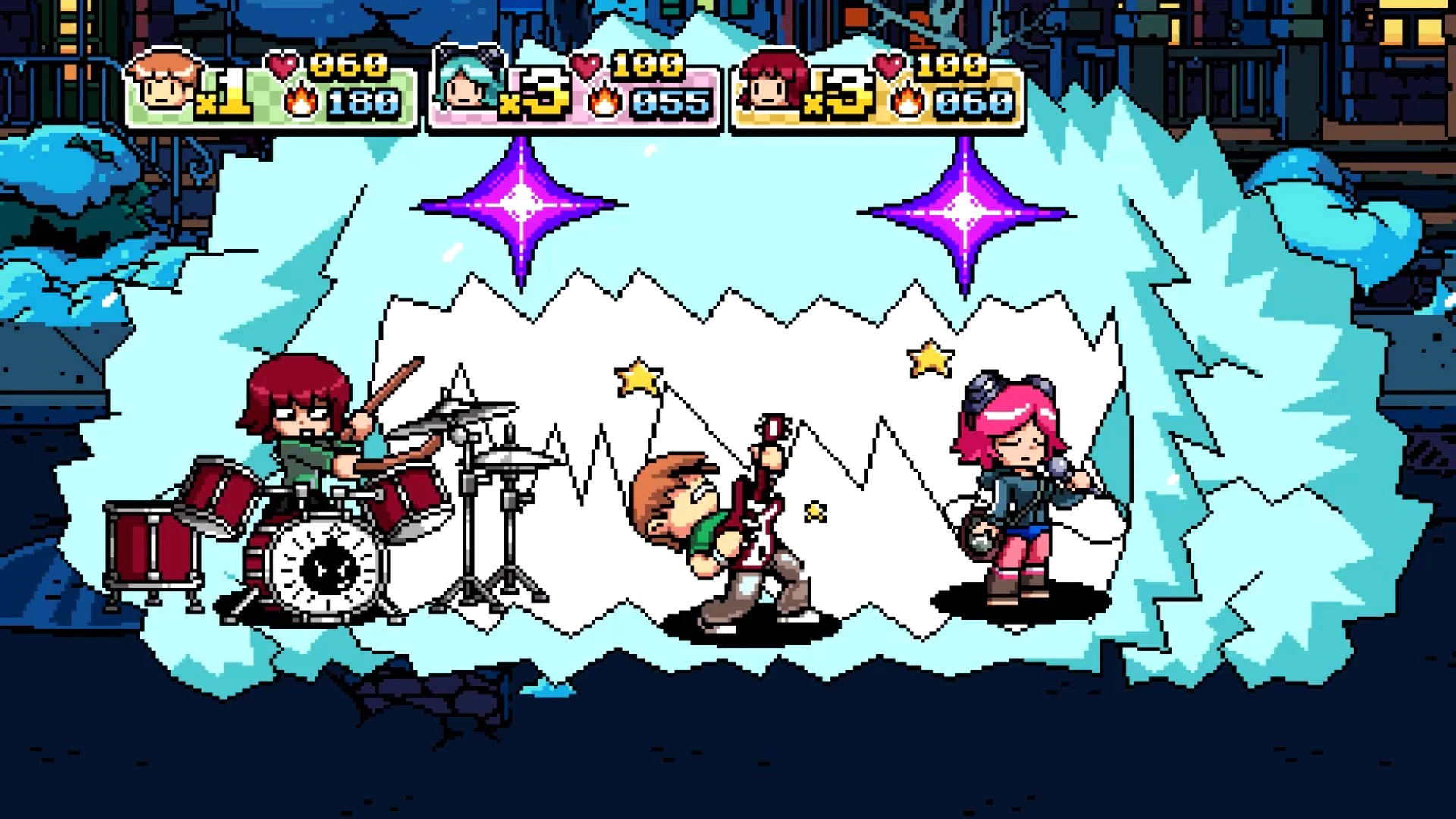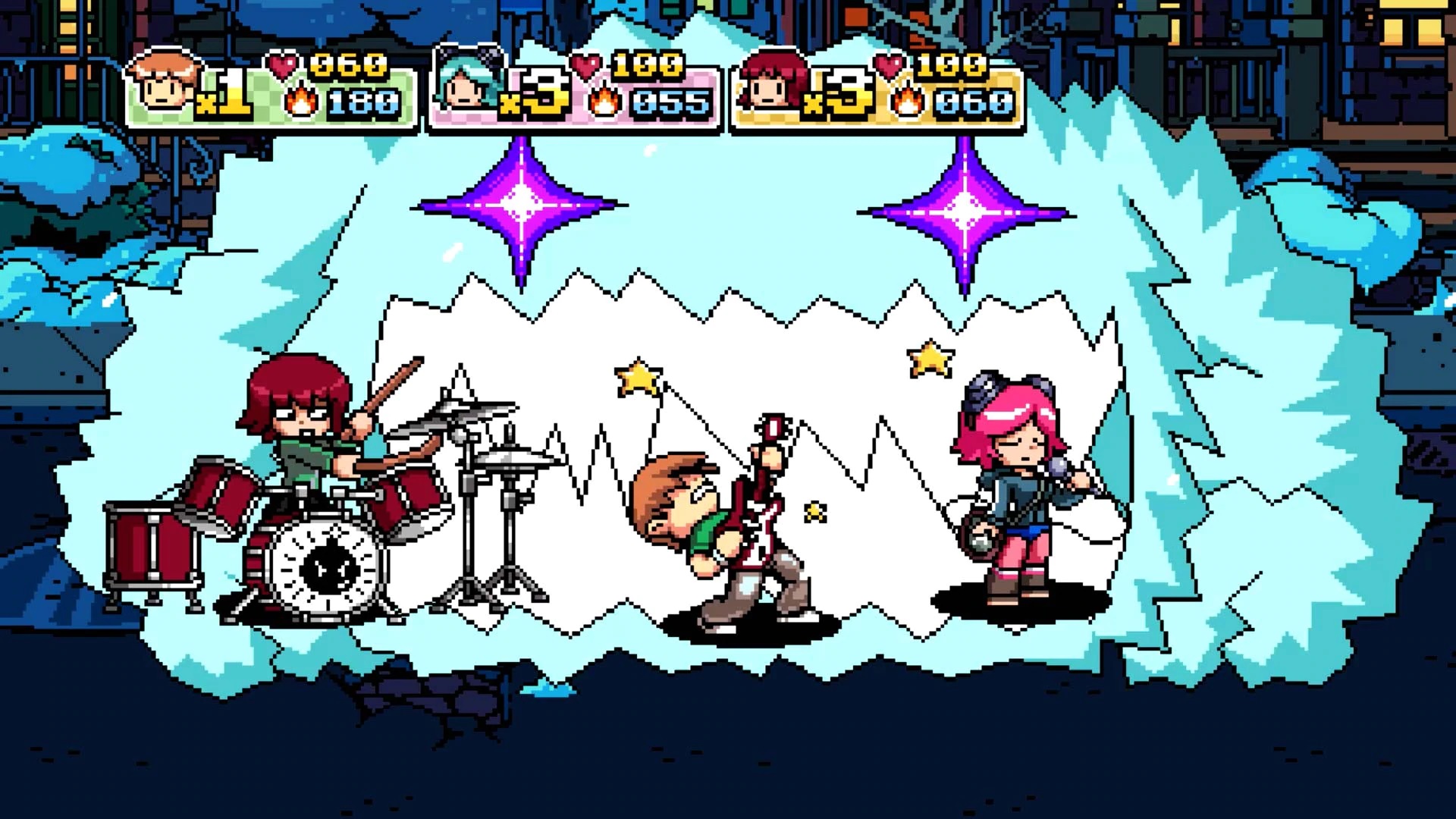 As cool as it is to have the game back, it is much more buggy than the originalSource: Ubisoft
In those 10 years until the game's relaunch, a lot has changed. Self-titled as a nerd has become something that is well regarded both in the media and in schools, and the beat 'em up games, even though still far from the glories of yesteryear, have returned to launch releases very well received by fans and critics, such as great River City Girls, Battletoads and Streets of Rage 4. And how is Scott Pilgrim's game in this new reality? Unfortunately, not as well as my memory expected.
Bugs and glitches hinder good fighting
Mechanically, the game is still decent enough, although the new version suffers from several bugs that either did not exist in the original, or were considerably aggravated during the port process. It is not uncommon for enemy hitboxes to be out of calibration and fail to register clear hits, and in some cases the game may even suffer from complete crashes!
In several stages, events that should progress through the level continue are not activated, and entry to some stores may require dozens of attempts until you are finally able to locate yourself in the exact pixel that correctly registers your position. Worse yet, occasionally you can still run into invisible enemies, and take damage unfairly thanks to the graphics that did not load properly.
It's a shame to have to deal with these problems, as the rest of the character progression and combat system is fun enough to engage any beat 'em up fan. The more enemies you kill, the more experience points you gain, which in turn will level you up and release new moves.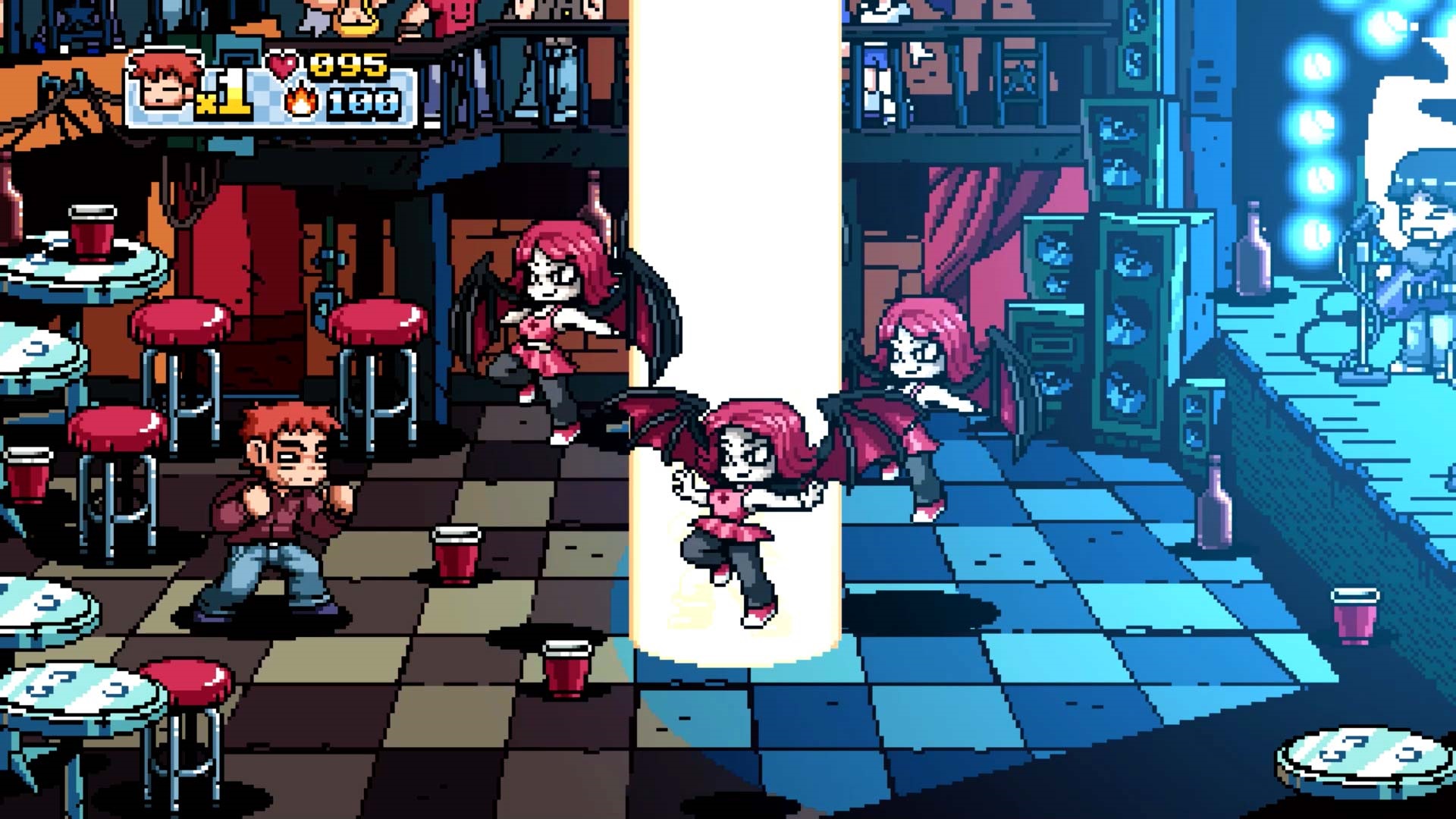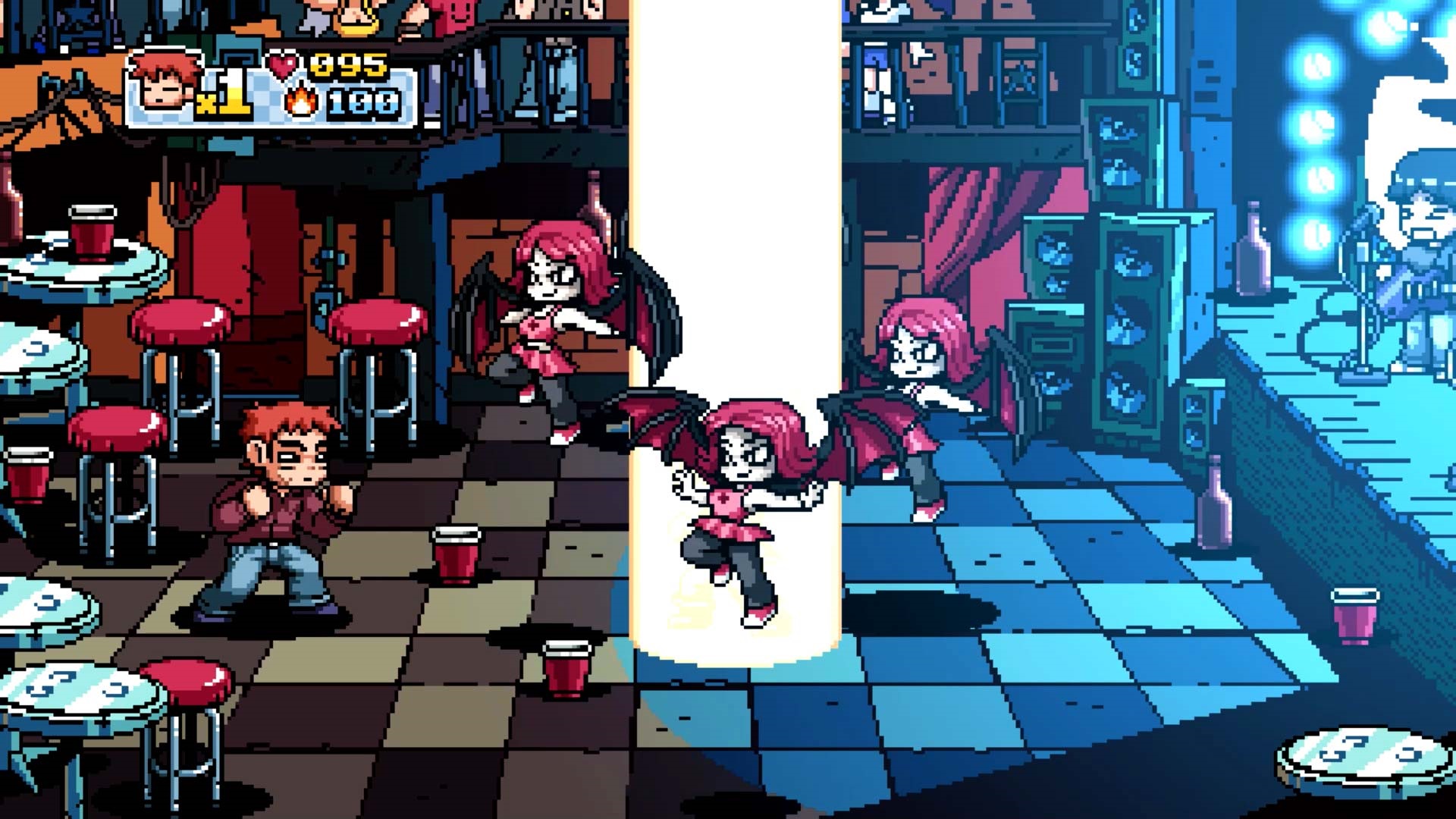 You must defeat all Ramona's ex-boyfriends, each with unique powersSource: Ubisoft
In the beginning the gameplay is quite limited, since you can't even hit enemies lying on the ground, but in a few minutes you build up a rich arsenal of blows, ranging from grappling to flying that allow you to bounce off rivals' heads, which is especially cool considering the good variety of lackeys and bosses that await you.
"Bread is fattening ?!"
Depending on your skill level and what difficulty level you choose to start with (there are three initial options to choose from), resetting the game may require a bit of grinding. This is because, although you have infinite continues, you only have three lives to spend the entire game. And with each new stage, all spread over a Super Mario World-style hub, the enemies get stronger.
So the tendency is that by the fourth or fifth stage your rivals will start to look a bit like "damage sponges". Your attacks no longer work as well unless you revisit previous levels to shop in your stores and improve your passive attributes, such as strength and defense. It tires and takes a little bit out of the game.
Incidentally, it is disappointing to know that Complete Edition which gives the name to the relaunch relates only to the addition of the characters Wallace Wells and Knives Chau, two DLCs from the original game, who now join Scott, Stephen, Ramona and Kim to complete the cast of six playable characters right away.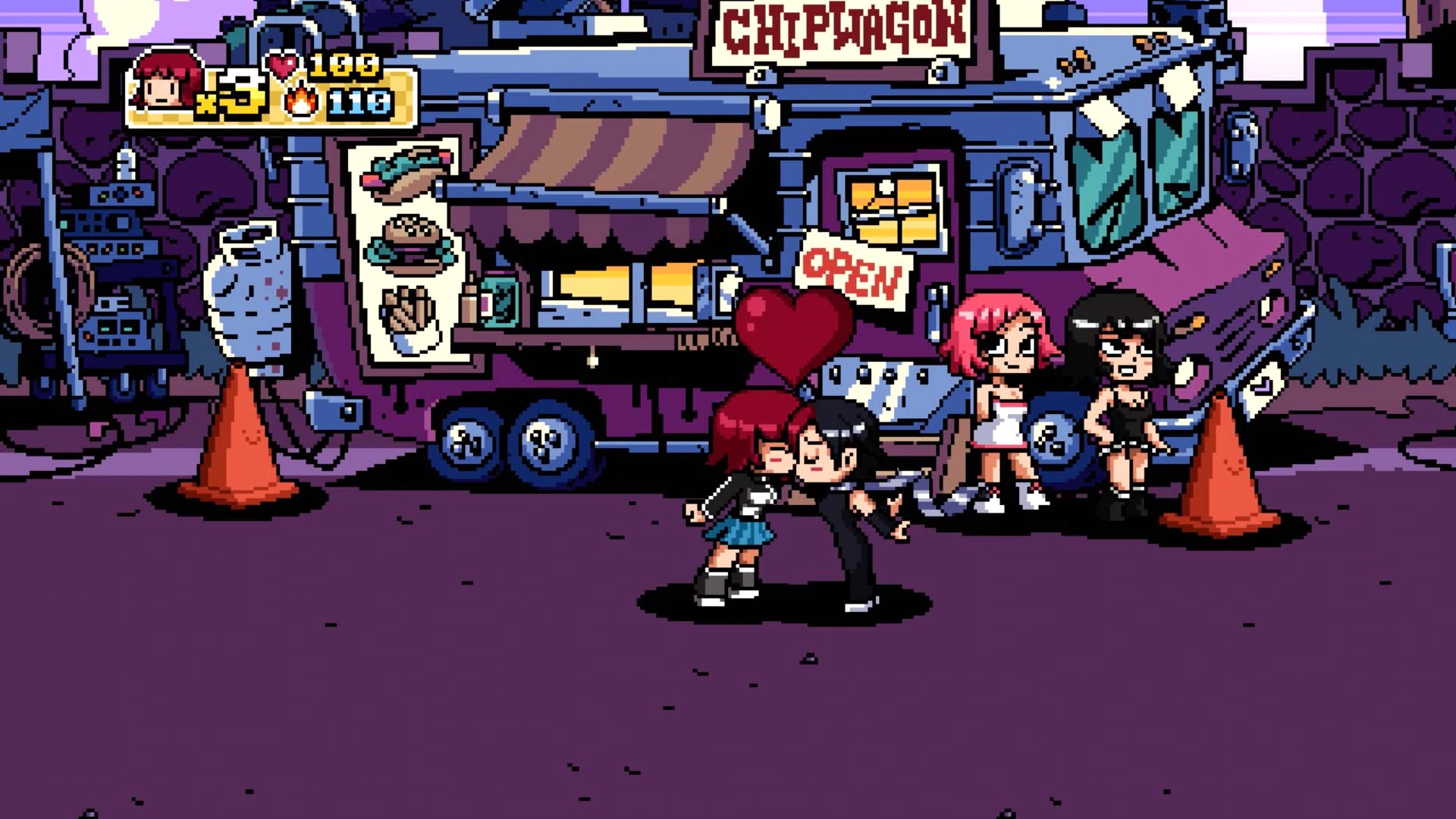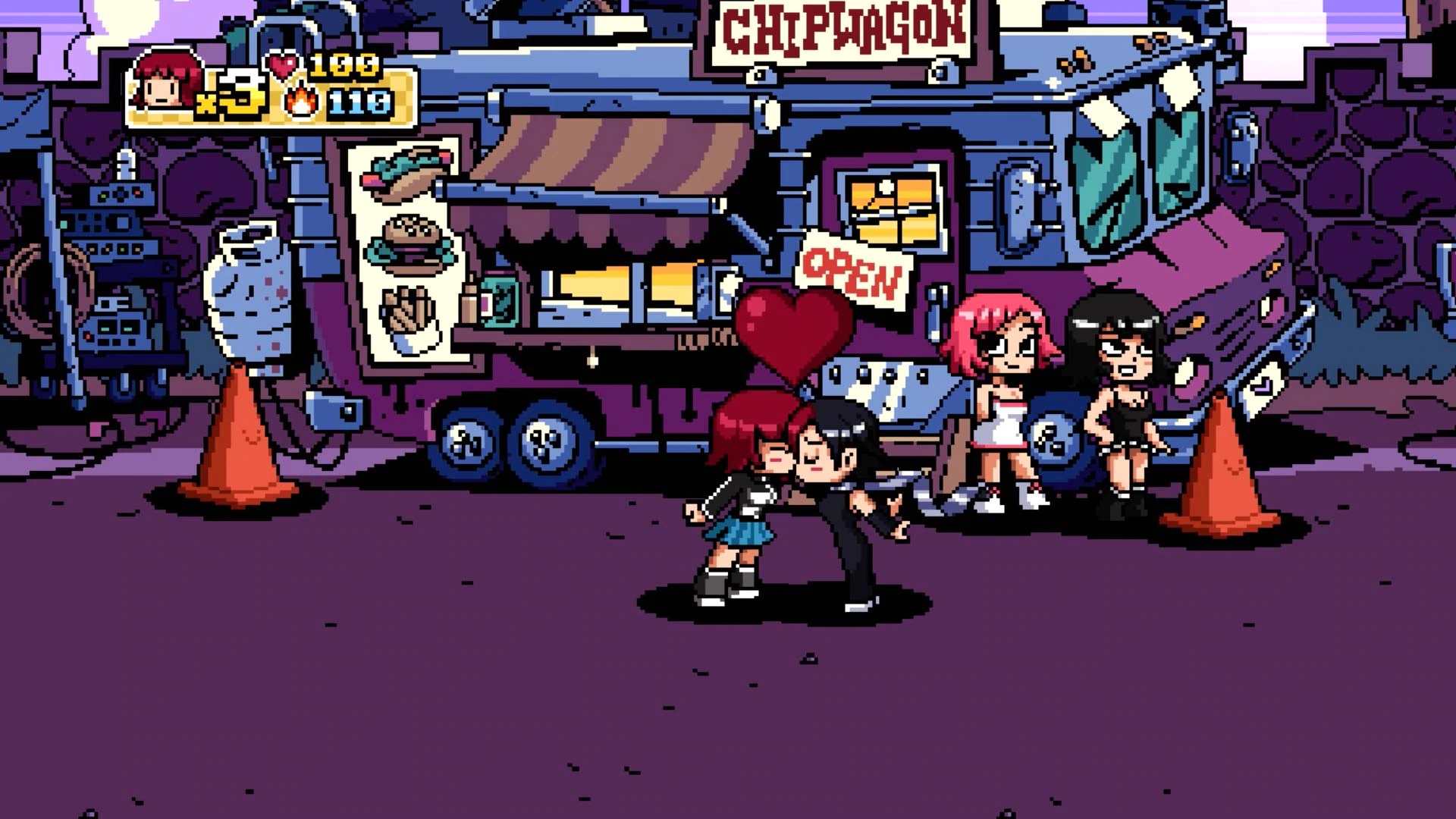 The game is much more fun if played cooperativelySource: Ubisoft
As you need to individually improve the attributes of each of them, it takes many hours to have a cast with maximum strength. This repetition is much easier to digest if you dedicate yourself to playing cooperatively with up to three more friends at the same time, which can be done both locally and online. As usual in the genre, the beating is much more fun if you have allies at your side!
Sound and neat look
If there are two departments in which the game shone 10 years ago and is still impeccable, it is in its incredible soundtrack and art direction. The character models are extremely faithful to the character of Bryan Lee O'Malley in the comics, and everyone around him emulates the "video game version" of Toronto, Canada, which the author idealized very well.
But the real attraction, which is almost worth buying the game alone, is the outstanding work that the band Anamanaguchi did. The American group that mixes chiptune with indierock, nintendocore and electronic rock composed all the tracks of the soundtrack, and each stage shines with its own identity and striking melodies. You even want to stop playing just to enjoy the fun!
Verdict
Scott Pilgrim vs the World the Game Complete Edition it's still a good beat 'em up game and without a doubt it's great to be able to play it again! Even if charging again for your purchase even from those who already owned the original game is questionable practice, whoever does it will enjoy an exquisite soundtrack, great graphics faithful to Bryan Lee O'Malley's dash and plenty of multiplayer fun, at least when you you are not suffering from your thankless bugs and glitches. For fans of the genre or comics, there is no mistake!
"Scott Pilgrim vs. the World the Game is the return of beat 'em up that should never have stopped selling"
Strengths
Animal soundtrack by the band Anamanaguchi
Multiplayer great fun online and offline
Various funny references
Art faithful to Bryan Lee O'Malley's stroke
Negative points
Many bugs and glitches
Design has gotten a little dated
Shifting difficulty
No extras or noteworthy additions other than the original small DLC
Note: 80