Launched in August 2015 and arriving in Brazil only in 2016, Samsung Pay is the solution developed by the homonymous South Korean giant to make payments by approach using a device. The system works through secure and well-established technologies in the market, such as NFC and MST — "Communication by Near Fields" and "Secure Magnetic Transmission", respectively, in free translation of the acronyms in English.
However, that's not Samsung Pay's only strength. In the mobile app, the user can register several debit and credit cards, as well as other services such as Food Ticket, to organize and facilitate their financial life during payments. To top it off, there is still the possibility to create a digital account, get rewards through points and much more.
To help users, TecMundo has prepared a guide with the most important information about Samsung Pay. Check out:
How it works?
In detail, Samsung Pay "transforms" an enabled device into a traditional "credit card". For this, it is necessary that the user previously register the credit or debit cards that they want to use and check if their device has support for both the application and for payments by approximation.
Step by step to use Samsung Pay. (Source: Samsung / Playback)Source:  Samsung
Next, just open the application and bring the device closer to the payment terminal to complete the transaction. The process is very similar to that found in similar solutions like Google Pay and Apple Wallet, as they both work through NFC, but only Samsung Pay has the use of MST as an alternative — thus increasing its compatibility.
NFC or MST?
Despite having basically the same purpose, NFC and MST technologies work in very different ways. Devices with NFC (or CCP, for its acronym in Portuguese) are only able to communicate with other devices that also have this support, sending data within a frequency of 13.56 MHz.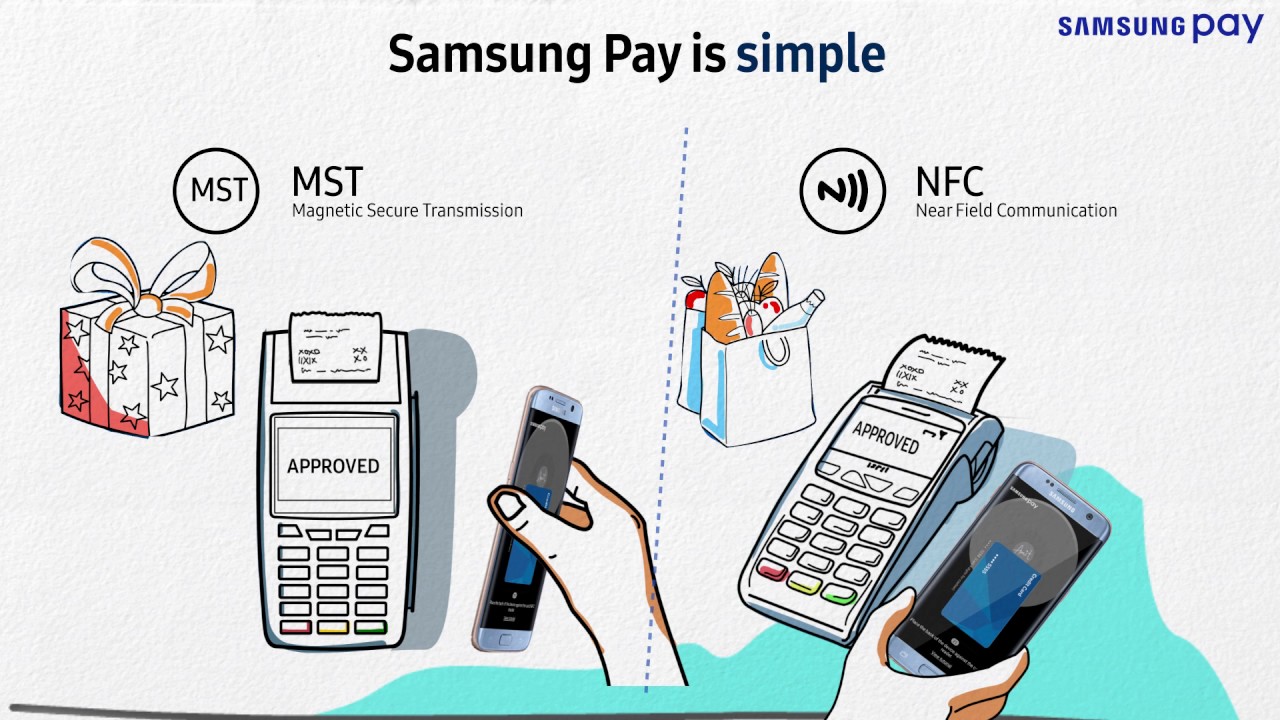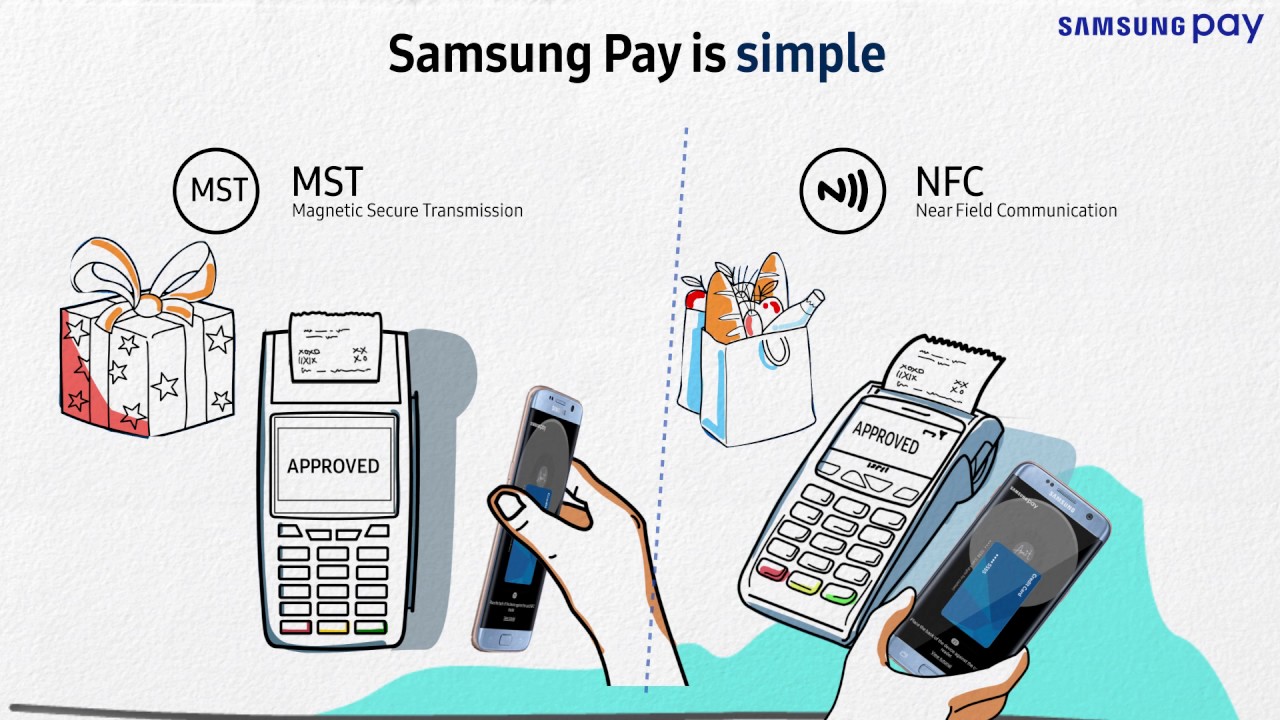 For payments with MST, the contact must be made where the magnetic card is inserted, while with NFC it only takes a touch. (Source: Tech Seen, Samsung / Playback)Source:  Tech Seen, Samsung
On the other hand, the MST (or TMS, if translated into Portuguese) can communicate with any type of terminal, as it uses a small magnetic field to "trick" you and simulate that a credit card was used in the traditional way. there. The technology is unique to Samsung and therefore its implementation is limited to its devices.
Availability and support
Samsung Pay is available for Android and iOS devices. However, part of its features are limited in mobile phones that are not Samsung — such as, for example, the pay-by-approximate itself. These devices only support the Samsung Pay Mini, a "compact" variant of the original tool.
Controversial, the restriction may sound a bit strange to interested users who don't own a Samsung device, but it can be explained, in part, by the absence of Knox — a proprietary security framework from the South Korean, built directly into its operating system. . The feature is able to protect branded cell phones in several layers, offering more reliability in their use.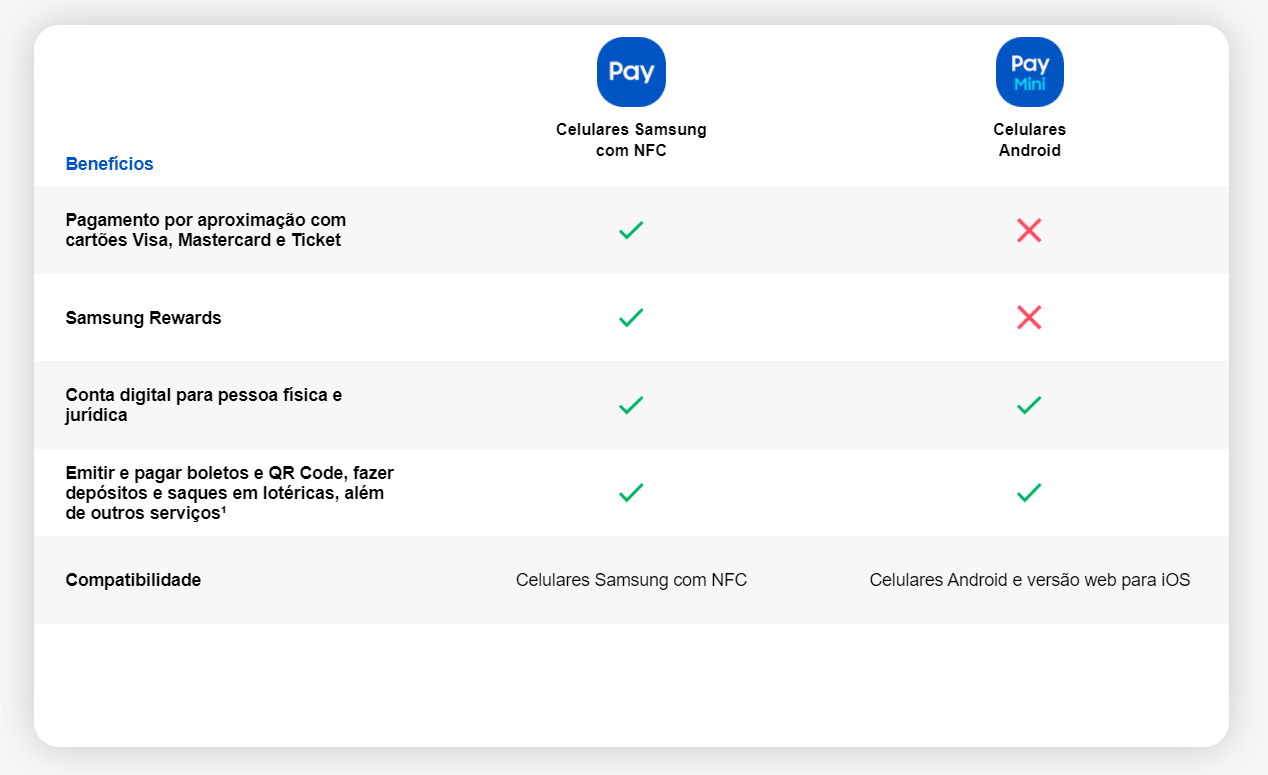 Differences between Samsung Pay and its "Mini" variant. (Source: Samsung / Playback)Source:  Samsung
However, it is still possible to enjoy other features of Samsung Pay even without owning a South Korean device. Among them are the possibility of creating digital accounts for individuals and companies, issuing and paying slips, making deposits and withdrawals at lottery agencies and much more. In addition, there is also the loyalty program that guarantees rewards for users who use the services.
To check the complete list of credit cards that can be used with Samsung Pay, click here. In general, the platform accepts most national banks.
Devices with full support for Samsung Pay
Below is a list of all Samsung devices that support Samsung Pay, divided into their respective categories.
With NFC and MST technology
Wearables: Gear S3 Frontier, Gear S3 Classic
Folding: Galaxy Z Fold2, Galaxy Fold and Galaxy Z Flip
Galaxy S Line: Galaxy S20, Galaxy S10, Galaxy S9, Galaxy S8, Galaxy S7, Galaxy S6 Edge Plus (G928G)
Galaxy Line A: Galaxy A8, Galaxy A7 2017 (A720F), Galaxy A5 2017 (A520F), Galaxy A7 2016 (A710M), Galaxy A5 2016 (A510M), Galaxy A9 (A910F)
Galaxy Note Line: Galaxy Note20, Galaxy Note10, Galaxy Note9, Galaxy Note8 and Galaxy Note5
Only with NFC technology
Wearables: Gear Sport, Galaxy Watch Active and Active2, Galaxy Watch 1, 2 and 3
Specials: Galaxy Xcover Pro
Galaxy S Line: Galaxy S21, Galaxy S20 FE, Galaxy S10 Lite, Galaxy S6 and S6 Edge
Galaxy Line A: Galaxy A70, Galaxy A80, Galaxy A51, Galaxy A71, Galaxy A6+, Galaxy A32, Galaxy A32 5G, Galaxy A52 5G, Galaxy A72, Galaxy A9
Galaxy Note Line: Galaxy Note10 Lite