Like any self-respecting game as a service, Roblox — which prefers to identify itself as a platform or hub where users can find many different games — uses a microtransaction system. Thus, it is possible to customize your avatar, buying clothes and accessories to stand out from the crowd, paying all this with Robux.
Don't know what it's about? It doesn't matter, we'll give you the main information for you to get along and know exactly what (and how) to do with Roblox Corporation in-game cash.
What is Robux?
Robux is a digital currency that can be purchased through different channels and at different prices, depending on the amount desired at the time of purchase. You can even opt for budget packages and subscribe to monthly cash receipts.
With it, a user can not only make their character their own, but can also unlock other advantages, such as perks and special abilities. You can, for example, buy a cool coat or opt for a superpower like increased speed.
Where can I buy Robux?
The game's "cash" can be purchased in different places. As the game is available for PC, Xbox, Android and iOS, it is possible to buy the digital currency both on the game's official website and in the stores of these devices.
On the computer, to buy the currency, just access the game's website and, with your account connected, click on "Robux" in the top menu. You will be taken to a screen with different package options, each with a different amount of coins.
On Xbox and cell phones, the transaction is carried out using their respective stores. In the Microsoft console, for example, the purchase is made in the Microsoft Store. On Android, the entire transaction is finalized on the Google Play Store.
How much does Robux cost?
The coin price varies according to the amount desired by the user. When visiting the in-game store, you will come across a few options, each with different amounts of cash and their respective prices. The only problem is that the prices are shown in dollars, which can lead many people to believe that, for example, 400 coins cost only five reais.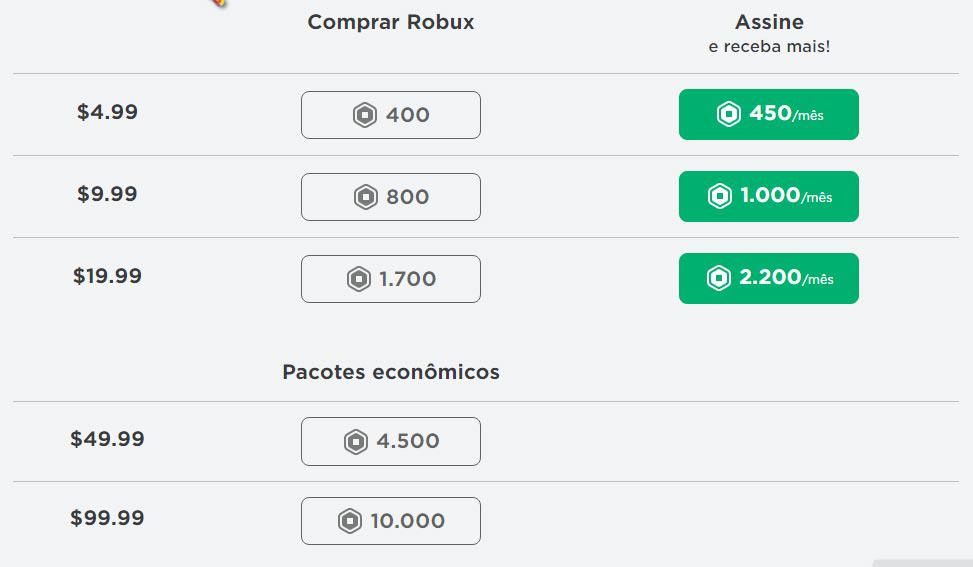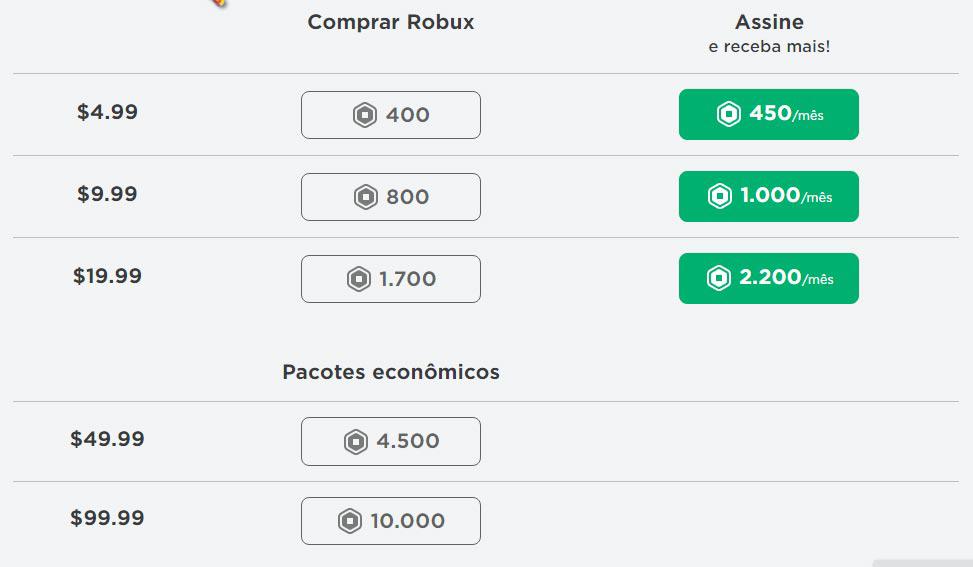 You can buy Roblox coins in varying amounts, with each pack costing different amounts; the higher the price, the bigger the bonusFonte:  Roblox
In fact, 400 Robux costs $4.99 and the amount is only converted to our currency after the user selects the payment method. At this point, the platform converts the Dollar to Real and the transaction can be completed using debit and credit cards, Pix, boleto, PayPal and redeem codes.
Below you can see the coin packs available for purchase at Roblox and their respective dollar amounts:
400 Robux — US$ 4,99
800 Robux — US$ 9,99
1700 Robux — US$ 19,99
There is also the possibility of acquiring more coins paying a little more, but proportionally receiving more cash, with the Economic Packages. There are two options available to those willing to pay a little more to receive a greater discount on the total amount:
Budget Bundle: 4500 Robux — $49.99
Budget Bundle: 10000 Robux — $99.99
It is worth noting that these are the values ​​available on the website. If you prefer to buy smaller amounts of coins, you can purchase from 40 Robux through the app.
Where to buy Robux?
In addition to being able to buy your Robux directly on the platform's official website, as seen before, there are still other ways to acquire coins. It is possible, for example, to access partner sites such as Smile One and buy your coins there. After filling in all the fields and making the payment (in Reais and with the possibility of paying by boleto, PayPal and even Pix), you will receive a code that must be redeemed on the game's website.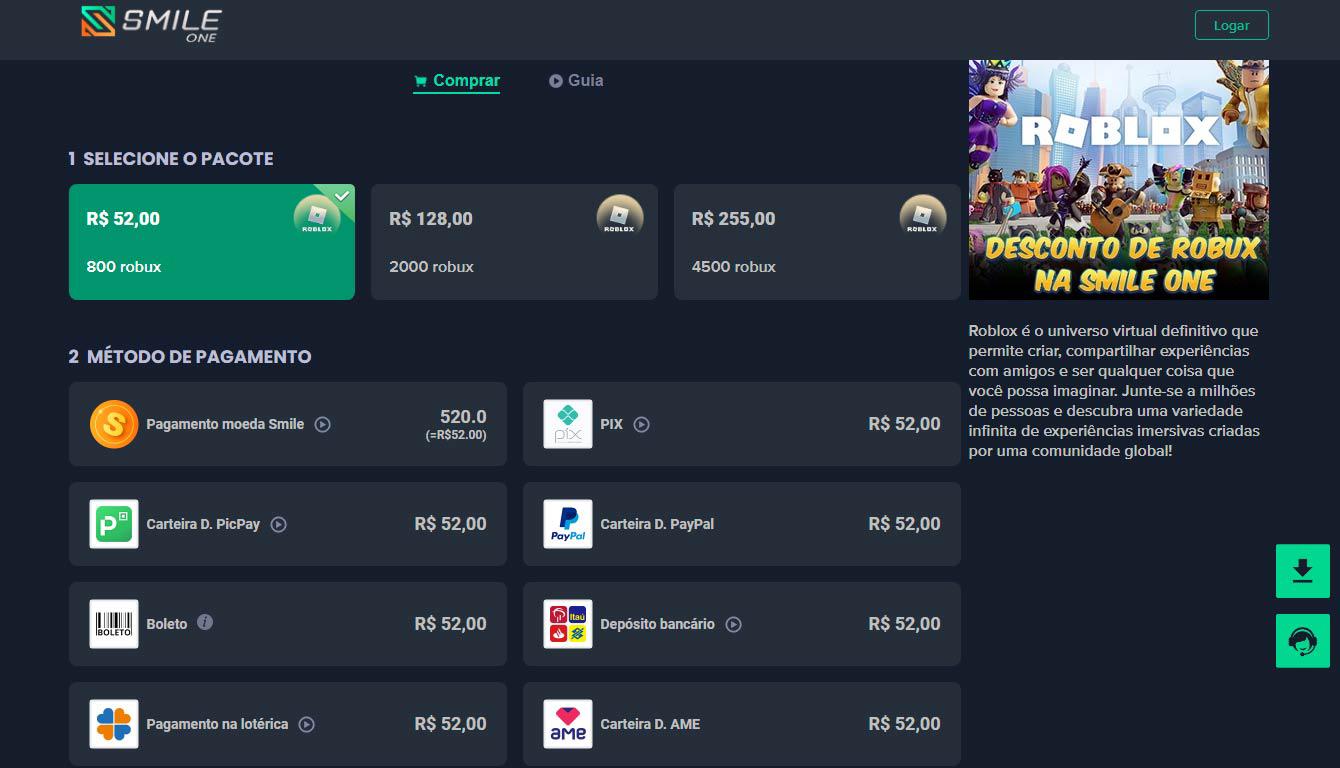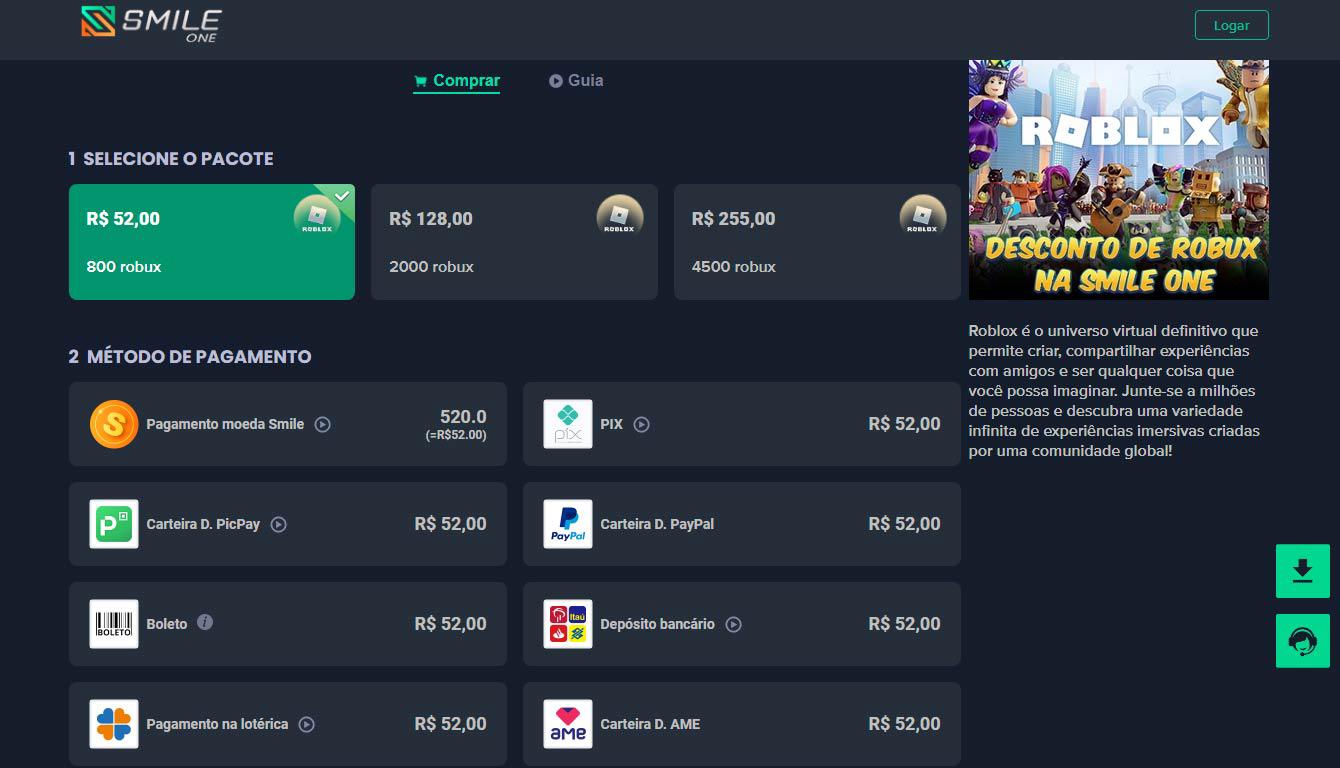 You can buy game credit codes on partner sites and redeem the balance in your accountSource: Smile One/Reproduction
Another viable option is to buy code cards in physical stores. Each card comes with a unique code that you must redeem on the official Roblox website, in order for the balance to be added to your wallet.
In both options above, it is very important to make sure that the account logged in when redeeming the credits is the one to which you want to add the balance. Be careful not to accidentally end up adding Robux to a secondary account or a friend's account, for example!
How do I get more Robux?
First of all, it is necessary to make it clear that you cannot earn free currency. But there are two categories that offer players the possibility to receive Robux.
The first of these is subscribing to Roblox Premium. In this modality, you pay monthly for the selected coin pack, always receiving a cash bonus. By subscribing to the 400 Robux package, you actually get 450 (50 coin bonus); if you opt for the 1700 pack, you receive a total of 2200 (500 bonus). Below, you can see the available subscription packages and the amount of cash received by subscribers (including bonuses):
400 Robux subscription pack

Price: $4.99 per month
Received amount: 450 (bonus 50 extra coins)

800 Robux subscription pack

Price: $9.99 per month
Received amount: 1000 (bonus 200 extra coins)

1700 Robux subscription pack

Price: $19.99 per month
Received amount: 2200 (extra 500 coins bonus)
In addition, subscribers can sell items to other users, such as shirts, pants and accessories, earning a percentage of the sales value.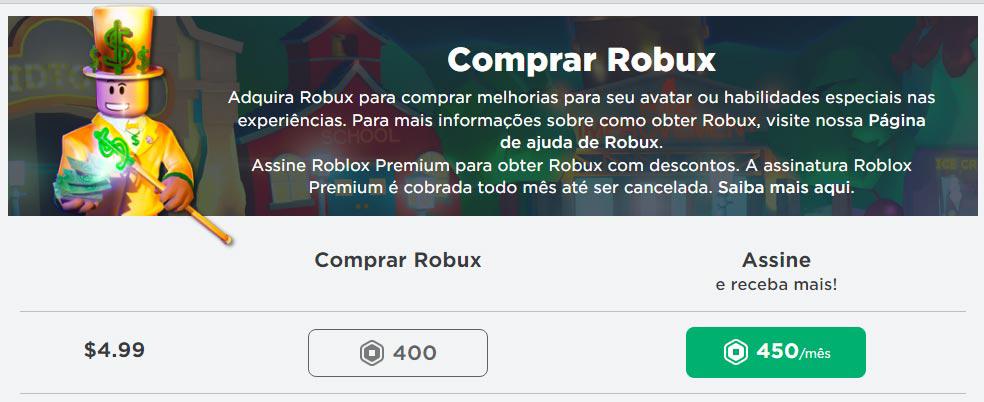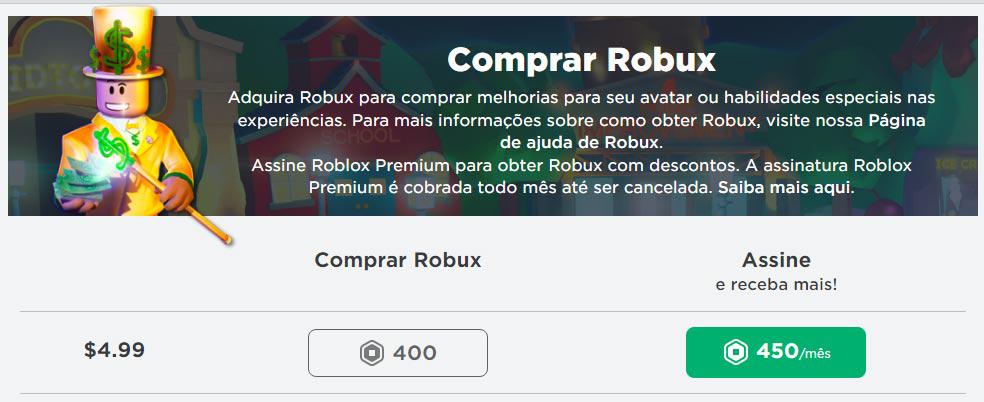 Monthly subscriptions offer Robux bonuses every month, with the coin bonus received being much higher on the more expensive plansFonte:  Roblox
The second way to earn coins in Roblox is working. That's right, you can unleash creativity and create Game Passes, which can be sold in the game store. In Roblox Corporation's own words, "Game Passes are free to create, so you can sell them for the amount of Robux you choose." When you sell your creations, the transaction balance is added to your account within three business days.
Can you get free Robux?
Not. As stated earlier, it is not possible to earn free coins in Roblox. What you can do is select one of the options listed above to get coins, but none of them are 100% free: one is paid but gives extra coins; and the other requires some manpower.
Roblox Corporation even asks players to report any and all websites or tools that promise free cash. It is good to stay away from these offers because they are often scams aimed at stealing your game account and even your personal data. Watch out!
Take good care of your rich money
Now that you know what Robux is and what to do with the coin — as well as what not to do to avoid falling into scams — it's time to open the game, customize your avatar and have fun with friends and strangers in a variety of ways game. Have a good time!