After more than 1 year of pandemic, with social isolation and home office (even if it was only for a period, during the most critical phases of lockdown), it is difficult to find people who have not gone through the experience of an online meeting. Even before covid-19 changed the way we interact, video calling was already used in many situations. What the pandemic did was only intensify this reality even further.
Among the different tools, Google Meet turned out to be one of the most popular. Whether for its practicality or because it is integrated with other Google tools, there are few people who have never used Meet. Chances are, at some point since last year, you've heard someone say that their microphone was muted, or you've seen someone having trouble turning on the camera. The tool got an update recently, with a new design and several improvements.
But what if you need to record a call, how do you do it? Google's platform allows this as long as you have a Google Workspace account (formerly G Suite). Below we will explain this process step by step, which is quite simple and can be very useful in some situations.
1. Who can record calls?
You can log calls with presentations via Google Meet.Source:  Google/Disclosure
The first thing to know is that only a group of Google Workspace users are allowed to make recordings. Another important detail is that only the call organizer or some member of the same group can perform the action. Check out the users who have access to the recording capture tool below.
Essentials
Business Standard
Business Plus
Enterprise Essentials
Enterprise Standard
Enterprise Plus
Education Standard (available for users with employee and student licenses)
Education Fundamentals (available for users with employee and student licenses)
Education Plus (available for users with employee and student licenses)
Teaching and Learning Upgrade (available for users with a license for this product)
Individual Workspace Subscriber
2. How to record?
The recording will appear available to any user under the above conditions who are participating in the conversation via the computer. Users who are using the app on their mobile or tablet cannot control the recording, but will be notified of it.
Once the meeting has started, you will click on the three dots that appear on the lower right side of the screen, next to "Present Now", and select the option "Record the meeting". The recording ends by repeating the process; however, the last action is to click on "Stop recording". If this is not done, when all participants leave the room, the recording will also end automatically.
If a presentation is made during the meeting, everything that was said and displayed will be recorded as well. In addition, all chat conversations will be saved after registration is complete.
3. Where to download the recording?
After the meeting has ended, the organizer of the meeting and the person who started it receive an email with your link. By default, they're saved in a Google Drive folder for Meet records under the meeting organizer's account. A link is also created in Google Calendar, such as an event that will be recorded there. The file can be accessed, shared, or downloaded by any user with authorization to the folder, just like other files in Drive.
4. How much does it cost?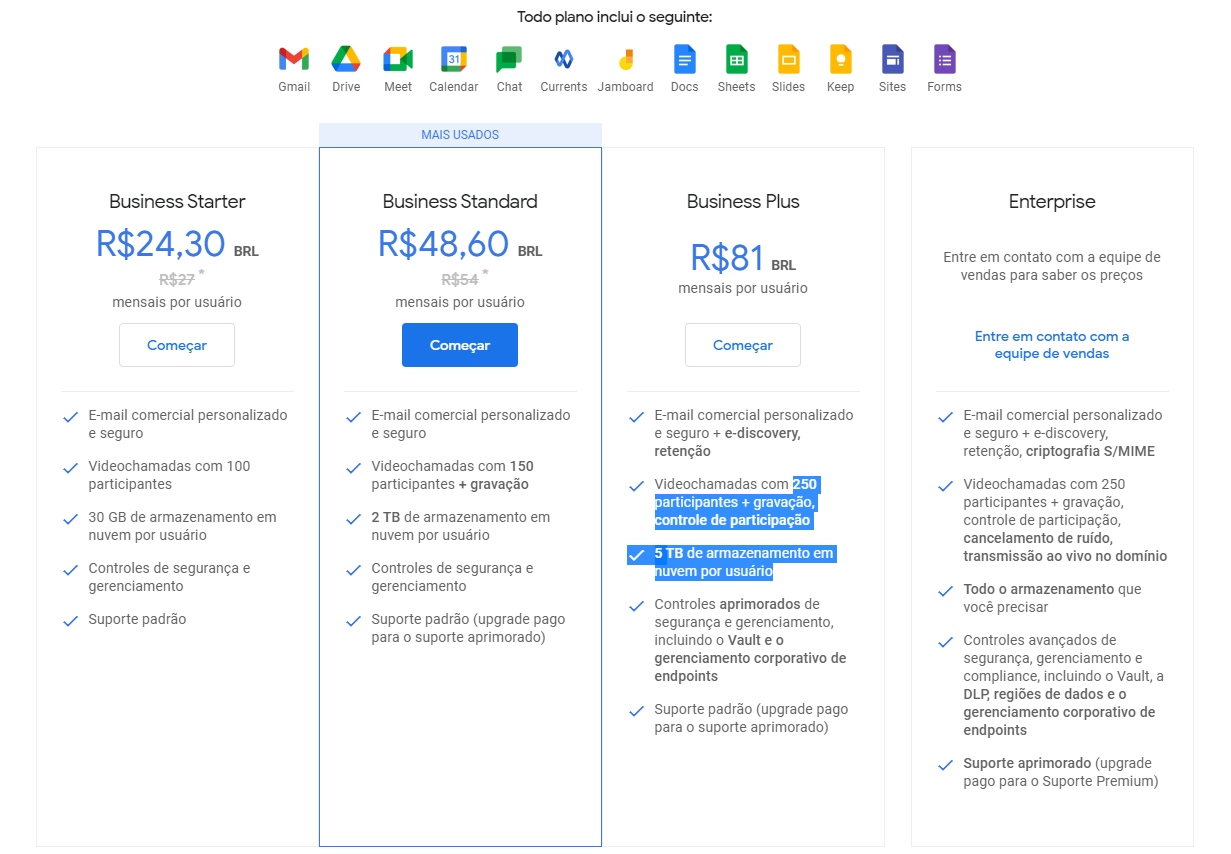 All subscriptions have a 14-day free trial.Source:  Google/Disclosure
To access the recordings you need a Google Workspace registration. The basic Business Starter plan, with a monthly fee of R$24.30 per user, enables some extra features in the Google account, but does not allow recording of calls. As for Business Standard subscribers, with a monthly fee of R$ 48.60 per user, in addition to recording, the limit of participants for each call is 150 people and members have 2 TB of storage in the cloud.
Finally, the Business Plus plan has 250 participants per call and 5 TB of cloud storage per user, in addition to allowing recording. The value of this subscription is R$81 per month per user.
Users with a free account have a 1-hour recording limit and have up to 100 people per call.