In Qualcomm's view, consumers should no longer buy devices compatible with Wi-Fi networks considered outdated. At an online event on Thursday (27), Qualcomm LATAM director of connectivity products, Hamilton Mattias, highlighted the importance of Wi-Fi 6 and Wi-Fi 6E (Extended) in this "new normal, with more people at home".
During the coronavirus pandemic (Sars-Cov-2), "homes became extensions of businesses and schools". For Mattias, "the impacts will change the market" as a whole. It is an exercise in the evolution of both technology on mobile devices and routers.
The company recommends, when purchasing a new product, "that is at least Wi-Fi 5 or higher, such as Wi-Fi 6. Wi-Fi 4 no longer meets today's needs" in homes.
The new Wi-Fi 6 standard promises to be up to 40% faster than the current Wi-Fi 5, as well as more secure. The technology will also allow Wi-Fi hotspots to be connected by multiple users and devices without suffering from interruptions or bottlenecks.
But as a new technology, it is still very expensive. Among compatible smartphones, we have names like the Galaxy S20, Motorola Edge + and iPhone 11. The three were launched for at least R $ 5,000. The recently launched TP-Link Archer C80 router costs R $ 722, for example.
Difference in games, streaming
According to the Wi-Fi Alliance, a wireless technology regulator, networks are classified as follows:
802.11b Wi-Fi: Wi-Fi 1

802.11a Wi-Fi: Wi-Fi 2

802.11g Wi-Fi: Wi-Fi 3

802.11n Wi-Fi: Wi-Fi 4

Wi-Fi 802.11ac: Wi-Fi 5

802.11ax Wi-Fi: Wi-Fi 6
When choosing a new product, Qualcomm points out that the devices include reception and transmission antennas in 1×1, 2×2 and 4×4 standards, for example.
Wi-Fi network illustration.Source: Qualcomm / Disclosure
Devices that support 2×2 Wi-Fi have twice as many antennas, so twice as much connectivity and range. In this case, there are two receiving and two transmitting antennas. The advantages translate into "faster connections, seamless streaming, better-performing online games".
A 4×4 router, in turn, has four transmit and receive antennas with up to four simultaneous streams.
Comparing a 2×2 router with another 1×1 on a 100 Mbps link, the second model would fail to reach the maximum connection speed before the model with more antennas. In the experiment, Qualcomm used a 1×1 801.11n (2.4 GHz) router.
What the user complains about
A Qualcomm survey of 2,305 Android users in Brazil, Mexico, Colombia and Peru reveals what most people complain about Wi-Fi:
For 73%: congestion, slow streaming speed, games, downloads

For 49%: the signal is weak inside or outside (as in the balcony) of the house
The survey also says that 69% of users do not have full coverage at home.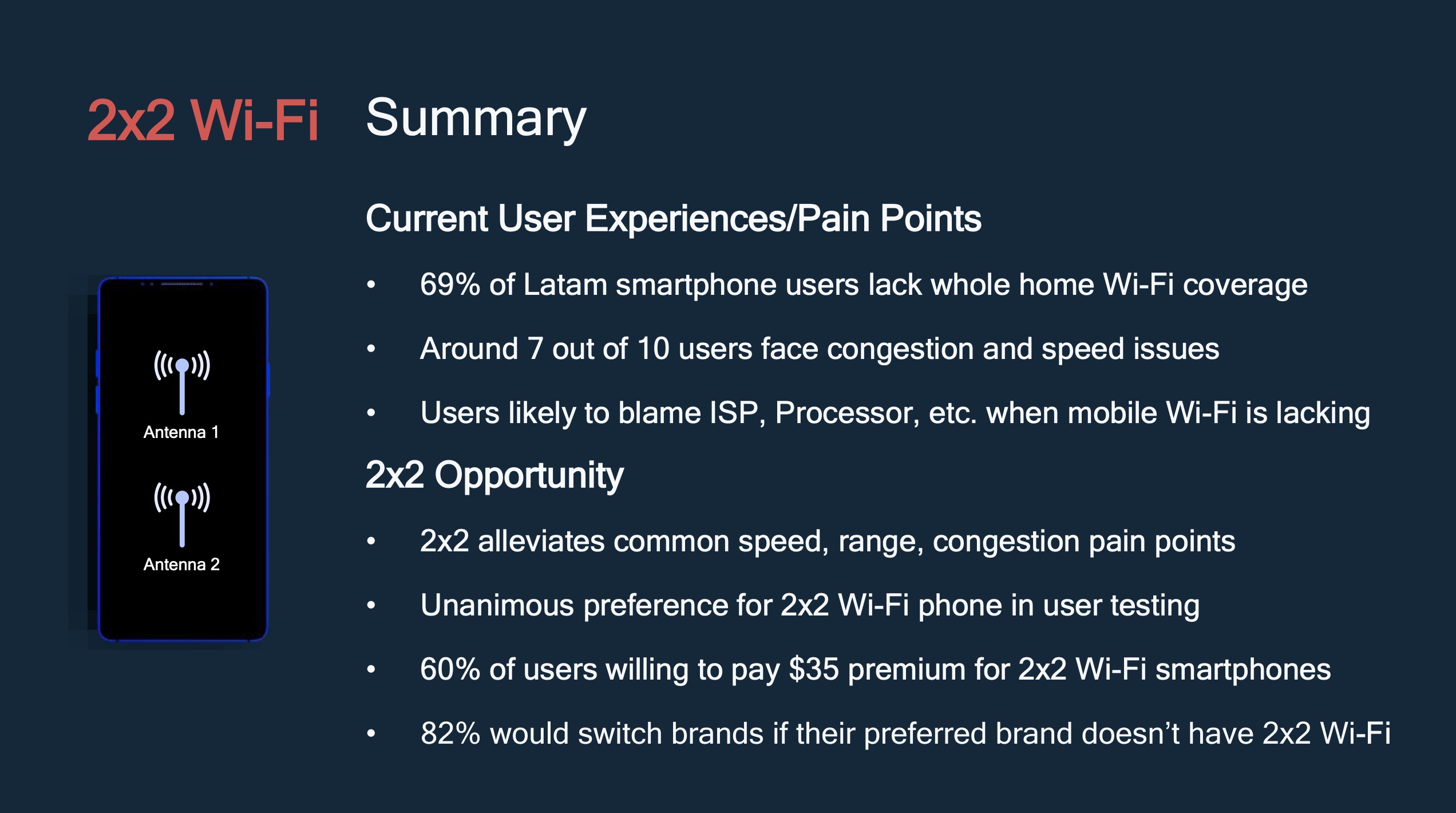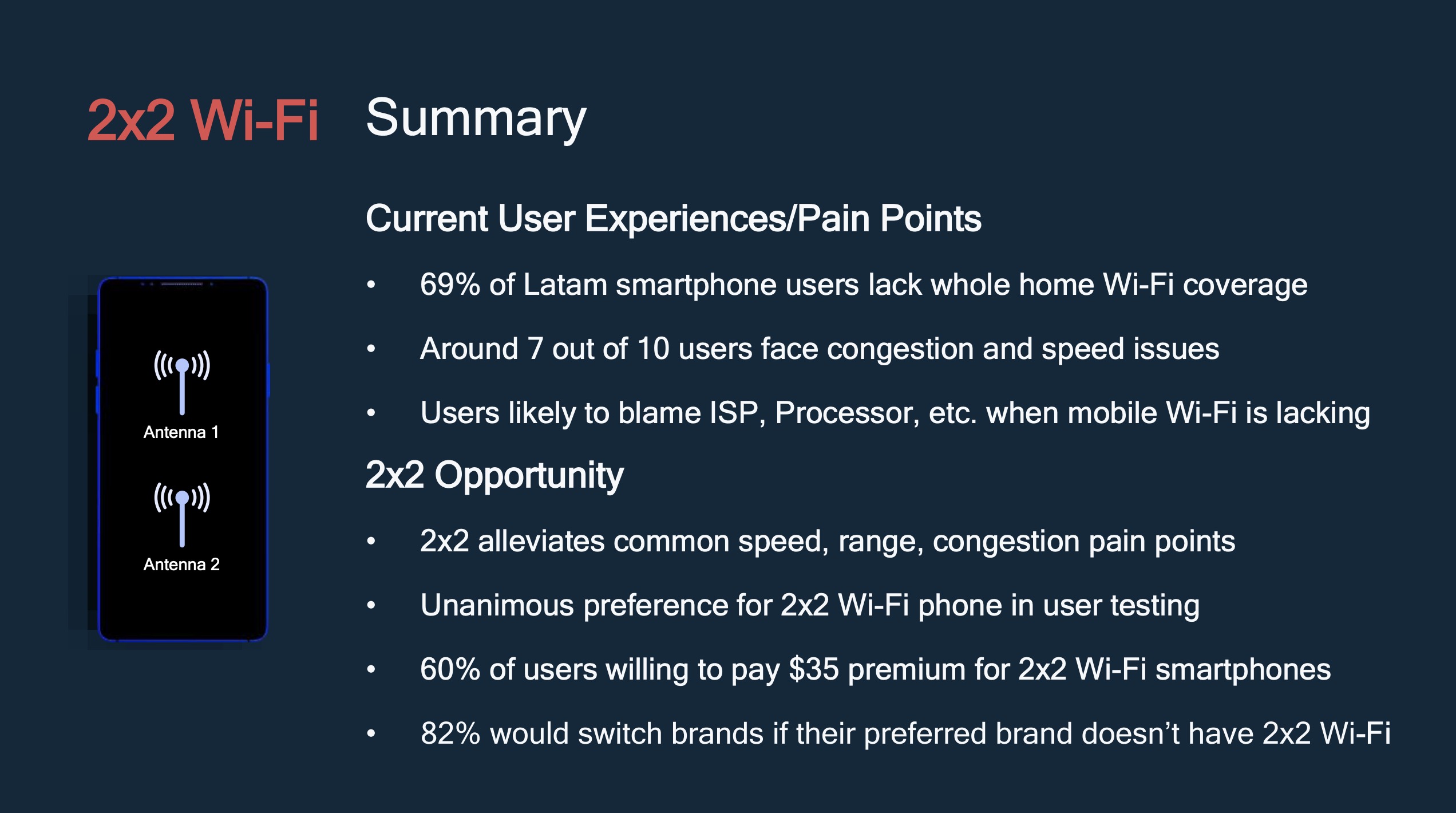 Advantages of 2×2 Wi-Fi.Source: Qualcomm / Disclosure
As for public Wi-Fi 89% say they usually use it, but 91% of them say they face problems. For 73%, the signal is so bad that it is better to use 3G or 4G, even if there is a public Wi-Fi signal.
Qualcomm's survey estimates that 96% of users prefer cell phones with 2×2 Wi-Fi, and that 82% would switch brands if the current one does not have the technology in its products. Currently, the technology is present in advanced intermediate cell phones and in the high-end models.
Wi-Fi 6 and Wi-Fi 6E
Mattias mentions that it is important to identify the specification on cell phones, TVs, personal assistants and others "so that the experience is good, too". Currently, the company offers Networking Pro Series chips in more than 200 models of routers. On mobile devices, more than 70 cell phones already use the new Snapdragon 865.
The second generation of the Networking Pro platform, for example, supports up to 16 streams and reaches up to 10.8 Gbps of physical rate in 2.4 GHz, 5 GHz and 6 GHz. In addition to the performance and performance improvements, it supports up to 2,000 users per access point . The most robust model of the chip is aimed at large shows, events.
Qualcomm also highlights Wi-Fi 6E. It uses the same protocol (802.11ax) as Wi-Fi 6, has almost twice the bandwidth (lower latency, greater access capacity and faster speeds) than Wi-Fi 5 and supports all three frequencies.
Wi-Fi 6E should arrive here in Brazil at the beginning of 2021 with the approval of the 1,200 MHz band. It can reach speeds of up to 9.6 Gbps with multi-gigabit Wi-Fi support up to 3.6 Gbps.
According to Mattias, Anatel (National Telecommunications Agency) still has time to approve the frequency in 2020. He said, at the press conference, that the agency "has already allocated the spectrum" and that the decision now depends on the board of directors.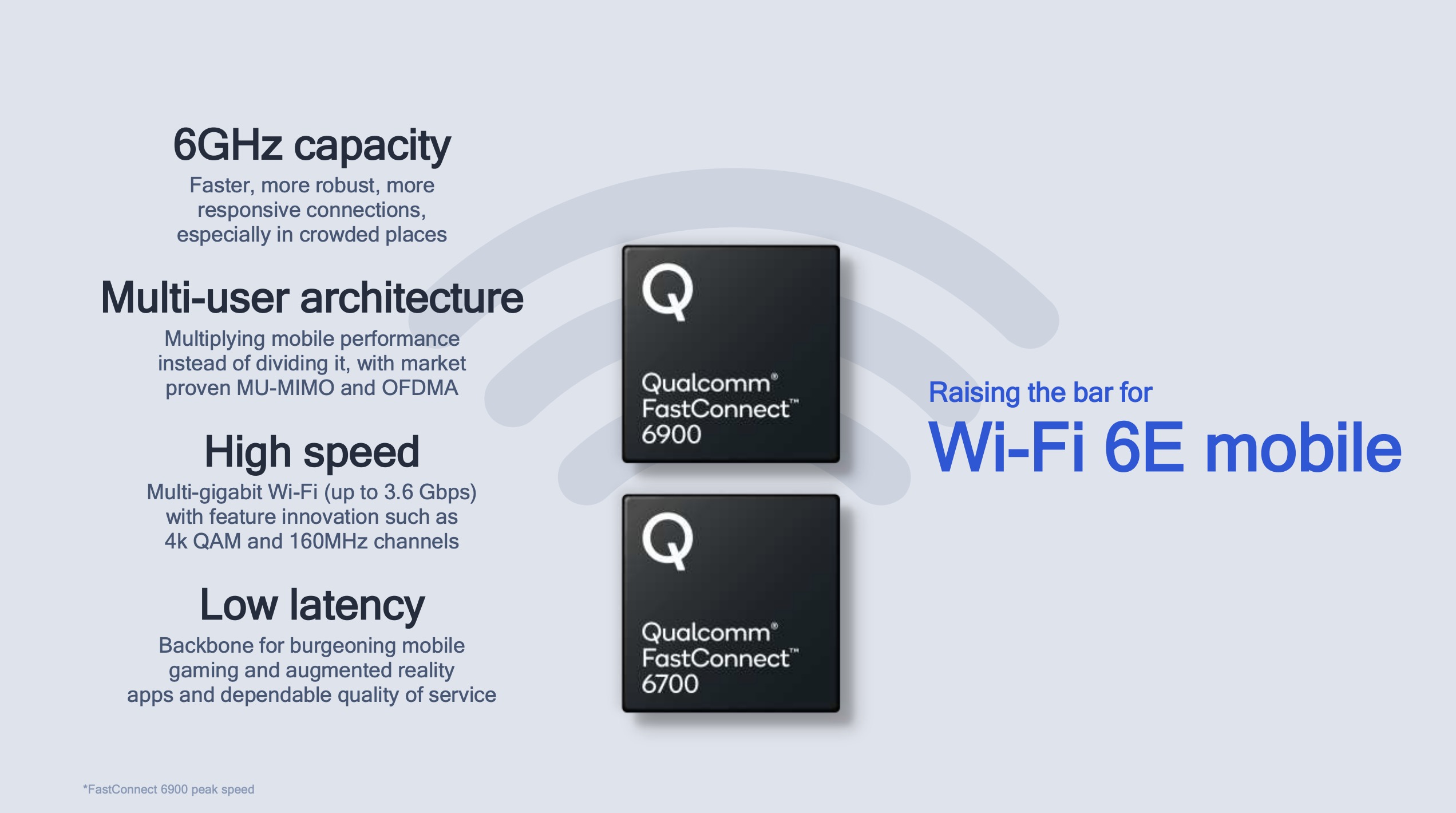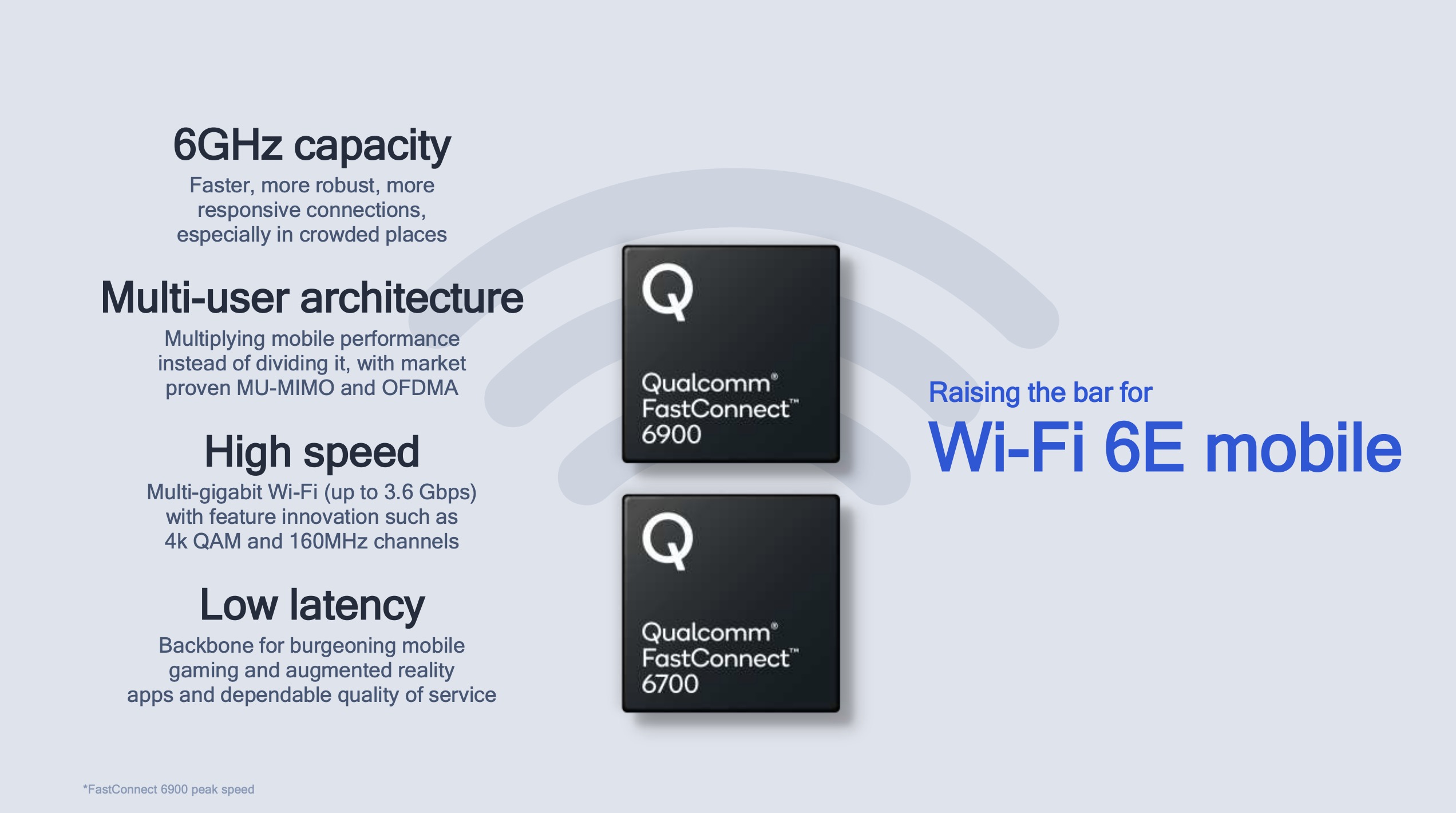 Highlights of Wi-Fi 6E.Source: Qualcomm / Disclosure
Mattias says Qualcomm has been working to provide the technology at a more affordable cost, but understands that "a Wi-Fi 6 router costs more in the beginning, it is natural". On the other hand, he points out that "you cannot compare a Wi-Fi 6 with 12 streams, 4 + 8, for example, with a Wi-Fi 4 that is 1×1".
"I usually use that phrase: 'you get what you paid' [você recebe aquilo que paga]. I still don't understand how people are buying Wi-Fi 4, and a large number of the ecosystem has at least Wi-Fi 5 ", he said.