Shigeru Miyamoto has always been known for his talent on the series Mario Bros., but few know that the legend worked on other fantastic projects and, that until today, they have not received due recognition. One of these pearls is Pikmin 3, originally produced for the Wii U, in 2013. The game just received a version for the Nintendo Switch.
The game also got another name: Pikmin 3 Deluxe. THE Nintendo he also took the opportunity to make a slight graphic improvement and include new game modes. But was it enough to make him known? Nothing better than taking advantage of the Nintendo Switch for this feat.
Cute and ordinary!
In Pikmin 3 Deluxe, you command three astronauts from the planet Koppai. They are looking for food and natural resources for their homeland, since everything was destroyed by the irresponsibility of the population. It even seems like an exercise in futurology of what can happen here.
While exploring the universe, Alph, Brittany and Charlie discover the planet entitled PNF-404. The first analysis is that the site has all the necessary resources for survival and that is where they decide to go. Only the shot backfired. In addition to the necessary supplies, the wild land has several puzzles, threats and monsters that can hinder your walk. In addition, during the landing, some problems ended up happening and the three were lost.
This is where the pikimins. It is difficult to define them. Colorful peppers? Seeds with legs and eyes? The fact is that they are cute and very intelligent, in addition to having unique characteristics. Before explaining what each one does, here's a first piece of advice. Be careful not to get too attached to them.
The pikimins are divided by colors. The reds and first to appear in the adventure, are fierce, good fighters and withstand fire. The stone ones have excellent resistance and will help to break glass. The yellow ones are conductors of electricity and excellent diggers. Finally, the blues, who walk under water, and the roses, which can fly.
They will be controlled by the astronauts through a whistle, which will bring them together whenever you want. In addition, it will be possible to guide them to carry out essential tasks on their journey. You can use them to build a bridge, attack enemies, destroy barriers and collect food.
Mix of genres
One of the great strengths of Pikmin is that it fluctuates across different genres. It can be management, a puzzle and even a RTS. We could put others in it, but it is not necessary. He drinks from different sources and builds something unique, captivating, challenging and very fun.
The game is not divided into phases, but days. Each of them will be lived in one of the regions of the planet, where you will collect items for a certain time. You arrive in the morning and have to leave before dark, otherwise your little friends will be devoured by the night monsters. If you have any lost, use the ship's general whistle to save them from the night.
Each day is equivalent to 15, 20 minutes. During this time it will be essential to have a good management of what to do, so that the whole cycle can be used in the best possible way. A really cool factor is that after a day of exploration, it will be possible to see statistics and check the analysis of everything that has been done. This way, the next opportunity you have to enter the same region, you can maximize your tasks.
The big issue with management is that your astronauts will need daily food to survive. Giant fruits will be transformed into juices and will serve for your journey to continue. Here's the tip. Whenever you advance in the story, remember to collect fruits. Otherwise, if supplies run out, the story will end.
The life of your cute companions may also end sooner than you think. That was why I told you in the beginning that you shouldn't get too attached to them. But do not worry. They are born easily, but there will be a few things to do. Among them, collect animals and plants and take them to your companions' ship, called onion. The pikimins they will sprout from the ground!
Having a good control of the weather and the scenario explored will be fundamental to your success in the adventure. In some moments it will be necessary to leave a great discovery behind and collect a fruit so that your crew can feed.
Game modes
One of the great news of the version of Switch is that you can have fun in different ways. One of the most interesting is the Side-Stories, which will bring several parallel scenarios and with the astronauts protagonists of the other two games, Olimar and Louie.
Also pay attention to the multiplayer mode. In it, you will have 10 minutes to collect as many fruits and treasures as possible. Whoever gets more items wins. In addition, there are two other styles to have fun with friends: Bingo Battle and Mission Mode.
As the name says, the Bingo Battle will make you collect the necessary items to complete a horizontal or vertical bingo card. The first to succeed will be considered the winner. In the Mission Mode, you need to complete tasks to move up a global ranking. Too bad that all multiplayer modes are local. Who knows, we may see an online mode in the future?
It could be more beautiful
Pikmin 3 Deluxe looks like a game of Wii U when we analyze the graphics. The great luck of the title is that it was already very beautiful at the time. THE BigN made very few changes in this regard. Many objects in the scenery appear with serrations and others are slightly blurred. It would be important to have given a little more attention to these details to more captivate the players.
On the other hand, the optimization is excellent and it already worked very well in 2013. Little has been changed in this regard. A pity that regardless of the news, to purchase the game you will need to pay good money. In the Brazilian store, the game is going for R $ 299.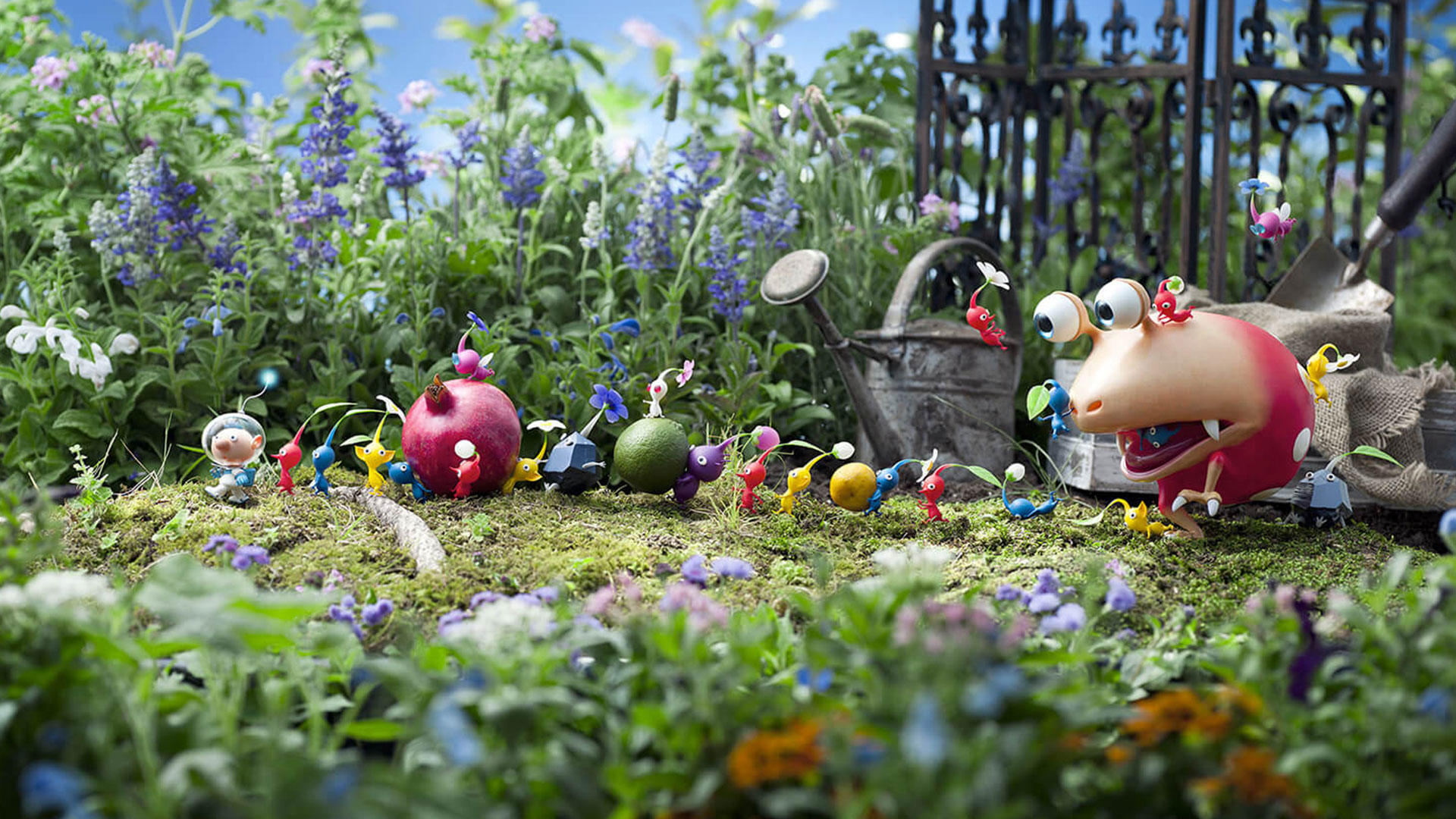 Have everything under control
Pikmin it seems to be a complex game. To command everything around you will need to decorate many buttons, but it is impressive how easy it is to learn them. It gets to be intuitive over time. Everything fits easily, from how to control your friends, to how to command the astronauts.
O joy-con gets to be very responsive, both when playing on your television, and on the screen of Switch. Another detail that draws attention is that Pikmin 3 Deluxe allows you to play co-op. If you have a friend to have fun with, you can be sure that your adventure will be much more fun, quiet and easy.
Worth it?
The big objective of the titles Pikimin is exploration. It is through it that you find different items to survive and overcome different challenges. Could have received a greater affection in the graphics to suit the quality of the Nintendo Switch. Pikimin 3 Deluxe is a great find from Nintendo for the laptop. It has everything to highlight this series that has been obscured for many years and show, once again, the genius of Shigeru Miyamoto.
Pikimin 3 Deluxe was kindly provided by Nintendo for this analysis.
Pikimins are cute, but ordinary, full of cunning and crazy to help you
Score: 88