Organization is essential to increase productivity, whether at work, in studies or in any other activity, allowing to achieve better results. If you are looking for technological help to plan better, an interesting alternative is Padlet.
Available on the web and in apps for Android, iOS and Kindle, the platform allows the creation of virtual tables to facilitate the organization of the routine in the most varied types of projects. They can be customized according to your needs and are compatible with content in different formats – text, photos, videos, links, drawings, shared screens, etc.
Like Trello and other productivity tools, Padlet also allows the sharing of murals with others, facilitating the distribution of tasks in work teams and study groups, for example. And guests do not need to have an account on the platform.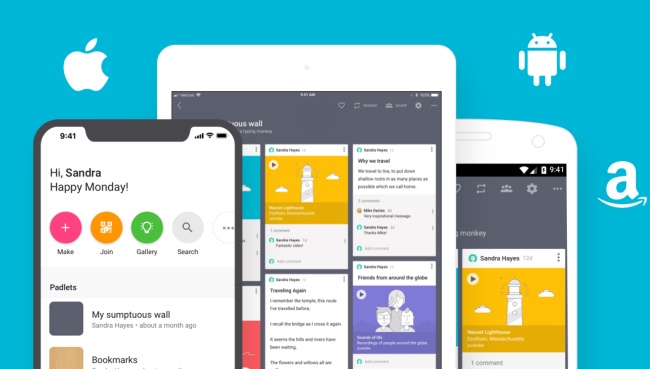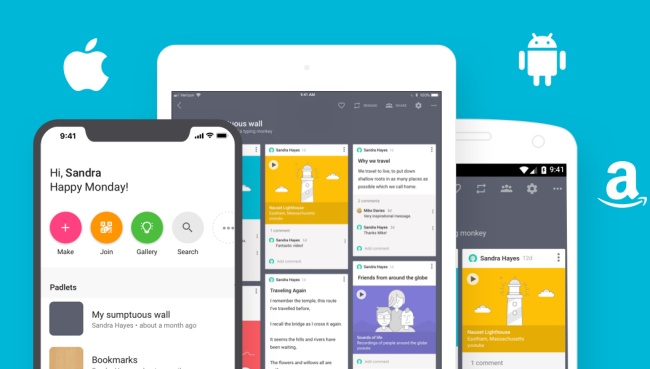 The tool is available for several systems.Source: Facebook / Padlet
It is also worth remembering that the service has different plan options, including a free one and alternatives for companies and educational institutions, with resources to serve each type of audience. Want to know how to use Padlet on your computer? Check out the following tips!
Creating a Padlet account
First, you will need to make an account on the Padlet. To do so, go to the tool's website and click on "Sign up". You can register using a Google, Microsoft or Apple account or create a separate profile, entering your email and creating a password.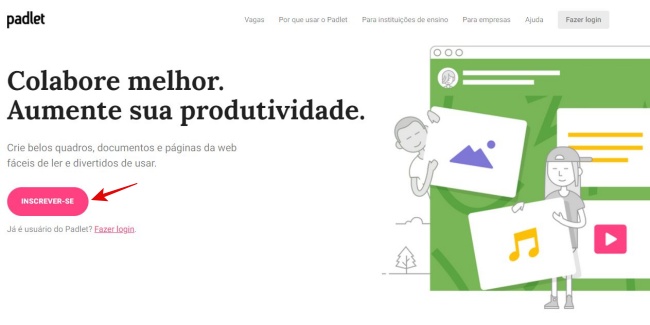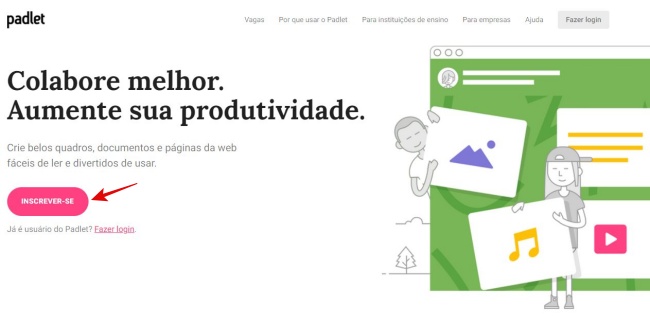 Creating profile in Padlet.Source: André Dias / Reproduction
Then, choose the desired plan, according to your needs. The free version has some limitations, such as creating up to three panels and sending files with a maximum size of 10 MB, while the Pro subscription, which costs US $ 2.50 per month, allows you to create unlimited panels, sending files of up to 250 MB and brings other benefits.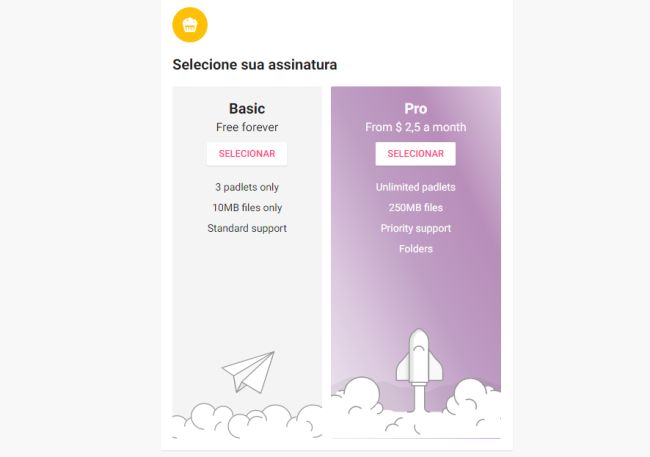 Choose the plan you want.Source: André Dias / Reproduction
As we said earlier, it also has versions for mobile devices. To use it on your phone or tablet, download the app according to your device and log in using the registered data.
Creating Dashboards
After confirming the profile on the platform, you can now create and manage your murals, called "padlets". On the home page, there are two options. In "Create a padlet", it is possible to start a frame from scratch, choosing between mural, screen, list, grid and other formats, while in "Gallery" you can find ready-made templates.
Padlet home screen.Source: André Dias / Reproduction
Let's learn how to make a panel from scratch:
1. Click on "Create a padlet" and choose the desired frame. You can see the layout in more detail by clicking on "Preview". After defining the best option, press "Select";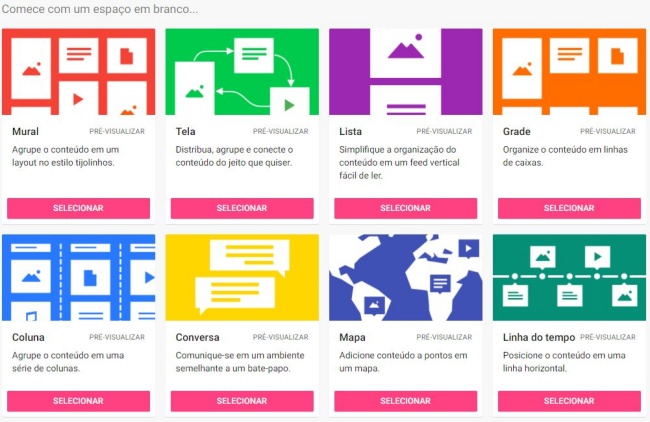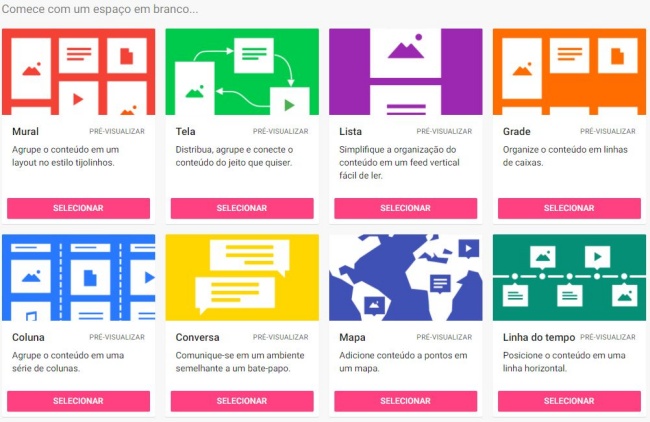 Layout options for your board.Source: André Dias / Reproduction
2. On the next page, use the menu on the right to define the name of the frame, modify the appearance and change other settings. Click on "Next" to finish;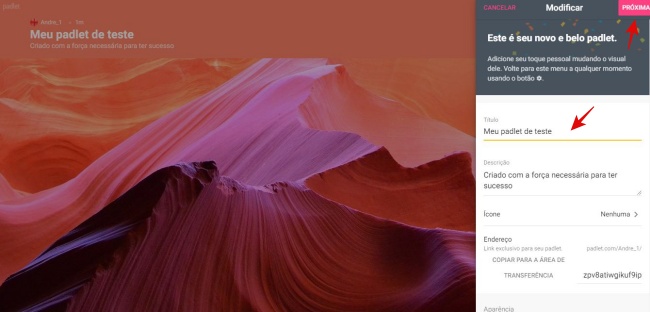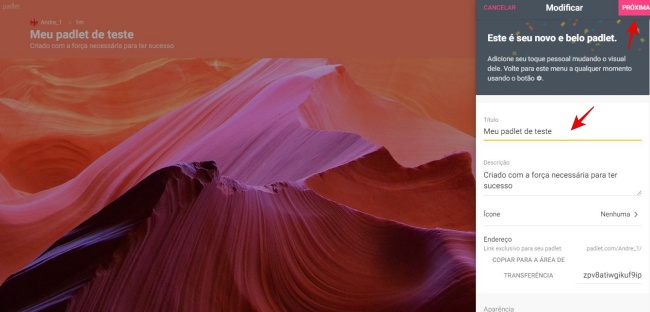 Setting up your wall.Source: André Dias / Reproduction
3. Now, use the "+" icon in the lower right corner of the board to add content to it;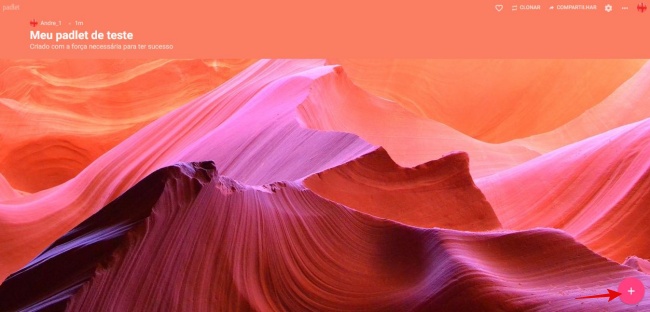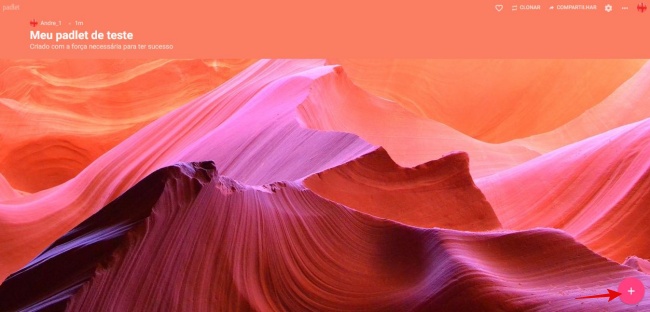 Add content to the created padlet.Source: André Dias / Reproduction
4. In the window that opens, the user can enter a title for that item, links, photos and, by clicking on the three dots icon, a new menu will be available, allowing the insertion of various types of content, such as audio, location etc;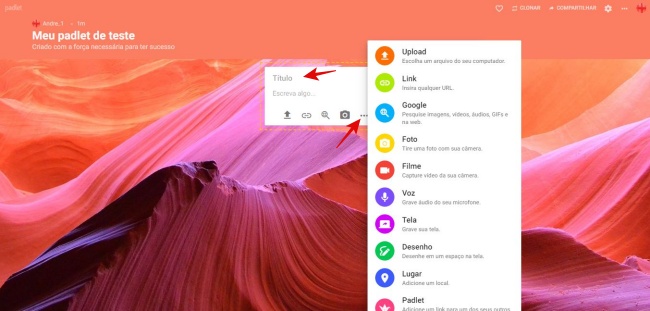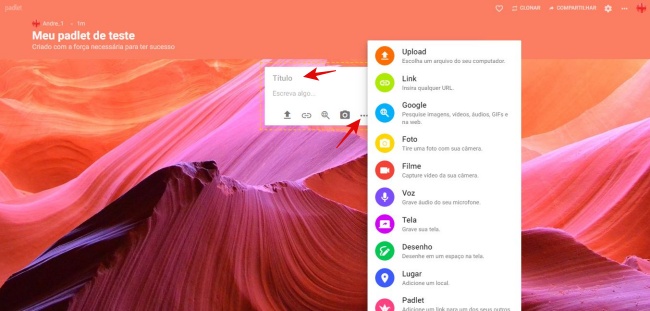 This is where you will create tasks, reminders, lists and whatever else you want.Source: André Dias / Reproduction
5. Create the padlet the way you want, inserting tasks to do, reminders, appointments, etc. When you want to edit that wall, just click on the edit icon. To delete the item, click on the trash can.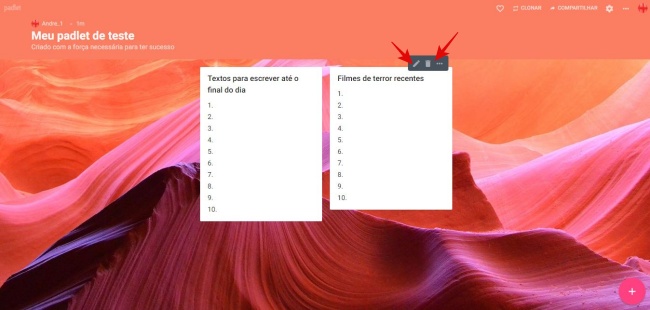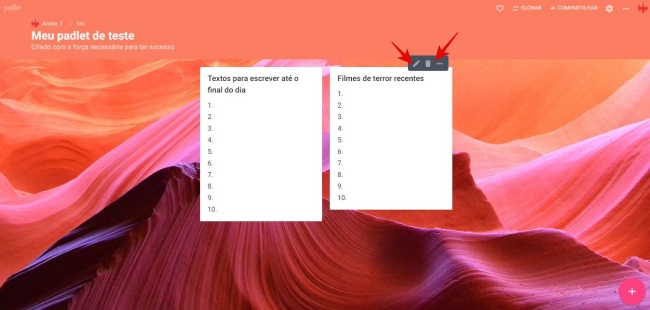 Use the menu to edit or delete the created items.Source: André Dias / Reproduction
Sharing padlets
Are you doing any group activity in college, do you need to distribute tasks among co-workers or do you just want to share your appointment schedule or favorite movie list with someone?
Follow these steps:
1. Click on "Share", at the top of the screen, on the right;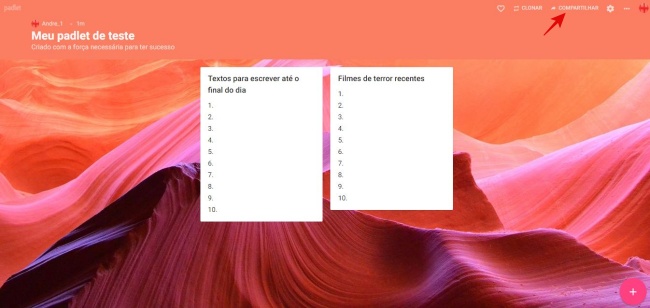 Sharing the padlet is easy.Source: André Dias / Reproduction
2. The menu offers sharing to other Padlet members, via QR Code, email, link, Google Classroom, Twitter and Facebook. Choose the option that best suits you and follow the instructions on the screen;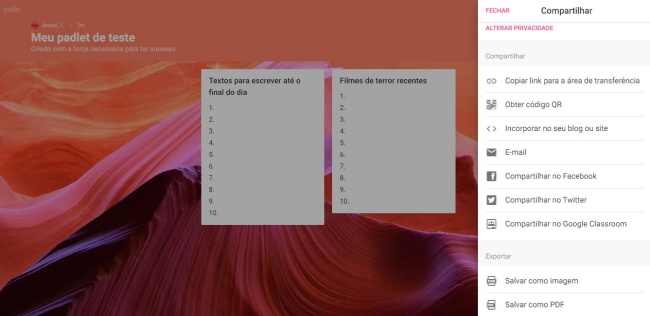 Sharing options.Source: André Dias / Reproduction
3. When inviting someone to your padlet, you can allow that person to view the content or make edits to it. Click on "Privacy" and set the desired option under "Visitor permissions".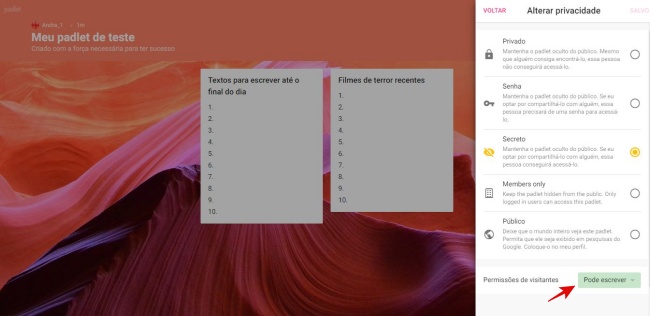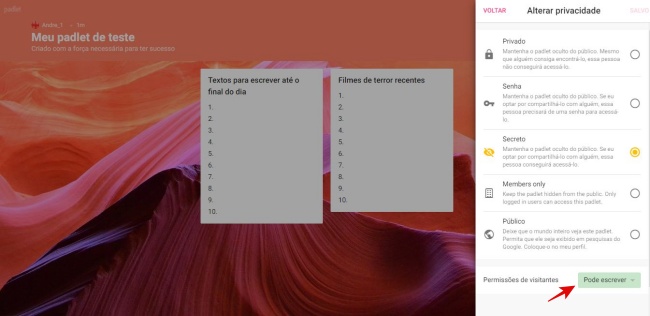 You allow guests to modify their pictures or just view them.Source: André Dias / Reproduction
These are the most basic functions of the Padlet. Over time, the user can discover several other available resources.