The month of October arrived with a new star in space: on the 5th, actress Yulia Peresild and director Klim Shipenko, both Russians, boarded a rocket — in the Soyuz MS-19 capsule — towards the International Space Station (ISS) to shoot the first movie off Earth. They will be there for 12 days.
Check out the main astronomical events for the month of October below.
October 6:
October 8:
Draconid meteor shower.Fonte:  Mike Lewinski/Flickr/CC BY 2.0
Draconid Meteor Shower: The event is annual and will be active from October 6th to 10th. It peaks at night.
October 9:
Encounter of the moon with Venus. The crescent moon will pass about 3 degrees north of Venus. You can view both above the western horizon after sunset.
October 14:
A Soyuz rocket will launch 36 satellites into orbit for the OneWeb Internet satellite constellation. The mission, called OneWeb 11, will take off from the Vostochny Cosmodrome in Russia.
Encounter of the moon with Saturn. The crescent moon will be about 4 degrees south of Saturn in the night sky.
October 15th: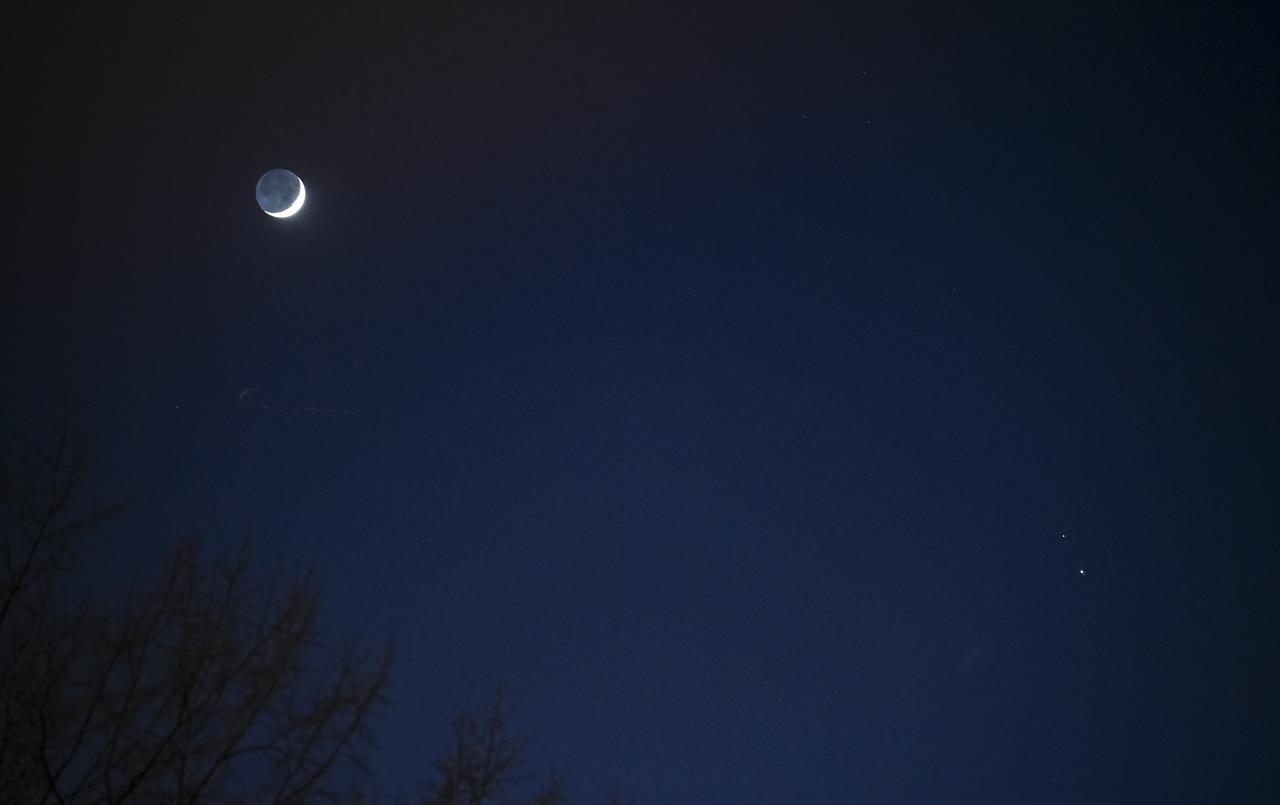 The moon on the left, Saturn above on the right, and Jupiter below, in December 2020.Source: NASA/Aubrey Gemignani
Encounter of the moon with Jupiter. The crescent moon will oscillate about 4 degrees south of Jupiter in the night sky. It will also be possible to observe Saturn in conjunction.
October 16: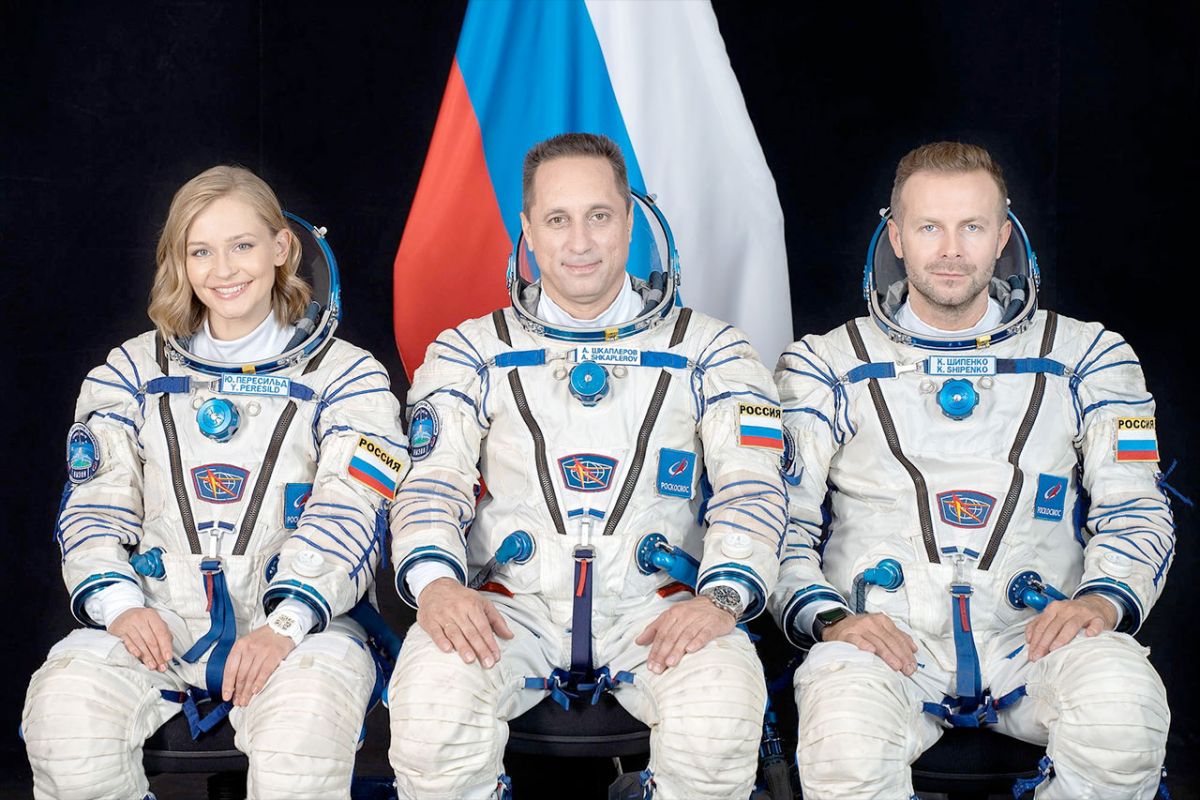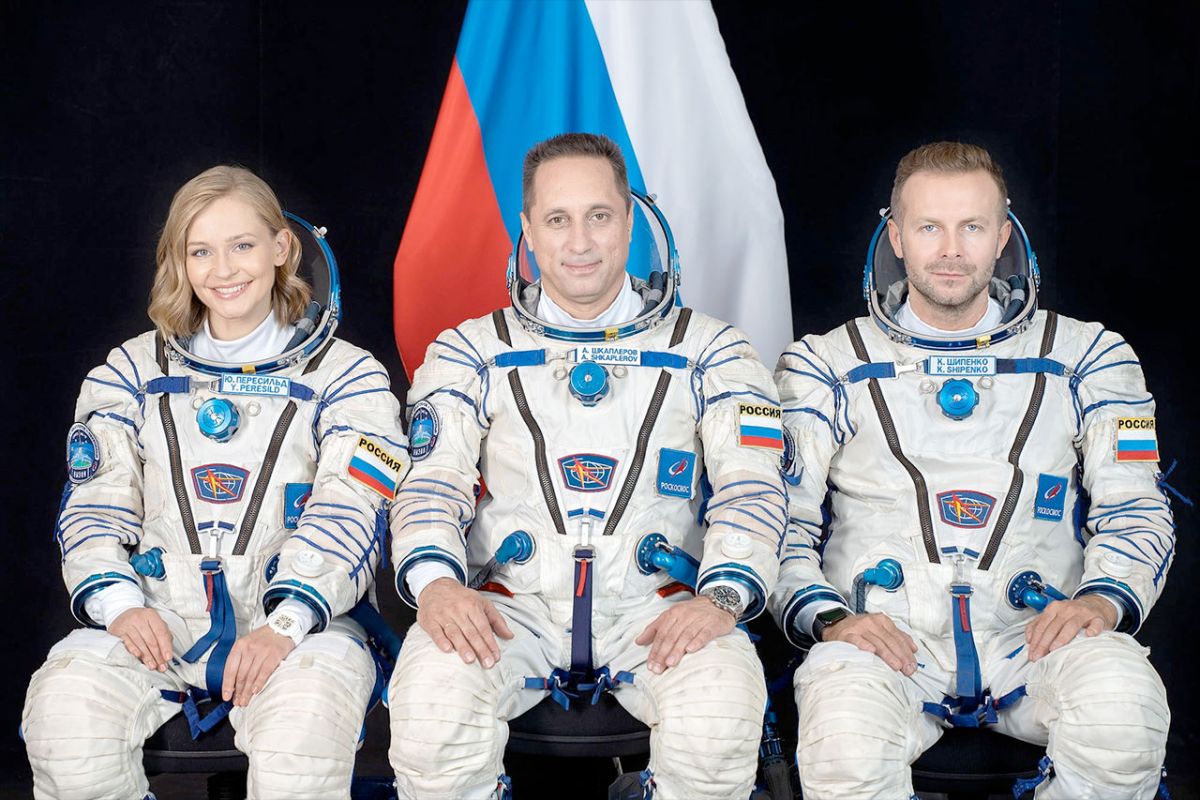 Yulia Peresild, Anton Shkaplerov and Klim Shipenko.Source: Roscosmos/Disclosure
NASA launches the Lucy mission to study Jupiter's Trojan asteroids. It takes off from Space Launch Complex-41 in Cape Canaveral, Fla., on a United Launch Alliance's Atlas V rocket.
The Soyuz MS-18 capsule returns from the ISS to Earth with Russian space tourists filming in space and cosmonaut Anton Shkaplerov. They will land in Kazakhstan.
October 20th: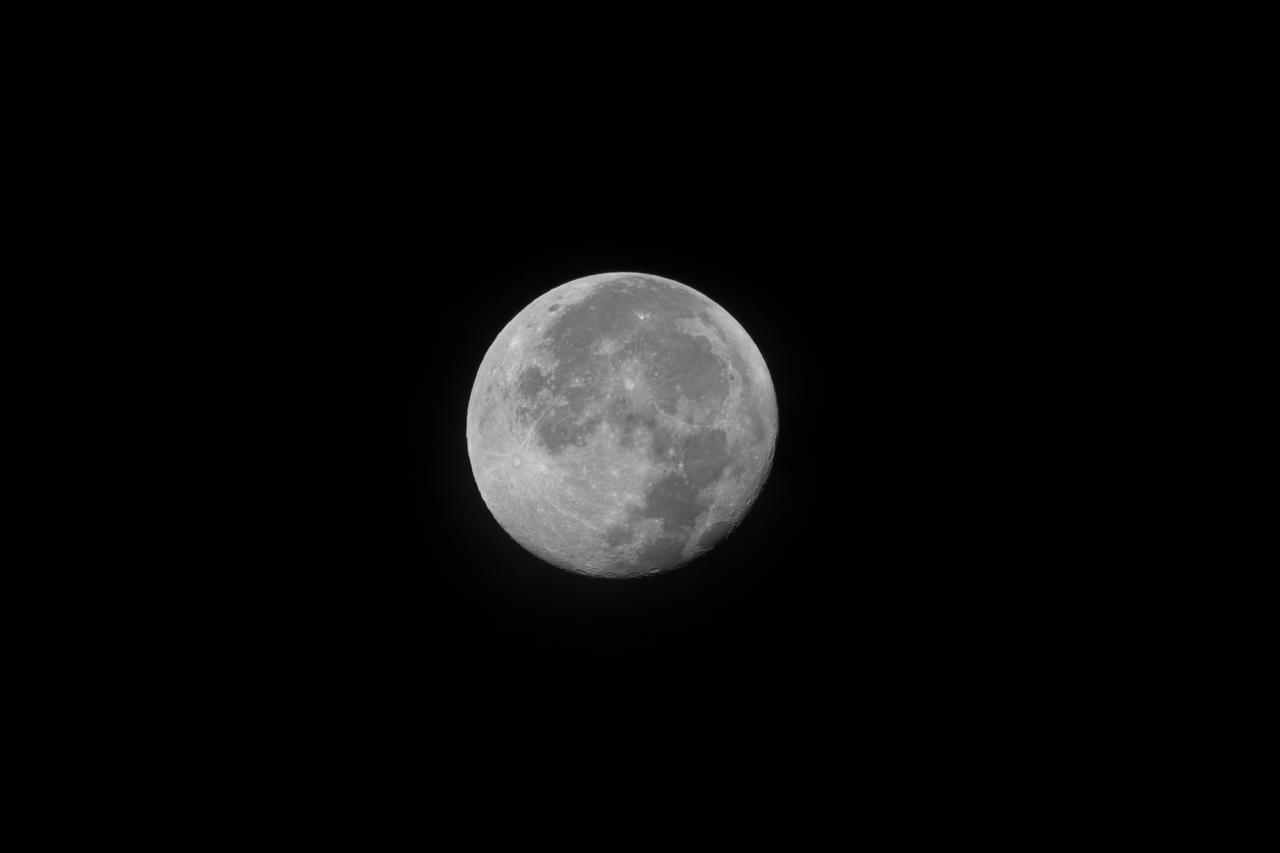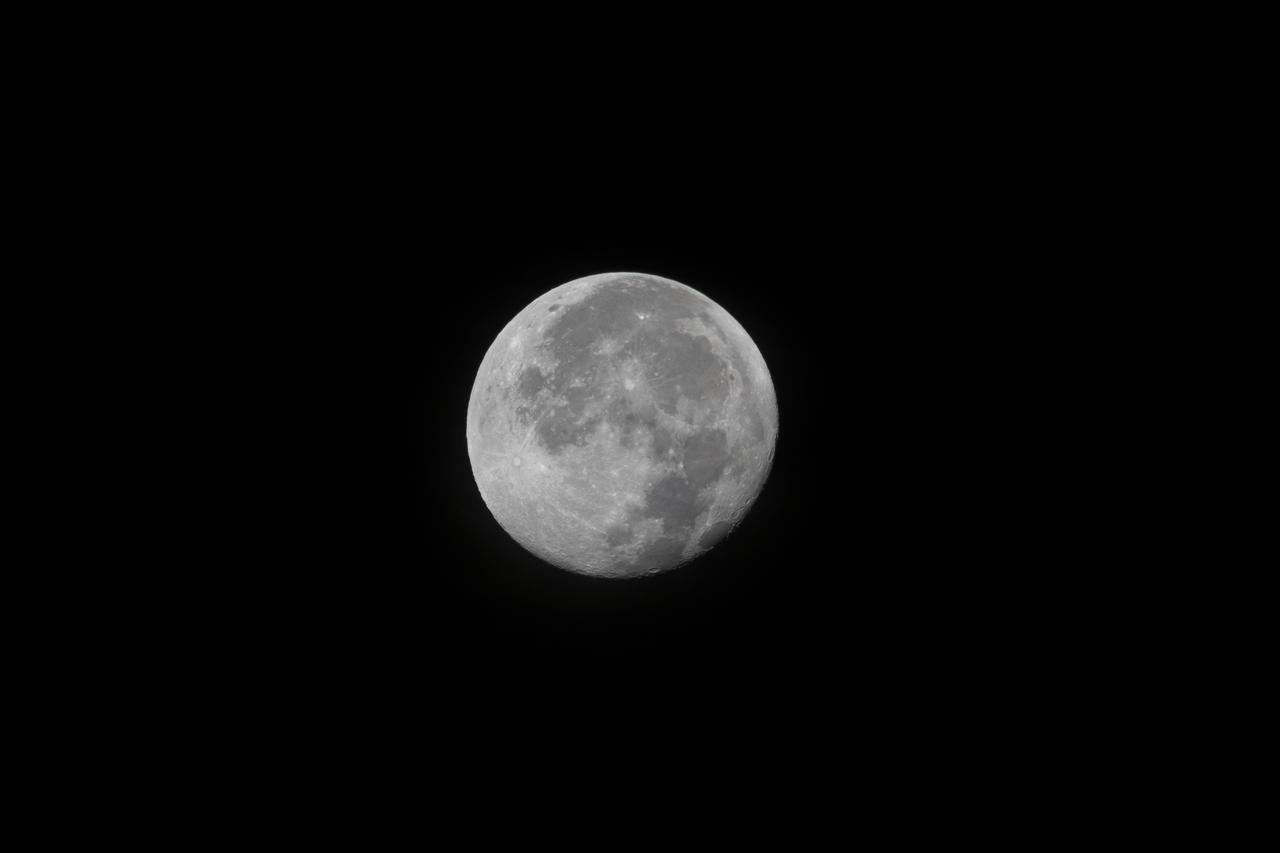 Full moon, photographed at Kennedy Space Center in Florida.Source: NASA/Kim Shiflett
Beginning of October's full moon, known as the "Hunter's Full Moon".
October 21st: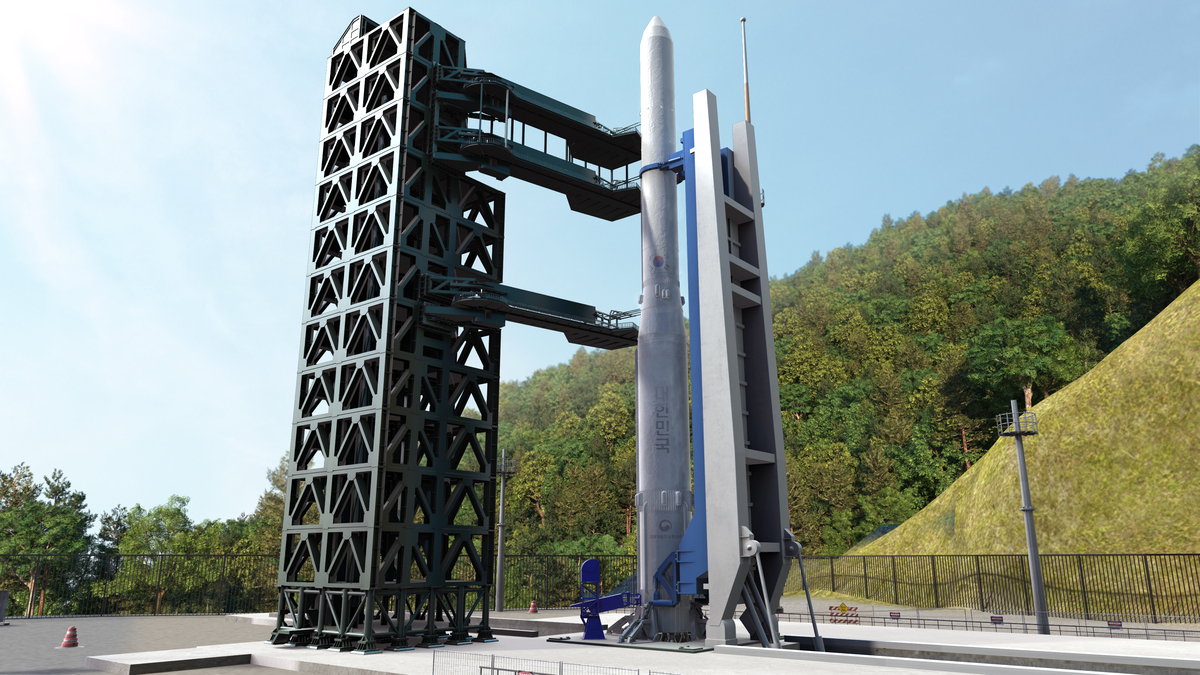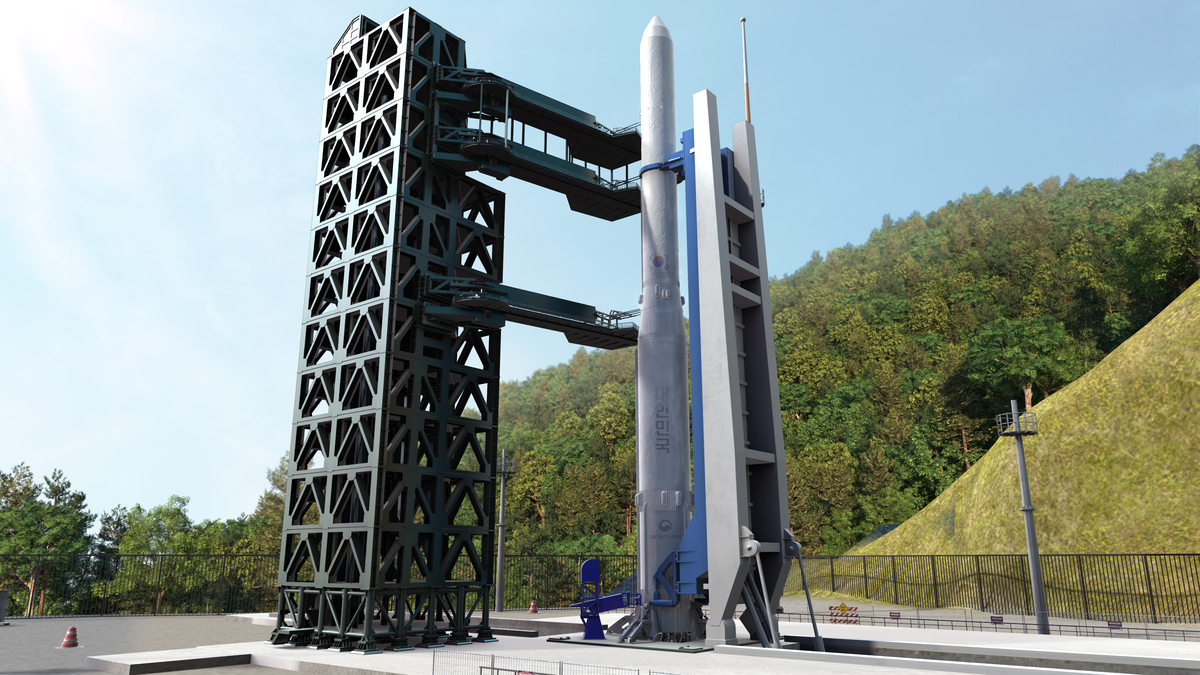 Korean Nuri Rocket.Fonte:  ????????? (Korea Aerospace Research Institute)
The moon and Uranus will move closer, passing within 1.3 degrees of each other. The planet glows with magnitude 5.7 and can be seen with the naked eye at night.
South Korea launches its new Korean Space Vehicle 2 (KSLV-2) rocket, the Nuri. It will be your first orbital launch attempt from Naro Space Center, carrying a dummy payload.
The Orionids meteor shower, which is active throughout the month, peaks between October 21st and 22nd.
October, 22:
French company Arianespace will use an Ariane 5 ECA rocket to launch the SES 17 and Syracuse 4A communications satellites from the Guyana Space Center near Kourou (French Guiana).
October 24th:
Mercury will be at its greatest west elongation. The planet will be visible above the eastern horizon just before sunrise. On October 25, Mercury will reach its highest point in the morning sky.
Japan's Aerospace Exploration Agency (JAXA) will launch a replacement satellite (QZS 1R) for the country's Quasi-Zenith Satellite System — a regional GPS system. It will take off in the early morning hours of Oct. 24 to 25 from Tanegashima Space Center in an H-2A rocket.
October 28:
A Russian Soyuz rocket will launch the cargo resupply spacecraft — Progress 79 — onto the ISS. It will take off from the Baikonur Cosmodrome in Kazakhstan.
October 30: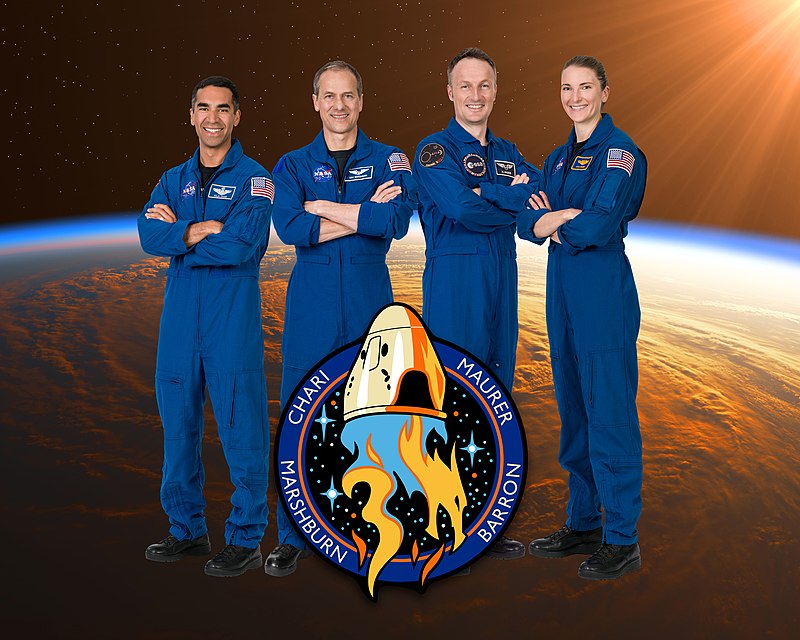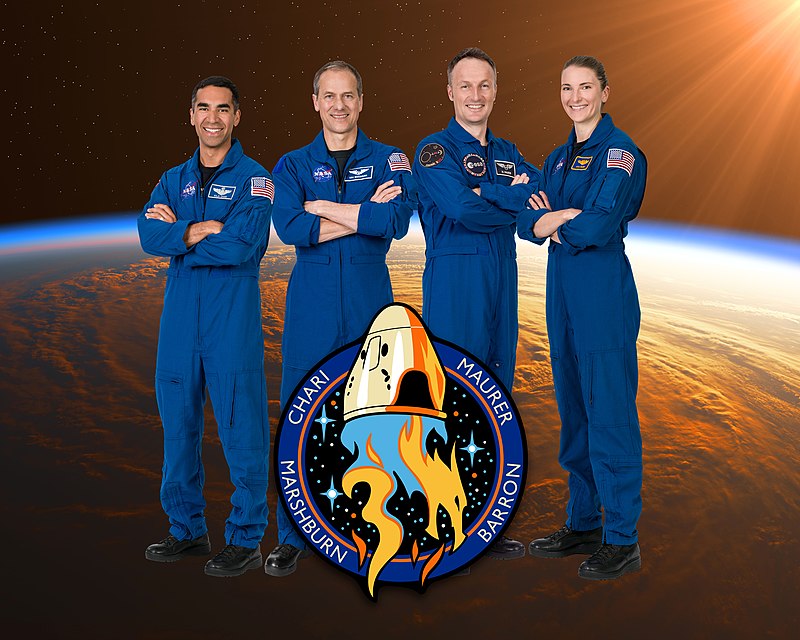 Raja Chari, Thomas Marshburn, Matthias Maurer e Kayla Barron.Source: Robert Markowitz/Reproduction.
A SpaceX Falcon 9 rocket will launch a Crew Dragon spacecraft on mission Crew-3. It is the third operational flight by an astronaut to the ISS. On board will be NASA astronaut Raja Chari, Kayla Barron and Thomas Marshburn, and European Space Agency (ESA) astronaut Matthias Maurer. They will take off from Kennedy Space Center in Florida.