Nvidia announced today (16) that DLSS technology has just arrived in its version 2.3, bringing some improvements to the previous version, 2.0. In addition to enhancing its proprietary feature, the company announced that Image Scaling, a feature that enhances the image without the neural features, will also see significant improvements.
Voxel has been in touch with the resources since last week, but both DLSS 2.3, Image Scaling and even ICAT, new comparison software for content creators, are publicly available today, November 16th. Check out some of the news!
DLSS 2.3: which was good, even better
For those who still don't know or don't know what DLSS is, it is a technology developed by Nvidia (and that works only on RTX cards) that uses the GPU's Tensor Cores to improve the image and resolution. Deep Learning Super Sampling: as the name says, the feature is able to upscaling images at lower resolutions to higher resolutions, without losing quality – and often providing better results than the native resolution – and with a level of better performance.
To be a little more practical, imagine the following: you can run a game in 4K, but with DLSS active using the internal resolution in 1080p, something that yields a better result than native 4K and with a performance slightly above rendering the game in Full HD. DLSS seems to do magic and has improved a lot over time as it uses a neural network to analyze millions of samples and learn from machine learning how to deliver the best graphics effect.
Best of all, currently, DLSS's presence in games is rising exponentially, with more than 130 titles supporting it (among them, big games on the market like Fortnite, Call of Duty: Warzone and even the newly released Battlefield 2042) and more to come, as DLSS is present as a plugin for Unreal Engine and Unity – still in Beta.
Nvidia Launches DLSS 2.3, ICAT and Improves Image Scaling Technology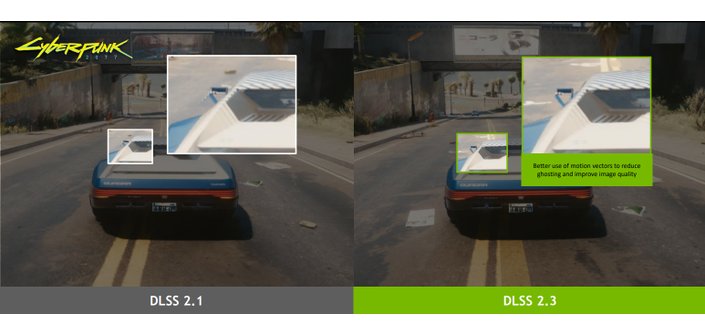 Nvidia Launches DLSS 2.3, ICAT and Improves Image Scaling Technology


However, even in its 2.1 version, the technology still had imperfections (small, but they were there). They basically resided in small moving particles that, in select games, could leave traces and ghosting artifacts in the images. The new version, DLSS 2.3, corrects this technical defect by implementing neural reconstruction on these elements by identifying motion vectors.
Games with Doom Eternal e Cyberpunk 2077 (and even Death Stranding) show these small problems in practice, with asteroids in the distance illustrating this issue or the vehicle's rearview mirror leaving a trail that shouldn't occur. Despite appearing in very specific examples, it was the space where the technology could be improved – and it was. As an element that learns over time due to its nature, DLSS is constantly changing and improving.
Image Scaling: a great upscaling solution for everyone
Although DLSS is currently one of Nvidia's most amazing technologies, it only works on RTX cards (leaving out the GTX, which don't have specific hardware components to carry out the tasks). Since 2019, the company has had a little-known feature called Image Scaling, which will now receive more attention from the company with some significant changes and additions.
In theory, spatial upscaling does the job similar to others, like AMD's own FSR, a competitor to Nvidia. However, the company reformulated the technology and implemented a new algorithm to reconstruct the image with new filters and features, something that, according to Nvidia, improves performance in relation to others on the market.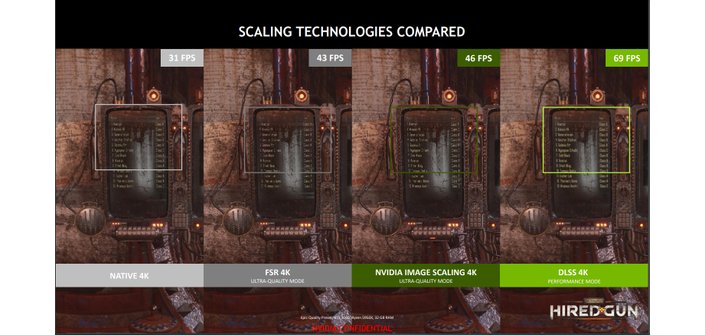 Nvidia Launches DLSS 2.3, ICAT and Improves Image Scaling Technology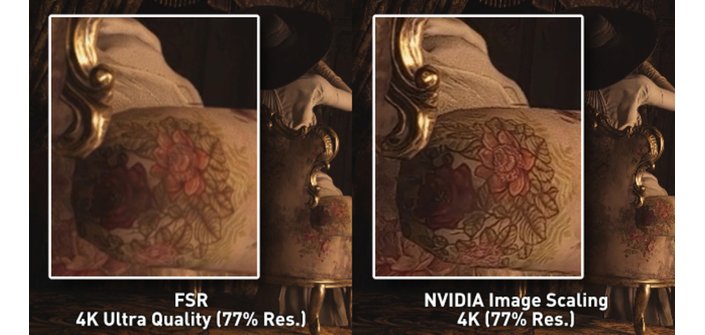 Nvidia Launches DLSS 2.3, ICAT and Improves Image Scaling Technology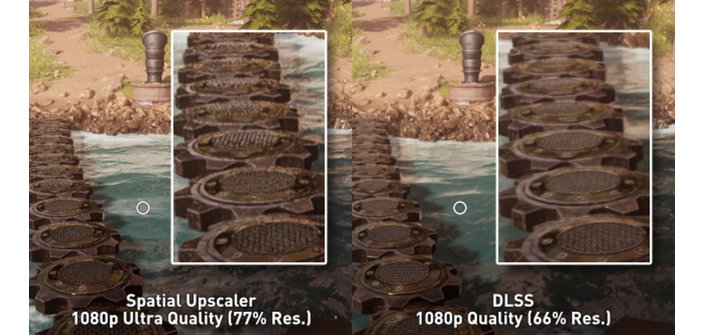 Nvidia Launches DLSS 2.3, ICAT and Improves Image Scaling Technology
In comparisons demonstrated by the company, Image Scaling achieves sharper and better-performing images (and the user can set the sharpness in Nvidia's control panel to find the best balance between smoothness and aliasing). The most interesting thing is that now the feature can be used with any game.
Nvidia is releasing an SDK, which can be used by any developer, to use the technology in rendering their games. While not as good as DLSS, Image Scaling will receive more attention and can cater for a wider range of players on PC.
ICAT is the perfect tool for content creators
Finally, Nvidia has unveiled another interesting tool, called the Image Comparison & Analysis Tool (or for those more intimate, ICAT). As the name suggests, it is an image and video comparison program designed especially for content producers, but anyone can use it.
Basically, you can use multiple captures and see the difference with a slider or zoom, viewing video and game printscreen at the same time with greater accuracy. Instead of opening different files side by side or flicking through the gallery, ICAT provides an easier way to see differences.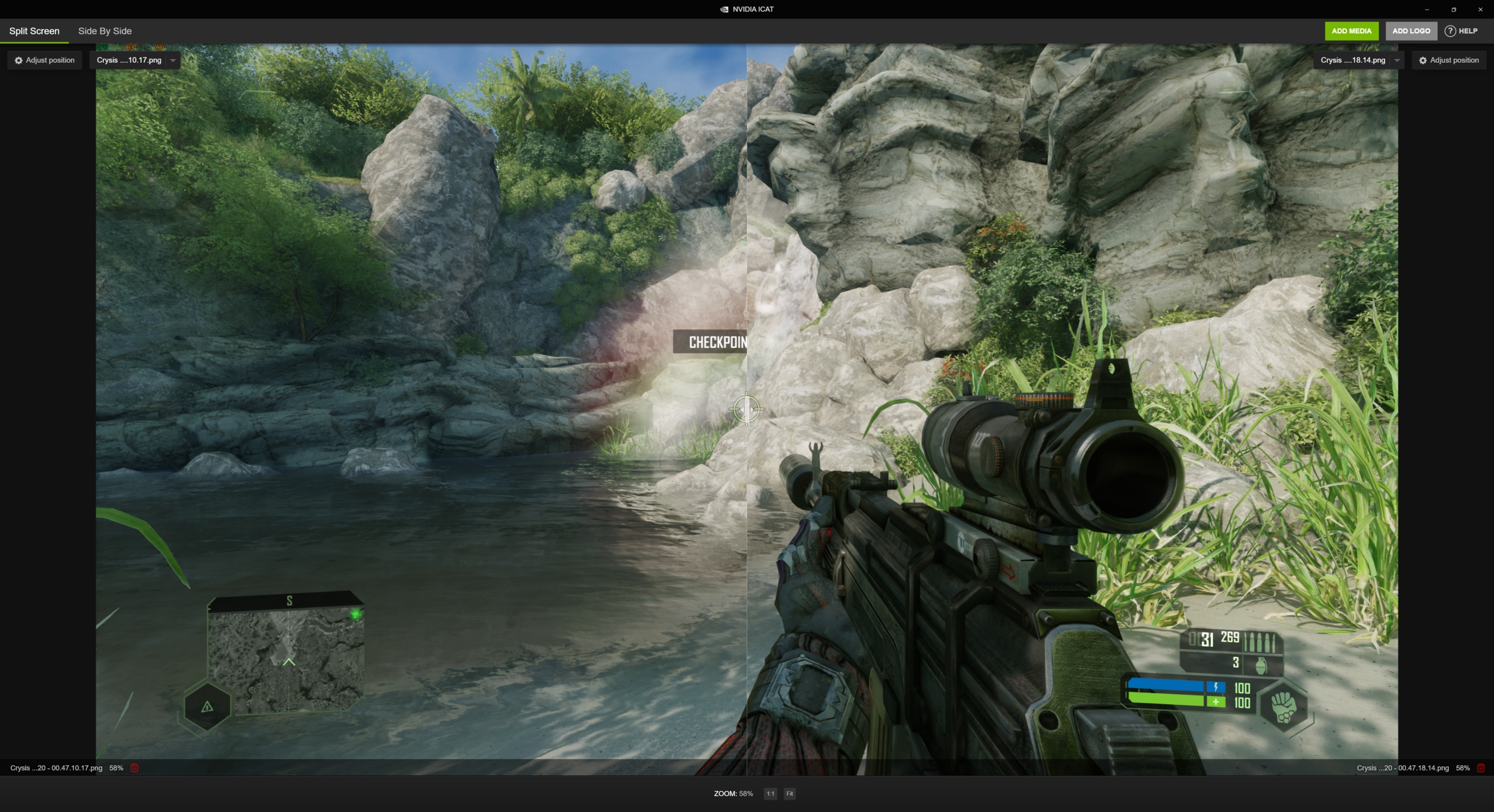 Want to know how much DLSS improves images? Or how much does Image Scaling change the look? Even who knows how to compare different graphic presets, such as Low vs Ultra? Just take captures in the same environment and launch them in ICAT to see a more visual and accurate difference in practice.
Both DLSS 2.3, Image Scaling and ICAT are publicly available as of today, November 16th. What did you think of the news? Leave your comment below!