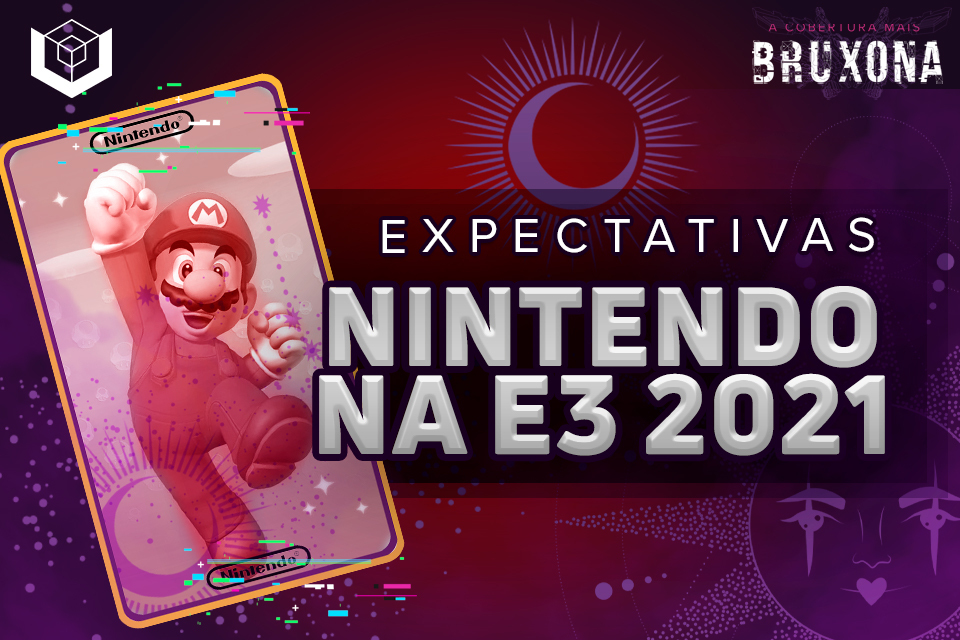 It's been a few years since Nintendo opted to hold digital conferences at E3, so this edition won't be much different for them. Still, you can't deny that we're really looking forward to the 40 minutes that the company promised to deliver on Direct, which will air on June 15th!
But if you don't want to wait for Voxel's special broadcast to find out what Big N will present to fans this time around, check out everything we can expect from them at E3 2021!
Bayonetta 3
Many people must remember that Bayonetta 3 was unveiled at The Game Awards 2017, but since then we've heard virtually nothing about the game. Some are betting on a trailer during this E3, but as Platinum Games stated earlier this year we could forget about Bayonetta for a while, there is a chance that the game will be left out of the conference again.
Metroid Prime 4
Metroid Prime 4 is another game that was announced in 2017, but its development is a more complicated case. Nintendo stated in 2019 that it was dissatisfied with the progress it had made and that it had decided to start from scratch, which may mean that the title is far from being released, but not that it's not possible to see at least one trailer or one little teaser this year.
The Legend of Zelda: Breath of the Wild 2
We found out about the sequence of Breath of the Wild in 2019, so hopefully Nintendo will have something of the game to show their fans at E3. This is consolidated even by the fact that 2021 marks the 35th anniversary of the franchise, so nothing better than revealing the news of the new game in the series at this time.
We think it's kind of unlikely that they'll quote a release date, but maybe a brand new trailer doesn't show up?
Celebration of 35 years of The Legend of Zelda
Speaking of the 35th anniversary of The Legend of Zelda, it is also possible that Nintendo will reveal its plans for celebration. For now, we only know that Skyward Sword will receive an HD remaster, which seems like little for such a special date.
Our bet is that other games in the franchise will be released in HD on Switch, which includes the remaster of Twilight Princess and the beautiful remake of wind waker, which were originally released on Wii U. Other than that, it would also be awesome to see a remake or remaster of Ocarina of Time and Majoras Mask on the hybrid console.
New Donkey Kong
We don't see a new game of Donkey Kong since the relaunch of Tropical Freeze on Switch, and considering that the franchise turns 40 in 2021, it's quite possible that Nintendo has prepared something special for its fans.
Earlier this year, there were already rumors that the team Super Mario Odyssey would be working on a new game of the character, so maybe we'll see something new at this E3?!
Nintendo Online News
Nintendo Online is still not one of the most attractive services for Switch users and most people end up subscribing to it just to play their favorite titles online.
Fortunately, the library of classic games available to subscribers is always growing and one of the bets for this E3 is to see an expansion of the title library that includes even more popular Super Nintendo games or even the long-awaited arrival of Nintendo 64 games or GameBoy.
Pokemon
As we learned in February this year, Nintendo has two very interesting projects involving the Pokémon franchise, which consists of Pokémon Legends Arceus and the remakes of Pokemon Diamond and Pokemon Pearl.
Considering as Pokémon Legends Arceus it's quite different from the usual games in the franchise and because remakes are scheduled for release in November this year, it makes sense that they receive some prominence at this E3. Most likely, we'll see trailers, a bit of gameplay or just unpublished details about the games in this Direct.
Splatoon 3
One of the titles we least expected to receive a sequel so soon was Splatoon 2, but now that we know of its existence, it wouldn't be bad to receive some news during E3.
As the game is set to hit Switch in 2022, we're hoping to see at least a trailer or some details of what's new in relation to the two predecessors.
Ports to Switch
Departing a bit from Nintendo's first-party exclusives, there's no way to forget to mention possible ports that may be announced for the Switch this year, after all, this is one of the consoles that most receive versions of older games we've seen.
There are those who are betting on the arrival of more games in the franchise Final Fantasy, considering the amount of titles Square Enix has already brought to the hybrid console. Other than that, there is also the long-awaited announcement of titles from the Persona franchise on Switch, after all, even the protagonist of Person 5, the Joker, is a playable character in Super Smash Bros.. Ultimate. Unfortunately, we're going to have to wait and see if this really happens one day.
Switch Pro
Nintendo has mentioned that its Direct will be focused exclusively on software, so it's quite possible that there's no mention of the long-awaited Switch Pro. But as many rumors point out that the new version of the hybrid console will be revealed soon, we're still hopeful. that maybe they're trying to throw us off with this event chat focused only on games (or that it is still announced before E3 2021, but shows up there to show the games). Of course, for now everything is just speculation, so the way is to stay in the crowd!
The news about Nintendo is a little hard to predict, but I think we managed to cover the most likely things well, right?! So enjoy and leave your comment telling us what other first or third-party games are waiting to see from Big N at this year's E3!