And finally the most megalomaniacal E3 conference took place. Microsoft blew up the Xbox + Bethesda conference, presenting a truckload of news and we made a summary of everything that was presented.
starfield
Announced in 2018, starfield it's been quiet since then, but it was one of the main titles of the conference. With that, he was chosen to kick off and already gave the information everyone wanted: a release date. It will come exclusively to Xbox Series X/S and PC on November 11, 2022.
S.T.A.L.K.E.R. 2: Heart of Chernobyl
So, the presentation followed with big announcements, this time S.T.A.L.K.E.R. 2: Heart of Chernobyl. The Ukrainian game is a sequel to S.T.A.L.K.E.R., released in 2007, and focuses on survival horror. The trailer shows several scary monsters that are sure to make a player's life hell. It will support 4K and Ray Tracing and will be released on April 28, 2022 for Microsoft consoles and PC.
Back 4 Blood
After that, another rumor confirmed. Back 4 Blood, Turtle Rock's new zombie game, will hit the Xbox Game Pass on Day One, which will be October 12th. In addition, the game will have a PvP mode and an Open Beta on August 5th for those who buy the title.
contraband
A new multiplayer game has been announced, but without much information. what do we know about contraband is that it will be an open world coop developed by Avalanche Studios, the same studio as Rage 2, and will be exclusive to Xbox. Now we just have to wait.
Sea of ​​Thieves – A Pirate's Life
Rare's pirate game, Sea of ​​Thieves, will receive a free Pirates of the Caribbean update this month. From the trailer, we know that Jack Sparrow and Davy Jones will be in attendance. It will be released on June 22nd.
Yakuza: Like A Dragon on the Game Pass
Want more confirmed rumor? So take it! Yakuza: Like A Dragon, released in 2020, arrives today on the Xbox Game Pass. Subscribers to the service will be able to download it to Xbox One, Xbox Series X and S, PC or play it via Xbox Cloud Gaming.
Battlefield 2042 Gameplay
As reported last Wednesday (09), Battlefield 2042 received a gameplay trailer, showing a city destroyed by sandstorms, amazing visuals and even a grappling hook, a new gadget that will help players reach higher places. Remembering that the title will be released later this year, on October 22nd.
12 Minutes Release Date
The Portuguese game distributed by Annapurna Interactive, 12 Minutes, finally received a release date. It stars Daisy Ridley, James McAvoy and Willem Dafoe and hits Microsoft platforms and the PC on August 19th. Also, it will be available on the Game Pass on Day One.
Psychonauts 2 release date
And who also received the release date was Psychonauts 2. A nice gameplay trailer and confirmation that the game will be available for purchase on August 25th has been released.
More Bethesda on Game Pass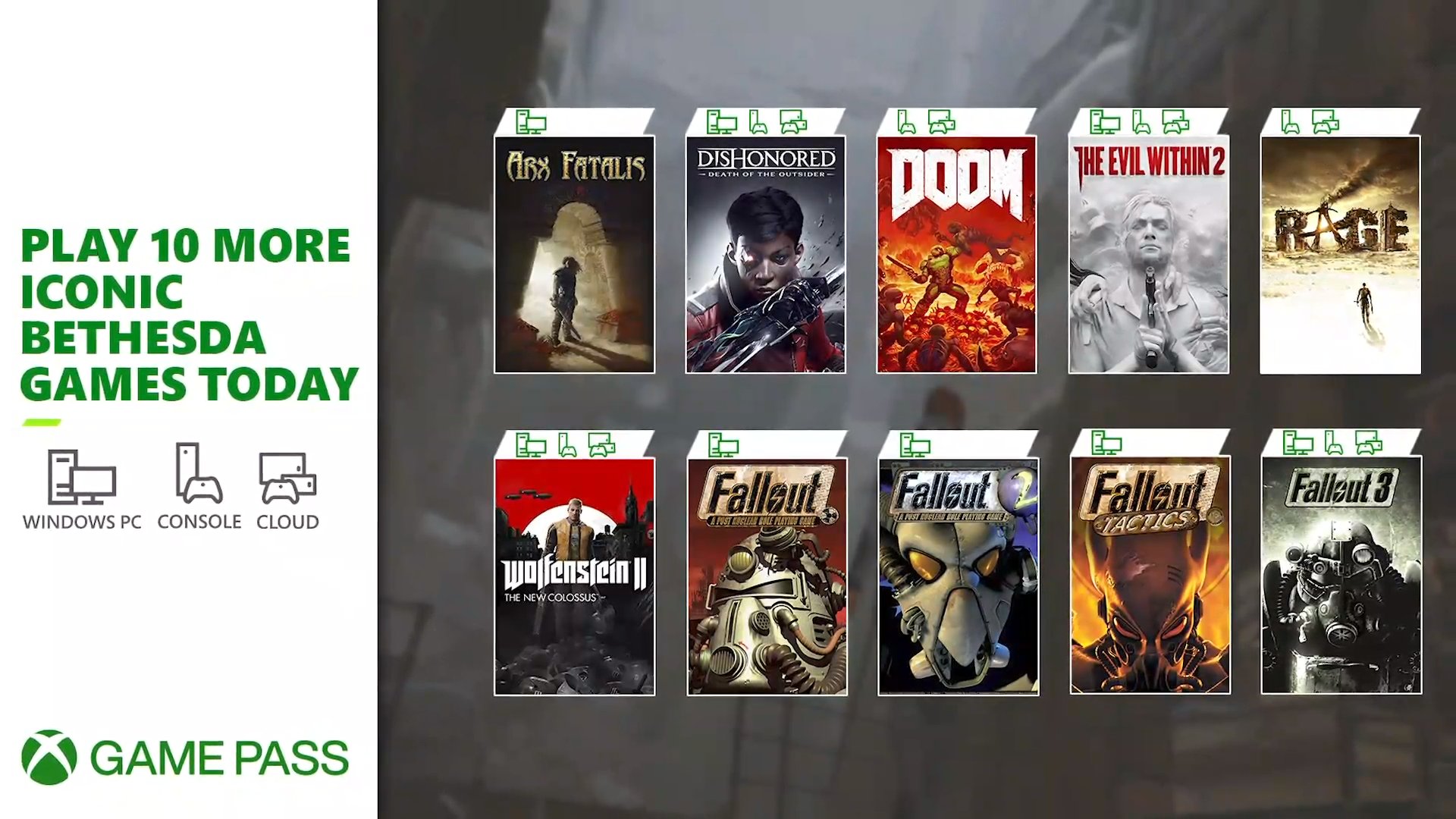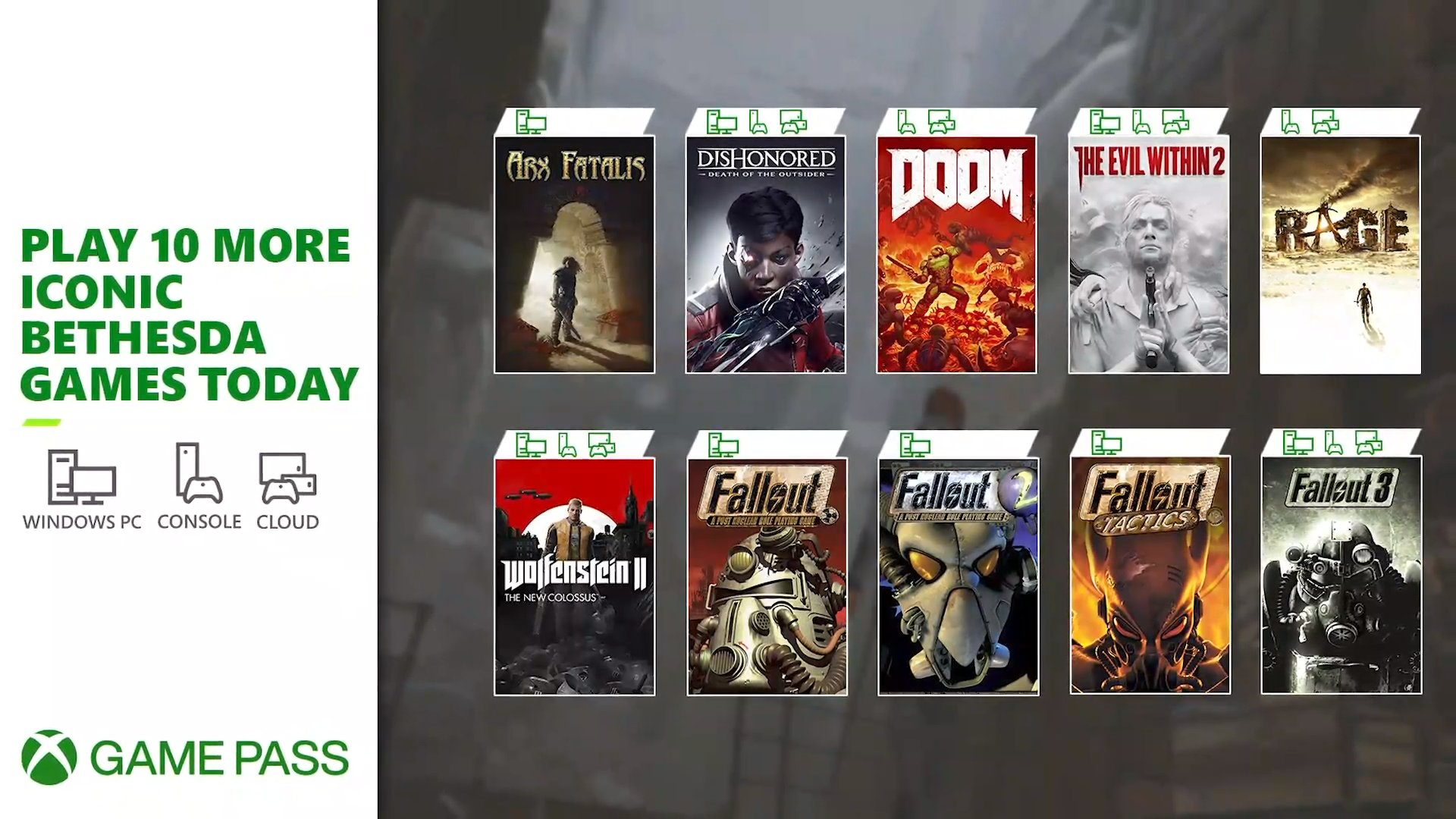 And Bethesda kicked the bucket and confirmed 10 more Game Pass titles starting June 29th. They are doom, 2016, The Evil Within 2, rage, Wolfenstein 2, Fallout 1, Fallout 2, Fallout 3, Fallout Tactis, Arx Fatalis and Dishonored: Death of the Outsider.
Fallout 76 Contents
After a troubled release and a lot of effort to fix the problems, Fallout 76 came face to face with news. First of all, on July 7th the game will receive the update Steel Reign for free. In 2022, the expansion will be launched The Pitt.
Party Animals
For those who like a shitload of friends, Party Animals has been confirmed for 2022 and will come exclusively to Xbox consoles and the PC, but not just on Microsoft's platform.
Hades
And Supergiant Games' success will finally reach other consoles. On August 13th, Hades will be landing on the Xbox Game Pass and will be playable on Xbox One, Xbox Series X and S, PC and Xbox Cloud Gaming.
Somerville
Another unexpected announcement was Somerville, a 2.5D adventure game from the Playdead co-creator's new studio, which created Limbo and Inside. It will be released in 2022 and will be on Xbox Game Pass.
Infinite Halo
Infinite Halo showed up and showed more than we expected. In addition to showing absolutely beautiful new graphics and the hook, a new gadget that will serve to pick up weapons from the ground and steal vehicles, it will also have a free multiplayer mode, support 120 FPS and will be released later this year.
Diablo 2: Resurrected
the remake of Diablo 2, known as Resurrected, received release date and a new gameplay video. With beautiful graphics and support for 8 simultaneous players, it will be released on September 23rd of this year.
The Plague Tale: Requiem
the sequence of The Plague Tale: Innocence has been officially confirmed. The Plague Tale: Requiem received a tense trailer, will be released in 2022 and will hit the Xbox Game Pass.
Slime Rancher 2
the sequence of Slime Rancher was announced with a cute trailer and was given a release date. Slime Rancher 2 will be released in 2022 and will make it to the Game Pass.
shredders
And apparently extreme games are making their way back into the mainstream. During the presentation, it was confirmed Shredder, snowboard title that will hit the Game Pass in December of this year.
Atomic Heart
Who was missing and decided to show up was the Russian game inspired by BioShock, Atomic Heart. He's received a pretty bizarre trailer and confirmation that he's making the Game Pass on Day One, but no one knows when that day will be.
Replaced
One of the indies games that caught a lot of attention was Replaced. The futuristic retro sci fi title impresses with its visuals and free flow combat. It will be released in 2022 and will be featured on the Xbox Game Pass.
Grounded
Obsidian's multiplayer adventure game, Grounded, will receive an update that will add settings, pets, mushrooms, a gigantic spider and achievements. It will be available on June 30th.
Eiyuden Chronicle
Two new games made by the same team of Suikoden will be released. The first is Eiyuden Chronicle: Rising, which will come out in 2022, and then Eiyuden Chronicle: Hundred Heroes, which will be released in 2023.
Age Of Empires IV Release Date
And the strategy game Age of Empires IV won release date. The new title of the famous RTS franchise will be released on October 28th and received a beautiful gameplay trailer.
The Outer Worlds 2
And there was more from Oblivion in the presentation. The developer has confirmed the continuation of its futuristic RPG, The Outer Worlds 2, but there is no confirmed release date so far.
Top Gun in Flight Simulator
The company's incredible aviation simulator, Microsoft Flight Simulator, will hit Xbox on July 27th. Additionally, the title will receive a Top Gear themed jet expansion in the fall.
Forza Horizon 5
And another very confirmed rumor. Forza Horizon 5 was announced, takes place in Mexico, has beautiful graphics and powerful cars. In addition to normal gameplay, the title will allow players to create their own races and modes. It will be available for Xbox One, Xbox Series X and S, PC and Xbox Cloud Gaming on November 9th.
redfall
And to close with a flourish, the new Arkane Austin game was revealed. redfall is a co-op FPS that will pit players against bizarre and superpowered vampires. It is an Xbox exclusive and will be released in the summer of 2022, which is mid-year.
Mentions
In addition to everything we talked about, Phil Spencer commented briefly on Perfect Dark, The Elder Scrolls VI and we had a quick trailer for Far Cry 6 it's from Among Us.