Lenovo unveils its product line-up for this year-end. Among the dozen PCs, tablets and home automation products is the Legion Slim 7i, the world's lightest 15-inch screen gaming computer, weighing down to 1.8 kg. Equipped with GeForce GTX or RTX and Core i5 to i9 depending on the configuration, it will arrive in France in November 2020. Its starting price: 1800 euros.
While its subsidiary Motorola should present the Razr 2 in a few days, Lenovo formalized at the beginning of the afternoon its line-up of products for the end of 2020. On the program, ten products: two hybrid PCs for range Yoga, including a particularly premium Slim model, four tablets, a connected clock and, above all, a gaming PC for the range Legion. The latter is called Legion Slim 7i. And it claims to be the lightest 15-inch gaming PC in the world. It must be said that it is a featherweight: 1.8 kg on the scale. It is also extremely thin, being 17.9mm thick.
Read also – Concept Ori: Dell unveils an astonishing folding screen laptop
With such physical specifications, the Legion Slim 7i is therefore designed for hardcore gaming as well as for mobile work. Dressed in an aluminum frame, the PC presents several lines of small holes behind the function keys on the keyboard. This is not the location for the stereo speakers, but an air inlet to ventilate the CPU and GPU during extended gaming sessions. The cooling system also relies on two active fans (illustration below) whose design has been improved.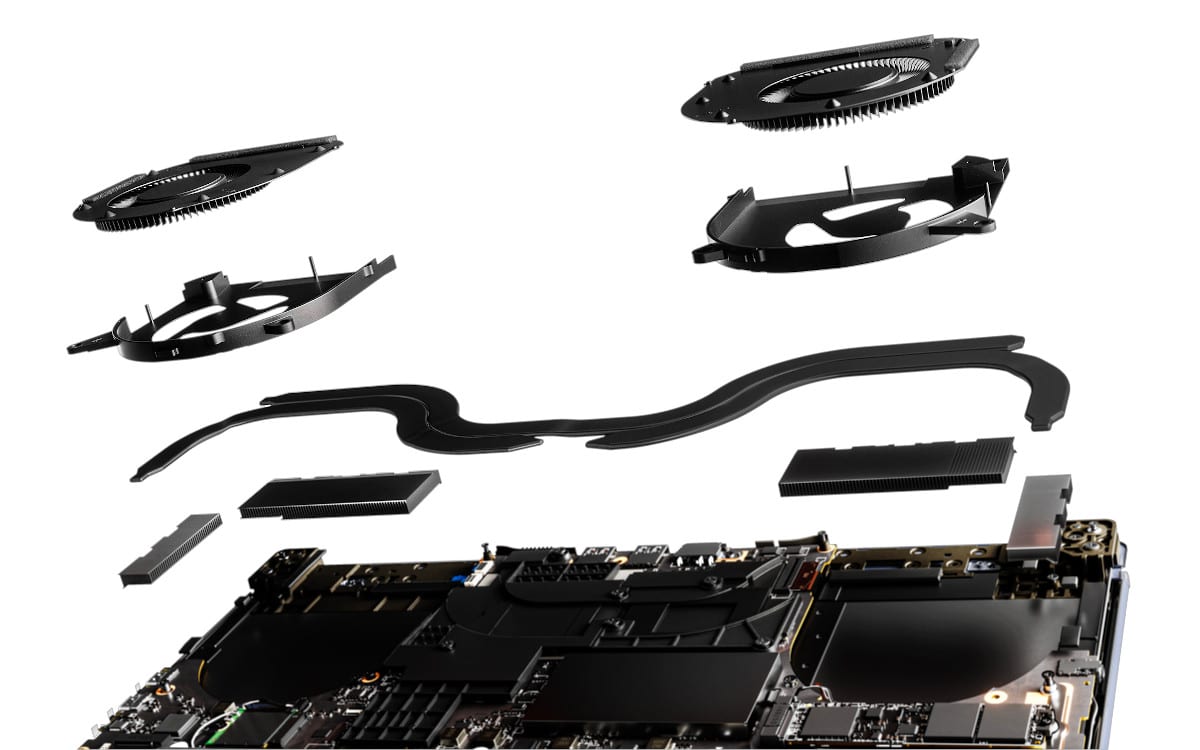 On the technical sheet side, the Legion Slim 7i is offered with a 15.6 inch screen Full HD (60 or 144 Hz) or Ultra HD (60 Hz), one processor Core i5 to Core i9 Generation 10 and a GeForce GTX 1650 Ti (with or without Max Q) or RTX 2060 Max-Q Design graphics card. On the memory side, the user can choose between 8, 16 or 32 GB of RAM in DDR4 format (2.9 GHz or 3.2 GHz) and 512 GB, 1 TB or 2 TB storage in SSD format. The battery has a capacity of 71 Wh. The keyboard is backlit. The equipment includes, among other things, 2 USB 3 ports, 2 Thunderbolt ports, two Dolby Atmos certified speakers, a 720p webcam and a fingerprint reader. Its price will start at 1800 euros. It will be on sale in France from November.
A designer PC and a tablet for children
Let's quickly talk about other novelties from Lenovo. First the Yoga with the Yoga 9i and the Yoga Slim 9i. These are two hybrid portable PCs whose screen rotates 360 ° to become a tablet. They are equipped with 10th generation Core i processors, integrated Intel graphics chipsets, a maximum of 16 GB of RAM and 512 GB to 1 TB of storage (2 TB for the Slim 9i). WiFi 6 and Bluetooth 5.0 connection, Thunderbolt / USB ports, 14 or 15 inch Full HD screen or, optionally, Ultra HD. The exterior of the Yoga 9i is made of aluminum while that of the Yoga Slim 9i is made of vegetable leather in mineral glass and aluminum. Starting price : 2499 euros for Yoga 9i, 2699 euros for the Slim.
On the shelf side, two products caught our attention: the Tab P11 Pro and the Tab M10 HD Gen 2. The first wants to be a competitor of the Galaxy Tab S7, with an 11.5-inch screen, a chipset Snapdragon 730G, an 8400 mAh battery, four JBL speakers Dolby Atmos certified, a fingerprint reader, a dual 13 + 5 megapixel photo sensor on the rear and another dual 8 + 8 megapixel sensor on the front. It comes in two configurations: 4 + 128 GB and 6 + 128 GB (with expansion by microSDXC). The second is a tablet developed for children with Google Kids Space preinstalled. 10.1 inch HD display, MediaTek P22T chipset, dual speaker and 5000mAh battery. Two configurations here too: 2 + 32 GB or 4 + 64 GB (with possible extension). No price revealed for the moment in France, but their launch is planned there.