Imagine issuing invoices, financial management, inventory control and online store in a single free system. For this is the proposal of MarketUP, a management platform aimed at entrepreneurs who want to do the daily administration of a small company, without spending anything.
How does MarketUP work?
The solution combines market practices, translated into a standard of operations, capable of providing user companies with a quick, simple and complete management of a business. Management is done entirely in the cloud, online with contingency for offline POS (Point of Sale) operation and completely free of charge. This means that it is free of license costs, operating limits and additional users or modules paid for.
How to use MarketUP?
Step 01: When opening the site, find the option "Create Account 100% free. START NOW!" In the upper right corner. Because it is an online service, there is no need to install programs on your computer, just access the site.


Source: Reproduction
Set up your company account
Step 02: After clicking on the "Start now" option, you will be taken to the user's registration page, who will be the system and company administrator. For this, it will be necessary to inform full name, valid e-mail and password. You can also access using Facebook accounts or Gmail. After that, it will be time to create an address for the company to access the MarketUP system.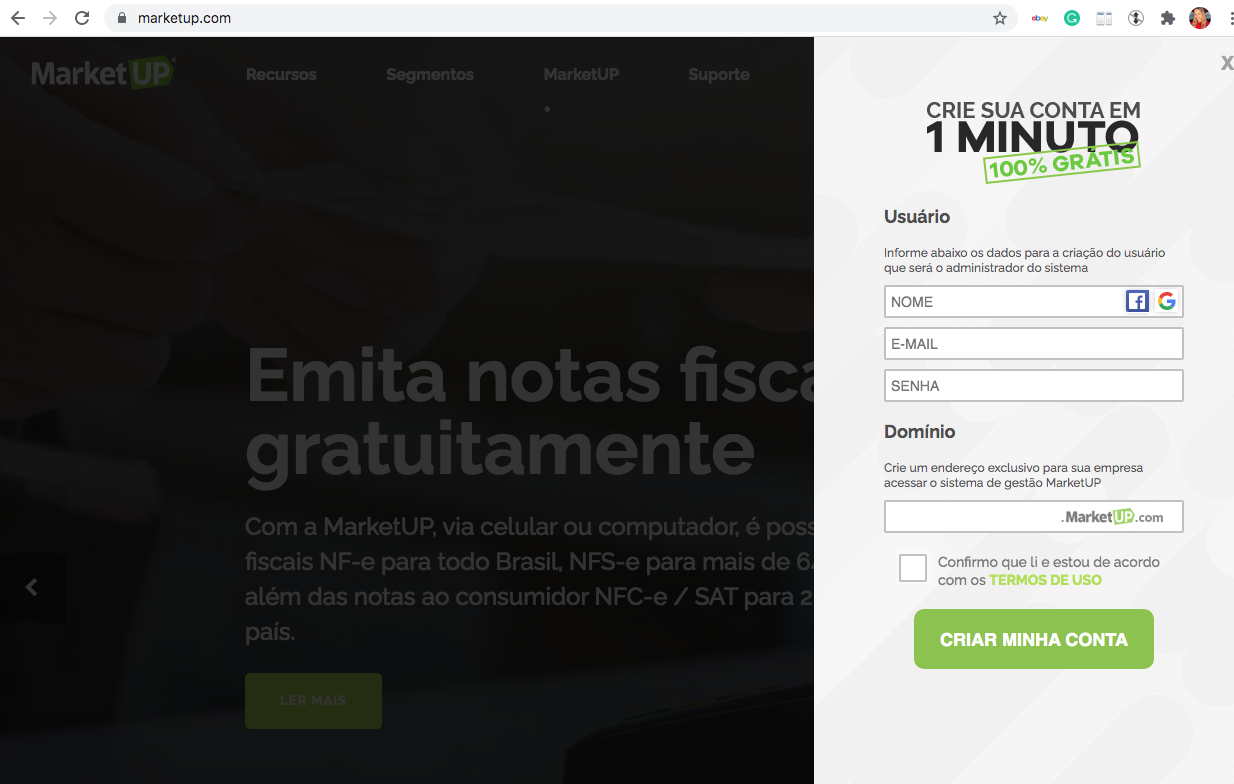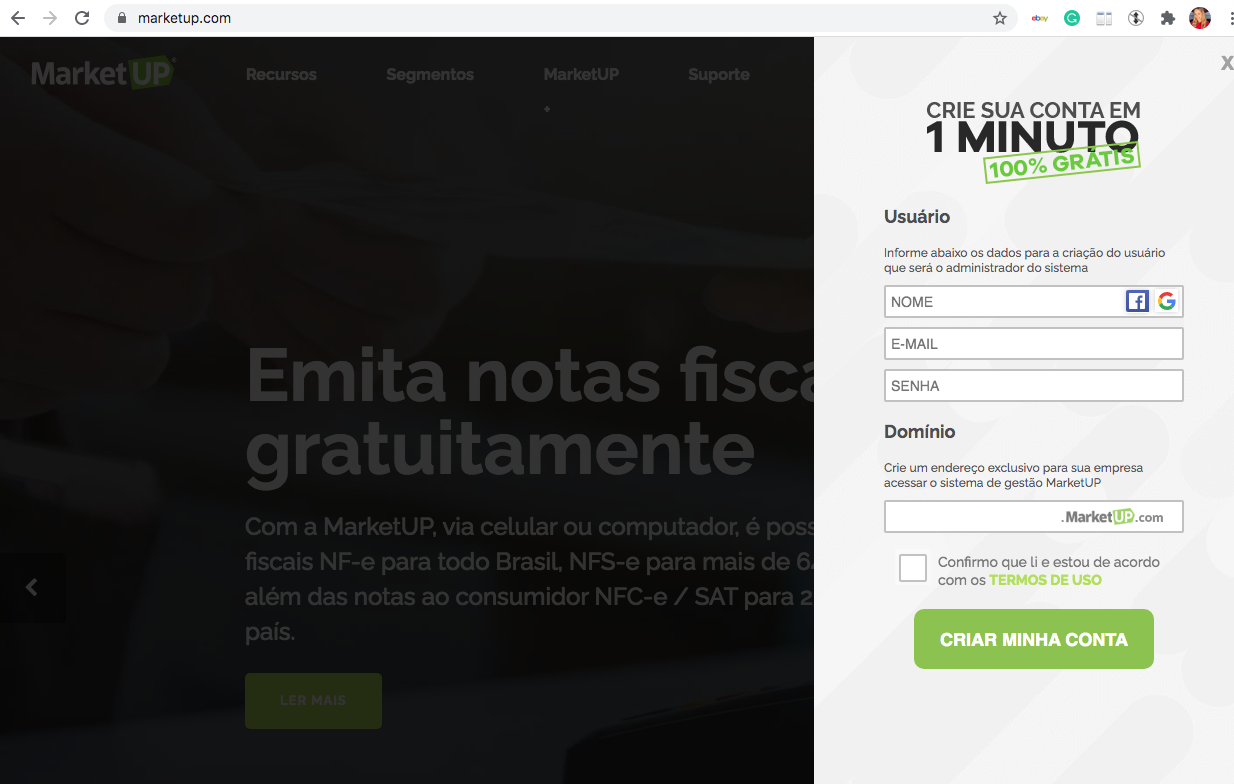 Source: Reproduction
Step 03: Indicate the company's data: company name, segment (industry), telephone, zip code, address, number, complement and domain. The domain is the address that will be used to access your company's specific account at MarketUP.
If any field is incorrect or needs to be changed, MarketUP will automatically alert you.
Email confirmation and terms
Step 04: After making the settings for the established account, you will be directed to another window with the terms of use of the system. You must read and accept the terms of use to start using the account.
PME account access
Step 05: To access a small and medium business account, the user will need to enter the address he created during the process mentioned above, in the browser's address bar: http://yourcompany.marketup.com (replacing "your company" with the name domain name chosen in the register). From there, the system administrator will be taken to the login screen and can start managing online and free of charge.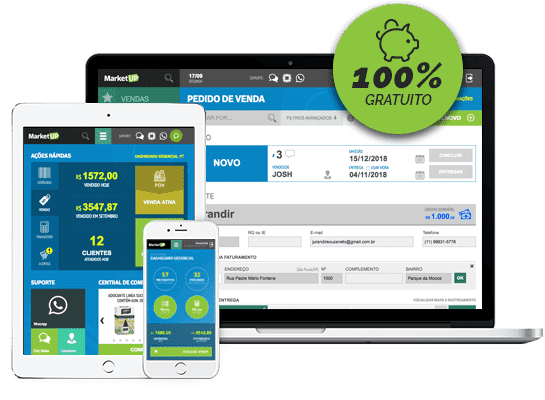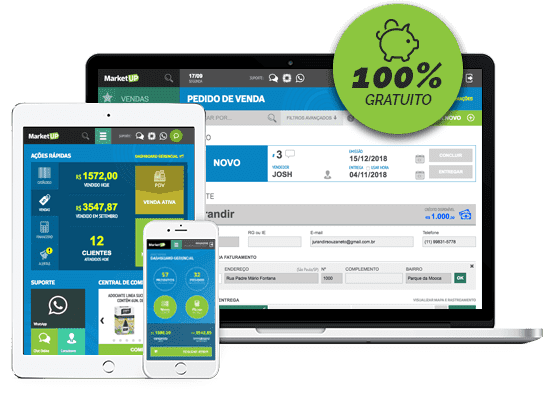 Source: Reproduction
What segments does MarketUP serve?
Recognized as a free management system for all types of business, MarketUP aims to make micro and small companies more competitive. Thus, the company serves several market segments.
Newsstands, kiosks, stationery, construction, gardening, pharmacies, electronics, games, machine shops, veterinarians, petshop, restaurants, clothing stores, retail trade, beauty salon and even service providers are segments found on the platform.
The site also offers several features that make a difference in a business. With the resources of MarketUP, it is possible to enhance the company, as well as guarantee better financial results.
No-cost technology aims to boost small businesses
The MarketUP Management System is the first ERP (Enterprise Resource Planning) completely free from the Brazilian technology market. The resource platform was created in order to meet the needs of the daily management of a company, without weighing the entrepreneur's pocket.
This ERP is composed of integrated modules, which represent each area of ​​the business, which talk to each other, from a single database. The platform offers all the features without any limitation of use, cost for installation or any fee.
The company also works with an intelligent advertising model. In its system there will be reserved areas, which do not hinder its use, where advertisements of large companies related to the company's operating segment are shown.
Services offered at MarketUP:
Sales management,
Purchasing management,
Inventory Manager,
Financial control,
Integrated Virtual Store,
Emission of NF-e, NFC-e and NFS-e.
Advantages for the user:
Cloud Platform,
Shopping center,
Intuitive interface,
System that has no hardware restriction,
Operates on Android and IOS,
It has a Point of Sales system embedded in the card machines,
The POS operates up to 48 hours offline in case of loss of connection,
High scalability,
Its partners are companies such as Google, Certisign, Unilever and Mercado Livre,
Offers applications as benefits to improve the management of the company,
Offers 100% free solutions.