Google Forms is a free application that allows you to create custom forms for applying surveys and questionnaires. The tool can be used for professional or study purposes, and can be used to collect feedback, register for events, gather data for a survey and even apply online tests.
Like Google Meet, the service has wide compatibility and can be used on Mozilla Firefox, Microsoft Edge and Chrome browsers. Accessing and creating the forms is done from computers and can also be easily performed through smartphones, both Android and iPhone devices.
See how to create a Google Forms form from your mobile.
1. Access to Google Forms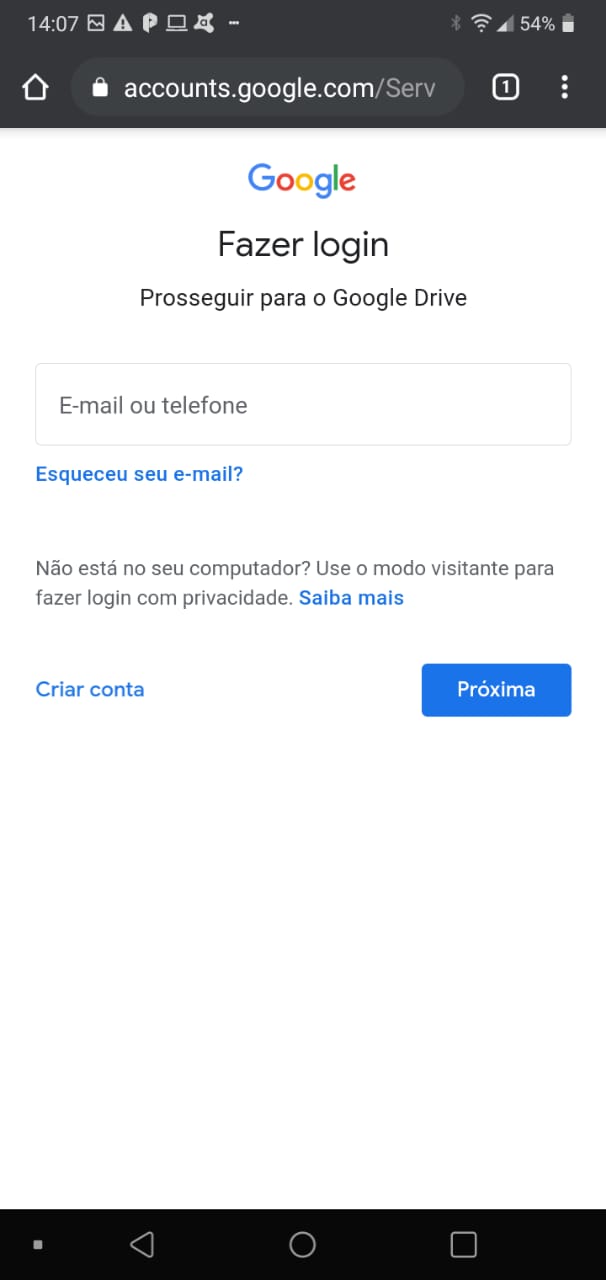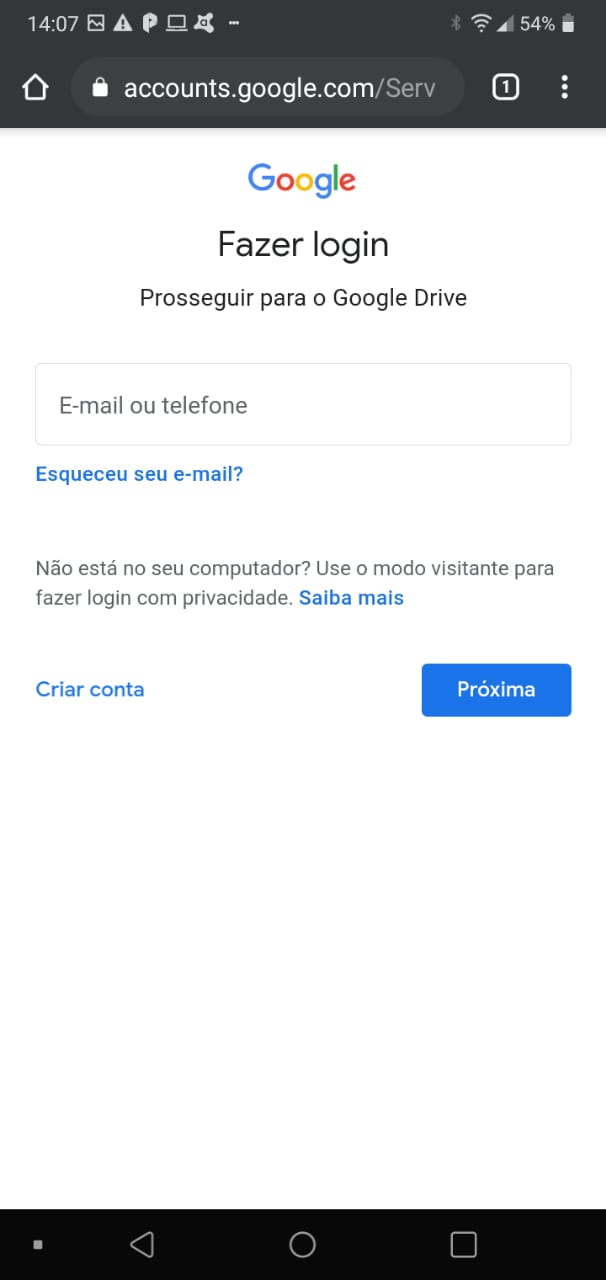 You must log into a Google account to create a form. (Source: Google Forms/Reproduction)Source: Google Forms/Reproduction
In your favorite browser, type "forms.google.com" in the address bar and tap "Go". If you are not logged in to Google services, a login and password will be required to proceed. If you don't have a Google account yet, you'll need to create one.
2. Basic form settings
An image can be added to the header to further customize the form. (Source: Google Forms/Reproduction)

Source: Google Forms/Reproduction
After logging in, a new form will automatically open. You will need to add basic information such as a title and a simple description to let users know what the purpose of the form is.
At the top of the screen, by tapping the paint palette icon, you can select theme, background and font style colors. If you prefer, you can add an image in the header. So, when you finish the basic settings, just tap apply.
3. Adding fields to the form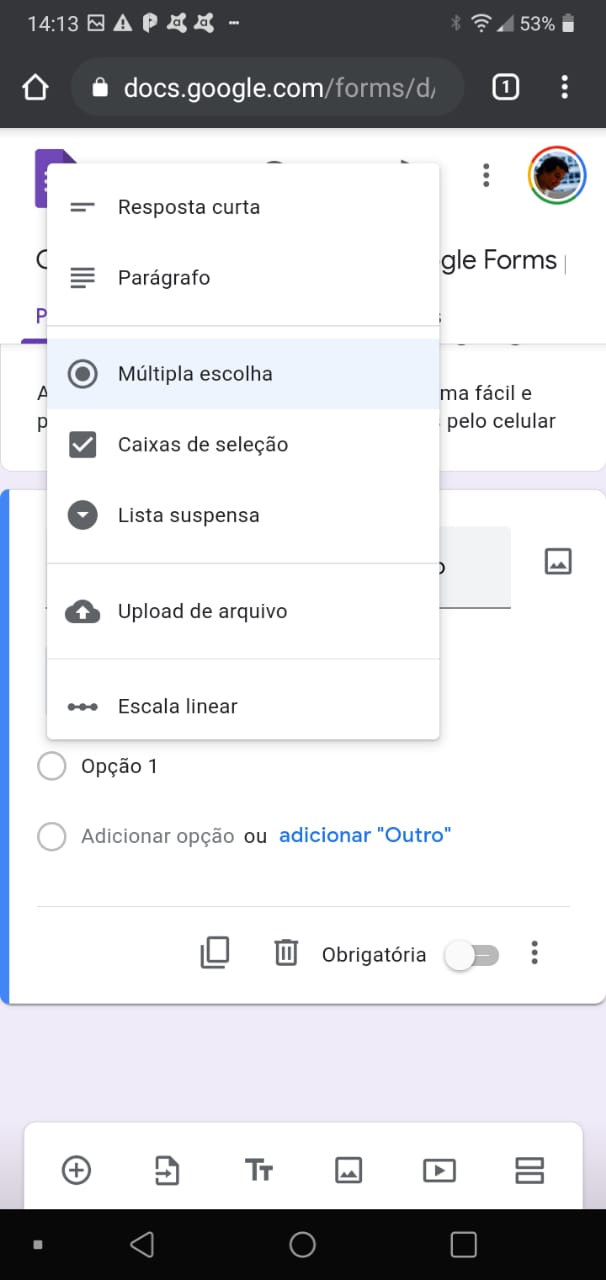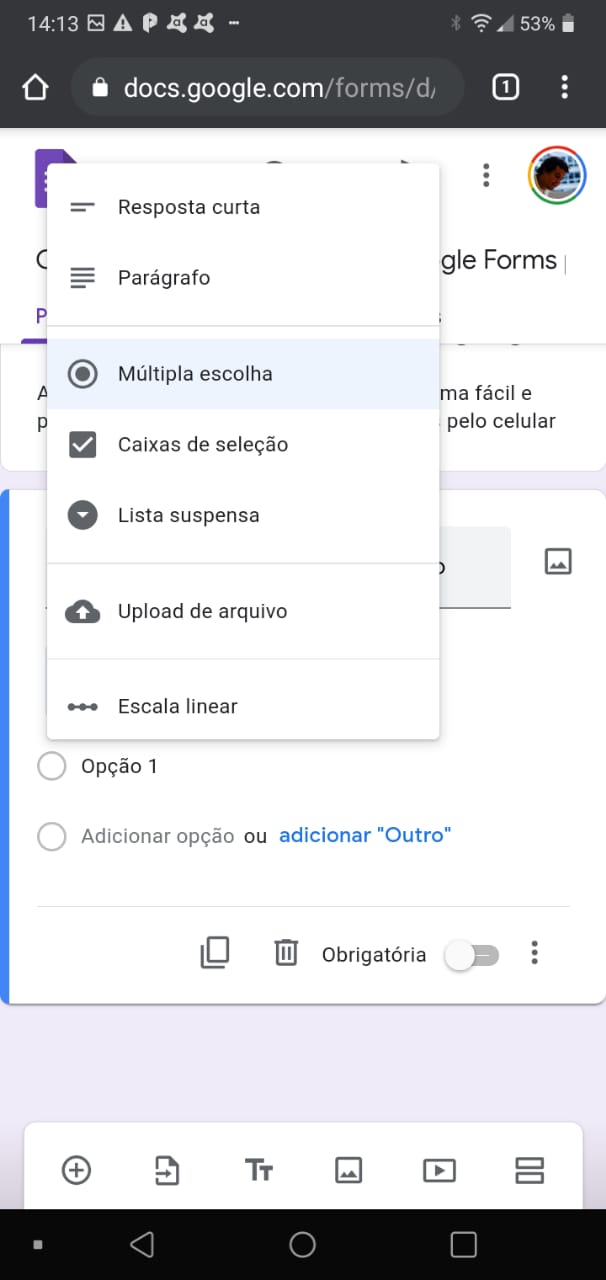 Google Forms offers a number of different options for responses. (Source: Google Forms/Reproduction)Source: Google Forms/Reproduction
Google Forms allows you to include up to 300 pieces of content in your forms, which can be questions, descriptions, images and videos. This information can be organized into up to 75 different topics.
The first information field is already open for filling. You must replace the expression "Untitled question" with the first question you want to ask. Then you must select the type of question from the options below.
Short answer: allows a free-form answer in a few words.
Paragraph: Allows long answer in one or more paragraphs.
Multiple choice: among a set of predetermined options, the person must select only one. The option "Other" can be included, allowing for a short answer that is not on the list.
Checkboxes: allows selection of one or more predefined options; the option "Other" can also be included, as well as the "Multiple Choice".
Dropdown list: similar to "Multiple Choice", but changes the way the options are presented, which are presented in a list, not allowing the inclusion of the "Other" option.
File upload: allows you to upload files, which will be stored in the form owner's Google Drive. Only users logged into a Google account can upload files.
Linear scale: People can choose a single answer on a scale that can start at 0 or 1 and can go up to 10.
After customizing the information, you can select whether the question is mandatory in the lower right field. Thus, the form cannot be completed if the user does not provide an answer. To add new information, just tap "+" in the lower left corner.
4. Editing form information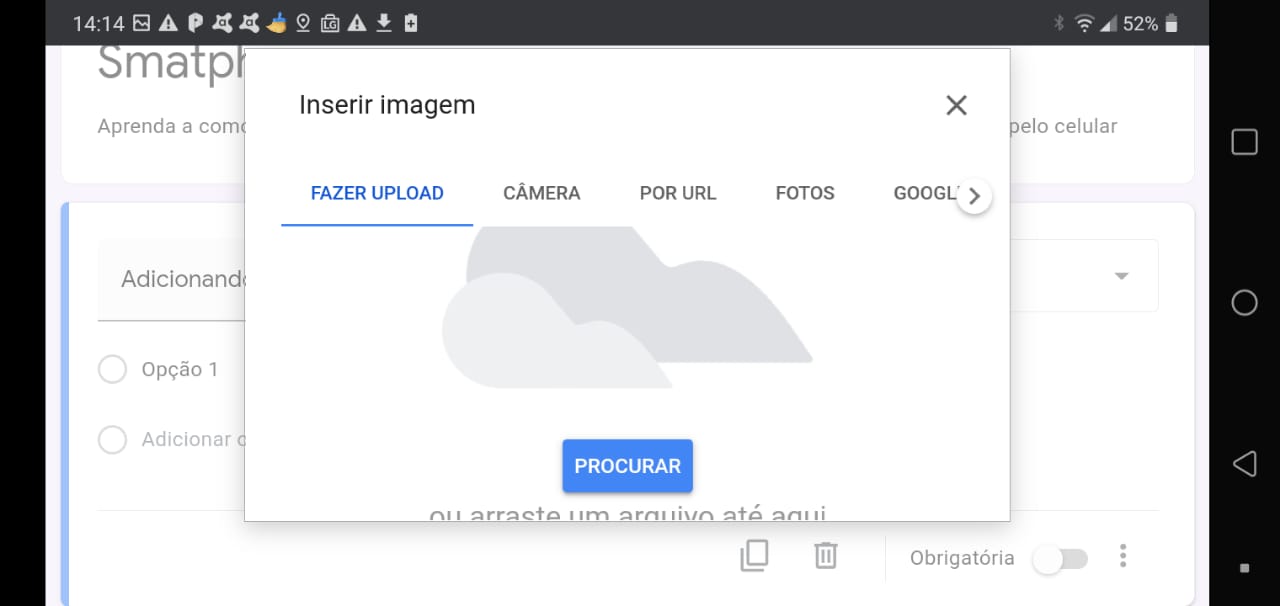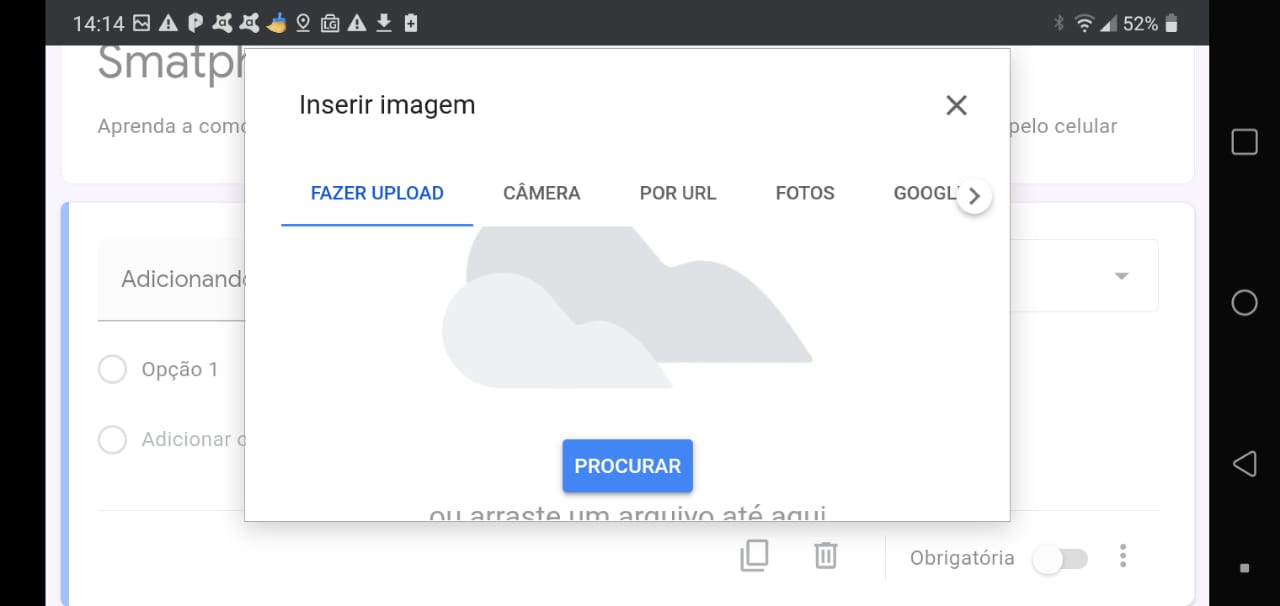 If you prefer, you can turn the phone horizontally to make it easier to see all fields on Google Forms. (Source: Google Forms/Reproduction)Source: Google Forms/Reproduction
At any time, you can go back and edit any field on the form. To do this, just tap the question you want to edit. In the icons in the options bar displayed at the bottom, you can still:
send question to another form — tapping a file icon with an arrow, the edited question can be sent to another form created earlier;
insert images — in the icon for the image, a photograph or other illustration file can be inserted via direct upload from mobile phone, camera, internet link or Google Drive;
insert videos — by tapping the icon with a "play" inside a square, you can insert videos straight from YouTube;
create new section — the last icon, with two rectangles, allows the creation of a new question section.
5. Submission of the form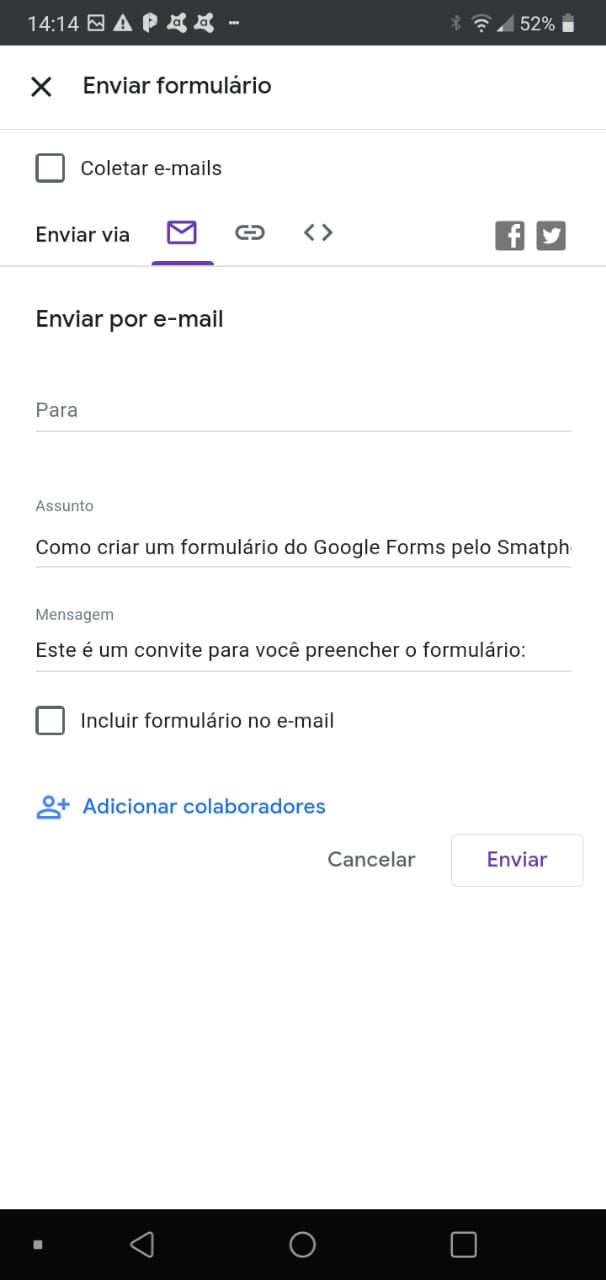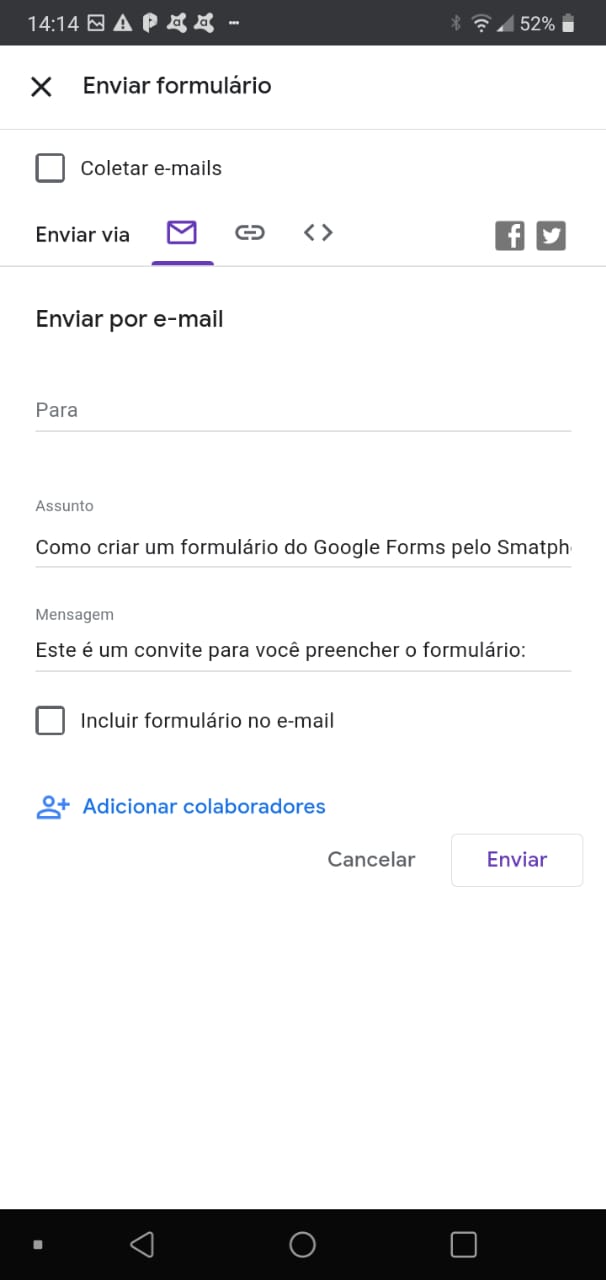 You can still select the option to collect emails from form responders. (Source: Google Forms/Reproduction)Source: Google Forms/Reproduction
After finishing your form, you can forward it by tapping the submit icon in the upper right corner, by email, short link or embedding HTML. The file can also be shared via Facebook or Twitter.