Windows 11 is knocking at our door. Anyone who has a Windows 10 computer running the latest version and meeting the minimum hardware specifications will be able to upgrade. A question that always comes to mind in these transitional moments is: will my accessories work well in the new system? Yes, if they are working fine on Windows 10.
But often Windows 10 is not working well: errors in the installation of some program, changes made to the machine by viruses or trojans, or even problems with installing an update can cause slowdowns and crashes. So, to avoid upgrading a crashed system, formatting Windows 10 might be a good idea.
PC formatting, an operation considered extremely complex a few years ago, is now a simple procedure and capable of eliminating any problematic background programs, as well as cleaning any unnecessary files from your computer's hard drive.
How to format Windows 10 without downloading programs or installation disc?
When deciding to format your PC or laptop, the good news is that, unlike what happened a few years ago, Windows 10 has a native function, which allows the user to perform a system restore, even without losing their personal files .
This means that the Windows 10 settings themselves will automatically perform the system restore, through a fresh installation of the operating system. For this, you only need a reasonable internet connection, which allows you to download a 3GB .ISO image.
Before you start formatting, it's good to know that this process can be a bit time consuming, it can take up to two hours depending on the connection, as Windows 10 will do all the updates and installation of device drivers. It is also recommended that you back up your important files to an external device or the cloud.
Formatting Windows 10
1. Open the Start menu and go to the Gear-shaped Settings icon.
Source: Windows 10/ReproductionSource:  Windows 10
2. In the settings tab, select the option "Update and Security"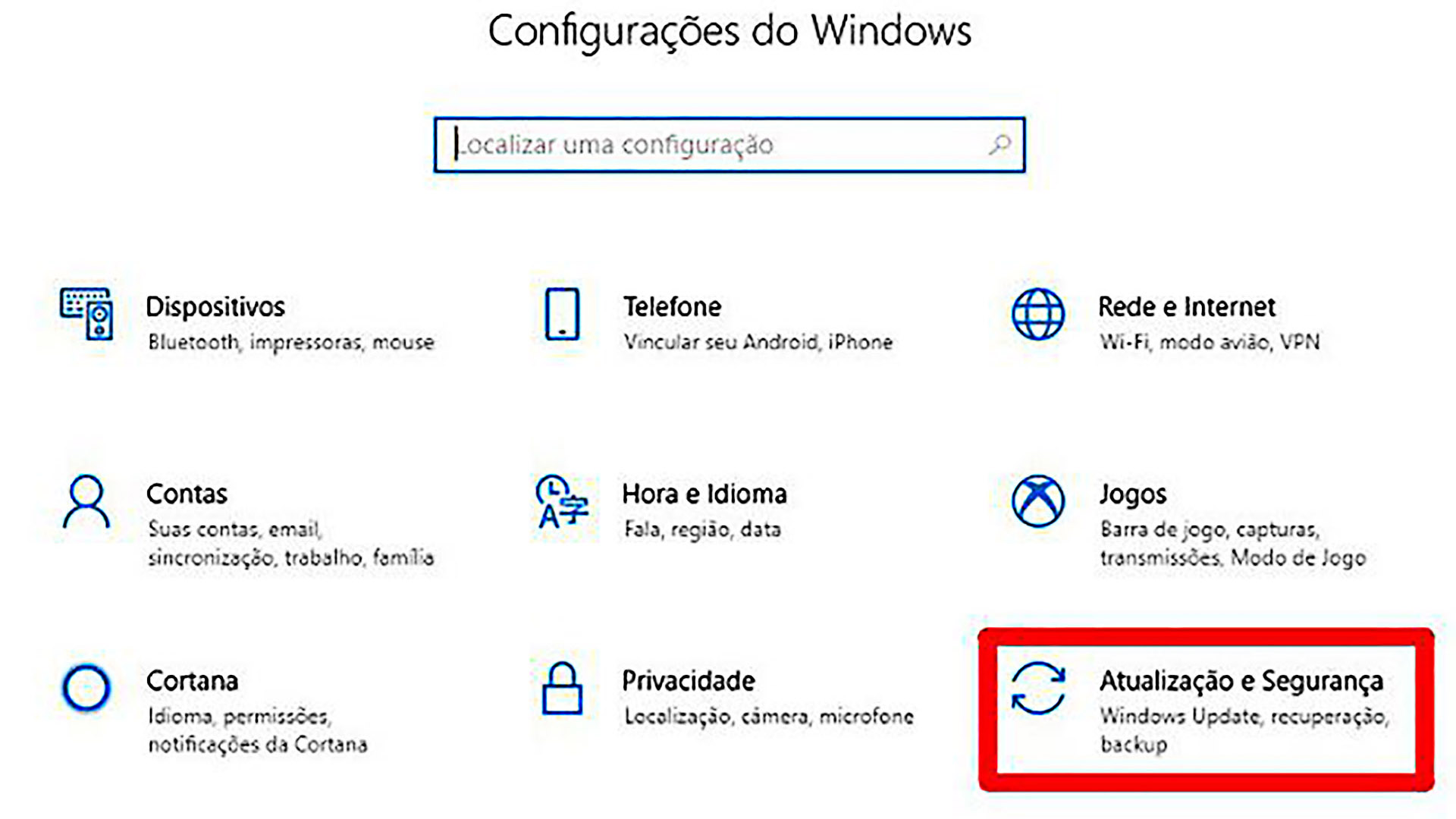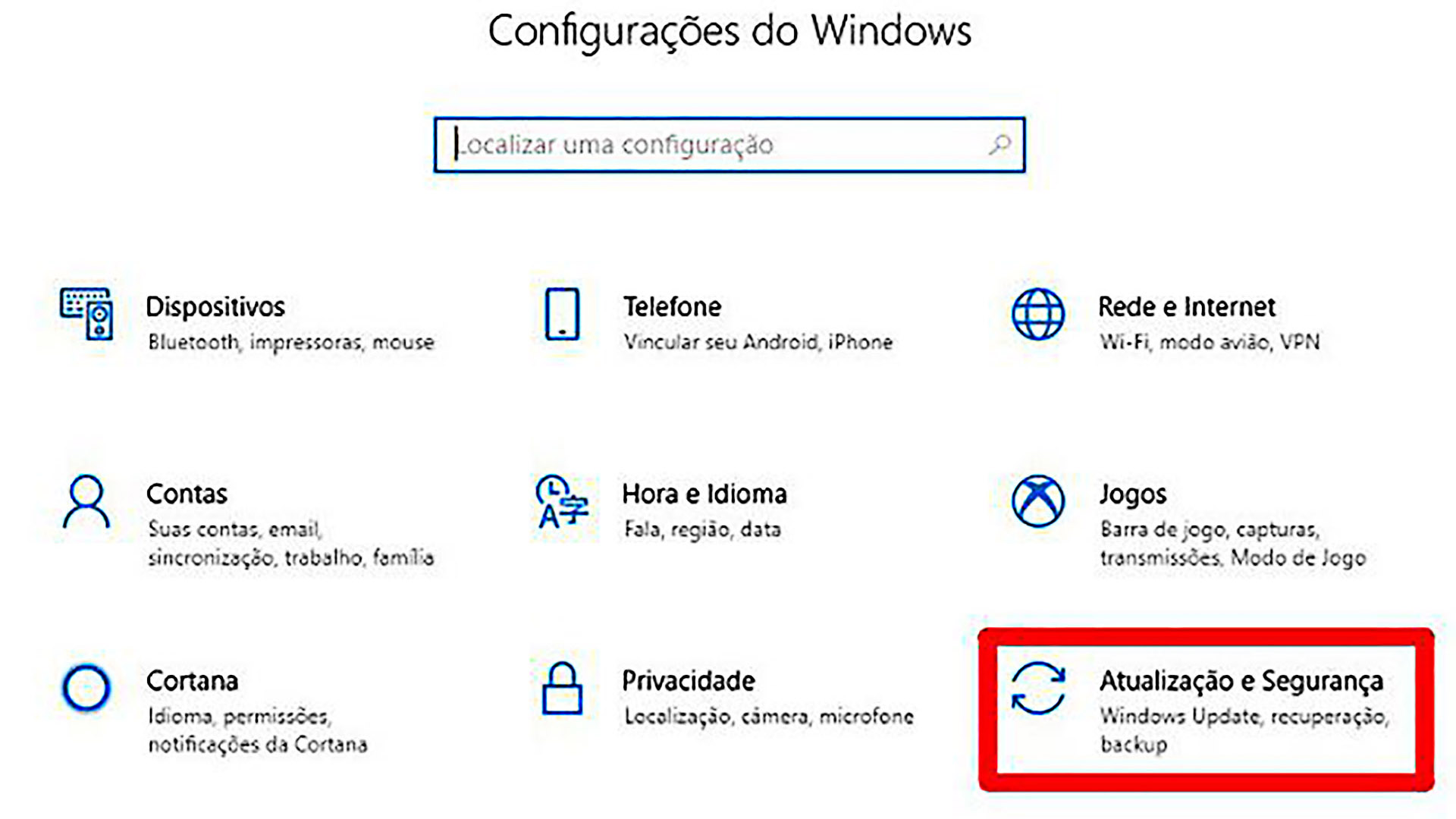 Source: Windows 10/ReproductionSource:  Windows 10
3. In the side menu, on the left side of the screen, select the option "Recovery"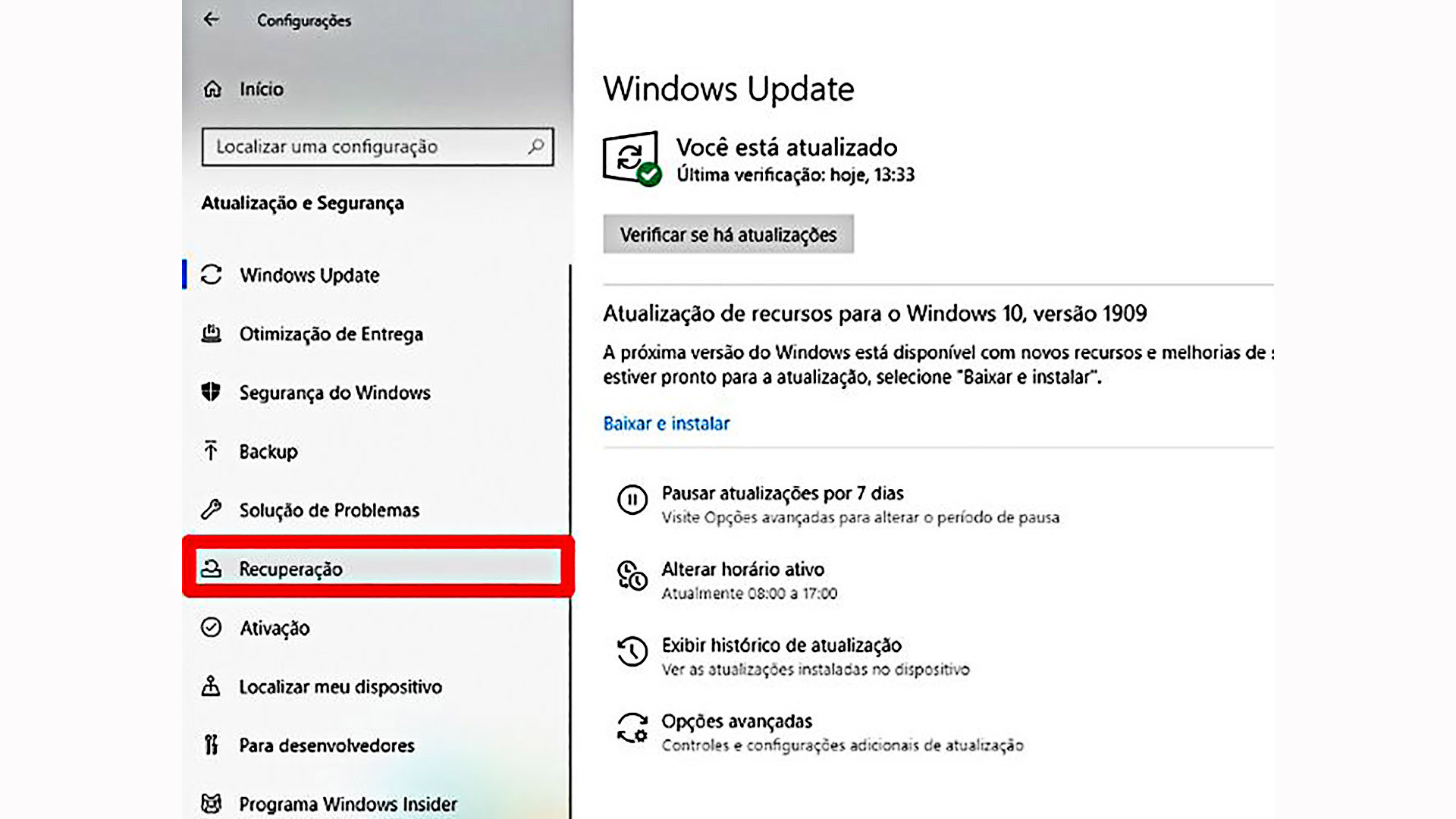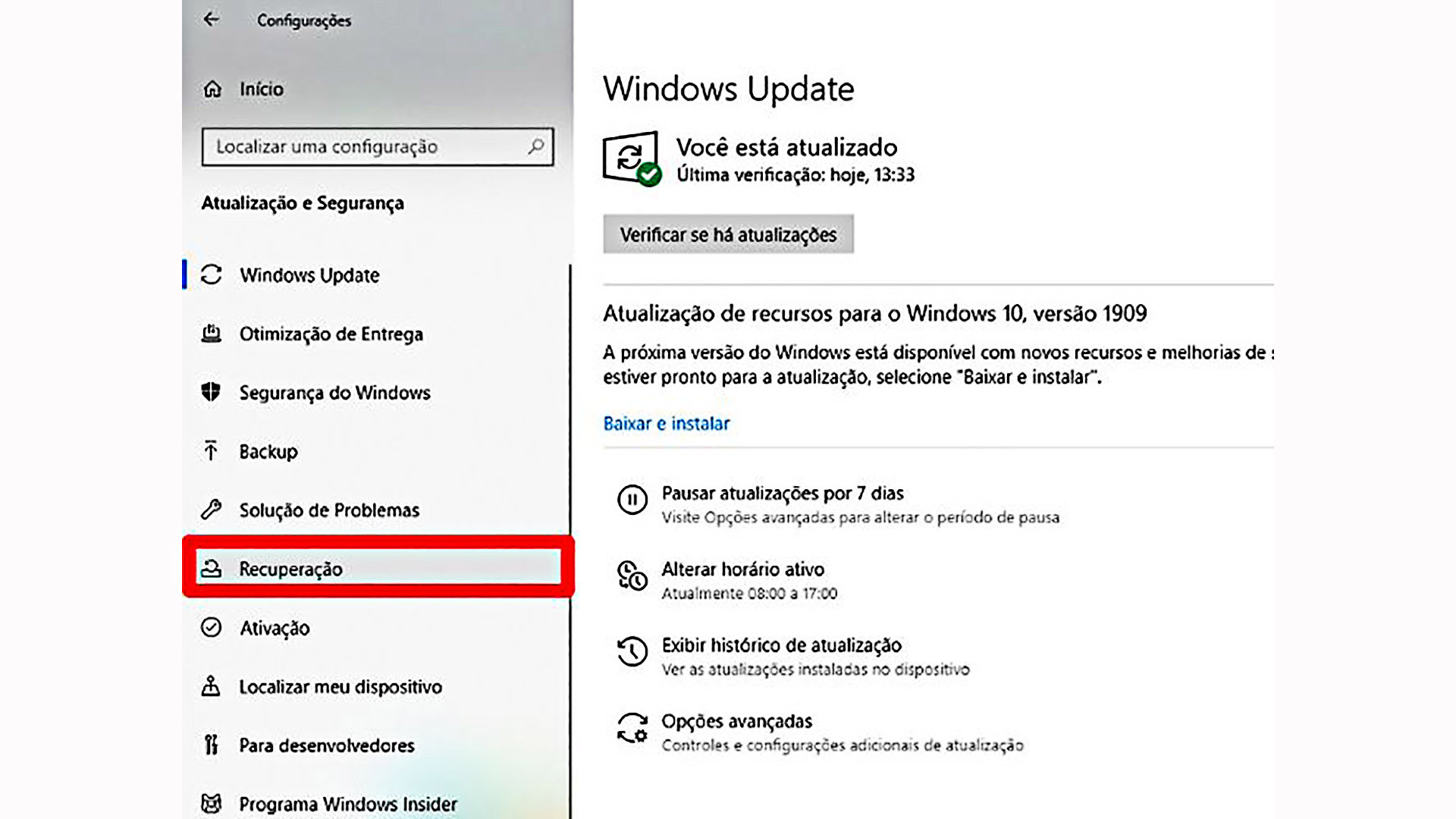 Source: Windows 10/ReproductionSource:  Windows 10
4. Recovery offers the options "Advanced Boot", which allows you to boot from a recovery drive or flash drive, and "Back to previous version of Windows 10, for nostalgics who want to go back to previous versions of the operating system ( as long as one of those earlier systems has been upgraded by Windows 10).
To format, go to the first option "Restore PC" and click "Start". Once a new Windows window opens, don't shut down your machine until the entire process is complete.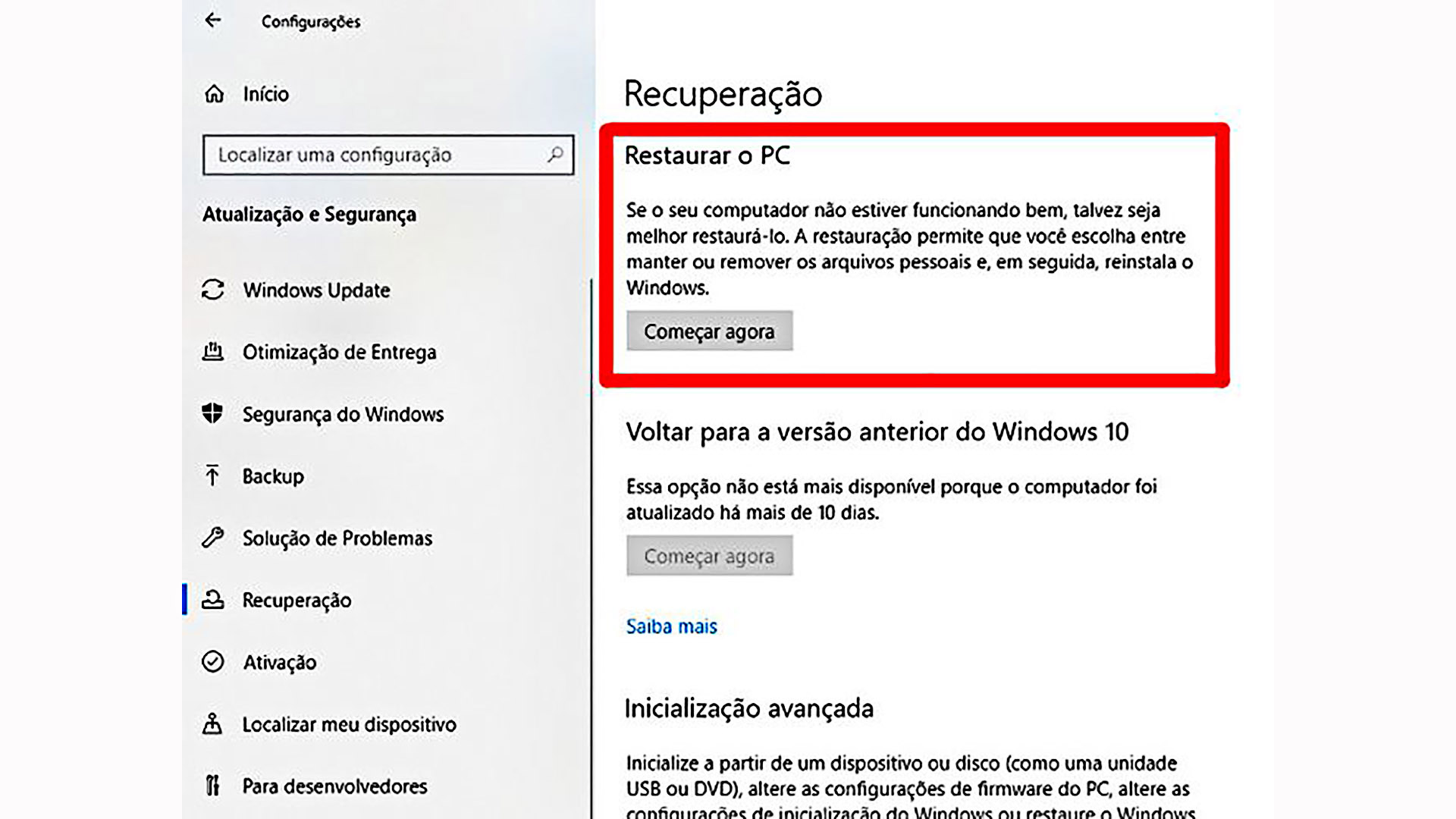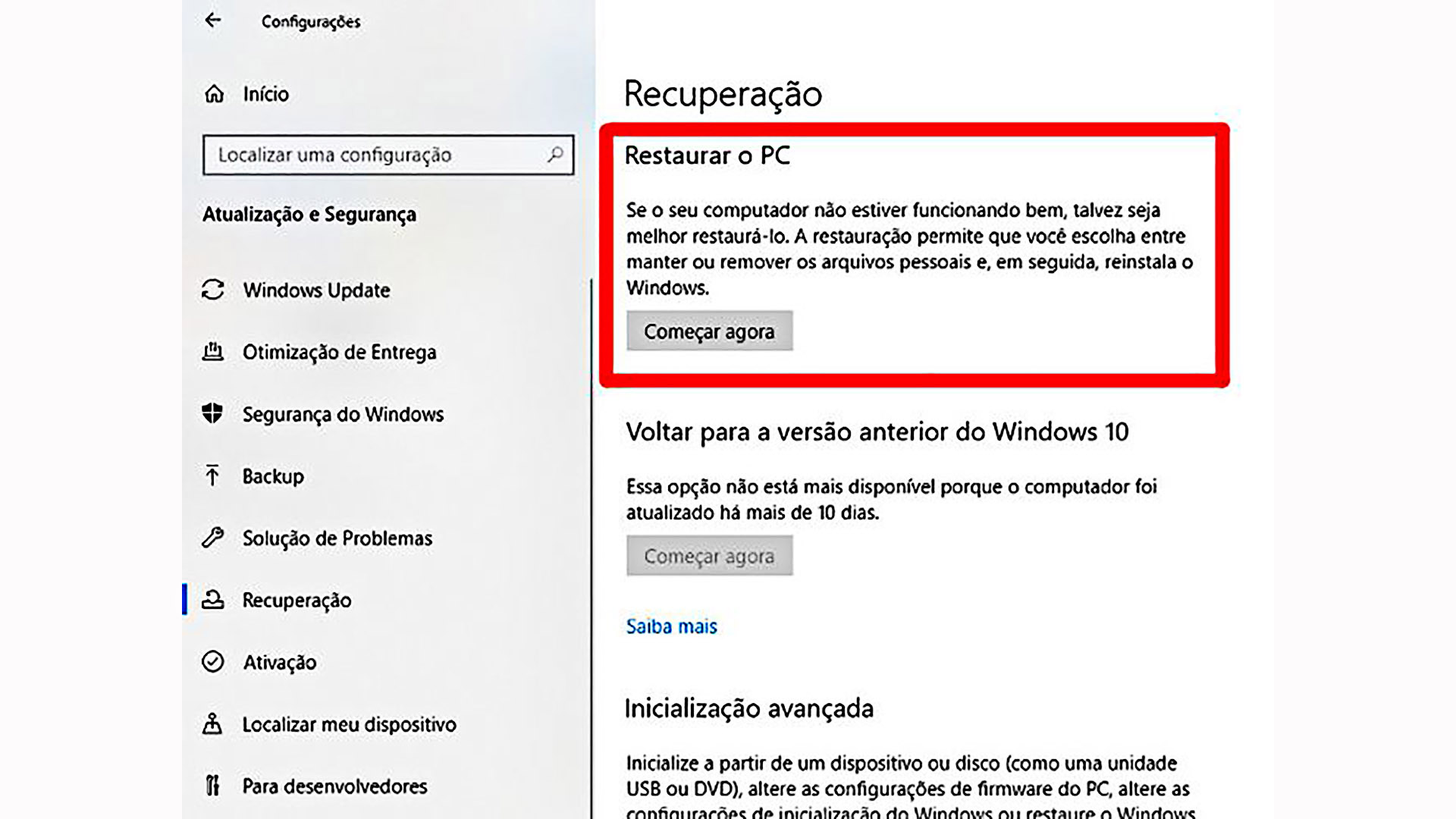 Source: Windows 10/ReproductionSource:  Windows 10
5. In this new window, you can choose between the options "Keep my files", which preserves your personal files, or "Remove all" which, as the name says, will delete all your files, photos and programs. Whichever you choose, all settings will return to defaults and all applications will be uninstalled.
The option to wipe drive ("Remove all") takes longer, but it ensures that if you are selling your computer, for example, the buyer will not have access to and will not be able to recover your deleted files.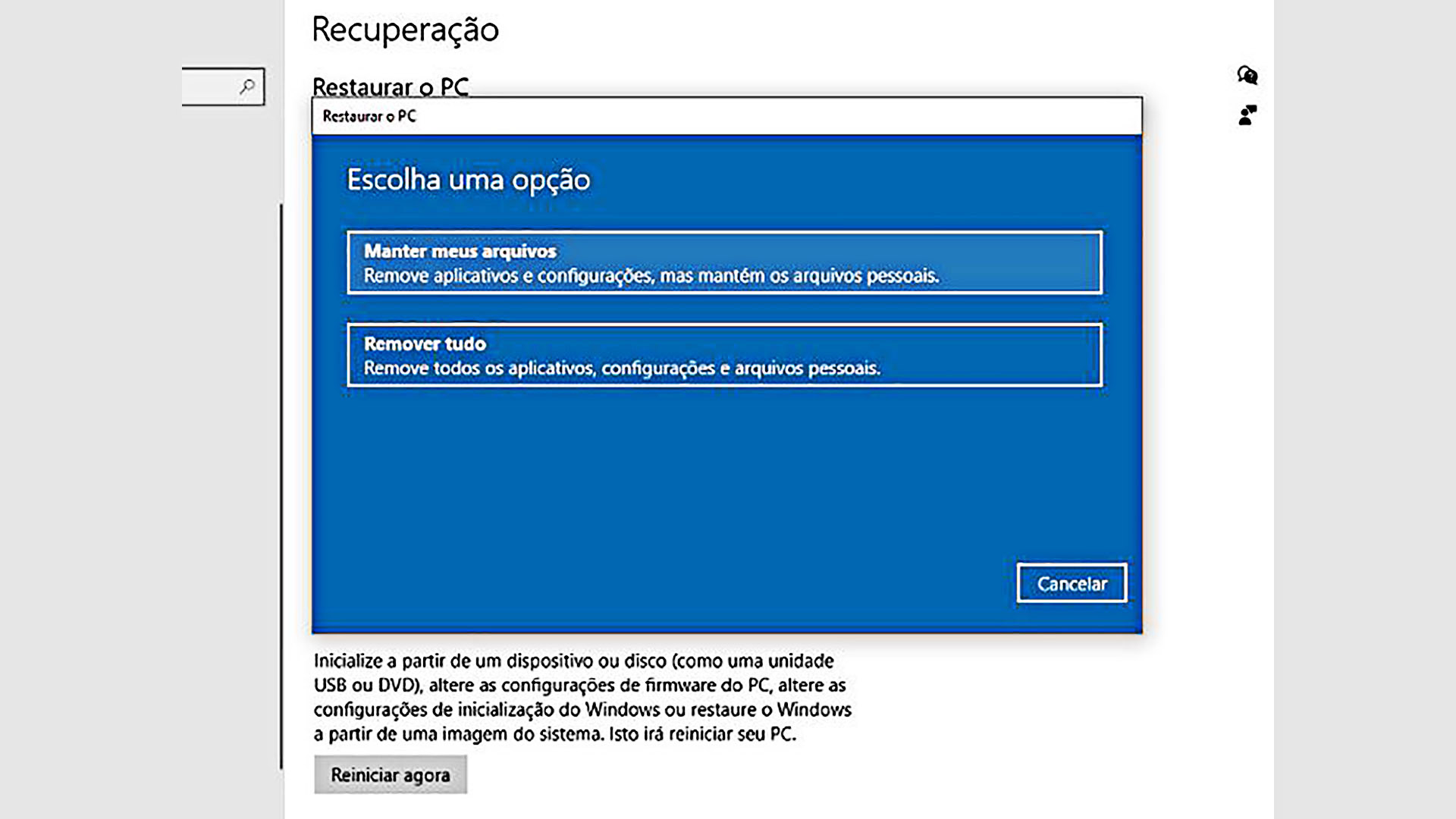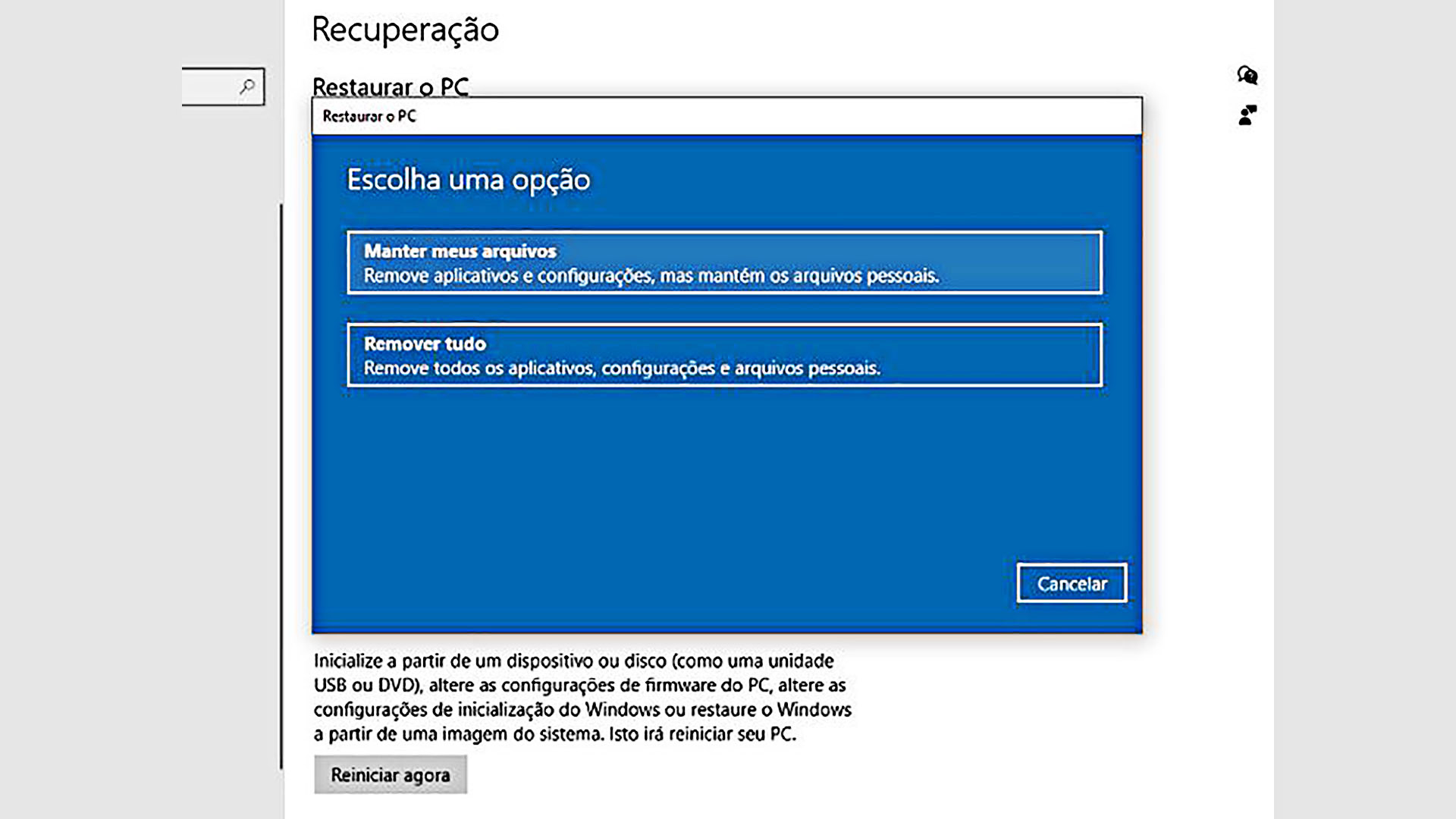 Source: Windows 10/ReproductionSource:  Windows 10
6. Make your settings as per the desired restore option, and click "Next".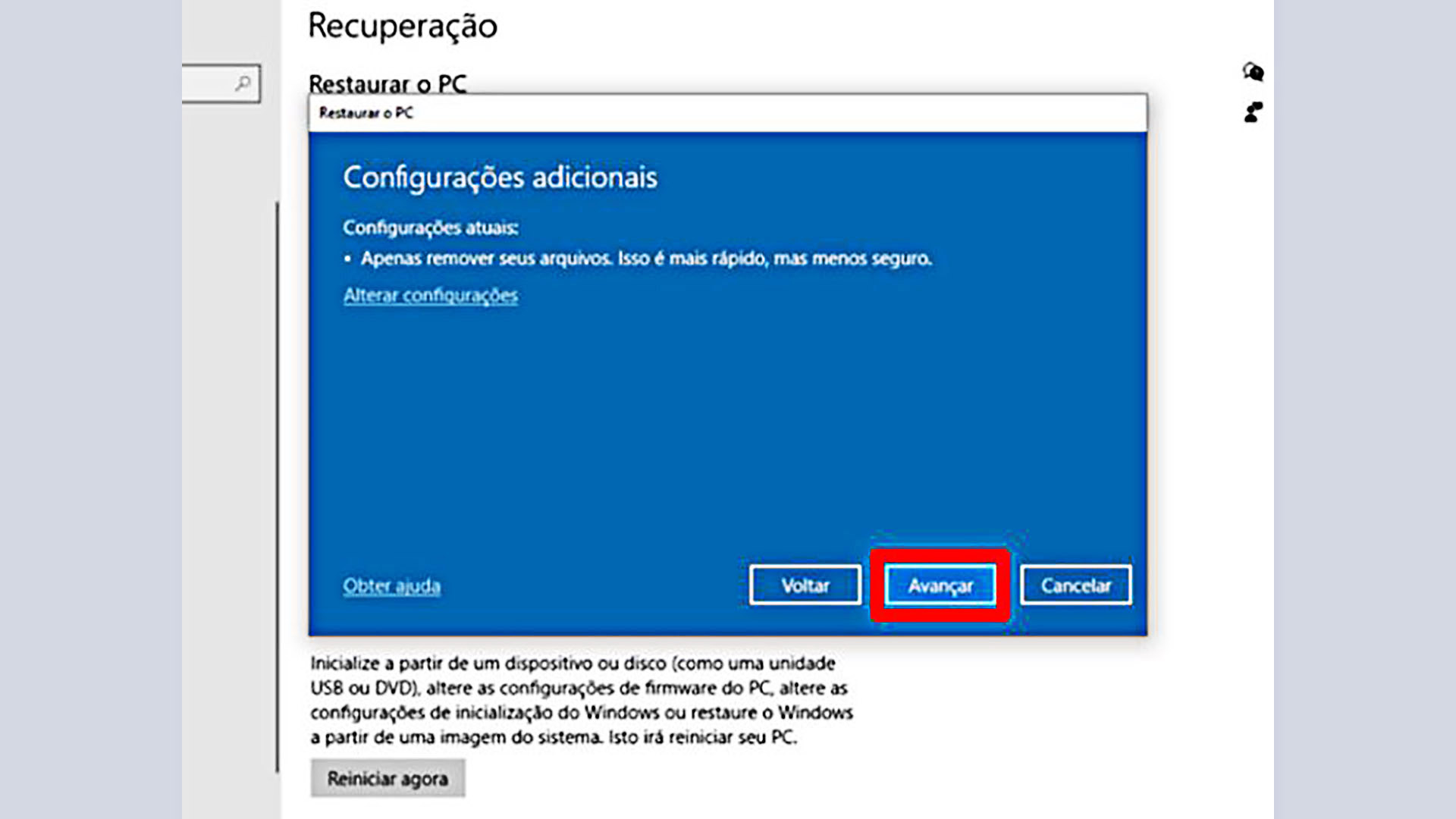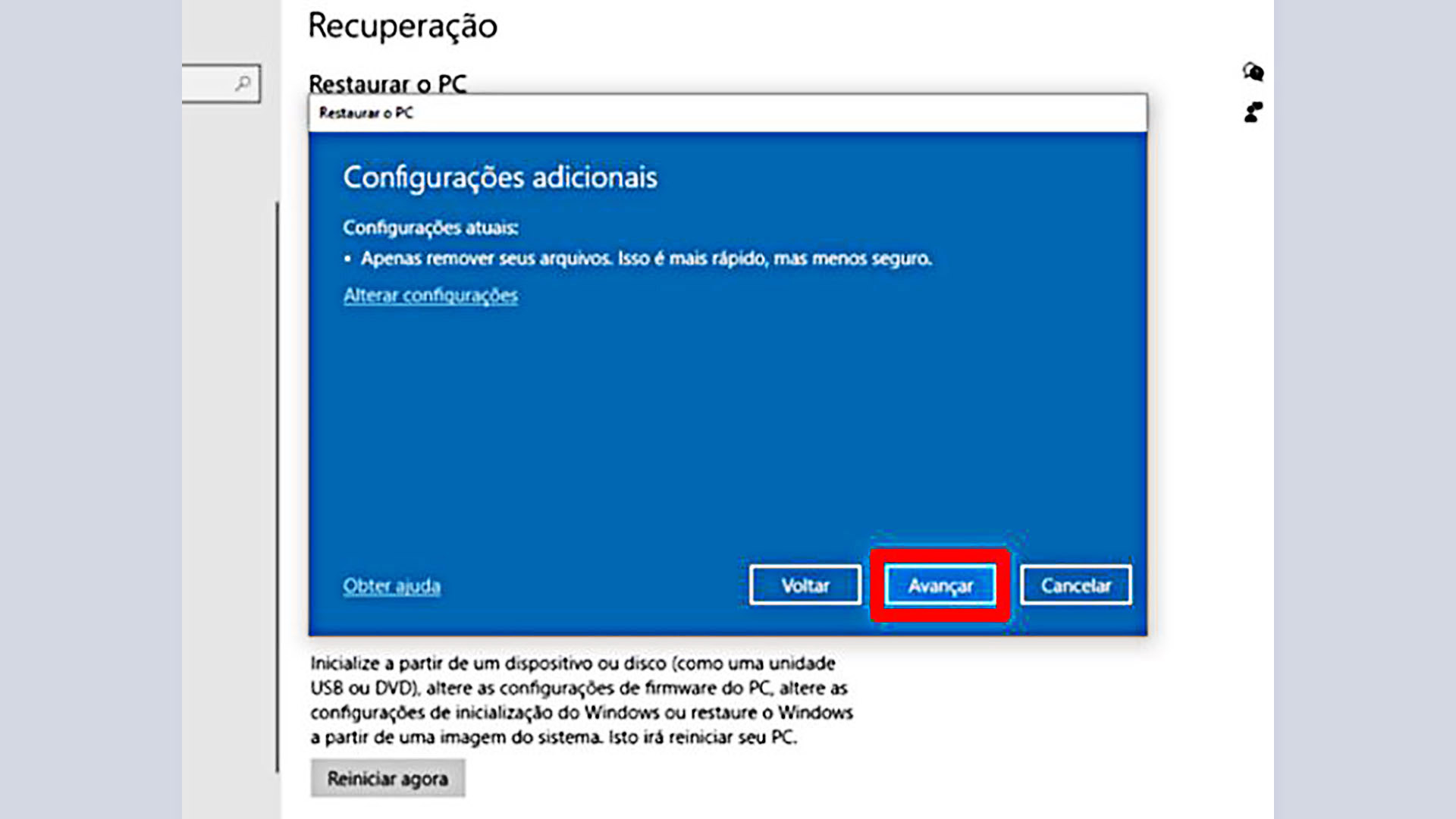 Source: Windows 10/ReproductionSource:  Windows 10
7. It may take a while, but Windows 10 will automatically make all the preparations to format your computer. And, once the process is complete, you will receive a machine "zeroed" and ready to use.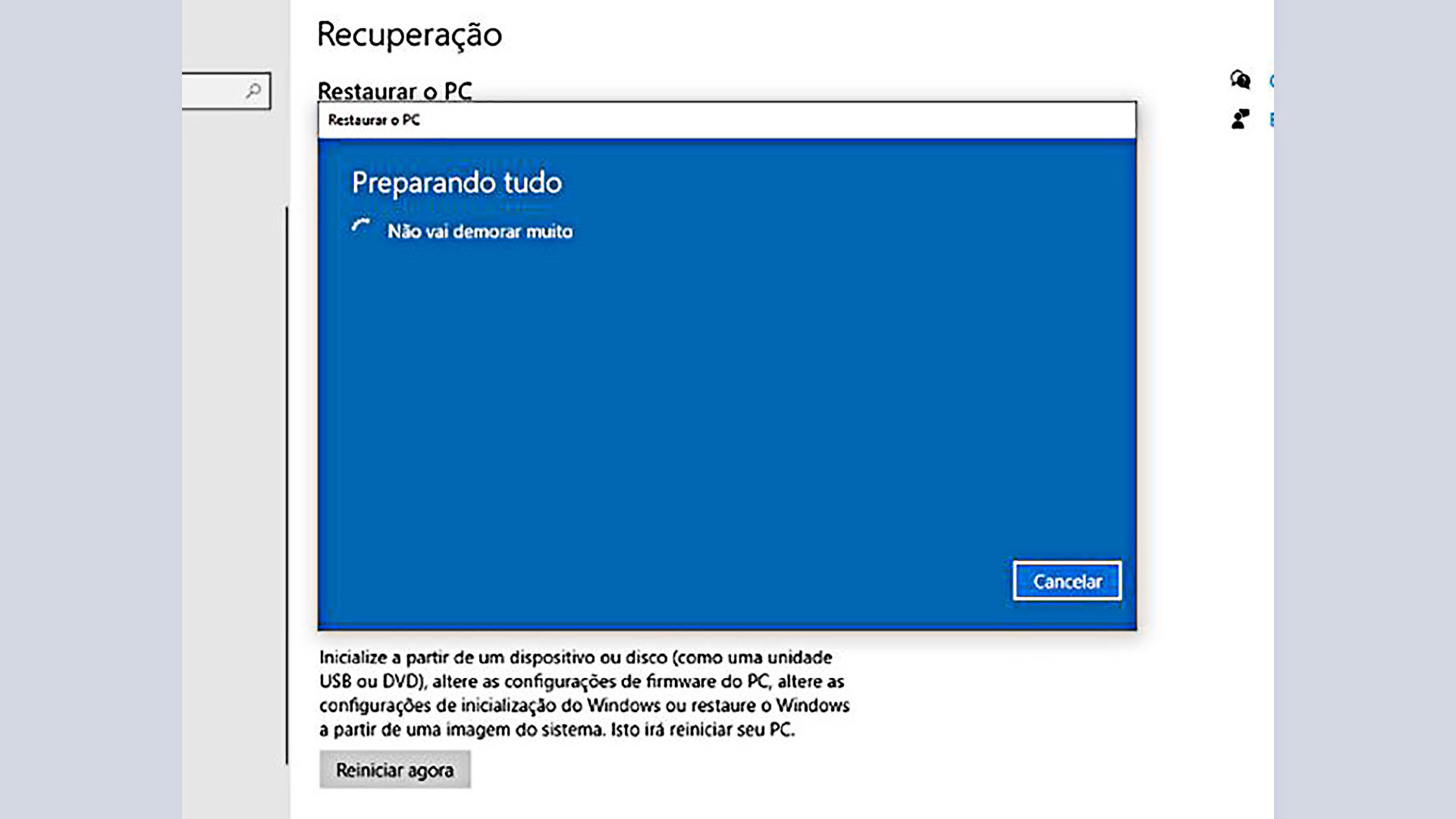 Source: Windows 10/ReproductionSource:  Windows 10
How to format without accessing the settings menu
If your PC or laptop is having a problem, and you cannot access the settings menu, there is still the possibility to perform the formatting from the login screen. Do the following:
Press the Windows logo key and L on the keyboard. This takes you directly to the Windows 10 login screen, but not login.
Instead, restart your computer while holding the Shift key and the power button. Choose the "Restart" option in the lower right corner of the screen.
The device will reboot into Windows Recovery Environment (WinRE).
From the options screen, select Troubleshooting > Reboot this PC. From there, just choose the options as explained above.