O League of Legends, also affectionately known as LoL, not only is it Riot Games's biggest hit, but it's one of the most played online games in the world for a few years. But it's not just skins that please your audience. Currently, the free PC MOBA even shows some important statistics to its players at the end of each game. But it is on third party sites like League of Graphs that we can see even more statistics in a very detailed way.
The site is very secure and has accurate information about the most popular champions, champions with the highest victory rate, items most used by professional players and rune combinations for each character. Of course, at first glance, the site may seem slightly complicated, even by the amount of information. So, so that you have no doubts, you can see our tips below on how to use League of Graphs and have access to all the data that can help you in LoL!
Profile statistics
Most likely, you will want to start using League of Graphs to view your own account data. LoL. This can be very valuable to get a sense of champions that you usually use and your performance with each one. It is also possible to check the profile of other people you know, since you only search for the player's name instead of logging into the site.
To do this, just access the League of Graphs on this link and look for the search field at the top of the website's home menu. There, you must write the name of your account (or the player you want to check) and click on the corresponding profile that appears.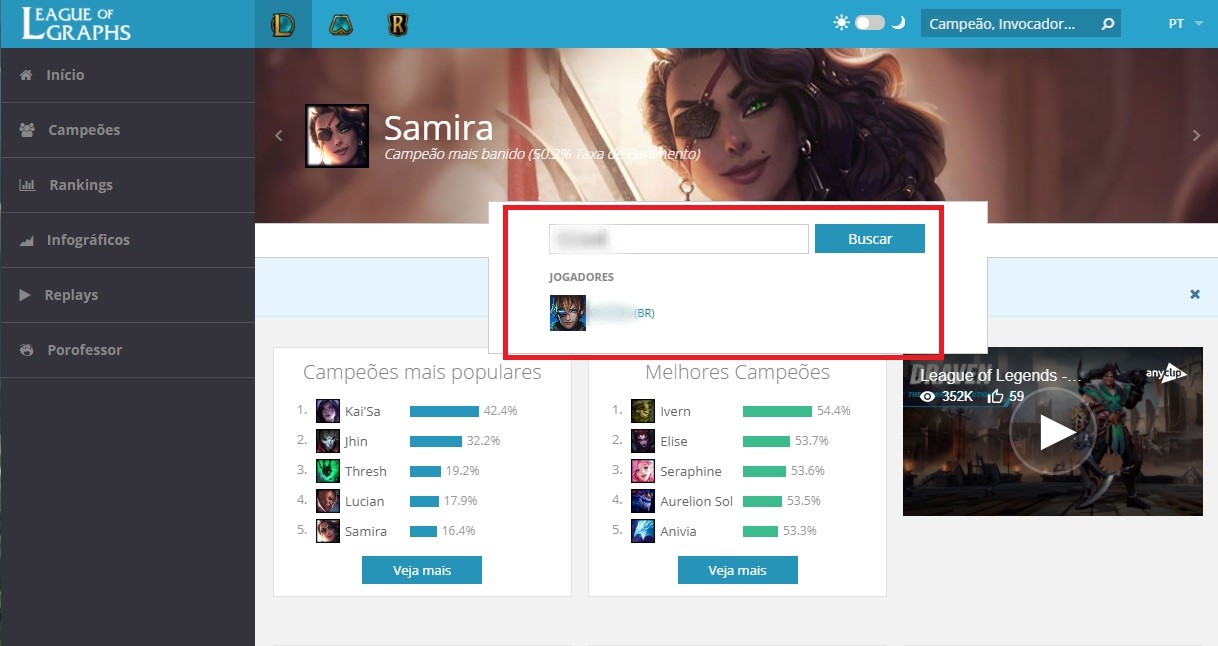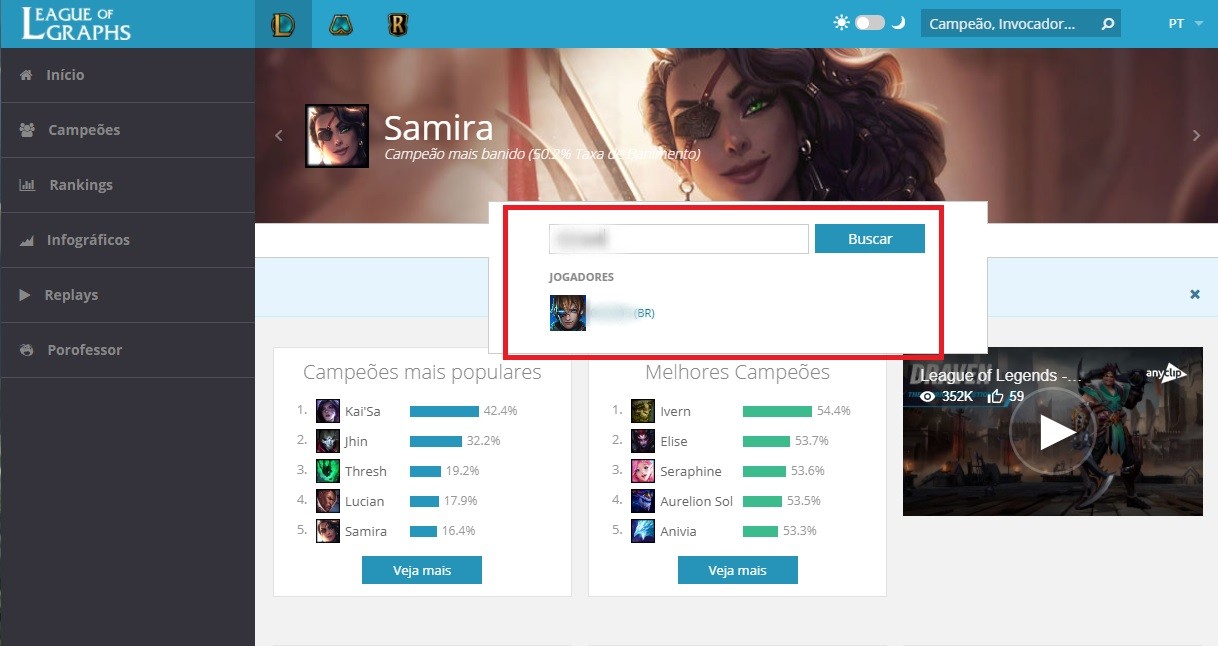 Here you can search for the name of a player or championSource: League of Graphs / Reproduction
By doing this, you can see your last matches played, which champions you used in them, the damage done, the gold advantage, your KDA with each character and your winning percentage with them.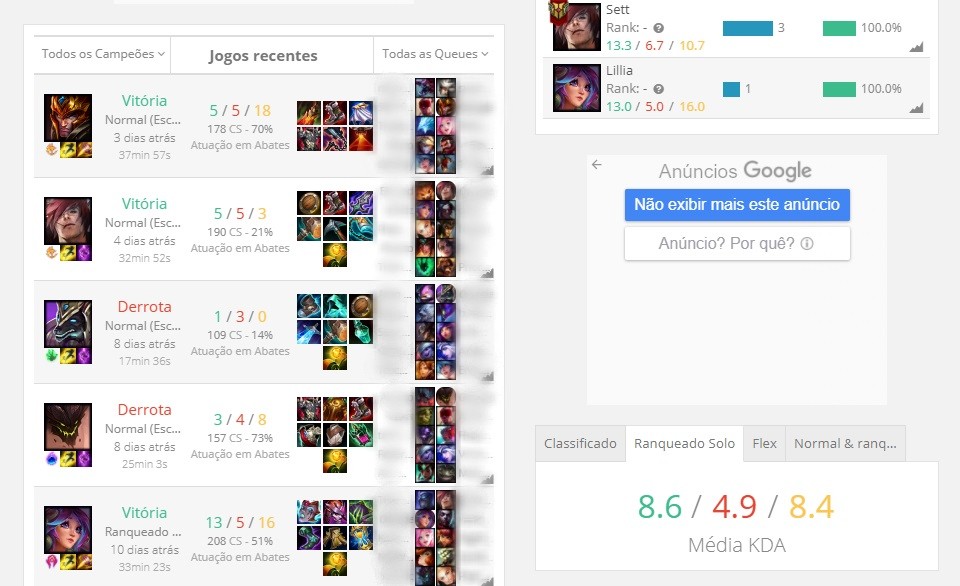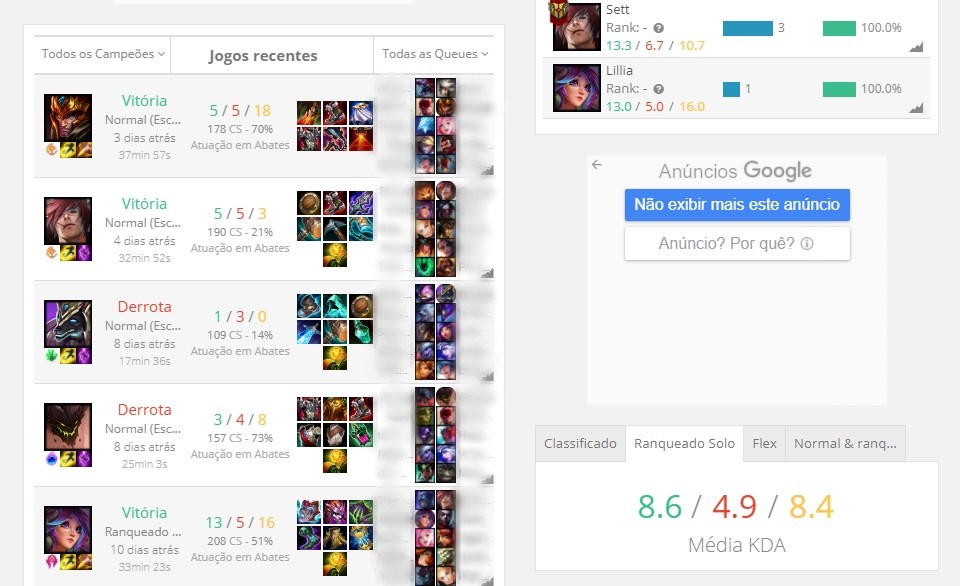 It is very easy to find information about your past matches and performanceSource: League of Graphs / Reproduction
You can choose between ranked and regular matches, depending on what you play the most. Other than that, you can click on specific matches to see how you, your allies and the enemy team acted throughout the game and what items and runes you used.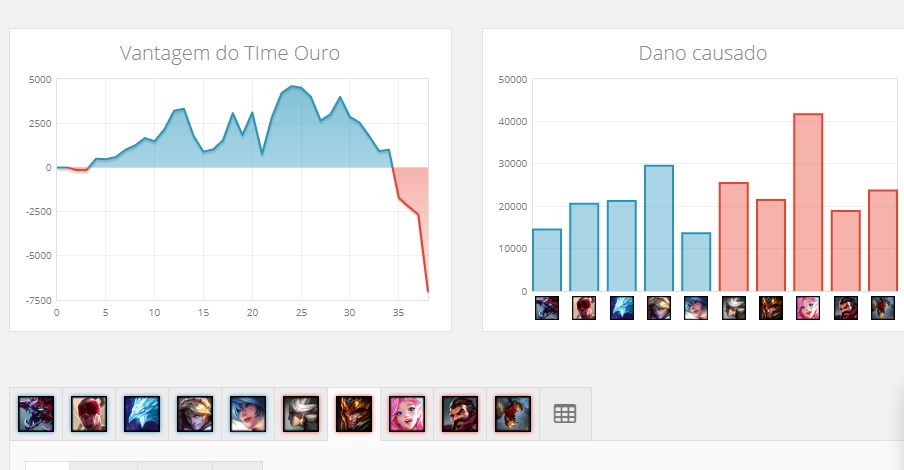 Knowing the gold advantage and the damage done can be very useful to know how your team faredSource: League of Graphs / Reproduction
It is very useful information to get a sense of what worked both in your individual performance as well as that of your team and rival group.
Champions
If you want to know more about the characters in the game and how their stats are currently, click on the "Champions" option on the left side of the League of Graphs home page.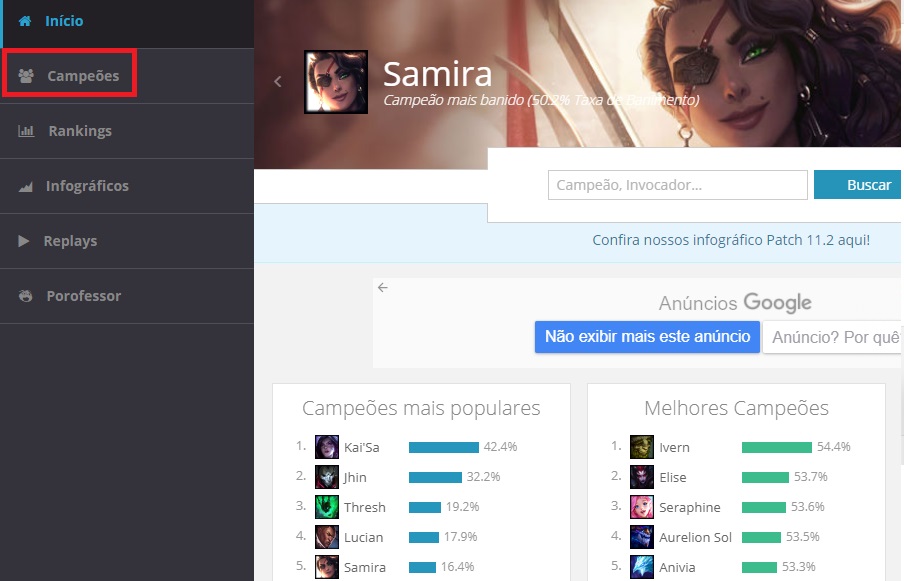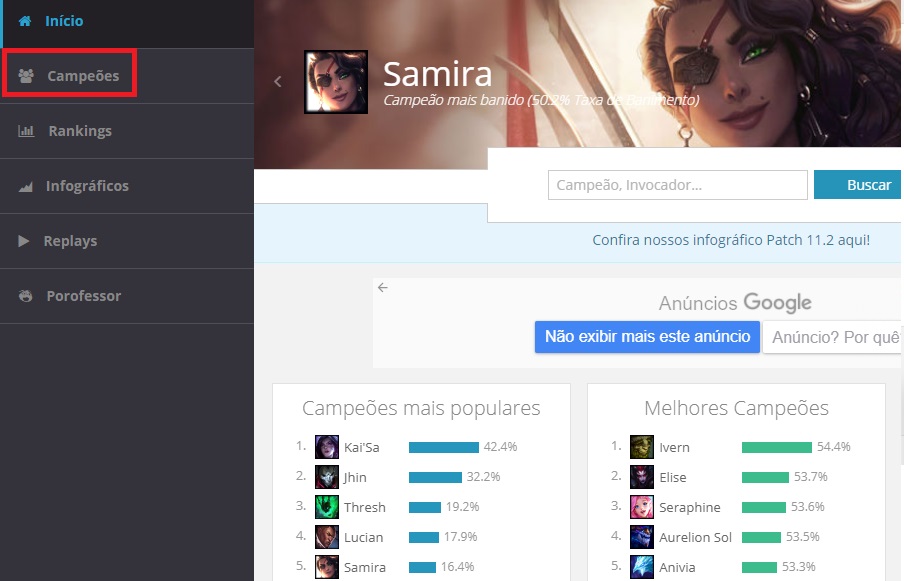 It's also simple to find the tab dedicated to the game's championsSource: League of Graphs / Reproduction
In the overview section, you will get a sense of which champions are the most played, what their winning percentages, their banning rates, the KDA average and the average penta per game.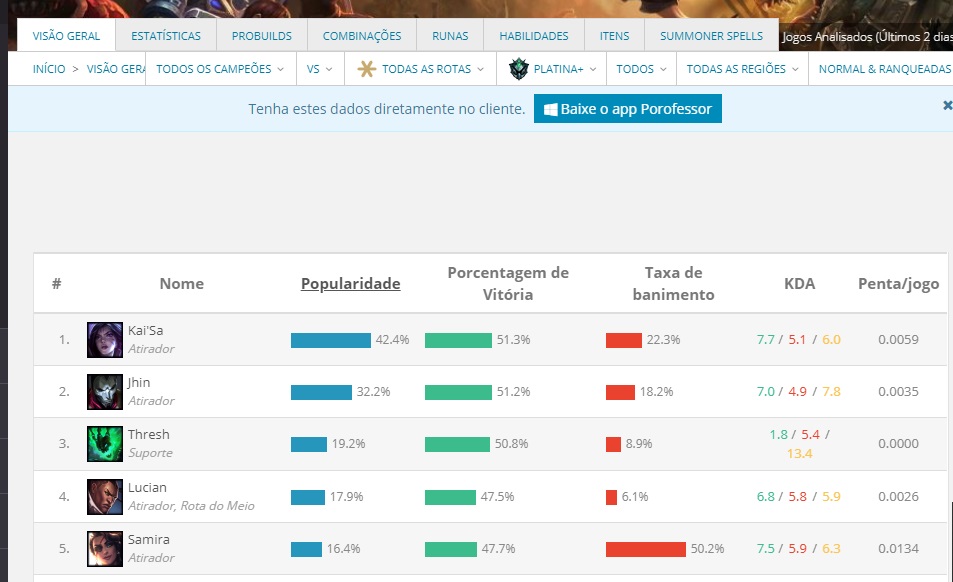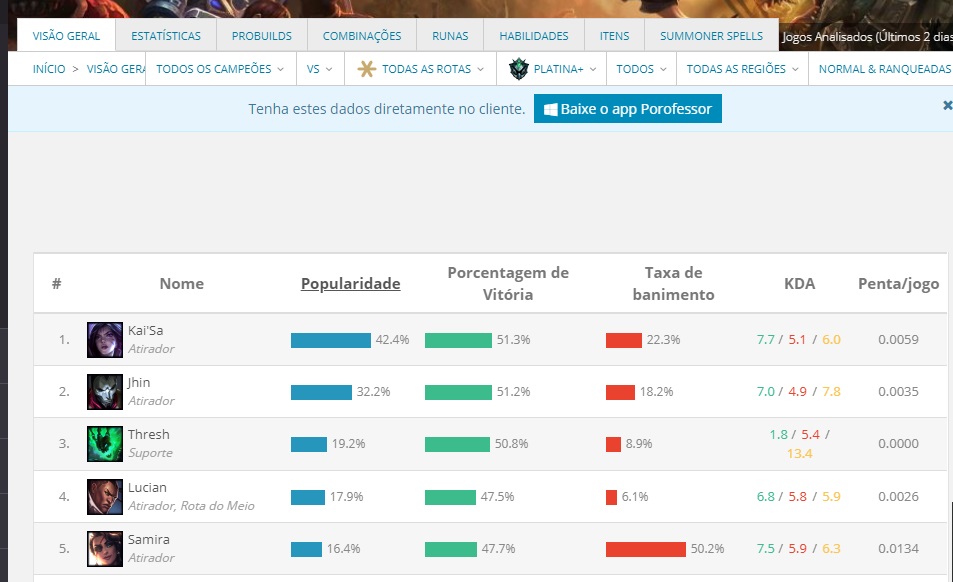 In the overview, you have an interesting average of the popularity and winning rate of eachSource: League of Graphs / Reproduction
If you click on a specific champion (or use the search bar to find it), you'll have even more data on how it is used.
In addition to the information mentioned above, you will have an idea of ​​the order of skills purchased at each level by most players. Also the items purchased at the beginning, in the middle and at the end of the game, in addition to the popularity and winning percentage of the matches with these builds.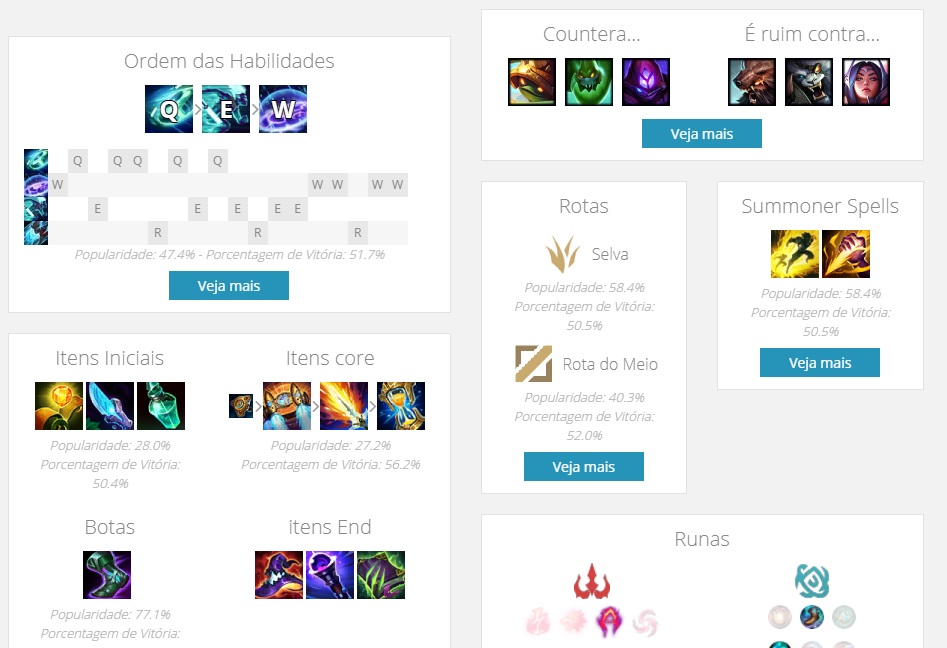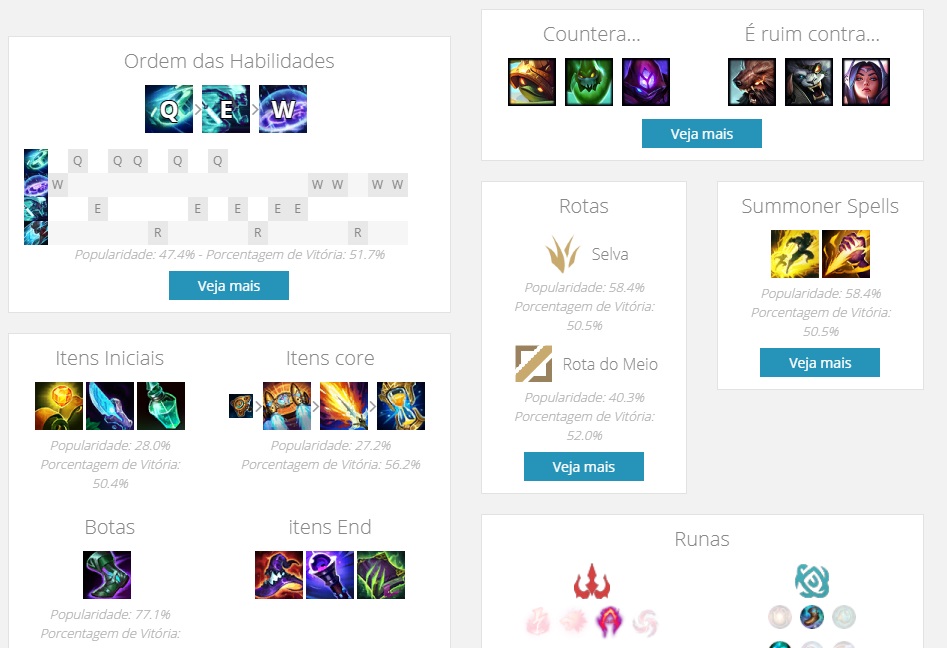 It is easy to be in doubt about the runes, skill order and items when starting to play with a new characterSource: League of Graphs / Reproduction
Other than that, you see which characters are good or bad against him and which runes are often used. If you want to go even deeper, just look below to see how professional players use these characters and what builds they usually do.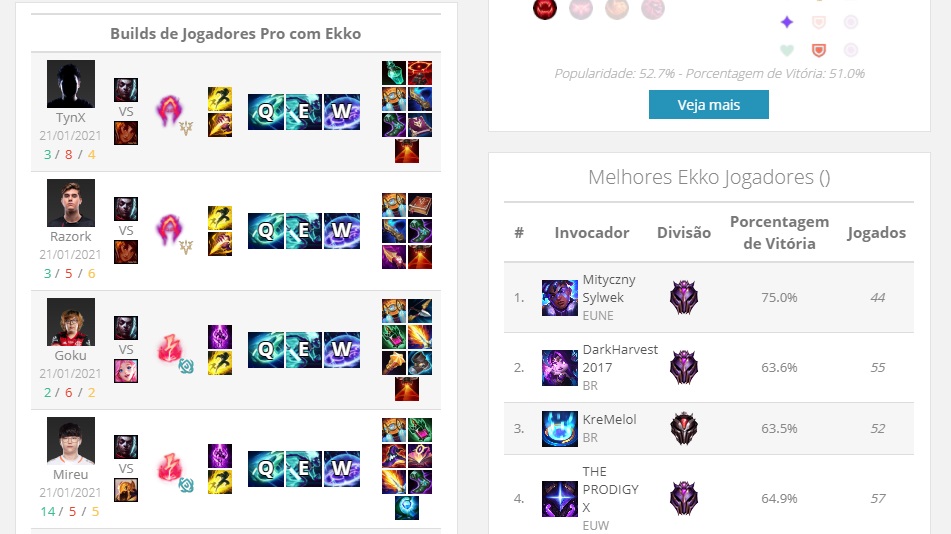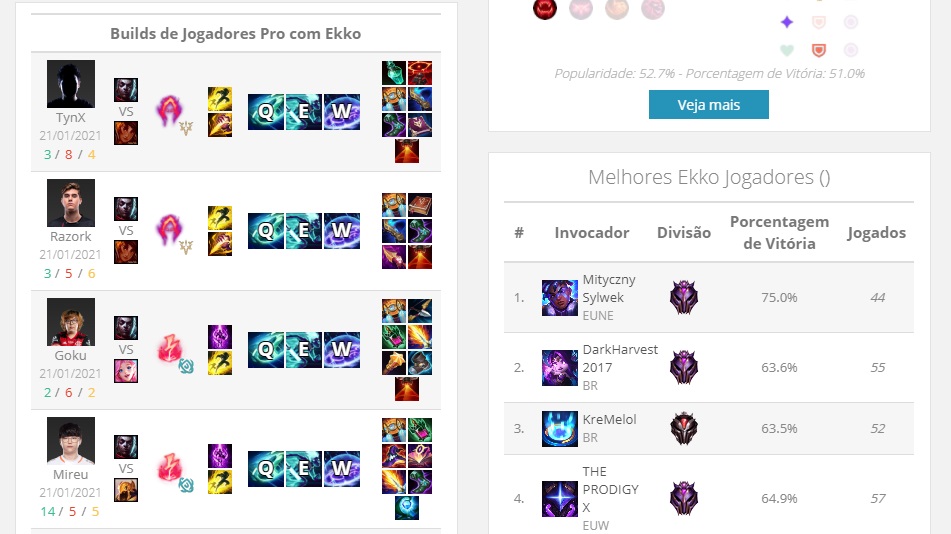 If you're curious about how professionals use their favorite character, the information is right hereSource: League of Graphs / Reproduction
All on a single page dedicated to the champion you have chosen. This information can be essential for you to know if there is something you can do differently when using the champion in question or when you have to play against him on your route.
Runes
Viewing the rune stats used in League of Legends is also very easy to do when using League of Graphs. You just need to click on the "Champions" tab and select the "Runes" option.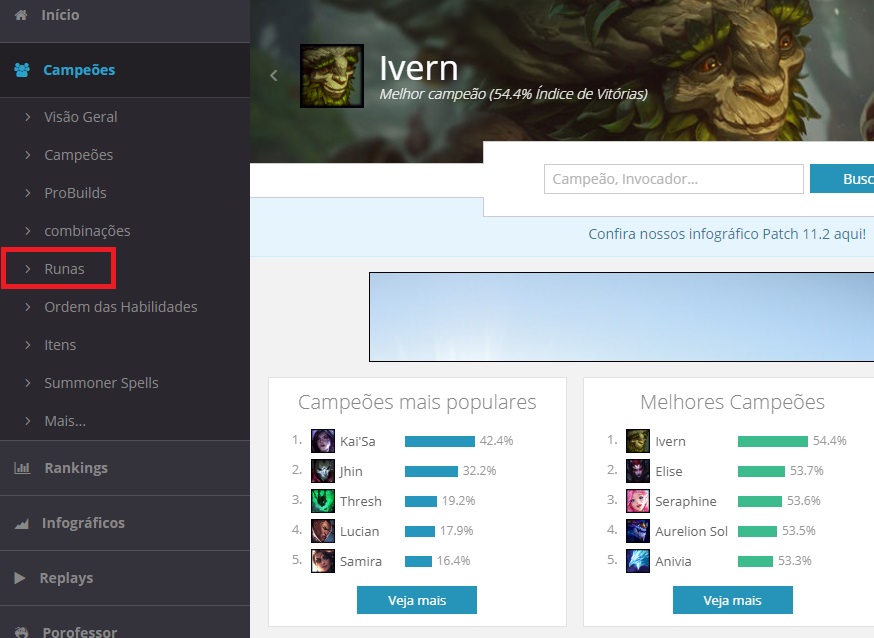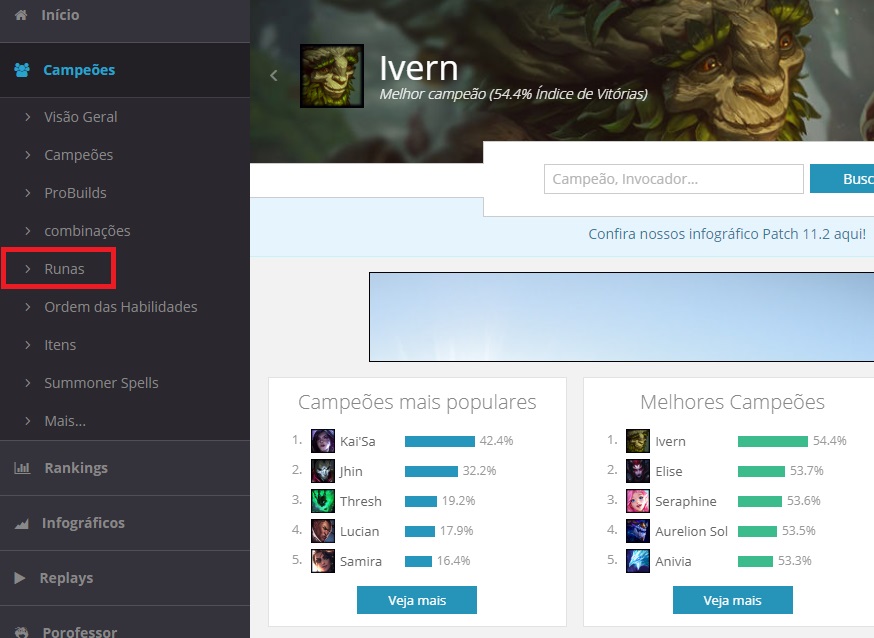 It's easy to find the specific rune page in League of GraphsSource: League of Graphs / Reproduction
That done, you will have a page dedicated to each type of rune and which combinations are most used.
This is a more superficial part, as it serves more to show you the most popular runes in the game. You end up with a lot more information when you go straight to the page of the champion you are interested in to find out how runes are used with him specifically.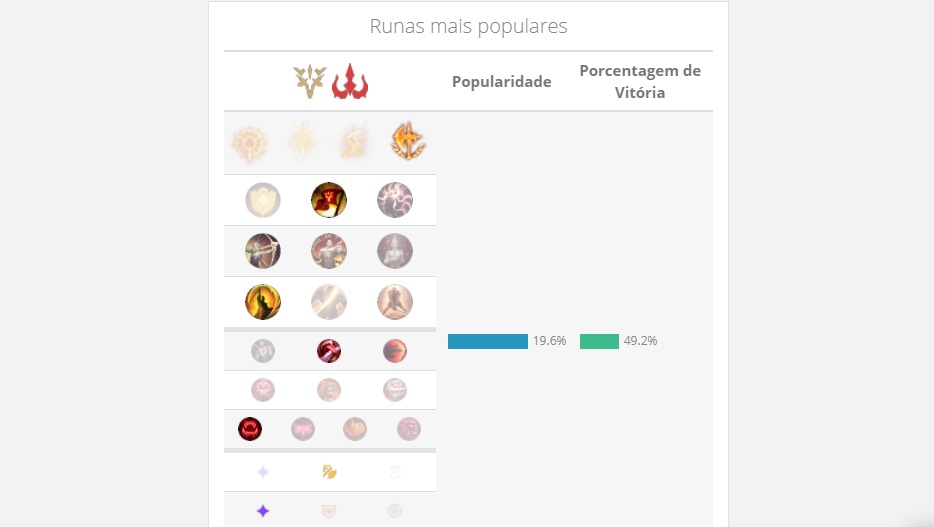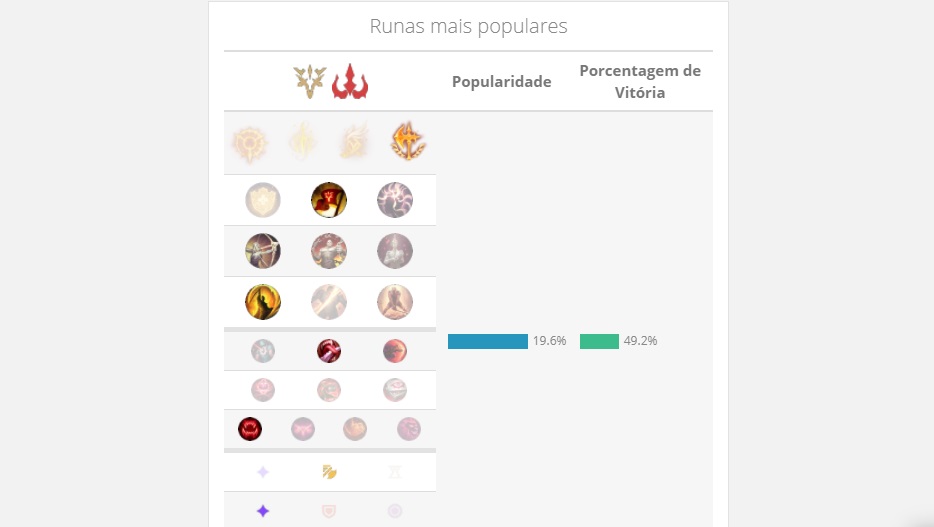 The best thing is that you can learn more about each rune on this pageSource: League of Graphs / Reproduction
To do this, just follow the steps we demonstrated in the previous topic and take a look at the runes section. Anyway, on the specific runes page, you will have the percentage of popularity and victory for each one.
If you have any questions about them, just hover your mouse over the runes to see what each one does. This is great for novice players who are still learning about runes.
Professional player builds
We are sure that a good fan of League of Legends You should also be interested in the professional game scene. After all, we even have Brazilian Championship League of Legends to follow along the year, with the best Brazilian teams competing every week.
Fortunately, League of Graphs has a dedicated section just to check out the builds these professional players use. On the home page, click on the "Champions" option and then on "ProBuilds" shortly thereafter.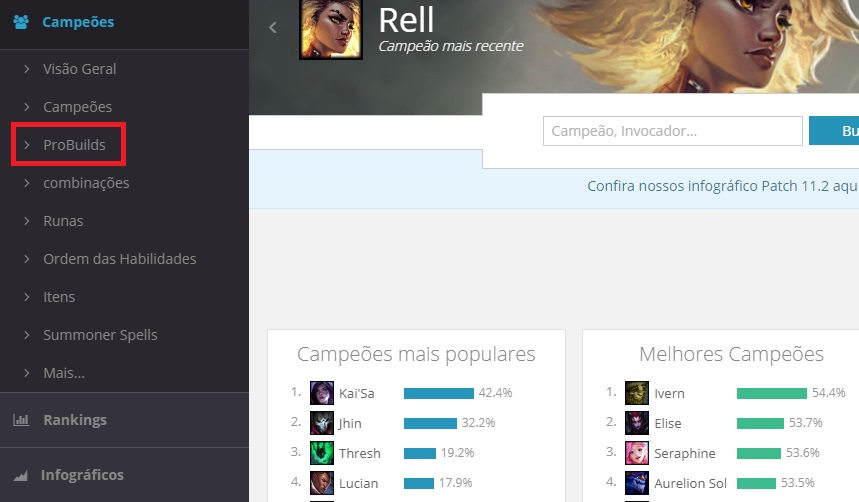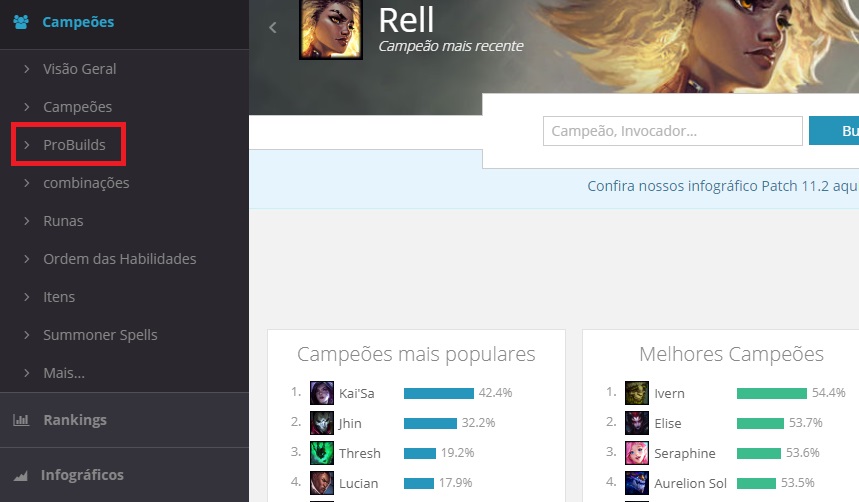 There is a section dedicated only to these professional builds!Source: League of Graphs / Reproduction
On the general page of these professional builds, you will see some of the latest games from these players, but it is clear that because it is a more limited selection, it is possible that you will not see your favorite Pro Player.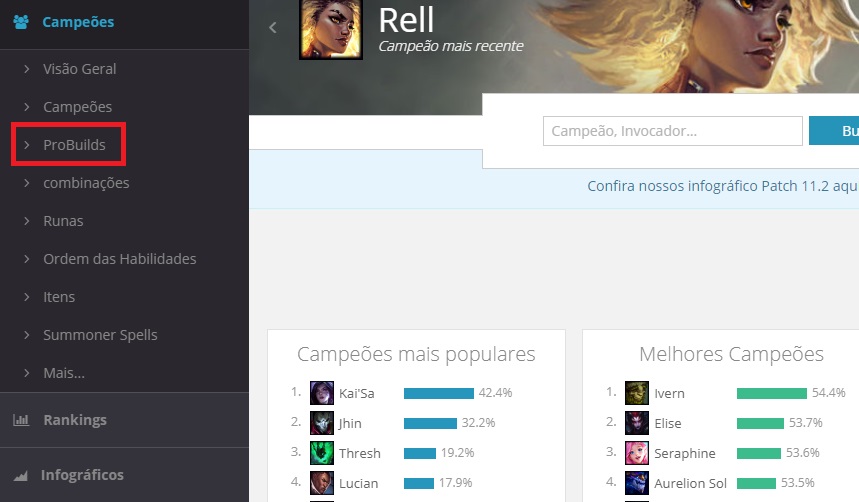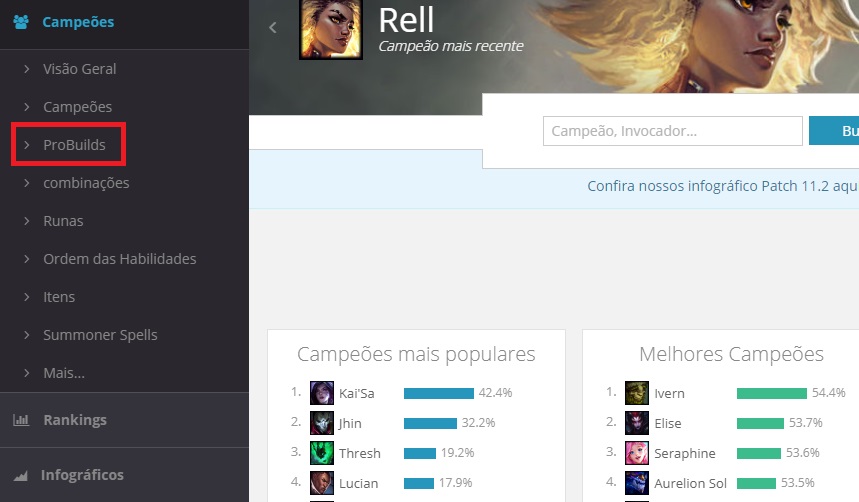 You will see the players with the most recent matches here onlySource: League of Graphs / Reproduction
But this is very simple to solve, since you just have to go to the search field at the top right of this page and write the name of the professional player you want. The site will show the results and even know if the player is a professional.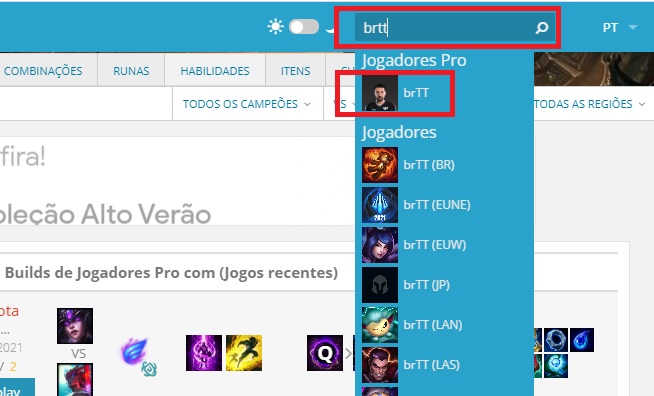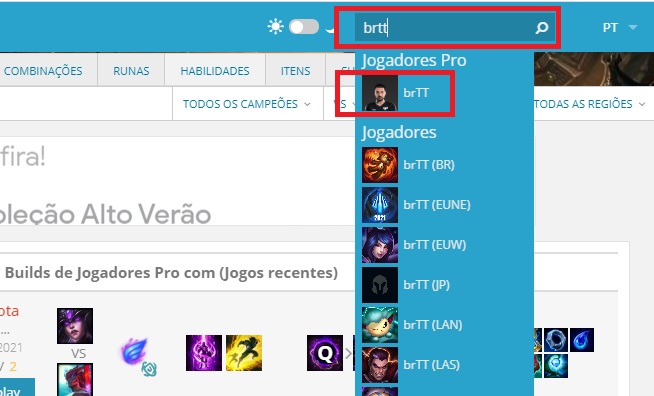 Fortunately, we can search for individual professional playersSource: League of Graphs / Reproduction
This way, you will be able to see that player's latest games, several of his statistics and even click on individual matches to take a look at the builds used by them.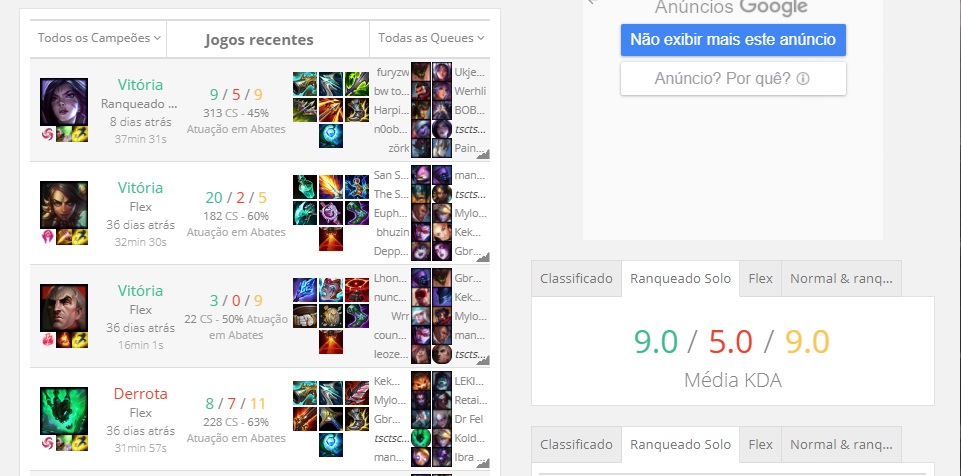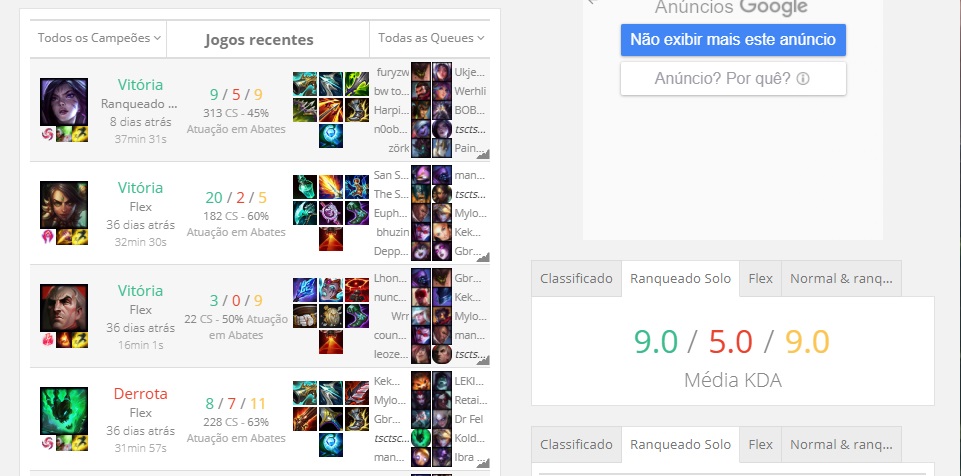 Here you have access to practically all the information of your favorite player!Source: League of Graphs / Reproduction
Of course, it is not enough to imitate the build of these players to play well or have a better performance, but it is already a good start to start studying the game and get a sense of what you can do in your own matches.
It's quite simple to use League of Graphs, don't you think? Comment telling us what you think of the site and what other information you would like to see LoL releasing on your own launcher!