The 5G auction is close, and a total of 15 companies submitted proposals to Anatel with the objective of disputing at least one frequency band. If all goes well, all Brazilian capitals will have fifth generation services available by July 2022. But with the sale of Oi Móvel to Claro, TIM and Vivo, is there room for new mobile operators in Brazil?
The concentration of the mobile telephony market in Brazil
According to the most recent data from Anatel, Brazil has 246.8 million mobile lines. This gives more than one chip to each inhabitant, and shows that the market is mature. Thinking about customers, there is not much to grow.
Most contracts are concentrated in large companies. Together, Claro, Oi, TIM and Vivo have 97.9% of Brazilian mobile lines. The scenario should not change with the slicing of Oi Móvel, since the remaining trio will continue with all customers.
But that doesn't mean that there aren't more cell phone companies in Brazil. There are two regional operators:
Algar: operates with mobile telephony in the Triângulo Mineiro and in part of the states of GO and SP. Tele has 3 million lines;
Sercomtel: operates in the cities of Londrina and Tamarana, in Paraná. The operator was recently privatized and has 46,200 mobile lines.
In addition, there are also virtual mobile operators (MVNOs), which use the antennas of large telephony. The big problem is that plans are usually worse than the big telecoms, so you can't say they're competitive. Surf Telecom, one of the main companies in the sector, has just over 690 thousand lines throughout Brazil.
We have good competition in fixed broadband. Is it time for the mobile?
One of the main phenomena in the telecom market in the last ten years was the great advance of regional providers. With the reduction in fiber optic costs and the flexibility of the rules by Anatel, the competitive operators did a beautiful job and helped bring quality broadband to areas that were forgotten by traditional telecoms – especially the old Oi Velox.
I myself live in a region served by seven fiber optic operators, and that was unthinkable a few years ago. But why is this not a reality in mobile telephony? There are several reasons for this, and you'll discover them below.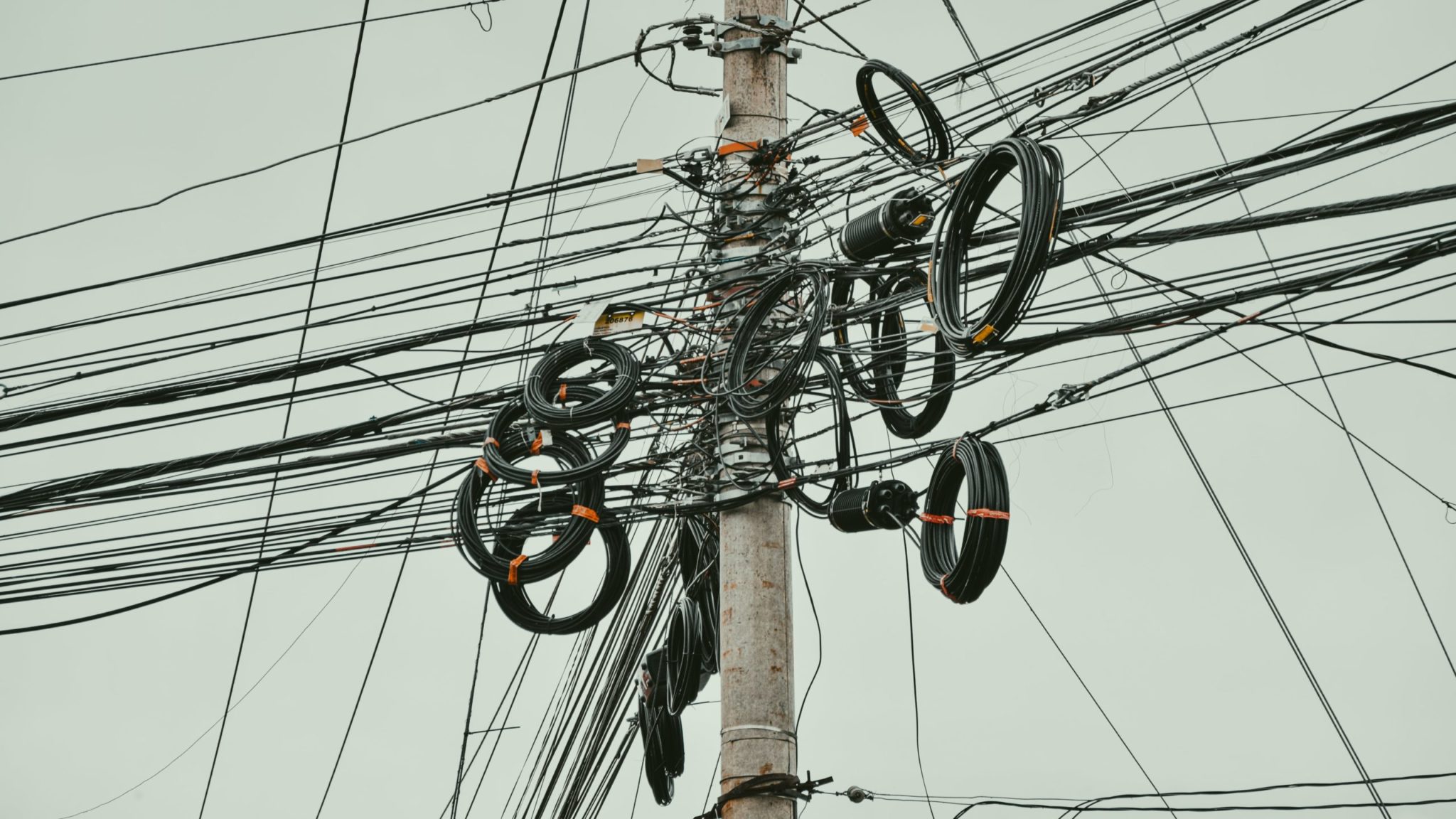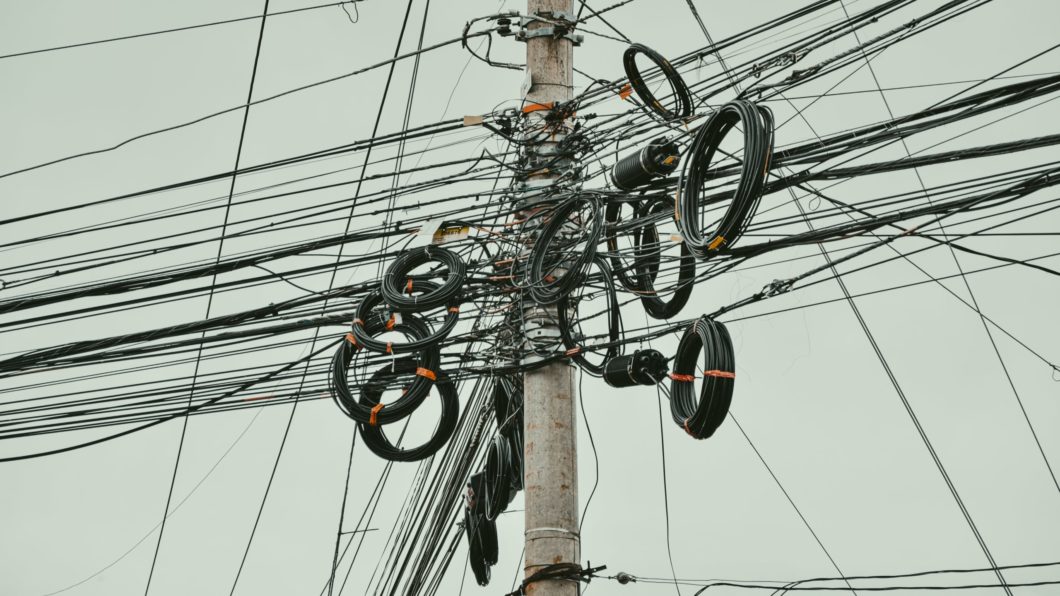 spectrum has limit
Fixed providers simply pull fiber optics on poles, and the technical limit is the maximum weight supported by the building. Mobile telephony technologies are different because they use radio frequencies, which have the maximum available capacity – that's the spectrum.
Let's make an analogy of the 3.5 GHz band with metric measurements. Imagine that the government wants to create a 400 km highway, and this entire extension will be divided equally between five different concessionaires. Something similar happens in the frequency auction: Anatel divided the available capacity into five parts, to allow different companies to be able to offer their services.
Physics has already taught us that two distinct bodies cannot occupy the same space at the same time, and this is repeated with radio frequencies. If different operators use the same spectrum, interference can interrupt the full functioning of services.
Anyway, one of Anatel's main ambitions is that small providers also operate with the fifth generation. Because of this, the agency will have regional blocks to meet the needs of these companies, in addition to the national bidding to meet companies such as Claro, TIM and Vivo. But….
building mobile network is expensive
The wireless technology operating model is very different from fixed broadband. Firstly, it is necessary to consider the frequency acquisition costs, which are not cheap: a 3.5 GHz regional batch has a minimum price stipulated of R$33.17 million.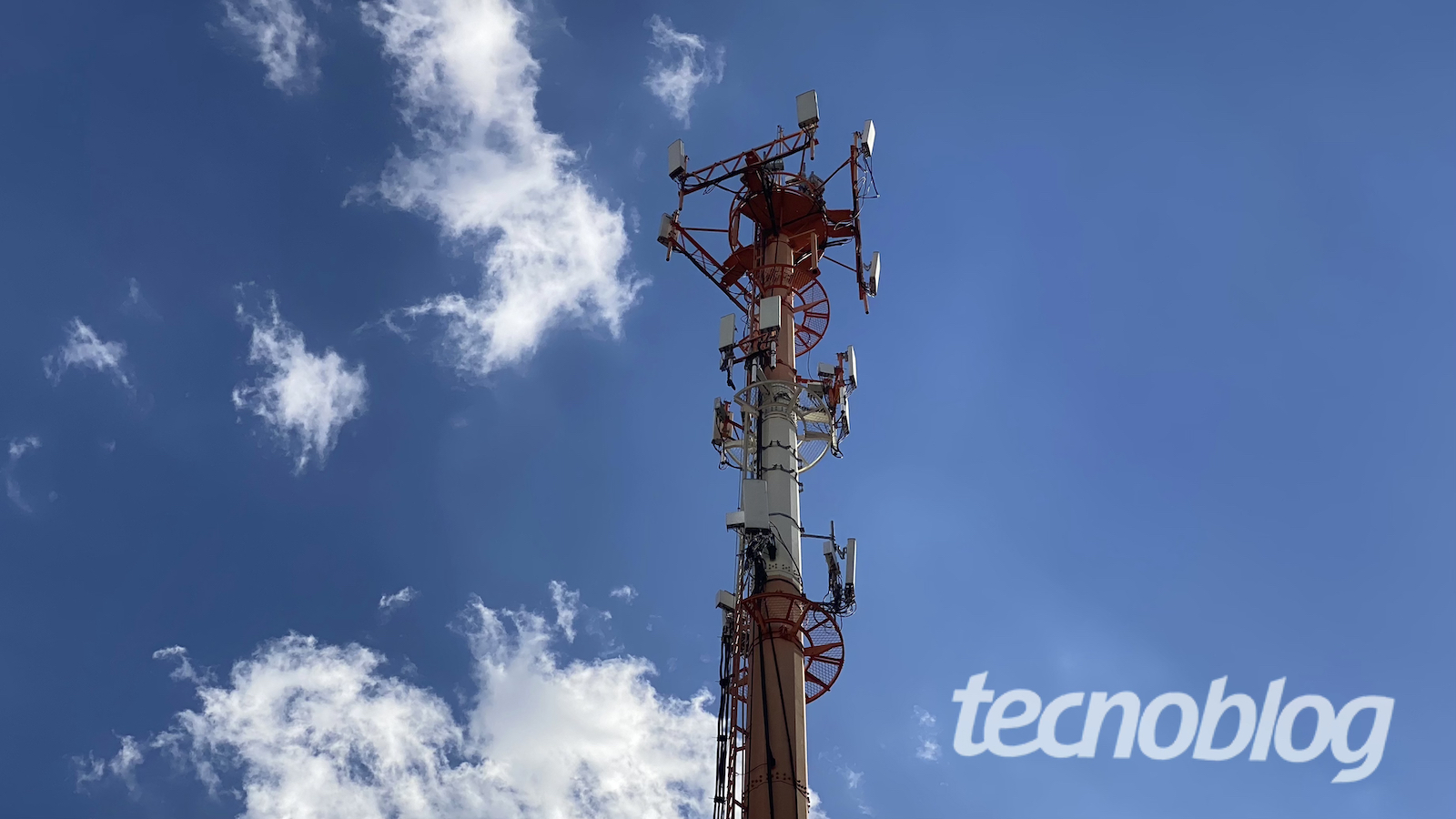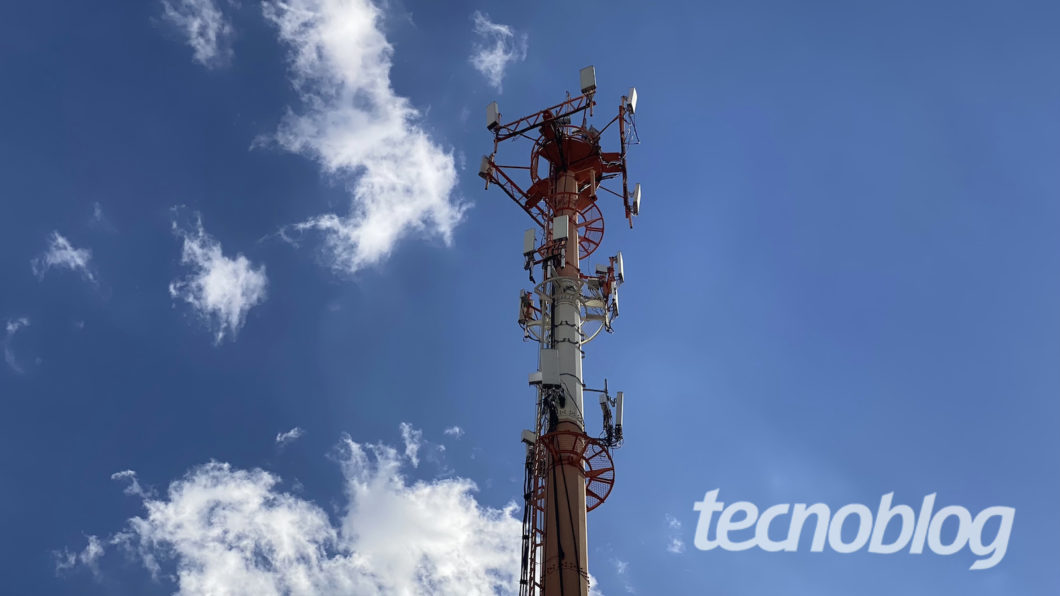 Unlike fixed networks, grants also carry commitments that must be fulfilled by buyers. In addition to the coverage targets, Anatel stipulated that operators should pay for a new private-use network for the Federal Government, expand optical fiber in the Amazon region, migrate open TV via satellite to other frequencies, cover federal roads with 4G, and so on.
If all frequencies are auctioned, the auction should move at least R$50 billion. Of this amount, BRL 3 billion should go to the public coffers, BRL 7 billion should be used to expand the internet to schools and all the remaining BRL 40 billion are related to the commitments required by the notice.
It's harder for a newbie
Of course, TIM and Vivo have certain "privileges" when betting on 5G. These teles already have solid customer bases, and much of the infrastructure already used with 4G and previous technologies can be leveraged for the fifth generation.
Therefore, small providers are not on an equal footing. In addition to having to build networks from scratch, these companies will also need to invest in 4G if they want to operate in the cell phone segment. The fifth generation still doesn't have an established standard for voice calls (not to mention that VoLTE, which allows calls in the fourth generation, didn't even "catch" once in the Brazilian operators).
With the dollar advancing to R$ 6, the cost to install telephone antennas is high. The investment is more difficult to justify when you take into account that Brazilians pay, on average, R$ 25.50 per month for cell phones – less than five dollars per month, which places us among the lowest rates in the world . In the United States, for example, the average monthly spending on cell phone service can exceed US$40: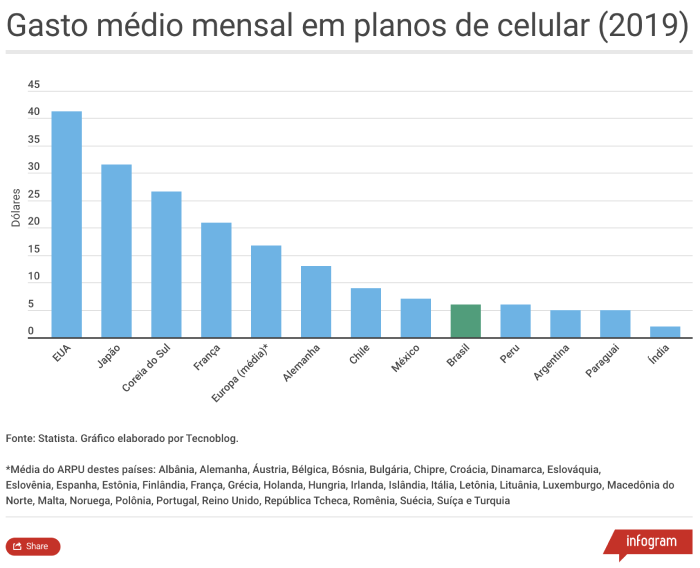 Another big but is with respect to coverage: the construction of roaming agreements with major national operators is uncertain. People move around with their cell phones, and a regional tele will hardly be able to compete with Claro, TIM and Vivo if their services do not work outside their area of ​​origin.
But after all, is there room for more mobile operators?
As you can see, the scenario is not very encouraging for new operators in Brazil. With high investment costs and no guaranteed revenue, it is difficult to see increased competition in the mobile telephony sector.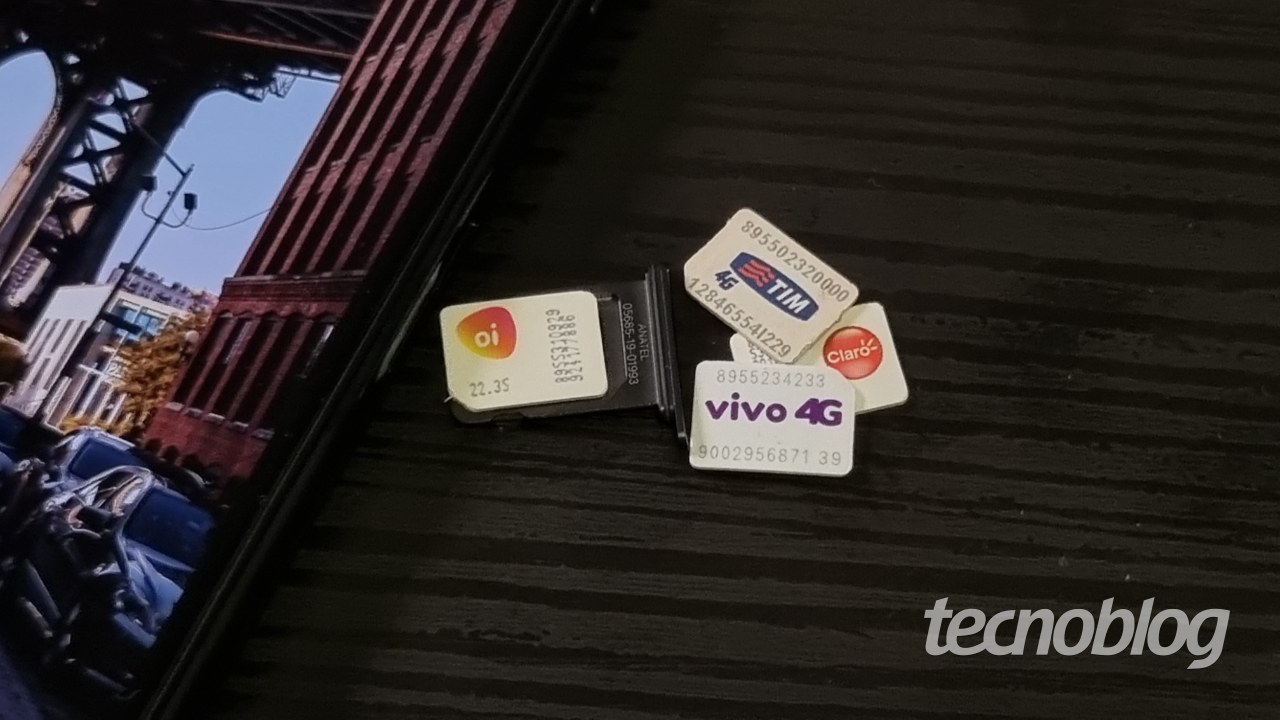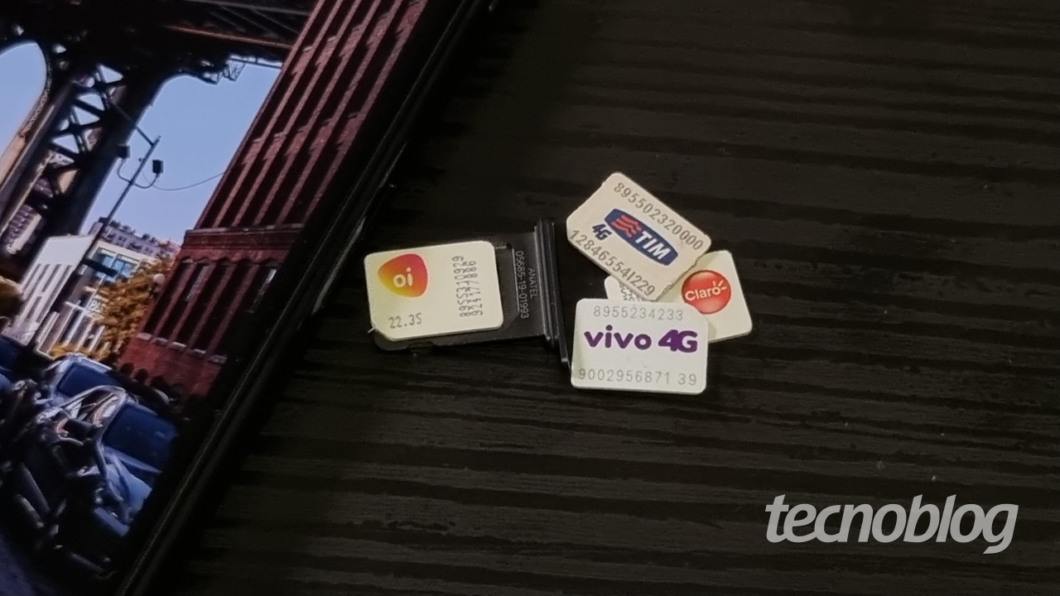 From the bottom of my heart I hope I'm wrong, that this text will age badly and we will have more mobile phone competition in the future. In addition to the known operators, Anatel's auction may release spectrum to consortia of small operators, which together can revolutionize the Brazilian market just as they did with fiber optic broadband.
An alternative that I consider promising is the creation of mobile neutral networks, which may have the network leased by small providers. There are groups willing to act in this segment, such as Highline and Winity II: if they manage to create ample infrastructure and be aggressive with their prices, they may bother Claro, TIM and Vivo.
It is worth remembering that there is also the possibility of small operators buying licenses in the auction to use 5G only for fixed broadband service. In this case, the story changes, and the need to work with previous technologies and create roaming agreements falls.