This Tuesday (18), the streaming Hulu made available the first two episodes of How I Met Your Father, spin-off de How I Met Your Mother, from CBS, to its subscribers. Unfortunately, the Disney platform in question does not have coverage in Brazil, but the expectation is that the series will soon reach Star+.
So, learn more details about this premiere by reading our full recap!
How I Met Your Father: characters discuss specific situations in their love lives
The first episode of the production is already about showing fans of the original series that the atmosphere of a traditional sitcom will permeate the narrative. In this way, the public soon meets Sophie (played by Hilary Duff), in 2050, when she is willing to tell her son how she met his father. Based on this premise, the character returns to the year 2022 to narrate her adventures.
(Hulu/Play)Fonte: Hulu
The first memory is Sophie's meeting with a marine biologist named Ian (Daniel Augustin). However, things start to go wrong along the way, and for that reason, she meets Jesse (Christopher Lowell) and Sid (Suraj Sharma), who are, respectively, Sophie's taxi driver and his best friend.
During a relaxed, informal conversation between them, Sophie talks about how excited she is to meet a new man, considering all the other disastrous encounters she's had lately.
She seems to be quite excited to meet Ian, who could be the man of her life. Meanwhile, Sid claims he's going to ask his girlfriend to marry him, something that leaves Jesse confused.
Sophie finally meets Ian, who informs her about his move to Australia. The character soon despairs, as she expected things to take a new turn. She soon claims that she couldn't handle a long-distance relationship and the two say their goodbyes. Upon arriving home, he meets Valentina (Francia Raisa), with whom he shares an apartment, who is with Charlie (Tom Ainsley), her new boyfriend.
It turns out that the boy was not passing through, but moving, considering that he had fought with his parents. By allowing an unknown man to live under her roof, she realizes she could give Ian a chance even from a distance. But when the character decides to call him, he realizes that he accidentally switched his cell phone with Sid's.
Charlie and Valentina help her find more information about Sid and discover that he has a bar. On their way to the place, the three find the boy asking Hannah (Ashley Reyes) to marry him.
After the toast, he and Sophie switch phones and she runs to the airport. In a cinematic way, Sophie manages to find Ian before he boards and she proposes that the two try to get to know each other better even from a distance. Ian, however, rejects the offer.
From there, the second episode shows Sophie trying to overcome yet another heartbreak, taking into account that her romances never work out or develop.
Meanwhile, Valentina already wants to break up with Charlie, as she didn't expect living with him to be so suffocating. Even so, the boy seems to truly love her and wants to settle in the city, even looking for new friends.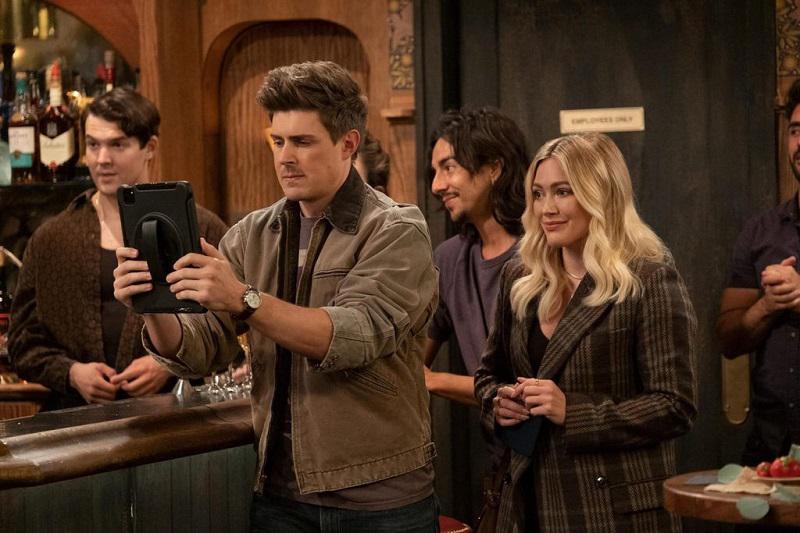 (Hulu/Play)Fonte: Hulu
Thus, Sophie proposes that Jesse and Sid become friends with Charlie, creating a club called FOMO (which can also mean: Fear of Missing Out, something like Fear of missing something).
However, the plan is soon revealed to Charlie through Valentina and the two agree that there is no way to continue their relationship like that, with Charlie deciding to move to save their romance.
What will happen in the series? Don't miss the next episode!