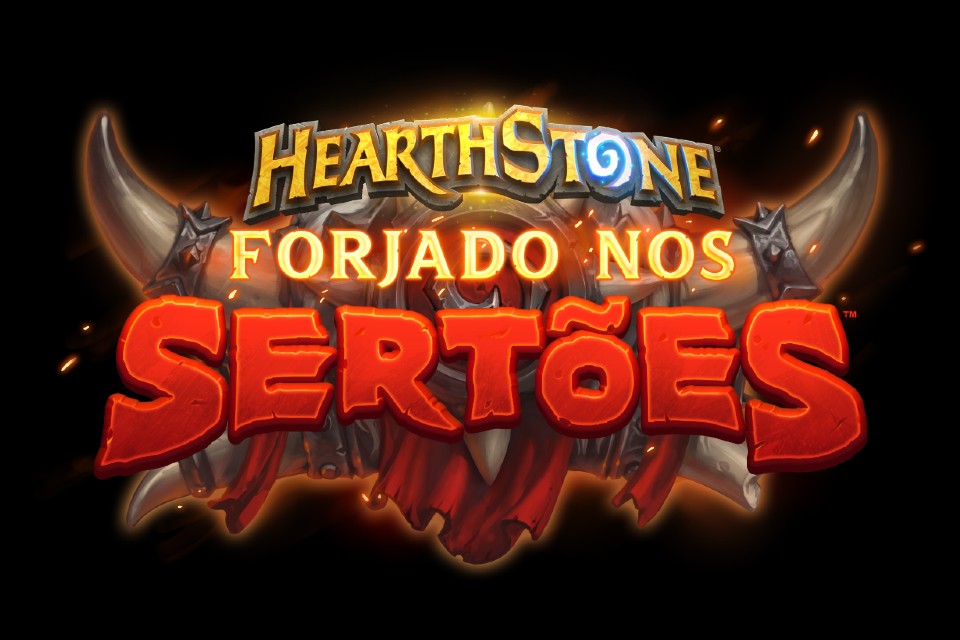 Hearthstone was one of the most talked about games at the online fair BlizzConline 2021 thanks to the revelation of Year of the Griffin, entitled to further expansion Forged in the Sertões and the return of the Classic Format to the game, just like it was originally released in 2014!
To learn a little more about the 135 new letters of Forged in the Sertões and learn about the future plans of the development team to maintain Hearthstone on the rise, Blizzard kindly invited us for an exclusive interview with Alec Dawson, their senior game designer, and Cora Georgiou, associate game designer. Check out how our conversation went!
Few current games are able to maintain a pace of updates as good as what you've shown over the course of the Year of the Phoenix. Will it be possible to repeat the dose in Year of the Griffin in 2021?
Alec Dawson: "Keeping up the pace is a good challenge, because soon we will have the arrival of the Classic Format, while the Battlegrounds are still hugely popular, so we have to deal with a lot at the same time! That's why we see Hearthstone as a large card deck capable of hosting all its variations.
This concept is something that will obviously continue over the next year as well, as the team is very focused on having several fun ways to engage with our players. The challenge is to ensure that all the different forms of Hearthstone be the best possible! "
Cora Georgiou: "The Year of the Phoenix it has certainly been our most ambitious cycle so far, but I think it has also laid a good foundation for showing how much we are able to do and how much we can achieve together by adding more and more content to the world of Hearthstone! "
And it seems that this mentality is working, since Hearthstone has been breaking player records …
Cora Georgiou: "We are very lucky to have such a cool community more than seven years after the launch! Today there are over 23 million active players, which is something that still makes my mind explode! (Laughs) We are very grateful for that, so we want to continue giving all the content that veteran players expect, but we'll also add new opportunities for new players. It's in this mindset that we're focused on the Battlefields and the new Mercenaries mode. "
And among so many ways, which is your favorite? Is there anything you are very proud to have released?
Cora Georgiou: "Wow, it's like having to choose a favorite among your kids! (Laughs) Personally, I try to play all the different modes … I play Dueling a lot, because it's very, very fun! I like the Arena structure, and it's no secret that I spent too much time on the battlefields. It's been more hours there than I could count! So I think I'm more on his side, it's just a very different experience! "
Alec Dawson: "Of course I also end up playing everything, but one of the things that we like to do is the mini-sets, like when we launched the Darkmoon Races and we really hit the finish line! I just love it when it happens halfway through, when we have new expansions and decks coming up, this is something that excites me! I love these twists in the middle of the life of an expansion! "
And what motivated you to focus on teasers and promotional material for the new expansion in Horde? How was the choice of the Sertões as the theme of the expansion?
Cora Georgiou: "The new experiences are focused on the feeling of exploring the classic world of World of Warcraft, in that emotion of starting a new character, being able to level up and become stronger, and then move around the world of Azeroth. So the Horde seemed like a natural thing for us to start working on. We still have a lot of content to reveal for the rest of the year, but it looked good to start in the Sertões, a low-level zone for Horde characters.
We will follow our ten characters throughout the year, five of them from the horde and five from the Alliance, so our Alliance players don't need to feel forgotten (laughs). But I like the Sertões because it is a rich biome and full of incredible characters! I think a good sign of this is that we saw many players speculating, even before the revelation, if we would have something from Mankrik and more material from the Sertões. So for us, it looks like we made the right choice! "
And as for the new Mercenary mode, is there anything you can anticipate and reveal to us?
Alec Dawson: "We will still talk more about the Mercenaries throughout the year, but this mode will have a great focus on leveling up, customizing characters and seeing things change with each new game. We think of things that have already worked out in Hearthstone and how we could implement them with a new reading on Mercenaries, so it will be a great strategy experience! "
Cora Georgiou: "It was very important for us to bring a lot of characters that the players are familiar with and, as Alec said, to customize their experience for each game."
With so many new features, don't you think the game can be a little intimidating for someone who is playing it now for the first time?
Alec Dawson: "This is something that we talked about a lot among the development team, because we have Battlegrounds as a super popular mode, but if you get to the game now, there is a tutorial that can be quite long on the way. So we think a lot about what kind of thing can be cool for someone to interact with Hearthstone for the first time?
Is it better for the person to make their decks for ranked mode? Or go straight to the Mercernaries? We take into account how this can work for players and we are thinking of giving a little more choices in their initial experiences, so that they can find out for themselves what their player profile is. We'll try to guide them a little better to what they should aim for in the future of the game. "
It must have been a Herculean task to launch so much in the middle of the coronavirus pandemic and still have to prepare the ads for these BlizzConline, right?
Cora Georgiou: "We certainly ended up setting up a very ambitious year! It was just over a year ago that we had an event to reveal the Year of the Phoenix, our plans for the Demon Hunter and Outland Ashes. Then the coronavirus pandemic happened, which obviously nobody was expecting, but I think we were lucky because, even though the work environment is very different now, we were able to be flexible.
For example, right now I'm giving this interview from my room, hoping my dog ​​doesn't start to bark (laughs). And even with all these problems we managed to release a lot of content that the players seemed to like a lot, so we are very proud of it! "
Alec Dawson: "I think the BlizzCon it's one of the most special dates of the year for Blizzard fans, so it's amazing that we can do something even during these pandemic times and pass on that feeling of being at the fair, even at home. I'm sure that when the event comes back for real, it will be incredible, but I'm super excited for the opportunity to be able to talk virtually this year, I hope the fans are as happy as we are! "
What did you think of the news revealed for Hearthstone during the virtual fair? Are you excited about plans for future card game content? Comment below!