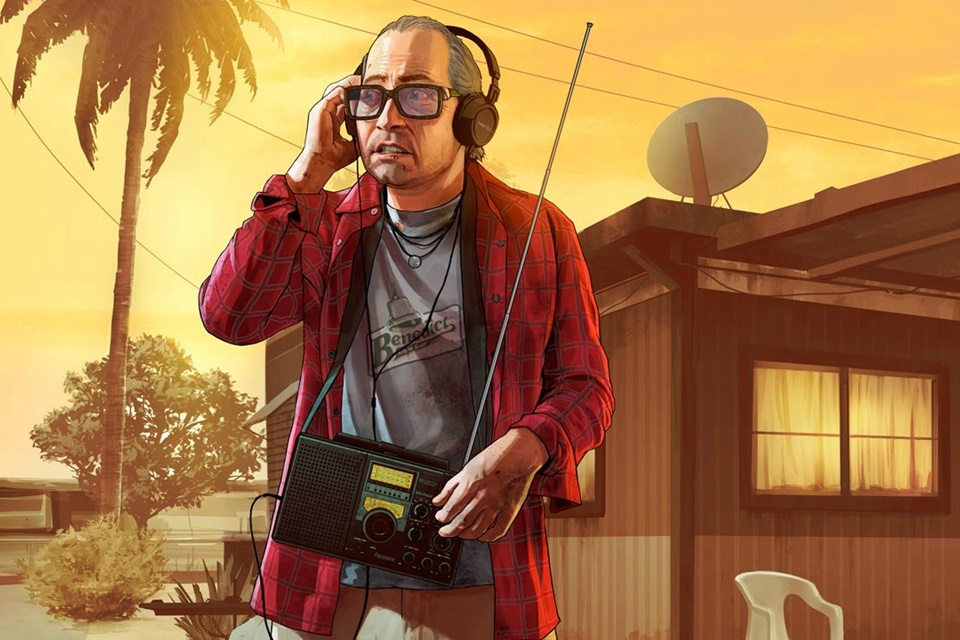 Since the release of the first game in 1997, the franchise Gran Theft Auto won a legion of fans with its fictional cities full of action, crime, gangs, and of course, many cars to be stolen. However, no good game is really complete without an excellent soundtrack, and the series has taken advantage of this feature very well, with radios full of songs for all tastes, ranging from the most famous to Eastern European hits that many people have probably never heard. to speak!
With that in mind, we've separated 11 radio stations present throughout the games with great music options to enjoy your gangster adventure in style. Check it out below:
best radios in Grand Theft Auto: Vice City
Flash FM
Run by DJ Tony, this station has the best of 80's pop, featuring hits like Billie Jean (Michael Jackson), Self Control (Laura Branigan), Your Love (The Outfield), Video Killed the Radio Star (The Buggles) and several others. Really a good choice to enjoy Vice City in a livelier way!
V-Rock
For those who enjoy rock and heavy metal, and want to get away with committing their crimes with a good guitar solo, just tune in to V-Rock and listen to Lazlow Jones sending out hits like 2 Minutes to Midnight (Iron Maiden), Bark at the Moon (Ozzy Osbourne), I Wanna Rock (Twisted Sister) e Cum On Feel the Noize (Quiet Riot). It sure is a great way to make police breakouts more electrifying.
Wave 103
Are you a fan of new wave, synthpop and post-punk? Then tune your vehicle's radio to Wave 103 with Adam First and enjoy your gameplay with songs like I Ran (So Far Away) (Flock of Seaguls), Kids in America (Kim Wilde), Atomic (Blondie), Pale Shelter (Tears For Fears) and many others! A beautiful soundtrack to run over innocent pedestrians out there!
Emotion 98.3
Did you get that urge to hear something softer and enjoy the ride in the car? So just choose Emotion 98.3 and follow the charming Fernando Martinez playing the best of soft pop and rock, as well as famous power ballads from the 80s like: Waiting For a Girl Like You (Foreigner), (I Just) Died in Your Arms (Cutting Crew), Africa (This), Broken Wings (Mr. Mister). It's just not worth stopping the game and calling your ex, ok?
best music off the radio
As a big Blue Öyster Cult fan, I couldn't finish the selection of Vice City not to mention the presence of Burnin' For You in the background during the cutscene of Boomshine Saigon, the second and final mission given by Phil Cassidy to the game's protagonist. Even playing very softly, it certainly didn't go unnoticed!
Best radios in Grand Theft Auto: San Andreas
K-DST
Another great option for rock and roll fans. K-DST features Tommy "The Nightmare" Smith as host, and features classics like Barracuda (Heart), Free Bird (Lynyrd Skynyrd), A Horse with no Name (America), White Wedding (Billy Idol).
Radio Los Santos
And of course when it comes to San Andreas and fights between gangs, this list could not be missing a radio with a lot of hip hop and gangsta rap! Los Santos is under the control of Julio G, with songs like I Dont Give a Fuck (2Pac feat Pogo), It Was a Good Day (Ice Cub), Deep Cover e Nuthin' But a 'G' Thang (Dr.Dre feat Snoop Dogg).
Radio X
If your wardrobe includes, or has already included, a good deal of black t-shirts and flannel blouses, then Radio X should be an obvious choice for you. Playing the best of alternative rock, heavy metal and grunge under Sage's control, she brings songs like Personal Jesus (Depache Mode), Welcome to the Jungle (Guns N' Roses), Hellraise (Ozzy Osbourne), Killing in the Name (Rage Against the Machine) e Plush (Stone Temple Pilots). It makes you want to go around beating people on the street – but only at the game, right?
Best radios in Grand Theft Auto IV
Liberty Rock Radio 97.8
At this point in the list, my predilection for rock should have been clear, but there was no way to leave Liberty Rock Radio out of the selection, after all it brings a lot of good music and, as a bonus, there is still the iconic Iggy Pop as host! So, for those who like titles like Heaven and Hell (Black Sabbath), Fascination (David Bowie), 1979 (The Smashing Pumpkins) e One Vision (Queen) worth listening to.
The Vibe 98.8
Niko Bellic may have come from Eastern Europe, but no quest for the American dream and revenge would be complete without a good dose of soul and R&B. So, enjoy the smooth voice of late radio broadcaster Vaughn Harper sending titles like Because of You (Ne-Yo), It's Only Love Doing Its Thing (Barry White), Pony (Ginuwine), I Want You (CJ Hilton) And go around looking for the traitor in style!
Best radios in Grand Theft Auto V
Los Santos Rock Radio
Michael Townley's life is really a big mess, but at least you can enjoy all the misfortunes that happen to the protagonist with a lot of good music in the background and very famous hosts!
Los Santos Rock Radio brings the iconic Kenny Loggins – American songwriter, singer and guitarist behind hits like Danger Zone e Footloose – playing hits like Radio Ga Ga (Queen) e Carry on Wayward Son (Kansas), Gimme All Your Lovin' (ZZ Top), Peace of Mind (Boston) on PS4, Xbox One and PC versions.
Non-Stop-Pop FM
A little pop and R&B is always a good idea to liven up the game. So, how about tuning into Non-Stop and enjoying hits like Gimme More (Britney Spears) under the command of none other than actress and supermodel Cara Delevingne? And remembering that the versions for PS4, Xbox One and PC also have songs like I Want it That Way (Backstreet Boys), Fell Good Inc. (Gorillaz feat De La Soul), Applause (Lady Gaga) e Moves Like Jagger (Maroon 5 and Christina Aguilera), almost a karaoke playlist!
So, what are your favorite radio stations in the franchise GTA? Let us know in the comments section below!