In addition to the main search engine, Google has another mechanism that is focused on the education sector. This is Google Scholar (Google Scholar), which quickly became one of the best research resources for university students.
The Google platform helps both those who are looking for new references for jobs in general and those who are already consolidated in their careers and want to maintain control over their own works.
To make the most of it, however, you need to pay attention in class and know how it works.
How does Google Scholar work?
Google Scholar is both a repository of academic literature and a search engine. This is its main function: to serve as a research space for scientific journal articles, works presented at events, book chapters or even entire works.
Here, the same secret is valid to obtain the best possible result: the more specific you are in your keywords, the more filtered your search will be.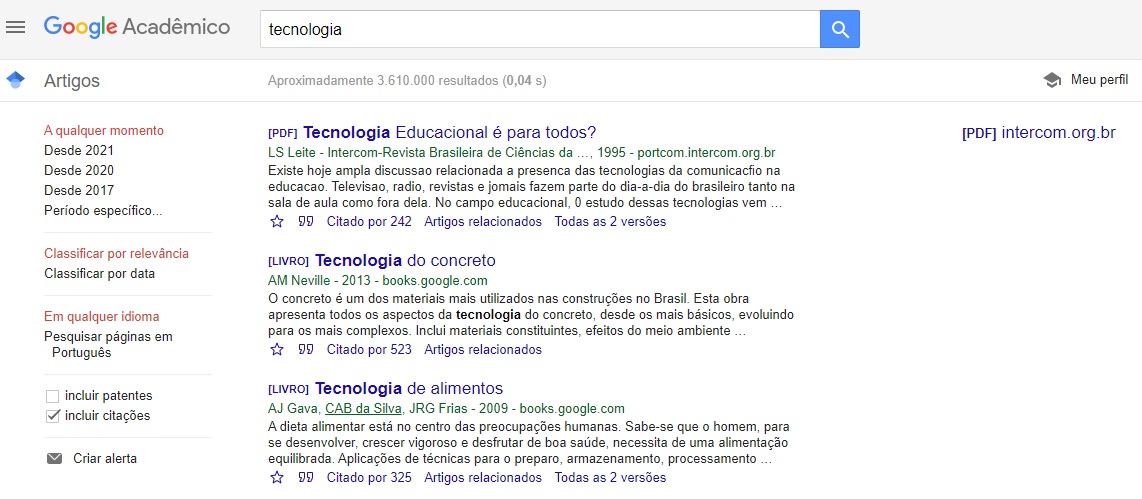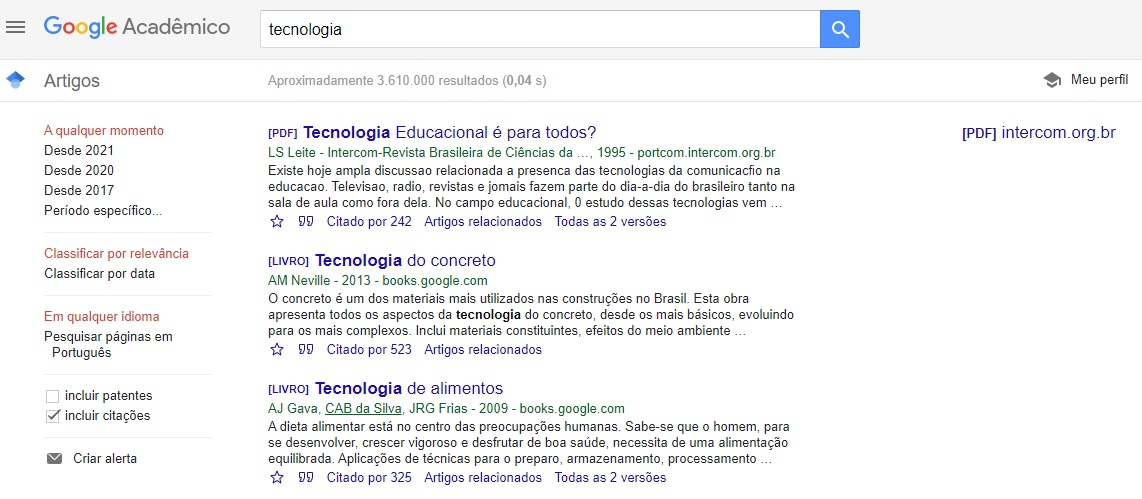 A simple search without filters yields articles from different areas of knowledge.Source: TecMundo
The platform's base is a classification index for these works, with a very robust database of national and international productions – a complement to other services already established in the medium, such as Scopus and Web of Science.
The service was born in 2004, when Google was still focused only on the page index mechanism. The creators were two employees of the company, Alex Verstak and Anurag Acharya, who at the time found few similar means to connect students and researchers.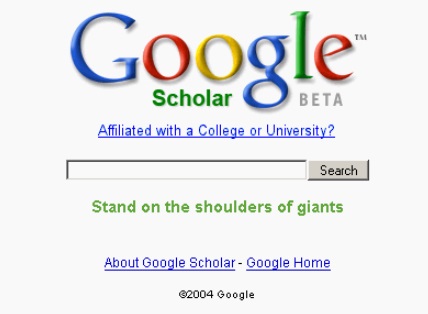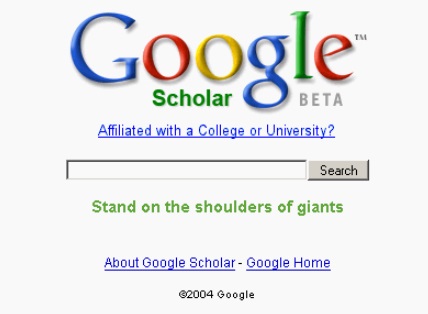 The first look.Source: Distant Librarian
As a motto, the service adopted the phrase "On the shoulders of giants", a metaphor that relates to the scientific work of steady and gradual progress based on previous discoveries. It was initially coined by the French philosopher Bernard de Chartres, but was immortalized in a work by the physicist Isaac Newton.
Taking advantage of the search engine interface, it also brings several search customization tools, from time filters to limits by terms that must be as specific as possible. Instead of websites, you receive jobs as a result – and you can access or download them according to each publisher's terms of use.
Extra tasks
Another resource widely used by scientists is that of citations. From a single button, it is possible to find the most accurate way to use the work as a bibliographic reference, including in accordance with ABNT standards and variants.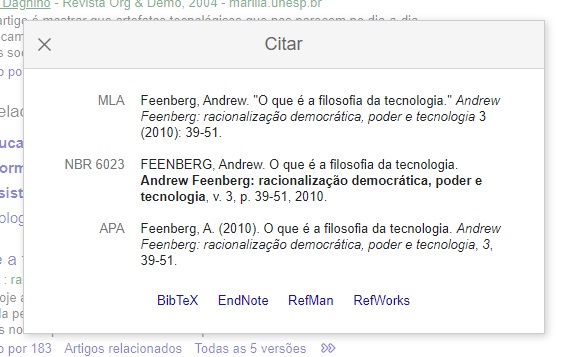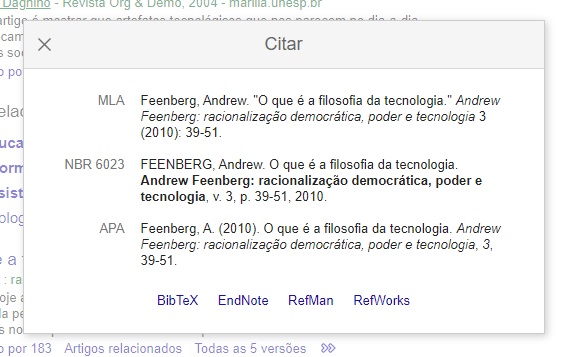 The quotes.Source: TecMundo
That way, you can not only search for titles or authors, but also excerpts from works – and already insert it in your text with the correct quote.
Another feature of the platform is "Meu Perfil", a kind of parallel register for researchers, students and teachers.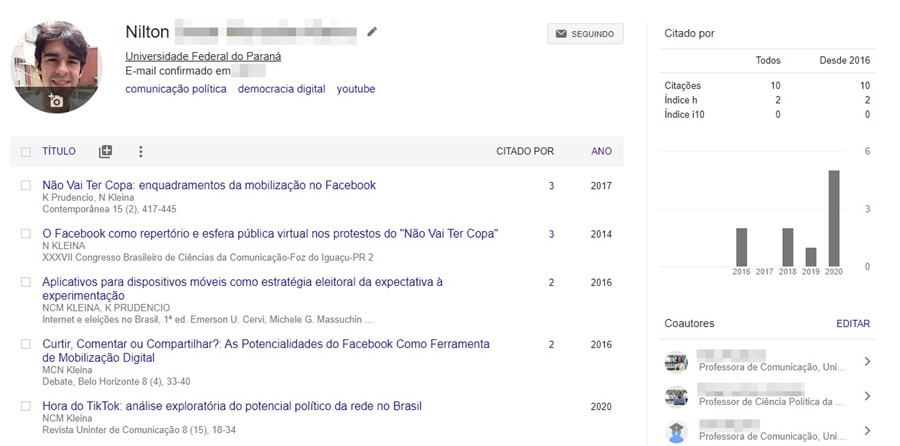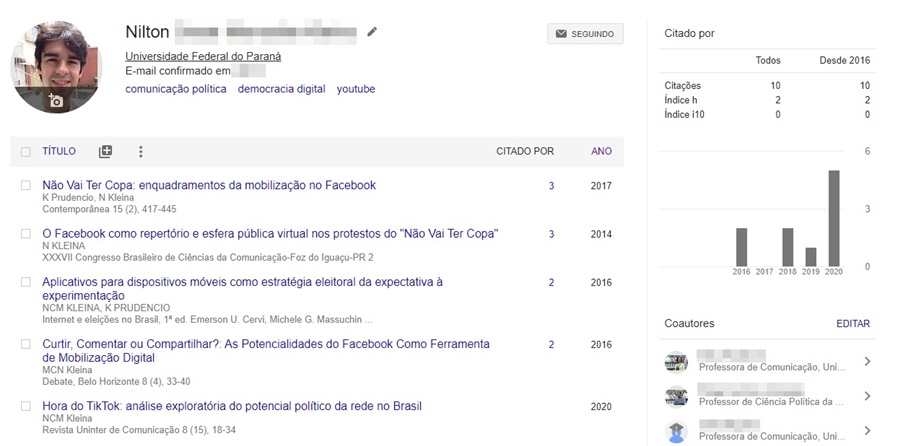 The profile that can be maintained by scientists.Source: TecMundo
Through this resource, you can add all your productions in academia, as a kind of summary of the Lattes curriculum. Google still counts and displays the number of citations you have already received from a search on its own database.
Tips for mastering Google Scholar
Create alerts
In your profile, it is possible to create alerts in the form of e-mail messages that warn you with each new article published about a certain term or by a certain author.

Creating alerts.Source: TecMundo
In the main menu, which is in the upper left corner of the screen, go to "Alerts" and then "Create Alert". It is possible to configure warnings for when you are cited, for recommended texts based on your keywords or according to terms you want.
Keep your library up to date
It may seem a little tiring for those who already have a long career, but it is important to keep the Google Scholar profile complete and up to date. After all, this is a popular search engine for other scientists who may not yet know your work. In addition, it is a great way to control your recognition in other jobs.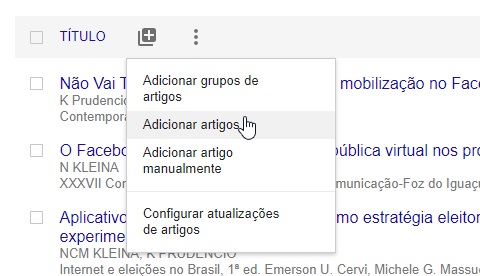 Adding jobs manually.Source: TecMundo
Google itself makes automatic suggestions in the registration, but you can add works yourself manually from the icon in the form of "+" on your account screen.
Take advantage of shortcuts and mechanisms
To access Google Scholar citations, do a search and, when you find the desired result, click on the quotation marks icon. It is there that the work's reference alternatives are listed.


The citation and search resources for similar ones.Source: TecMundo
In the same environment, you can take advantage of the other shortcuts: the star icon adds the text to a list of Favorites for later reading, while "Related articles" contains similar texts. "Cited by …" already shows all the authors who used the work as a reference, which can be great when building a bibliography on a specific topic.
It is also possible to view the result in all its sources and repositories, something important in the case of a broken link.