The PlayStation 4 generation has benefited from incredible fruit and a bountiful harvest of great exclusives for the Sony platform, becoming one of the most beloved among fans. With several very high investment games, among them was a sequel that few imagined would happen: God of War, with Kratos in another mythology, but without being a reboot, with significant changes in tone and gameplay that would make it one of the best titles on the platform for almost 4 years. Now, the game has arrived on PC.
Becoming one of the great names of PlayStation exclusives to reach computers, God of War arrived with all the pomp: bringing the customization that a PC gamer likes and taking advantage of all the modern technologies of today, such as Nvidia Reflex and cutting-edge DLSS. But is the port worth the investment? Check out our review!
The same God of War from PS4: more than positive point
Surprisingly, God of War was one of the few PS4 exclusives that didn't get any DLC or additional content after its arrival on the console. Because of this, the PC version package doesn't bring much discussion to a review: straight and straight, it's the same material that PlayStation players enjoyed in April 2018.
But calm down, that's not bad news: after all, the game was one of the most highly rated of the generation and won over critics and fans alike, with practically unanimous reception and synonymous with quality. In other words, PC gamers will have the chance to revel in a well-constructed campaign, fantastic narrative, and overhauled visceral combat.
God of War it is one of the last generation diamonds and is a very welcome addition to the Master Race library. Walking the fine line between reboot and sequel, the plot brings Kratos back to uncharted lands, exploring a brilliantly developed father-son relationship as new threats emerge on an unexpected journey.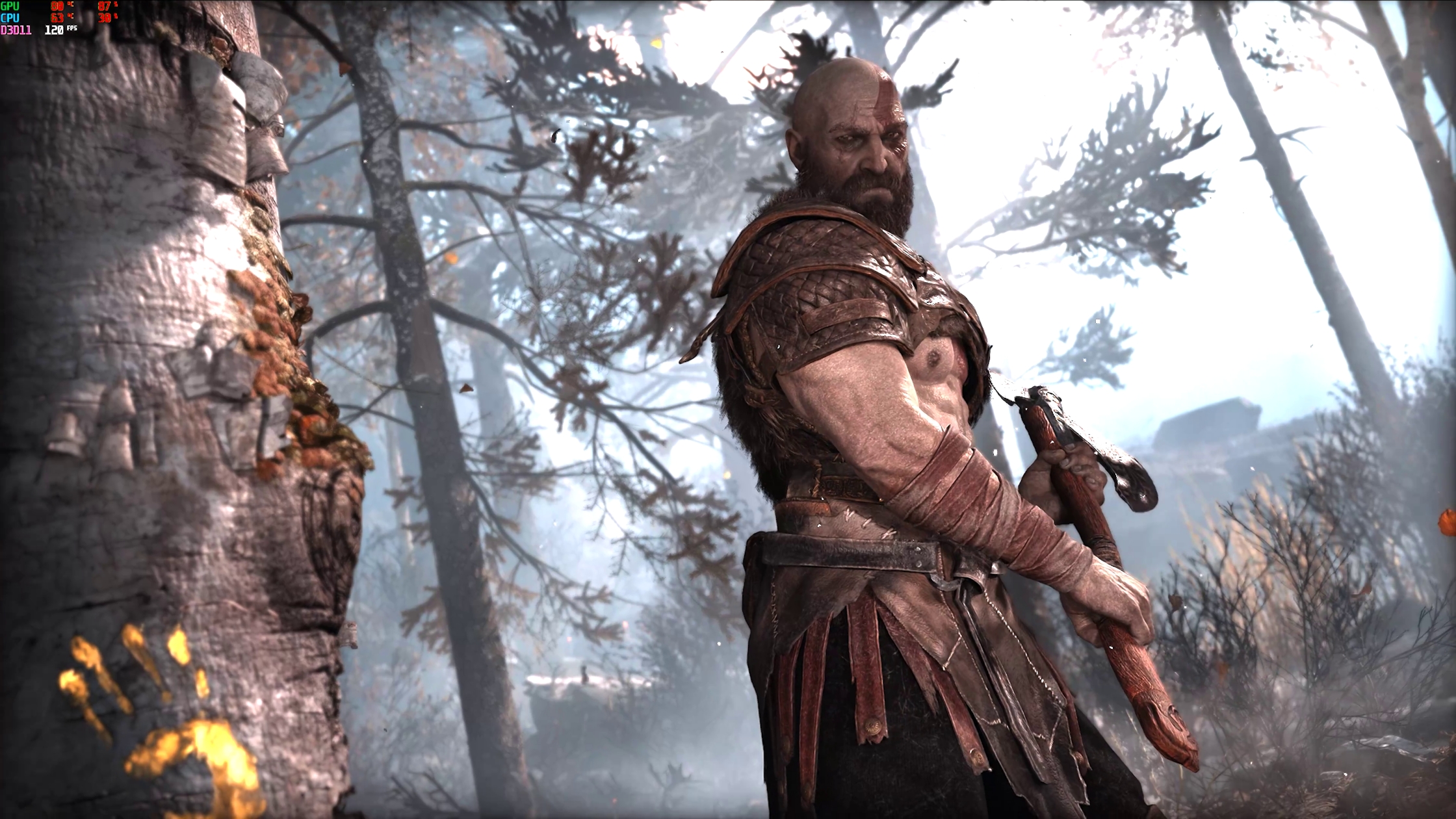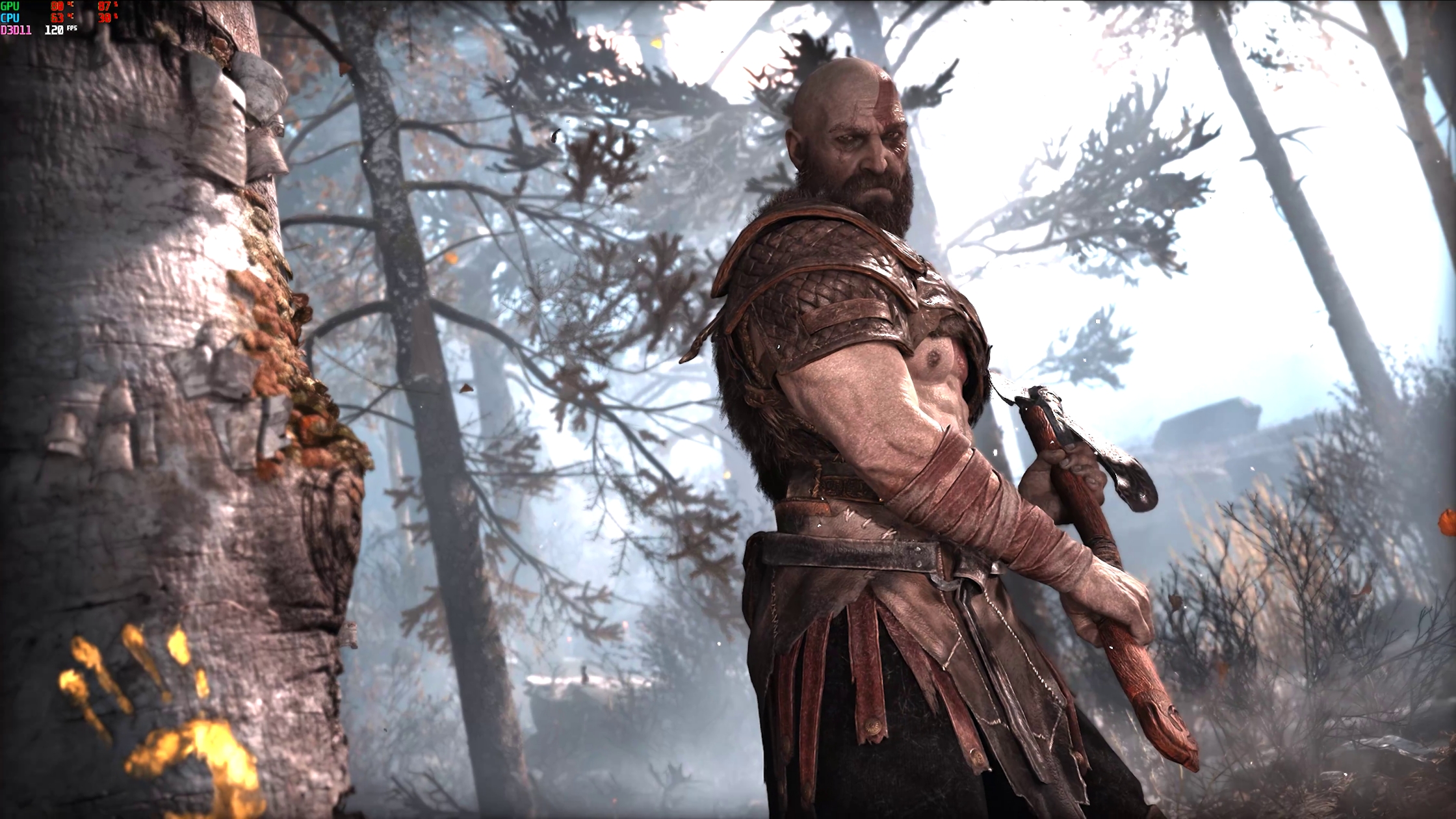 Touching and well-produced, the narrative brings a little bit of everything and leaves aside the atmosphere of revenge that, at one point, bordered on slapstick elements of the original trilogy (don't take this as an offense, everything was very good). The new title in the saga is much more focused on telling a story, benefiting from narrative techniques such as the endless sequence shot, without camera cuts, to tell the long journey of Kratos and Atreus between the planes of Midgard and beyond, breaking through the Nordic culture and unraveling the mysteries of their departure (relax, no spoilers here).
In terms of combat and exploration, the series leaves its linear legacy and frenetic hack 'n slash in exchange for an RPG system with more cadenced fights, with spaces for runes and special abilities, but without weighing it down to the point of being a game extremely long and inflated content.
There's a lot to explore, some great sidequests to take on, and everything offers rewards that help your campaign with just the right amount of customization. All, of course, with plenty of brutality and first-rate combat that has been reworked for a new over-the-shoulder camera perspective.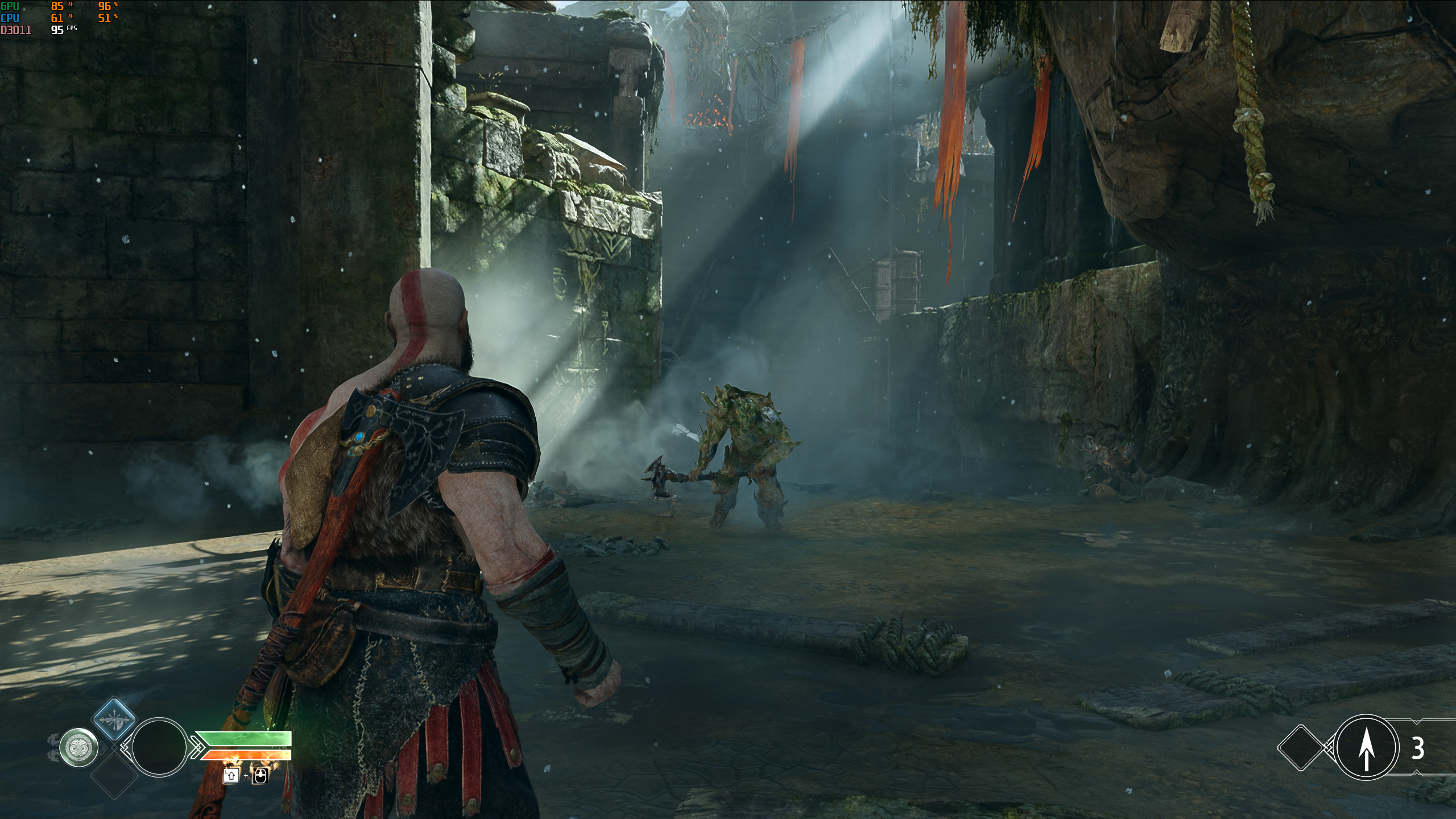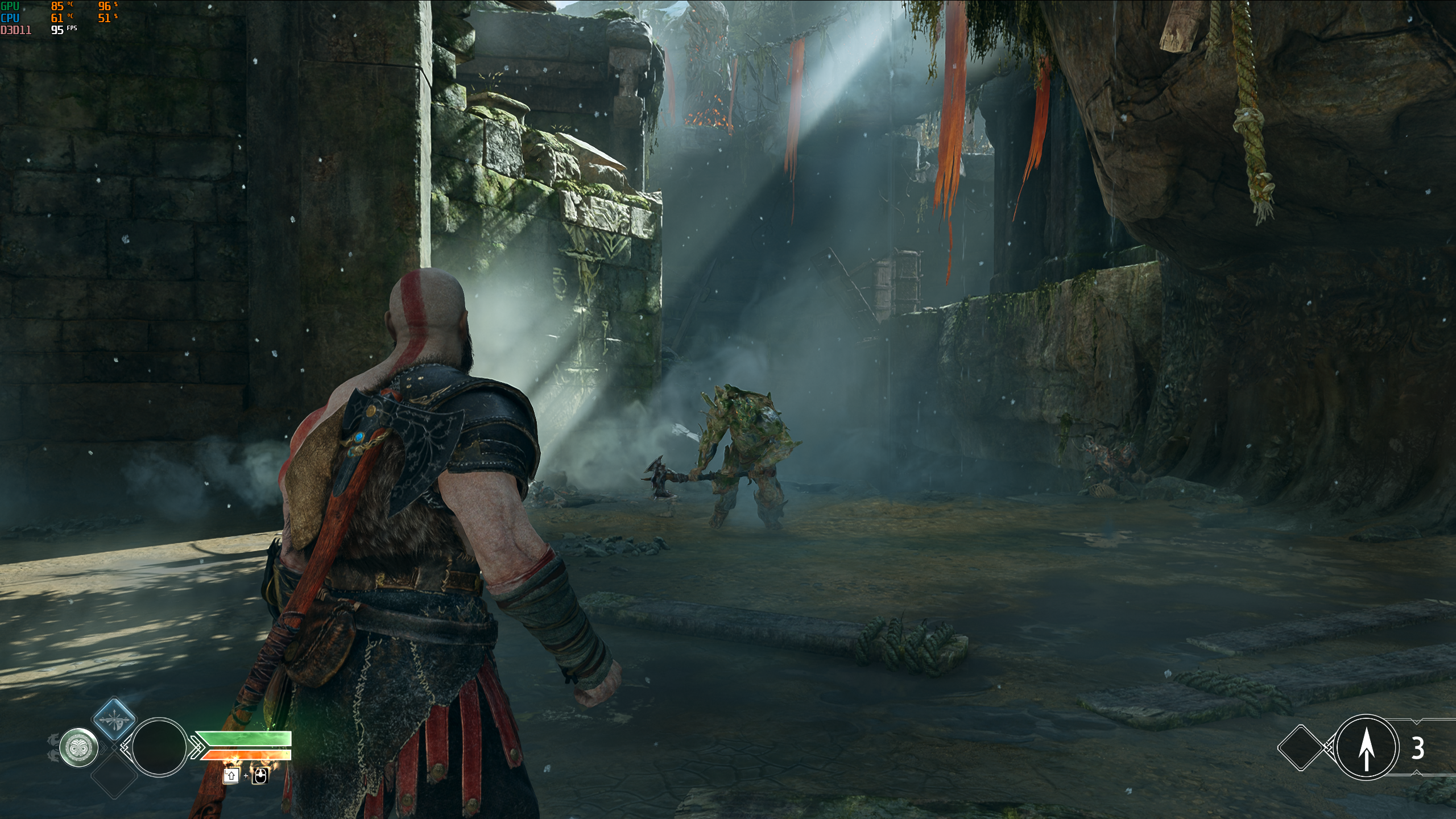 Switching between the Leviathan ax and Kratos' own fists is so incredible that it needs no comment (along with other surprises that pop up throughout the campaign). All XP earned becomes a currency for skill evolution and combo improvements, essential for the mostly optional end-game challenges, creating a hybrid between traditional adventure and RPG.
All this is raining in the wet. God of War has already established itself as one of the unmissable games of the PS4 generation and Voxel has a complete analysis of the game for those who want to know more about the adventure itself, but the idea here is to understand a little more about the PC port and if it is worth the effort. investment in the midst of so many adaptations, some good and some bad, from consoles to computers.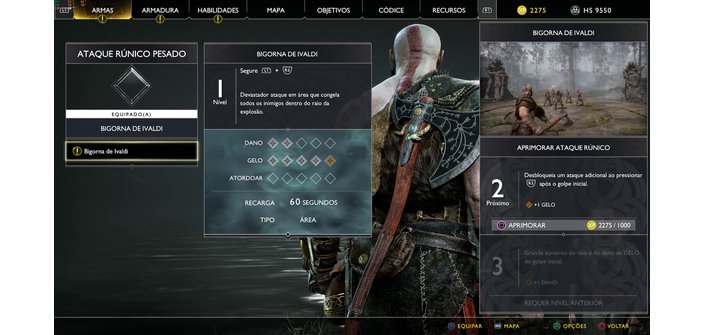 God of War on PC is a good example of a great port [REVIEW]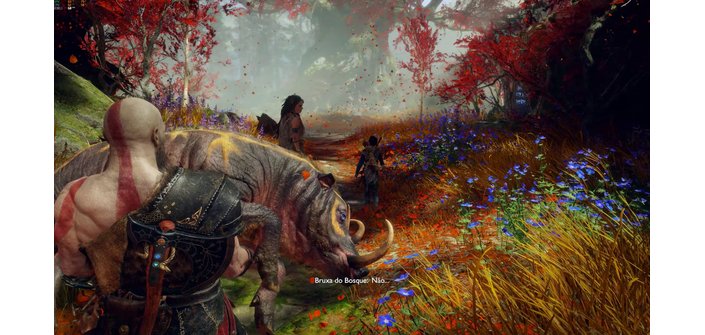 God of War on PC is a good example of a great port [REVIEW]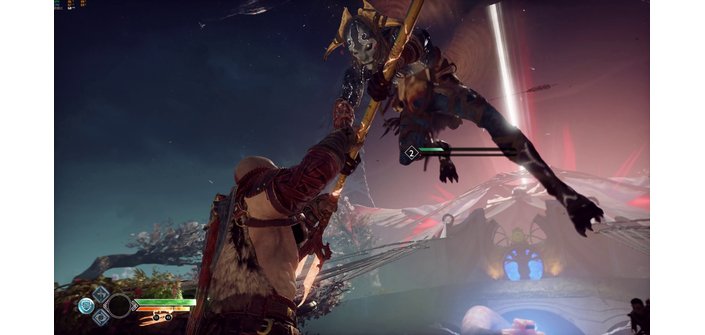 God of War on PC is a good example of a great port [REVIEW]
And the PC port? Good the way players deserve!
The last few months haven't exactly been gratifying for PC owners expecting long-awaited desktop console games, with Final Fantasy VII Remake arriving in a state well short of what it could be. Yet, God of War avoids being a basic port and offers a range of very competent options, customization of various graphical aspects and use of modern technologies from Nvidia.
If you choose to play at the same quality as the PS4 or PS4 Pro offers, there's a graphical preset called "Original", reproducing the exact same visuals. If you want to take things a step further, there are choices that spice up the experience, improving shadows, ambient occlusion, reflections and more, ranging from High to Ultra (and even an option with Ultra+).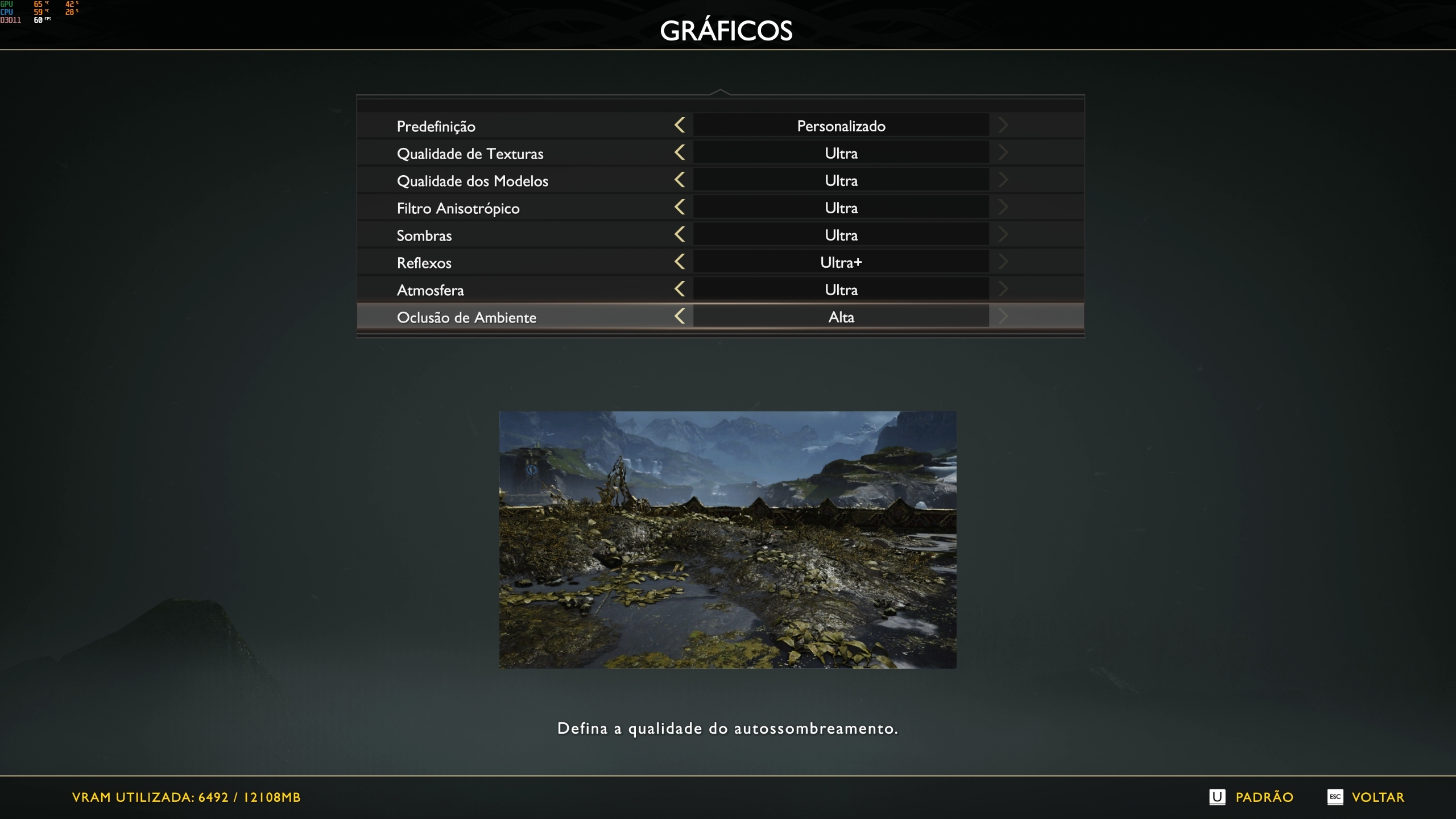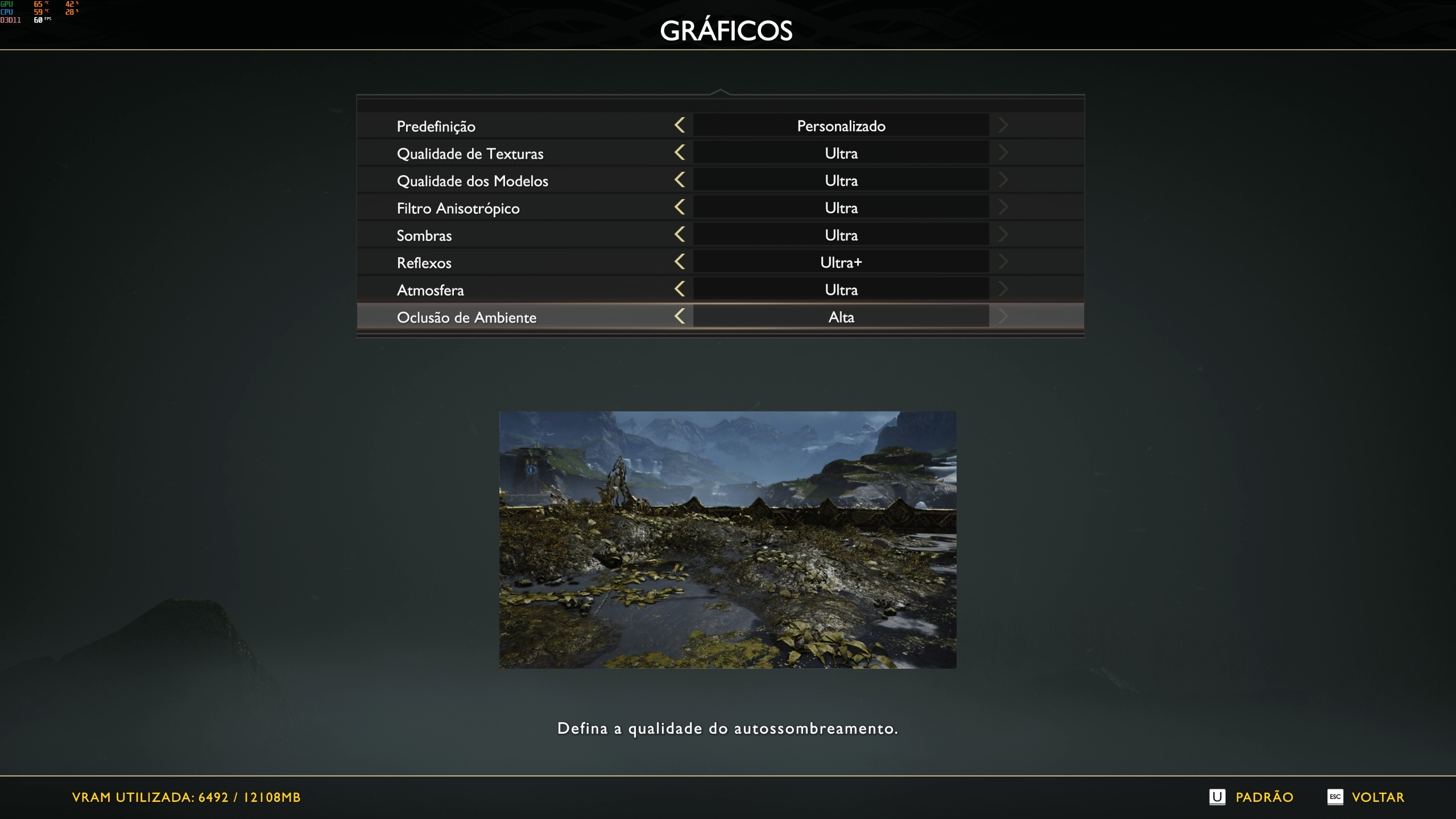 Despite not having elements like Ray Tracing, the PC edition of the game brings features such as DLSS and Reflex, which allow you to have a higher resolution and better performance simultaneously with the use of neural image upscaling technology, and input lag reduction. of commands, making combat much more responsive overall.
I played the entire game on a GeForce RTX 3080 Ti and there's not much to say about performance with DLSS: even in the heaviest mode, in Quality, the technology is able to gain up to 20 or 30% performance in some areas (plus it still looks like the native resolution). Considering that the solution of a PS4 Pro, for example, was to reach 4K with checkerboard, the image quality of the PC is much superior. If using the Ultraperformance DLSS, the performance gain is even better, but some artifacts in small details, such as the fur on Kratos' clothing, can arise.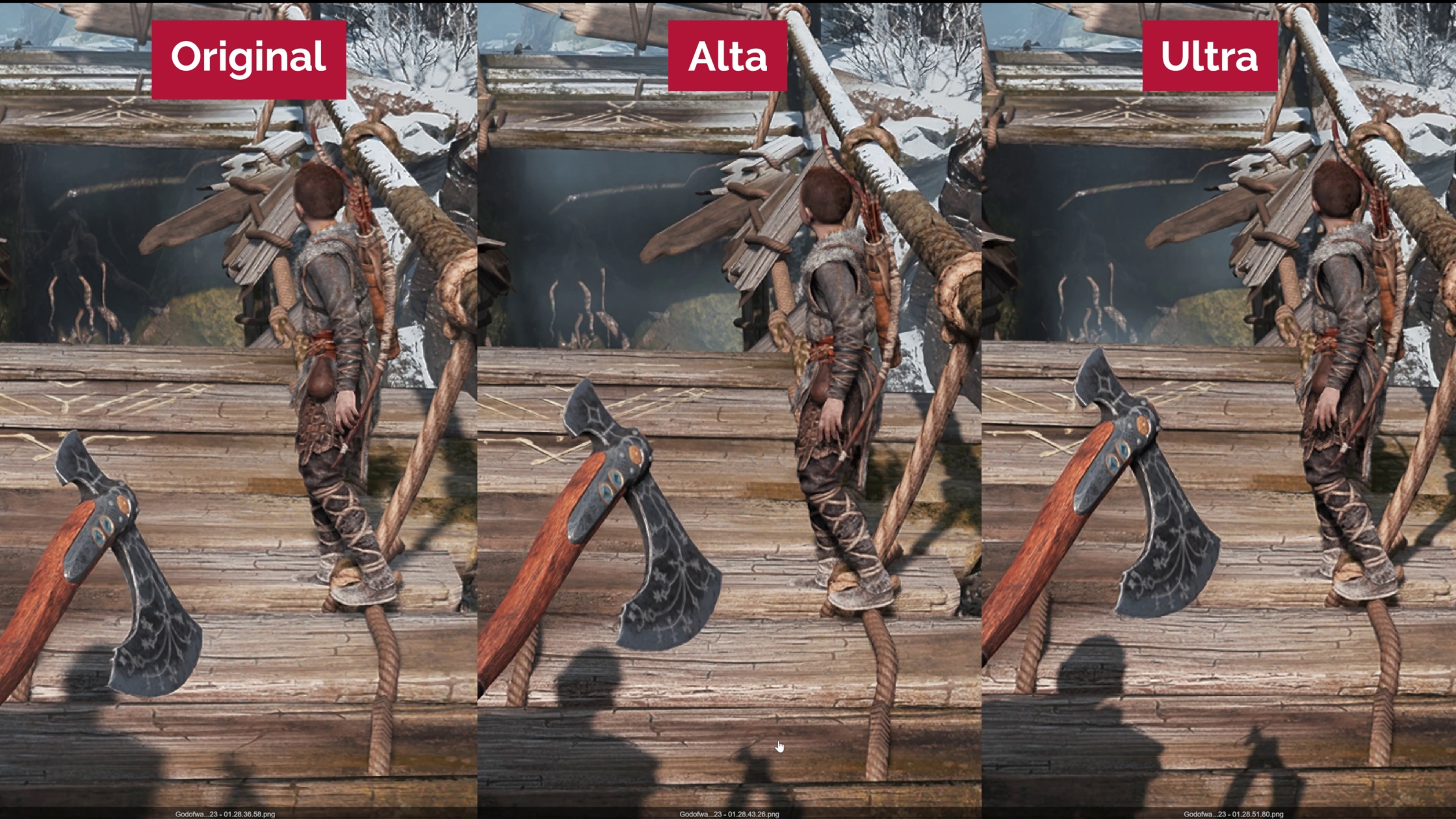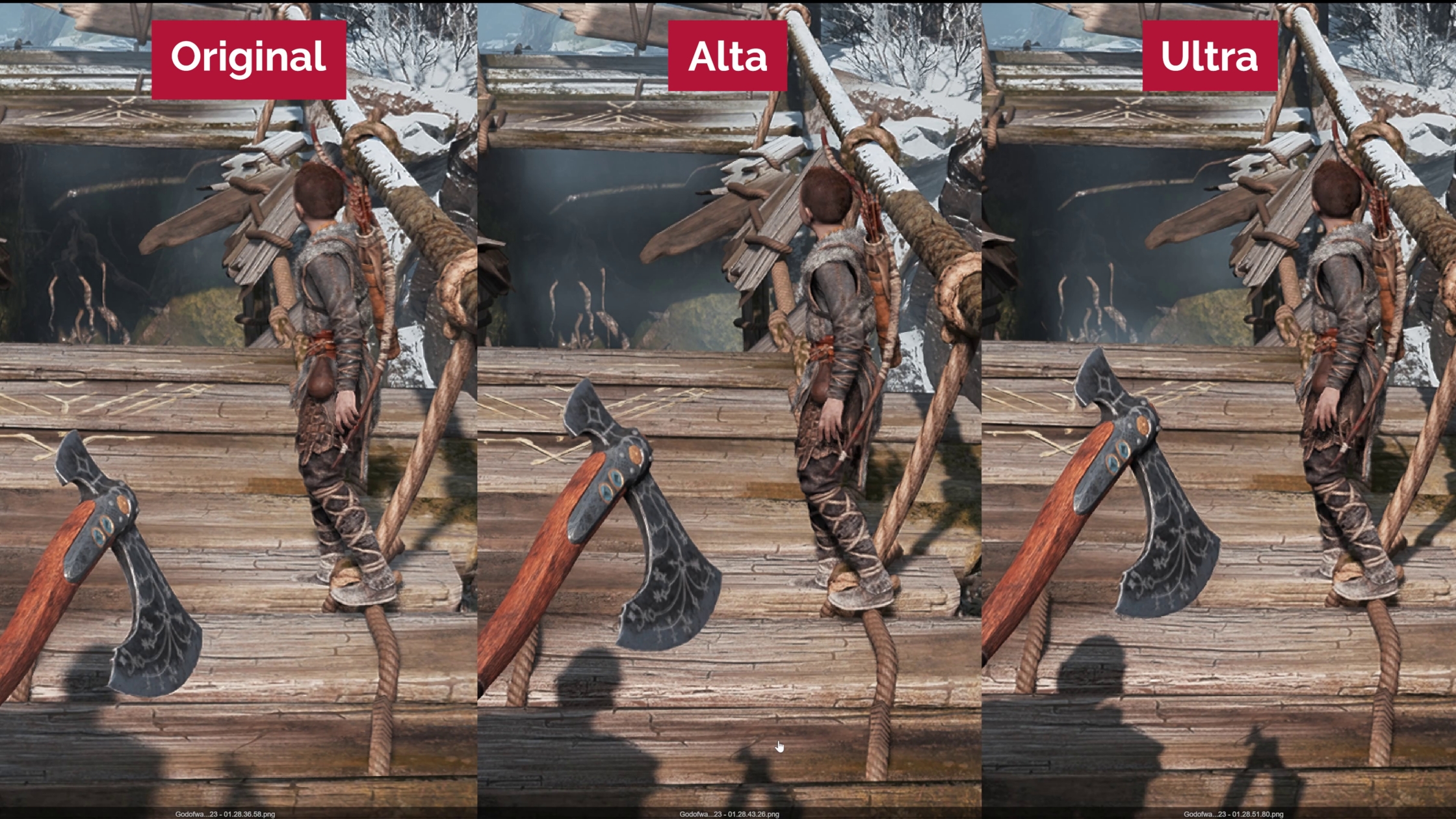 Reflex, in turn, is a technology that there is no reason to leave it off. Despite being used a lot in competitive games, it only brings advantages in God of War and helps the player to perform faster and more accurate commands. At very high framerates it may go unnoticed, but there is an improvement in the latency of any attack or dodge.
In other words, for those who have a powerful machine, it is possible to have exquisite visuals, better image quality than PS4 resolution reconstruction solution, improved response time, ultrawide resolution support and even play beyond 60 fps if you have one. monitor that supports it, reaching up to 120 fps.
The controls are also well-adapted to the keyboard and mouse, and the game supports different types of controls on the PC without any problems. Load time also takes advantage of SSD-equipped computers, bringing a non-existent PS5 "God of War Director's Cut" experience. This is the definitive edition of the game for those who have a powerful machine and a good port for those who have modest configurations.
This kind of quality is what PC gamers are used to and deserve without a doubt. There's a lot of choice here and, above all, customization for your machine. Despite not being the most elaborate and customizable game possible on the computer, God of War does its homework and passes the year, despite not passing the exam.
The downside of port
Undoubtedly, the port of God of War it is good. Maybe even better than good. But there are also some flaws that take away from the potential shine of perfection. We can start by talking about the performance that, despite running well, is still a little too heavy for what we can expect from a game coming to PS4.
If you haven't seen the minimum and recommended requirements for God of War, they are a little beyond what you can imagine. To run the Original game, at 1080p and 30 fps, that is, just like the PS4 Fat, you need a GTX 1070, which is much more powerful than a PS4 Pro, and an Intel i5-6600k, something also much more powerful than the eighth generation weak Jaguar chip.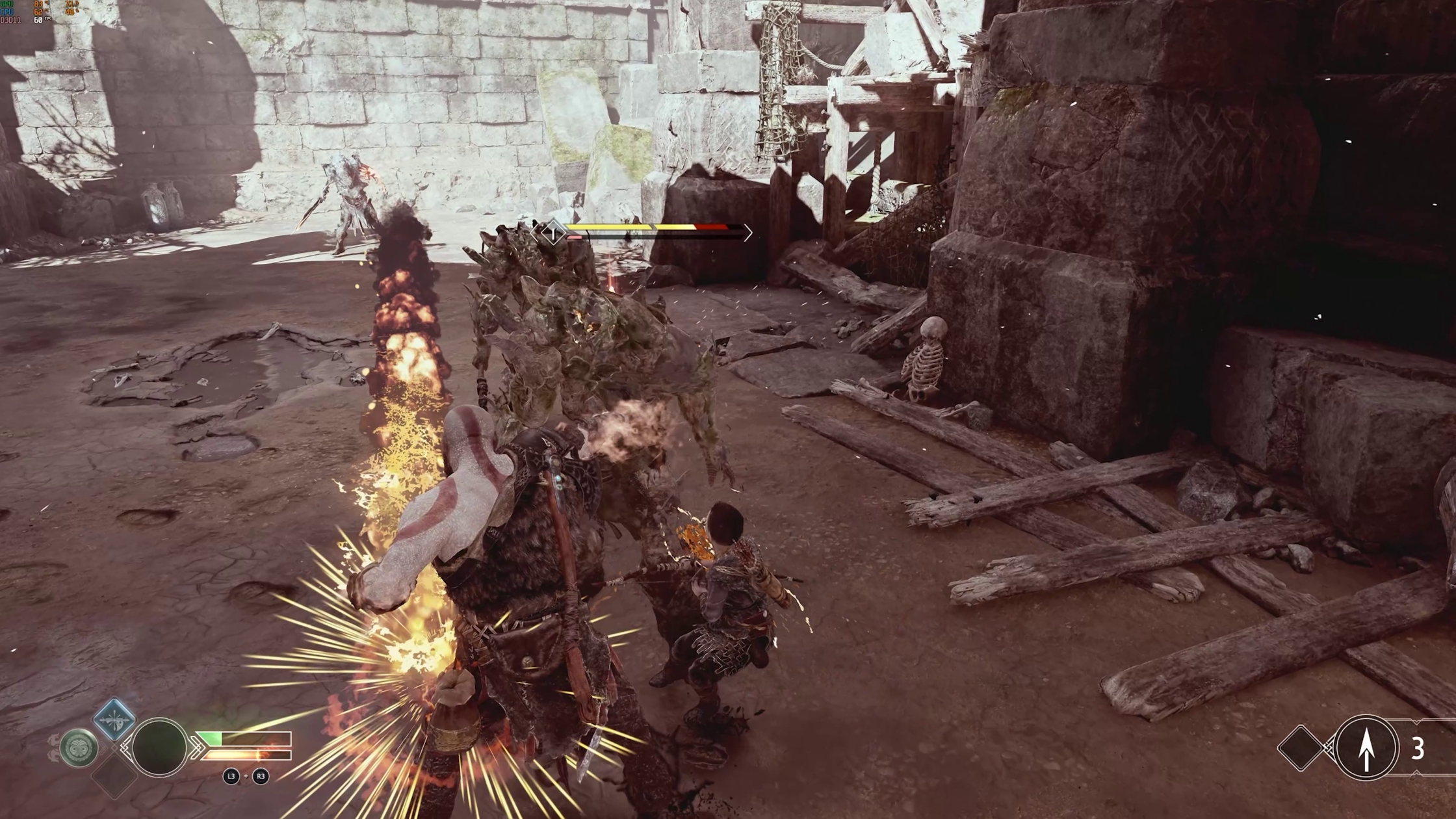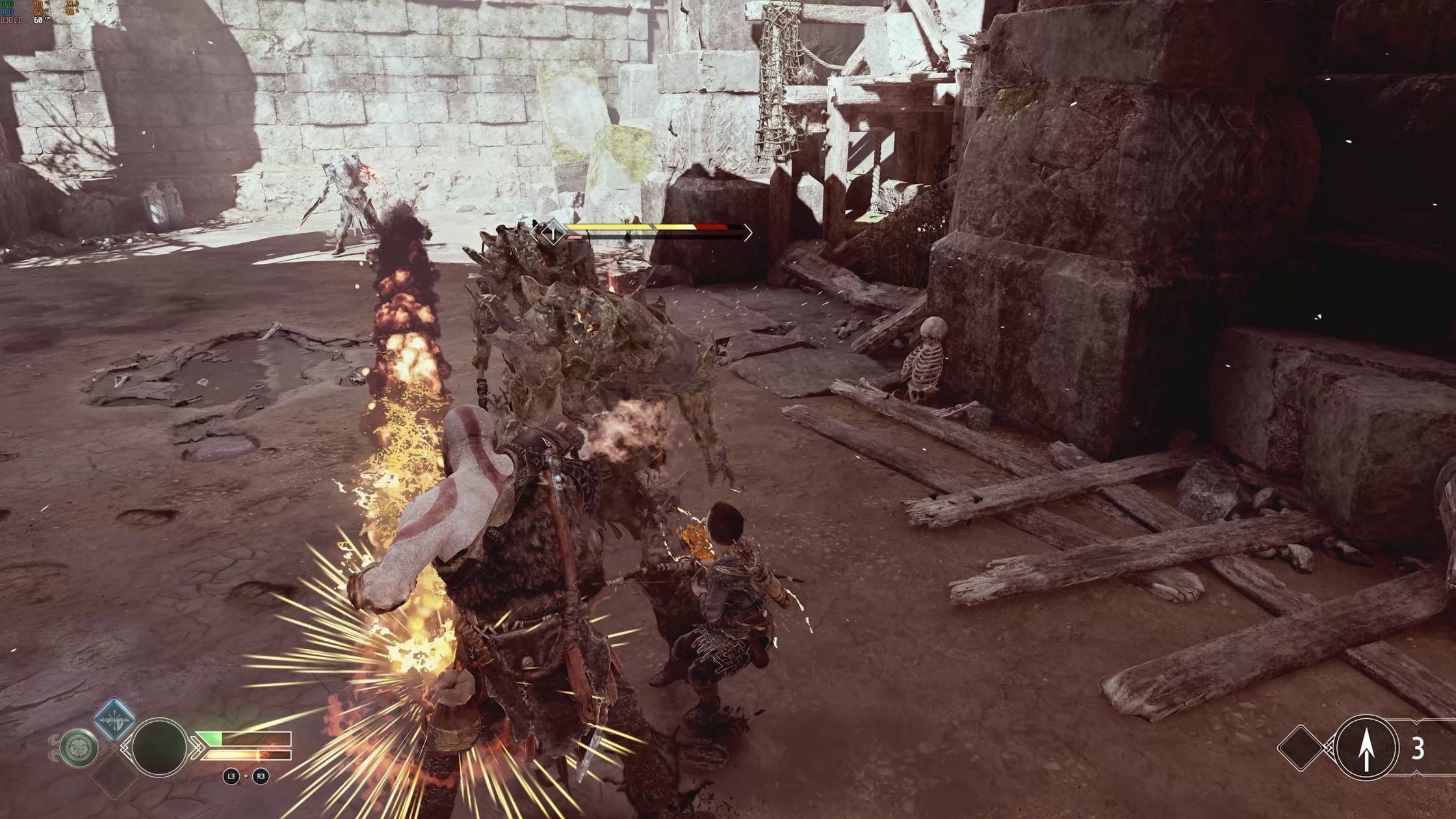 And in 4K, 60 fps and everything maxed out? Get ready, because an RTX 3080 and an i9-9900k are the recommendations. Which is a little strange, since there aren't that many improvements and it shouldn't even need such a powerful processor for a game that ran smoothly on the PS4. Even if we consider the PS5, which manages to run the game at 60 fps, it's still a bit exaggerated to demand so much.
And these demands are put into practice during gameplay. If you try to reach 120 fps with the Original preset or above (and really try, because achieving is different), the processor comes to a load of 80 to 90% of use in 2K resolution. Even when not bottlenecking, the RTX 3080 Ti I ran on barely managed to hit 60fps all the time in DLSS Quality, with everything in Ultra and 4K, something that shouldn't be a problem for one of today's most powerful GPUs.
There were no drops below 60 fps, to be clear, but the performance margin almost reached 100% at certain times. Of course, there are graphic elements that demand more of the GPU in action, but compared to the original quality, there is nothing that justifies such a loss of performance.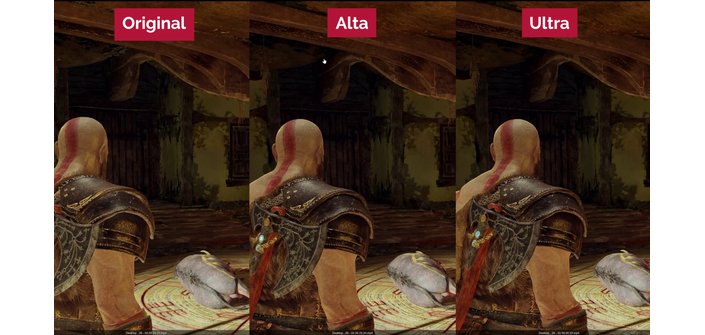 God of War on PC is a good example of a great port [REVIEW]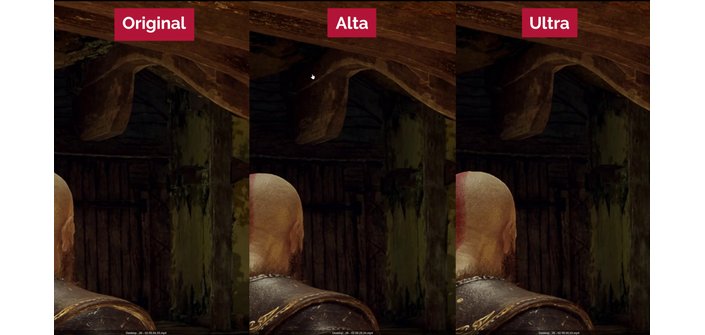 God of War on PC is a good example of a great port [REVIEW]


Taking the hook, while many visuals go a step further, Gen 8 issues persist. It's not difficult to find pixelated mists, even with the option on Ultra, or pop-in with some proximity to the screen. Lower quality textures are rare, but you can also find them here and there if you pay close attention. Also, something weird about the settings was the absence of a full-screen mode. For regular gaming, the borderless windowed mode will have no difference, but if you want to capture videos or something like that, there may be problems.
Transparent shaders and particles behaving unrealistically are already issues that Sony is aware of and says it will work to fix by launch, so perhaps some information will be dated soon. However, there was a major unforeseen problem that hampered gameplay.
Finally, and possibly the worst obstacle I came across, were the crashes. Whether it's because of some feature not working well or some spike in GPU or CPU usage, God of War crashed many times, way more than I would find acceptable. And, because of the checkpoint system, several times I had to redo tasks from scratch in the game to see the crash screen again. In other words, advancing in some moments of the game was a test of patience.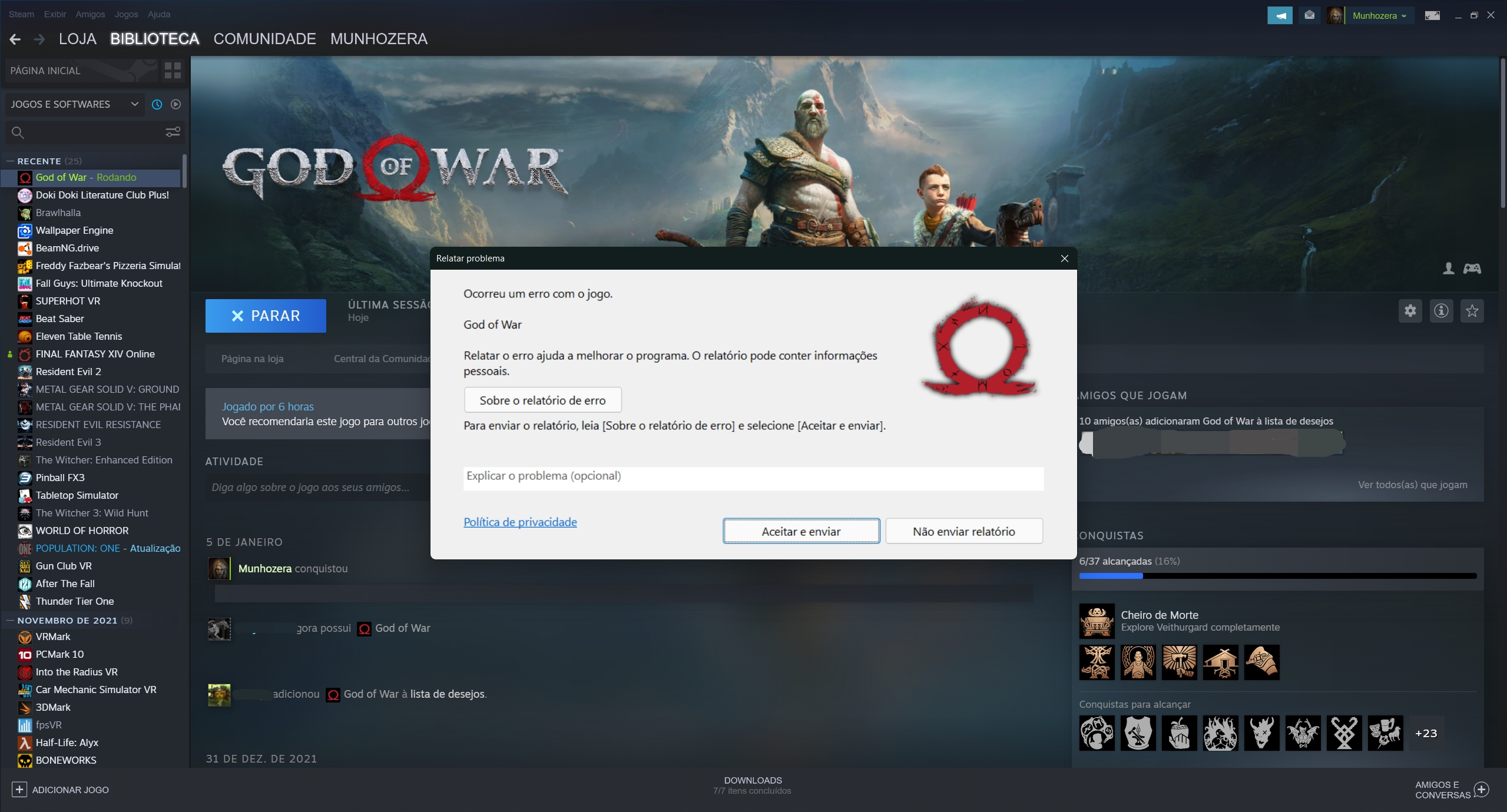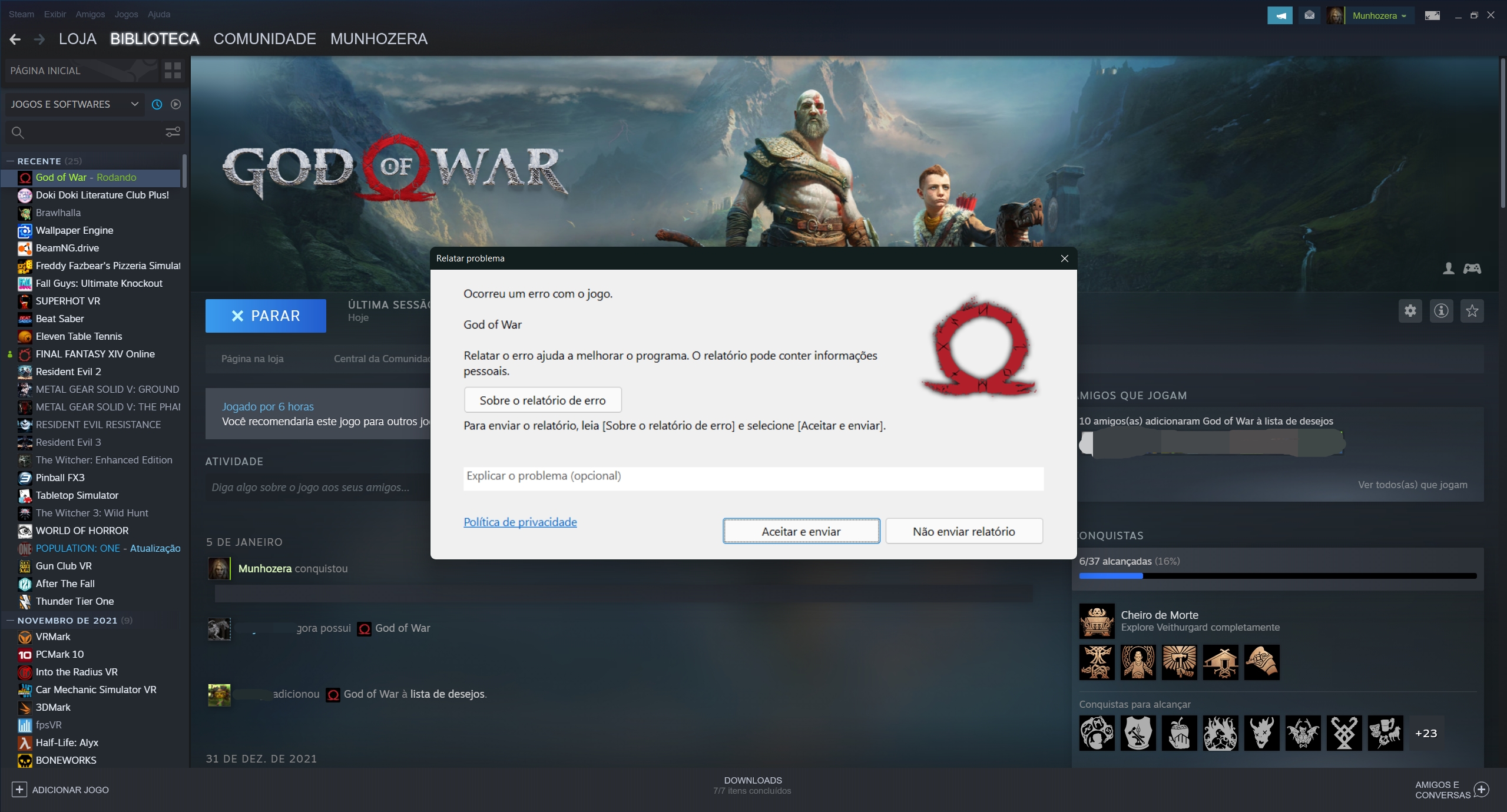 If I were to rank all the defects, the crashes would be the most serious, with the heavy performance in a medium to light place and everything else something very frivolous that can be fixed in updates. However, these issues take some of the shine out of the experience.
It is worth it?
For those who didn't play God of War to this day, the experience is essential for anyone with an interest, as, personally, it's one of the best games of the last generation with a very solid 100 rating. I platinumed the game myself on PS4 and intend to play it all over again on PC purely for the fun and warmth of the future God of War Ragnarok.
The game is really a good PC port, with great customization and options that go beyond the console, in addition to offering good keyboard and mouse commands and support for different types of controls. However, it does not miss a few flaws, some barely noticeable and others clearly notable. I really wanted to see something more advanced than just better shadows and not see something as cumbersome to run, something DLSS helps a lot.
However, Sony eventually puts good quality in even the worst PC ports, see Horizon Zero Dawn, which was released with several problems and is now perfectly playable on several machines. What if God of War is already good before launch, certainly the most critical and annoying defects should be fixed soon. One way or another, this is an experience that no player should miss.