Samsung has launched two new A-line devices in Brazil, including the Galaxy A53 5G. With novelties such as the Exynos 1280 processor and the RAM Plus feature (which guarantees extra virtual memory), the model promises to be a very competitive premium intermediate.
However, despite the improvements, how much has the device evolved compared to its "big brother", the Galaxy A52 5G? To show the differences between the products, the TecMundo prepared a comparison to analyze whether the South Korean release is already paying off when placed side by side with the previous version.
Screen
The new Galaxy A53 has a 6.5-inch Super AMOLED FHD+ display, 120 Hz refresh rate and up to 800 nits of brightness. The screen has Infinity-O technology, which reduces the size of the notch edge of the front camera.
The Galaxy A52 is very similar in this regard to the latest smartphone, also having a 6.5-inch Super AMOLED FHD+ screen, 120 Hz refresh rate and the same 800 nits. The phone also has the Comfort Shield feature, which reduces blue light, just like the previous model.
Galaxy A53 5G
design and construction
Visually both are very similar. While the A53 has dimensions of 74.8 mm (width) x 159.6 mm (height) x 8.1 mm (depth) and weighs 189 g. The A52 is 75.1mm x 159.9mm x 8.4mm in size and weighs the same 189g.
On the back, the duo also looks very similar, with the same arrangement of the lenses and the same protrusion for the camera module. Samsung even saved on the colors, as the only different version is rosé on the A53 and violet on the A52.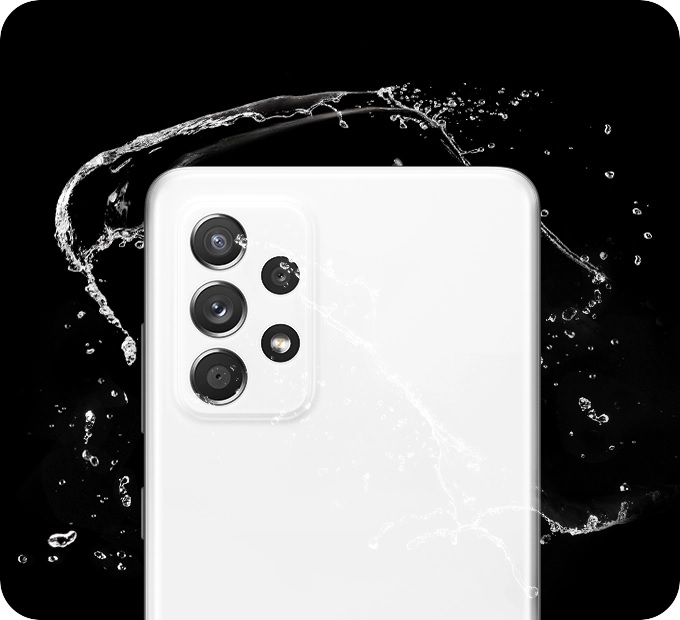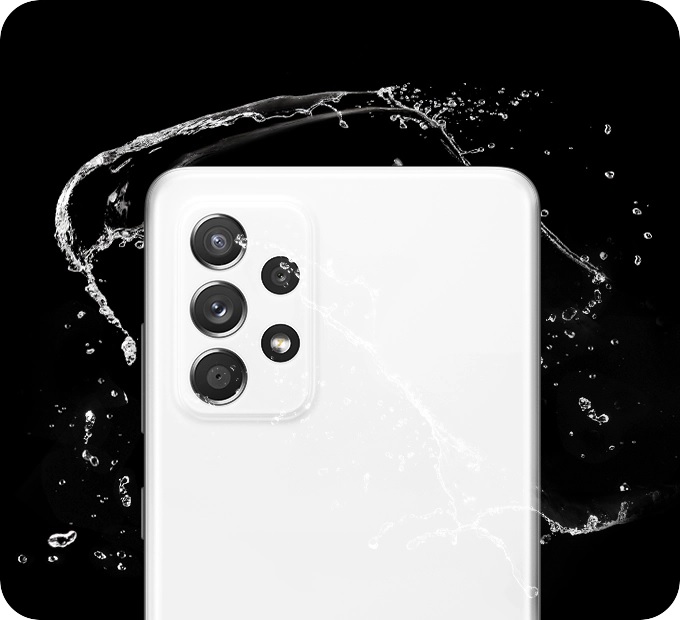 Both Galaxy A52 5G and A53 5G are IP67 certified
performance and hardware
The A53 comes with the Exynos 1280 processor, a 5nm, 8-core chipset. In configuration it has 128 GB of storage (expandable up to 1 TB) and 8 GB of RAM.
The older model has an 8-nanometer Snapdragon 720G on board. Regarding memory, the device has 128 GB of storage (expandable to 1 TB) and 6 GB of RAM.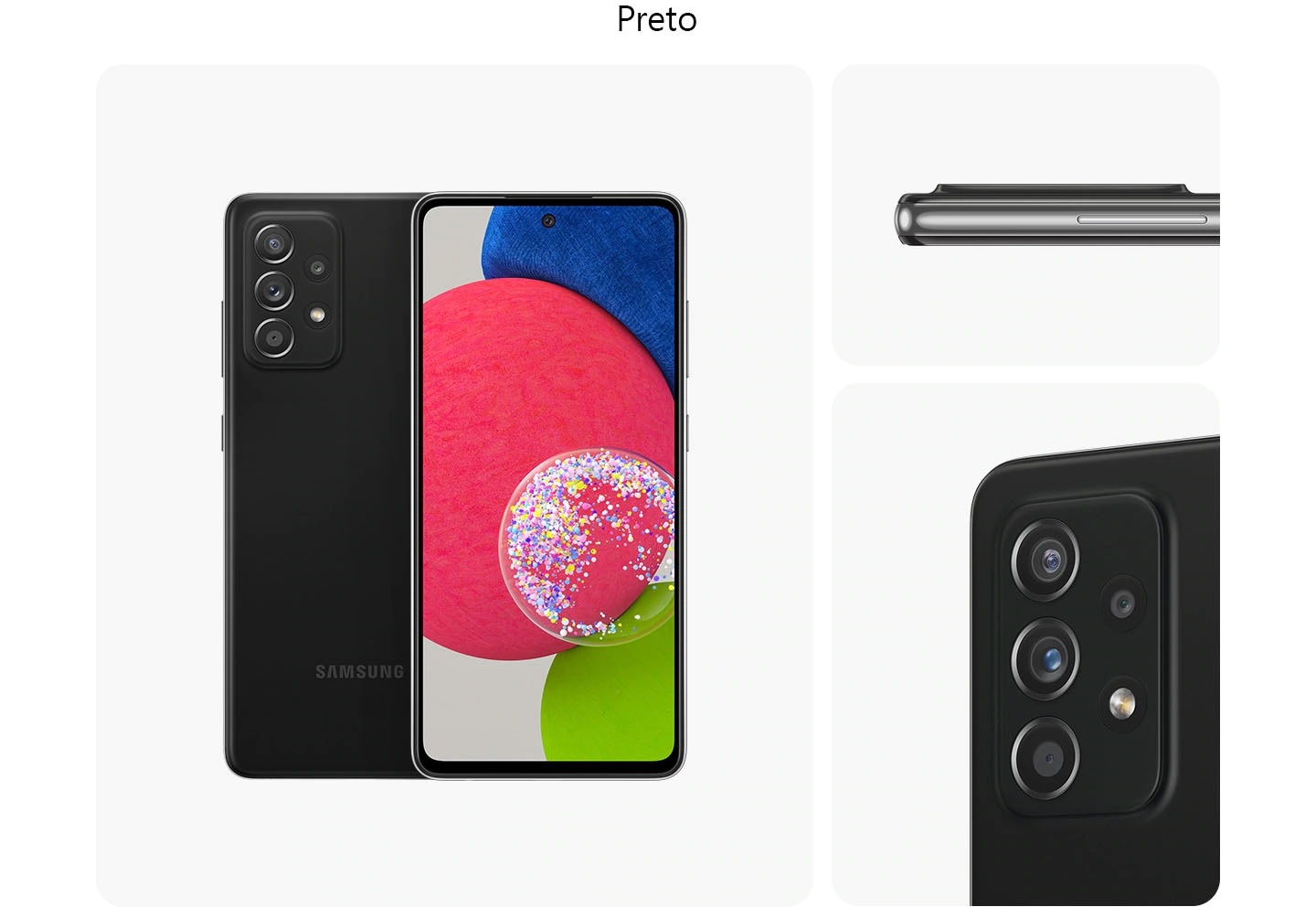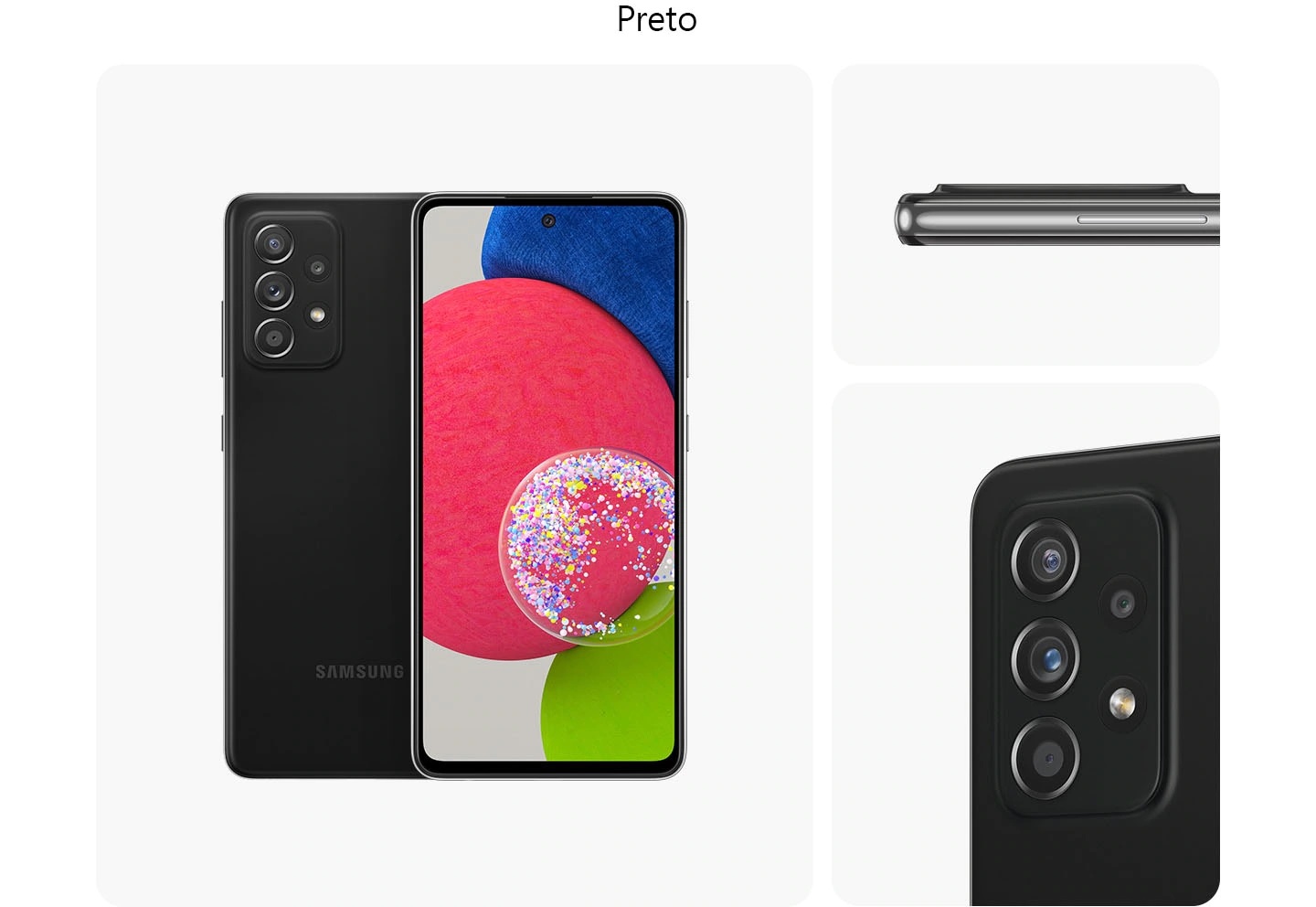 Galaxy A52 5G
cameras
The A53 has 4 lenses at the rear: a 12 MP ultra-wide (F2.2), a 64 MP main lens (F1.8), a 5 MP depth lens (F2.4) and a 5 MP macro lens (F2). .4). On the front is a 32 MP F2.2 camera.
As stated earlier, the A52 has the same number of lenses on the back. And not only that, in fact the configuration of the cameras is exactly the same: a 12 MP ultra wide-angle (F2.2), a 64 MP main (F1.8), a 5 MP depth (F2.4) ) and the 5 MP macro (F2.4). As it could not be otherwise, the front is also 32 MP.
Samsung, however, promises better images on the latest phone because of software issues with an AI-powered image optimizer.


Galaxy A53 5G has an AI image optimizer
Check below a table with the complete comparison of the specifications between Samsung's A-line models:
| | | |
| --- | --- | --- |
| | Samsung Galaxy A53 5G | Samsung Galaxy A52 5G |
| Chipset | Exynos 1280 (5 nm) | Snapdragon 720G (8 nm) |
| Operational system | Android 12 (One UI 4.1) | Android 11 (One UI 3.1) |
| Drums | 5000 mAh | 4.500 mAh |
| Loader | 15W (comes in the box) or 25W Turbo Power (sold separately) | 25W Turbo Power (sold separately) |
| Screen | 6.5 inch Super AMOLED FHD+ | 6.5 inch Super AMOLED FHD+ |
| refresh rate | 120 Hz | 120 Hz |
| RAM memory | 8 GB of RAM | 6 GB |
| Storage | 128GB (expandable to 1TB) | 126GB (expandable to 1TB) |
| Back camera | Ultra-Wide2 (12 MP); Main (64 MP); Depth (5 MP) and Macro (5 MP) | Ultra-Wide2 (12 MP); Main (64 MP); Depth (5 MP) and Macro (5 MP) |
| front camera | 32 MP | 32 MP |
| sensors | Accelerometer, Fingerprint Sensor, Gyroscope, Geomagnetic Sensor, Hall Effect Sensor, Light Sensor, Virtual Proximity Detection | Accelerometer, Fingerprint Sensor, Gyroscope, Geo Magnetic, Hall Effect Sensor, RGB Light Sensor, Virtual Proximity Detection |
| connectivity | 2G, 3G, 4G, 5G, Wi-Fi, Dual SIM, Bluetooth 5.1, USB-C, GPS, NFC, PC Sync | 2G, 3G, 4G, 5G, Wi-Fi, Dual SIM, Bluetooth 5.0, USB-C, GPS, NFC, PC Sync |
| Resistance | IP67 (up to 1 meter of water for up to 30 minutes and dust) | IP67 (up to 1 meter of water for up to 30 minutes and dust) |
| Cores | Black, Blue, White and Rose | Black, Blue, White and Violet |
| Launch price (at Samsung's official store) | BRL 3.5 thousand | BRL 3.5 thousand |
| Current price (at Samsung's official store) | BRL 2,700 (promotional launch price) | BRL 2 thousand |