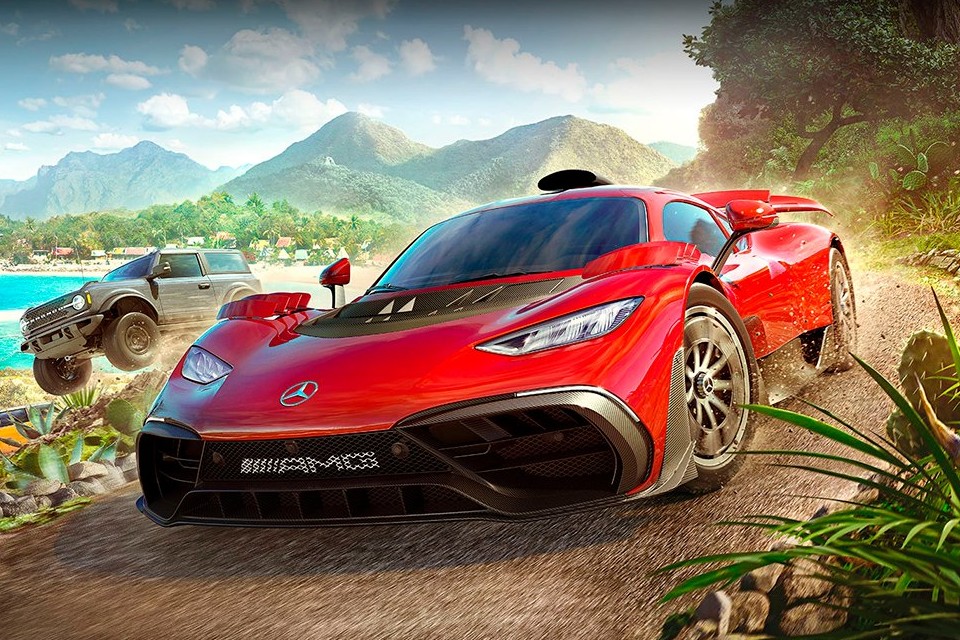 Anyone who follows the progress of the main video game motorsport franchises should know that the series has been a good many years Power took the lead and became the main target to be beaten by aspirants to the throne. Brilliant in the most arcade endeavors of Horizon as in the simulator vibe of Motorsport, in 2021 the brand will take another turn in the lead with all the safety and excellence expected by fans.
This was evident already in the first minutes of testing of Forza Horizon 5, which we had the pleasure to play in advance at the invitation of Microsoft Brazil as part of the Insider program. There, we stepped in and competed both in the opening segment, basically the same thing we had seen at the Gamescom 2021 presentation, as well as at some Festival Horizon events.
Familiar and innovative in the right measure
"We wanted longtime fans to feel a sense of familiarity with the gameplay," explained creative director Mike Brown in an exclusive interview. "But while familiarity was a key word for our team throughout development, we weren't afraid to push the boundaries of the series in new and exciting directions either."
This is quickly made clear both by the flashy arrival in style on the runways, landing with a parachute directly in the game world, and by the attention to detail that was employed in every corner of the scenarios. This time, the races will all be located in Mexico, and it was inspiring to see developer Playground Games' care in recreating the country.
"Whether it's building characters and local people or how we explore architecture and nature, our goal was to bring Mexico in a very uplifting way to players," explained Mike. "We used local photographers and did a lot of research to ensure that all of our Mexican fans could see an accurate portrait of their country in the game, from the culture to the design of the roads and buildings."
The most beautiful racing game
Even playing on an Xbox Series S, it was obvious how much more beautiful and detailed the tracks were compared to the predecessor's Forza Horizon 4. The rendering is amazing and you can see from vegetation to small objects at a great distance, with everything loading at light speed thanks to the power of the SSD.
Loadings are virtually non-existent around here, regardless of which point on the map you are visiting. Whether in a populous village, gliding through an active volcano or in abandoned ruins, lighting effects make everything more believable and immersive, setting a new paradigm of visual quality for titles in the genre.
"It wasn't necessarily easier to work with the huge processing power of the Xbox Series," Mike mused. "in fact, whenever new hardware like this comes into our hands, what happens is that we have a unique opportunity to test technologies and ideas that were previously unfeasible. . You can't underestimate the impact of Ray Tracing in creating more living worlds!"
All this effort results in the most captivating open world I've ever seen in a racing game. Despite the plethora of goals and events, sometimes one feels like just riding around with no goal in mind, just enjoying the scenery and fantastic photo mode, which has the potential to take tens of hours of gameplay for graphics enthusiasts by itself. only!
living and immersive world
For Brazilian players, good news is that all texts and speeches have already been properly localized to Portuguese, and the work seems to have been done with excellence, although the lip sync of the characters' speeches is a little below average, something easy of forgiving in a title whose main focus is on racing, right?
The series Power it always had a strong community element, but throughout our testing it was still not possible to play with other players, unfortunately. What we could see, however, was a clear effort to make the game more accessible, inclusive and empathetic, something well suited to the demands of today.
Players can choose to use neutral pronouns if they wish, and you can customize your cars and drivers with hundreds of items. Some of the coolest ones include face masks, reminding everyone that we still live in pandemic times. You can even celebrate your identity with rainbow flags and many other cool symbols to show the world who you're proud to be!
We will also have more than 400 cars to drive in this adventure, and the customization of the drivers ranges from their face and hair to the use of mechanical prostheses. It's always great to see games willing to provide as much options as possible to their fans, and Forza Horizon 5 deserves all the praise for this effort!
"In addition to appearing day one in the Xbox Game Pass catalogue, our game will also be on Xcloud, so it's really cool to know that the service was well received in Brazil," cheered Mike. "At first it will only be possible to play using joysticks, but in the future we also want to implement touch controls for smartphones."
Scheduled for release on November 9, Forza Horizon 5 will come to Xbox, Microsoft Store and Steam consoles. From what we could test, it has everything to be one of the best games of 2021! But what about you, are you excited for its release? What do you expect from the game? Let us know in the comments below!