In 2006, a series on the Showtime channel was very successful and won fans all over the world. Dexter it started from a tragic story: a boy, the son of a drug-using mother, witnesses her murder. Orphaned, he ends up being adopted by the policeman who rescued him at the crime scene. The years pass and soon an appalling fact emerges: this boy has a drive to kill.
Incapable of feeling normal emotions, such as pity and compassion, for him, killing is almost like breathing. The desperate adoptive father finds only one way to handle his son's problem. The solution? Develop a private code of honor so that he kills only those who "deserve" (ie, other people who have committed heinous crimes) and train him to never leave a trail of his actions.
the premise of Dexter, therefore, is quite interesting, and the character has become a very thought-provoking protagonist. One of the elements that stood out in the series is the fact that we followed the narrative from the killer's inner voice, which constantly exposed the logic of his reasoning, as well as his moral dilemmas. So, it was like we could "embed" in the body and mind of a serial killer and feel what he feels. All this contextualized in a sunny and festive Miami, causing a certain dichotomy with the dark soul of Dexter (in the series, he calls his desire to kill "Dark Passenger").
Dexter's Story (live by Michael C. Hall, from Six feet under) yielded 8 seasons and lasted until 2013. It happens, however, that Dexter was plagued with a typical long-series problem: the decay of its plot, giving the impression that it lasted longer than it should – that is, the last few seasons seem to have ruined a series that was very good. The final episode bordered on the ridiculous and was criticized by many fans.
Dexter, apparently, he deserved to resume his trajectory in light of the importance of this character in teledramaturgy. And that's why Dexter: New Blood, new miniseries about the famous serial killer, intends to do: to bring justice to the story interrupted in an abrupt and unfinished way.
At the end of last season, Dexter lost his adoptive sister Debra (Jeniffer Carpenter, from The Whites), who has always been her faithful squire, murdered as a result of her actions. The confrontation, therefore, is internal, involving guilt for everything Dexter has done over seven years to "accommodate" his Shadow Passenger. Dexter then decides to flee, abandoning his biological son, Harrison.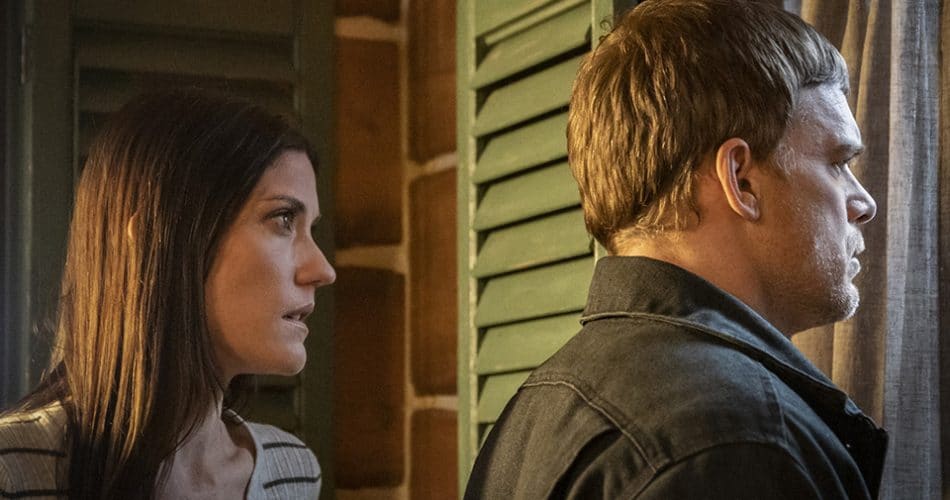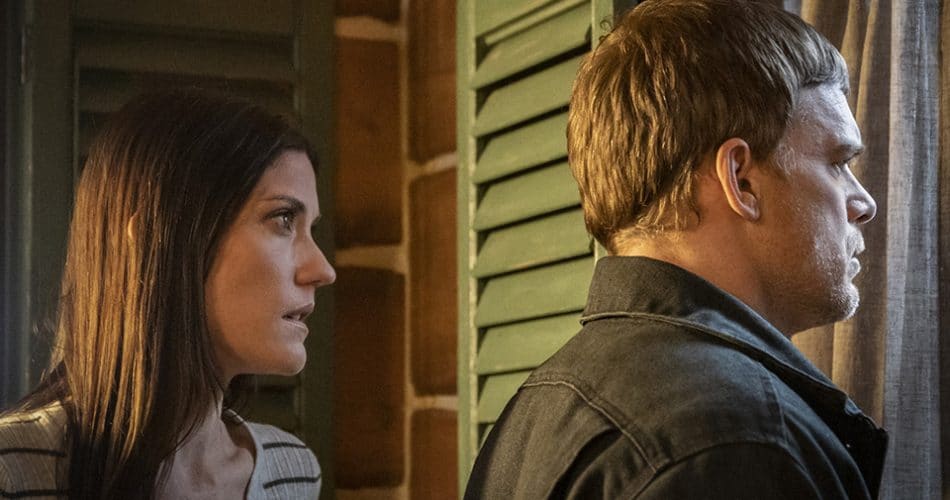 In Dexter: New Blood, the assassin is tormented by the ghost of his dead sister.Source: Showtime/Disclosure
Dexter: New Blood starts ten years after the final episode. In fact, Dexter decided (and managed) to change his life. It changed its name, personality and changed from hot Miami to the interior of Iron Lake, a fictional city covered with snow. The elements presented in the first episodes show us that, in a decade, Dexter was successful in the enterprise of diluting himself in a tiny city, living a simple life in which no one knows anything about his past (it is worth remembering that much of the plot of Dexter involves the protagonist's efforts to camouflage himself as a "normal person", something he is not, and to protect his murderous side from being exposed).
Dexter now hides under a "woodsman" facade and goes under the moniker Jim Lindsay (he lives in a simple log cabin, almost bare of furniture, and works as a salesman at a gun shop). He has a police girlfriend, with whom he has sex hot in the car (who followed the original series, remember that much of Dexter's life was pretending to have behaviors and desires of a person considered normal, such as having sex). Also, he is always smiling and seems to be liked by everyone in town.
But of course peace cannot last long – if it did, we would have no history. In the first episode, Dexter sees the Dark Passenger knock on the door of his conscience. There are bad people lurking in quiet Lake City, prompting the sleeping "justiceman" in Dexter to get back into action. The novelty of this new season is that the serial killer he has one more voice that ails him, in addition to his own: his dead sister, Debra, has become his "talking cricket", and advises him all the time (almost always screaming) to fight his instincts.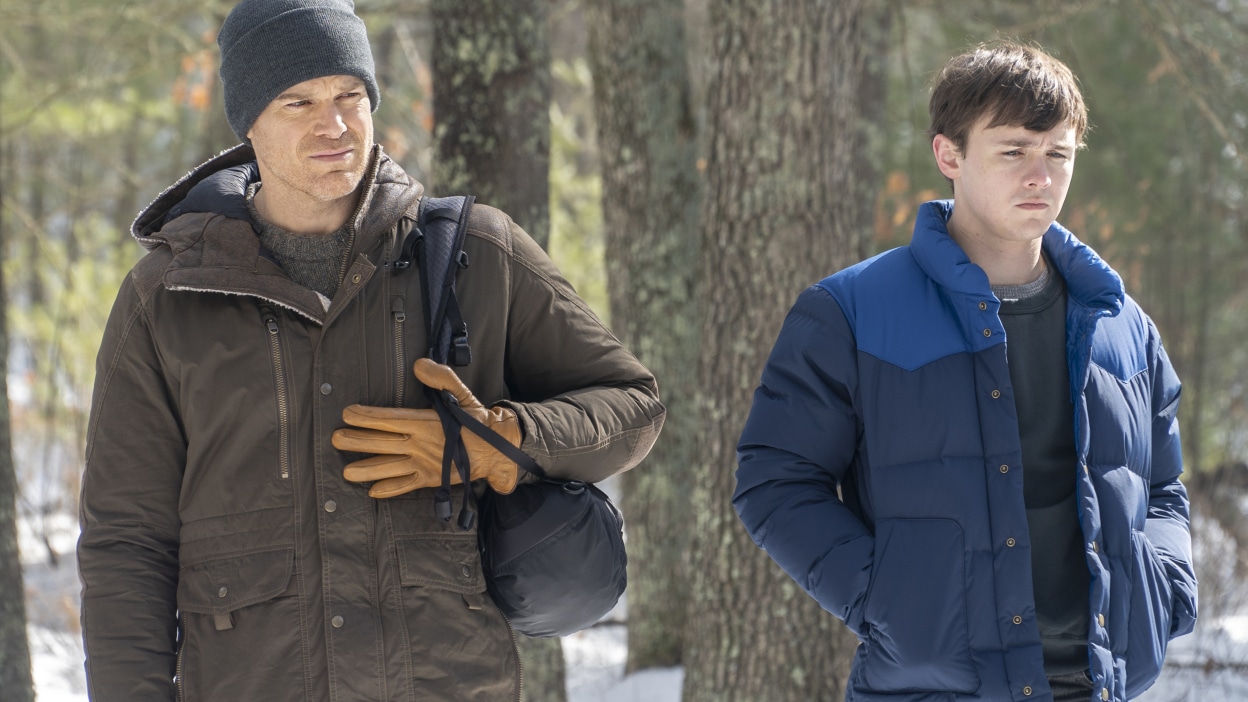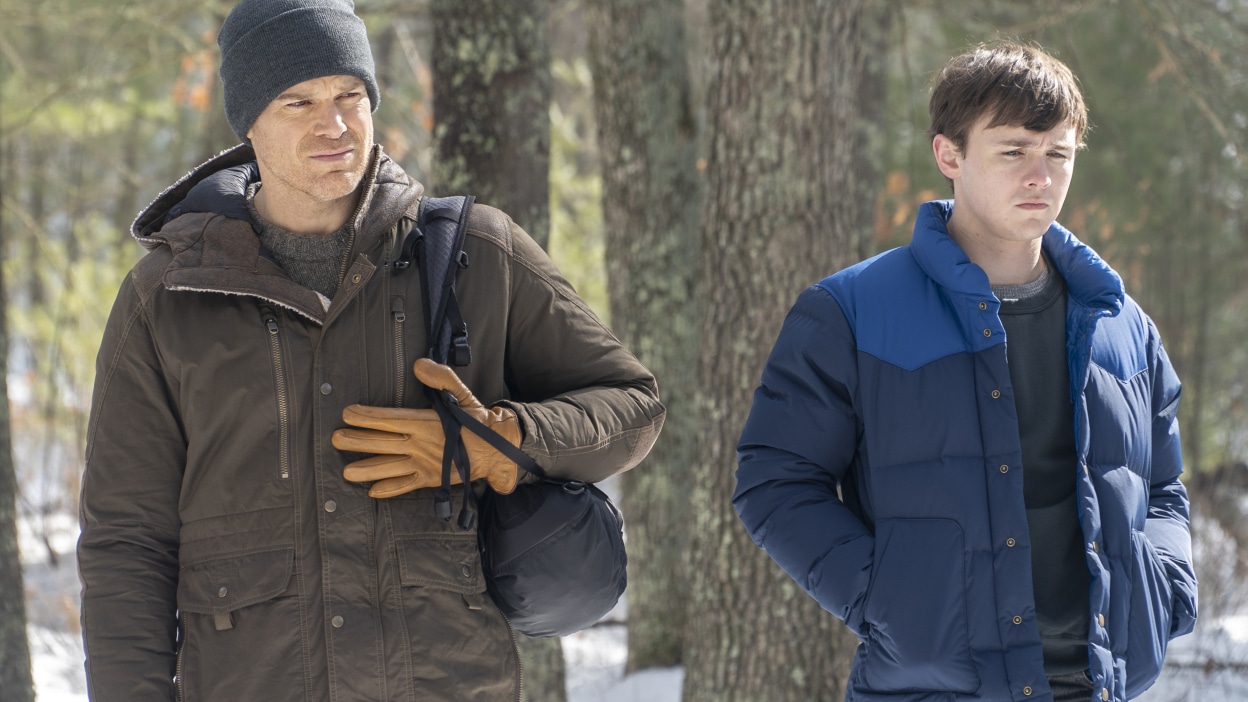 In the new miniseries, Dexter will have to face the fate of his son Harrison.Source: Showtime/Disclosure
And perhaps the main confrontation of all is what is already foreshadowed at the end of episode 1, when his son Harrison (Jack Alcott), now a teenager, knocks on his door. It is worth remembering that Dexter himself was a boy without a father or a mother, stricken by the worst situations anyone can face (perhaps the most iconic scene in the entire series is the baby Dexter bathed in the blood of his dead mother). Harrison himself was found by his father crying over his dead mother – in the most translucent interpretation of "history repeats itself".
It is already clear, then, that this will be a season of final adjustments. Dexter, who abandoned his son for love so that he wouldn't "inherit" the Dark Passenger, will be confronted by the imponderable: is it possible to escape one's destiny? And if Harrison turns out to be an assassin himself, what will his father do? Act like his own father, Harry, and teach the code so Harrison never gets caught in his killings? Is it possible to tame nature itself?
There are several issues that promise to unfold in Dexter: New Blood – which, by the way, is presented as a miniseries (which suggests that there will be no sequel after it). For fans, the first few episodes are promising that the plot's plot will finally be done justice. serial killer most beloved of fiction.
It now remains to follow up to see if this high expectation created by the beginning of the series will be fulfilled by the end. Dexter, after all, deserves it.