Gradually Mad Mimic is establishing itself as one of the main independent Brazilian studios in activity. After shining with No Heroes Here and Monica and the Rabbit Guard, the team was brave and ventured into the roguelike genre with an entirely new intellectual property, Dandy Ace. Do you want to know how they did? Then check out the full review below!
A magical journey
They say that a magician should never reveal how his tricks are done, but in the case of developer Mad Mimic, it's worth remembering how his latest project came to life. After trying to bring the game to life through a failed Kickstarter campaign, he was saved by producer NEOWIZ, who believed in his good ideas.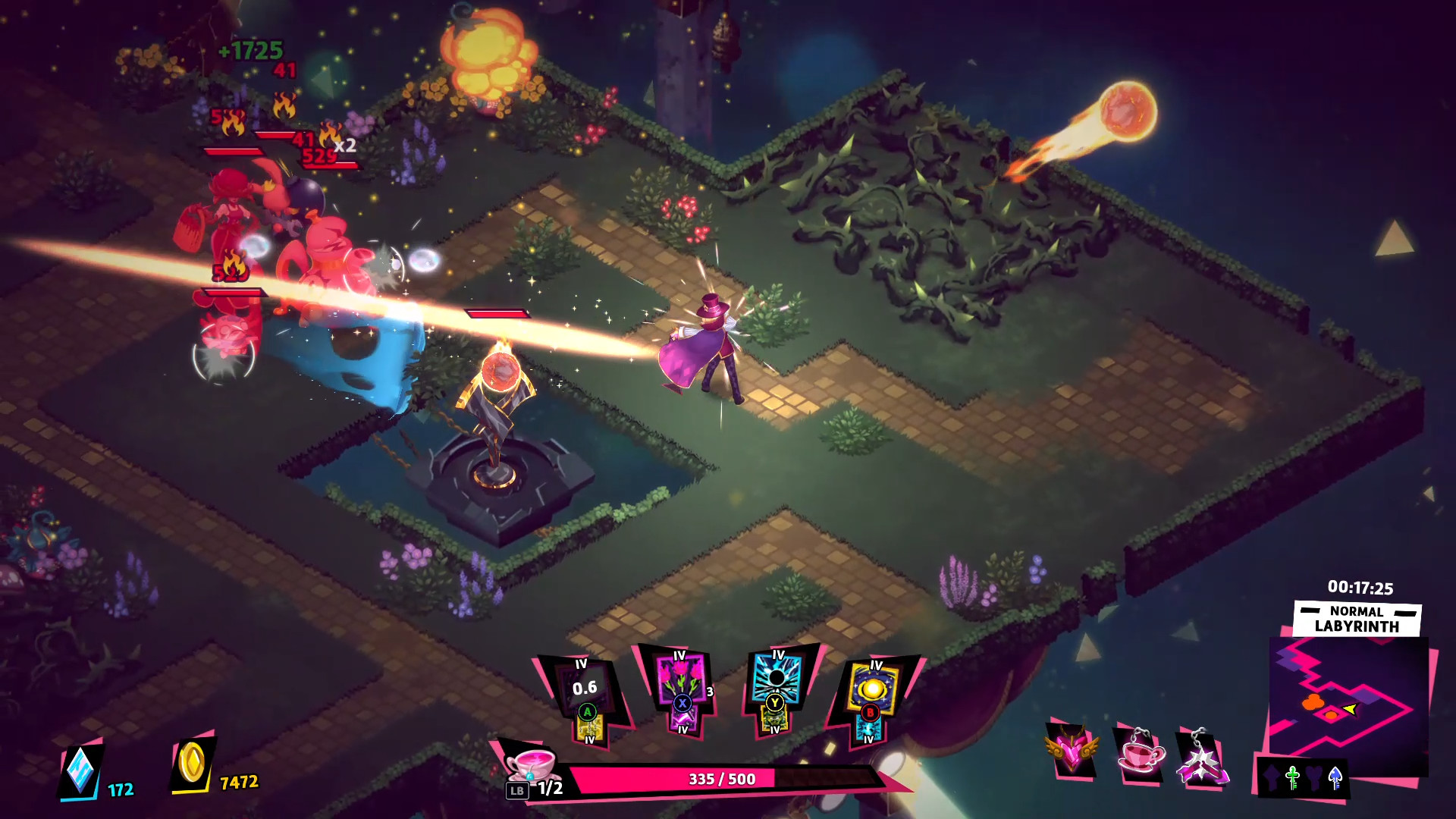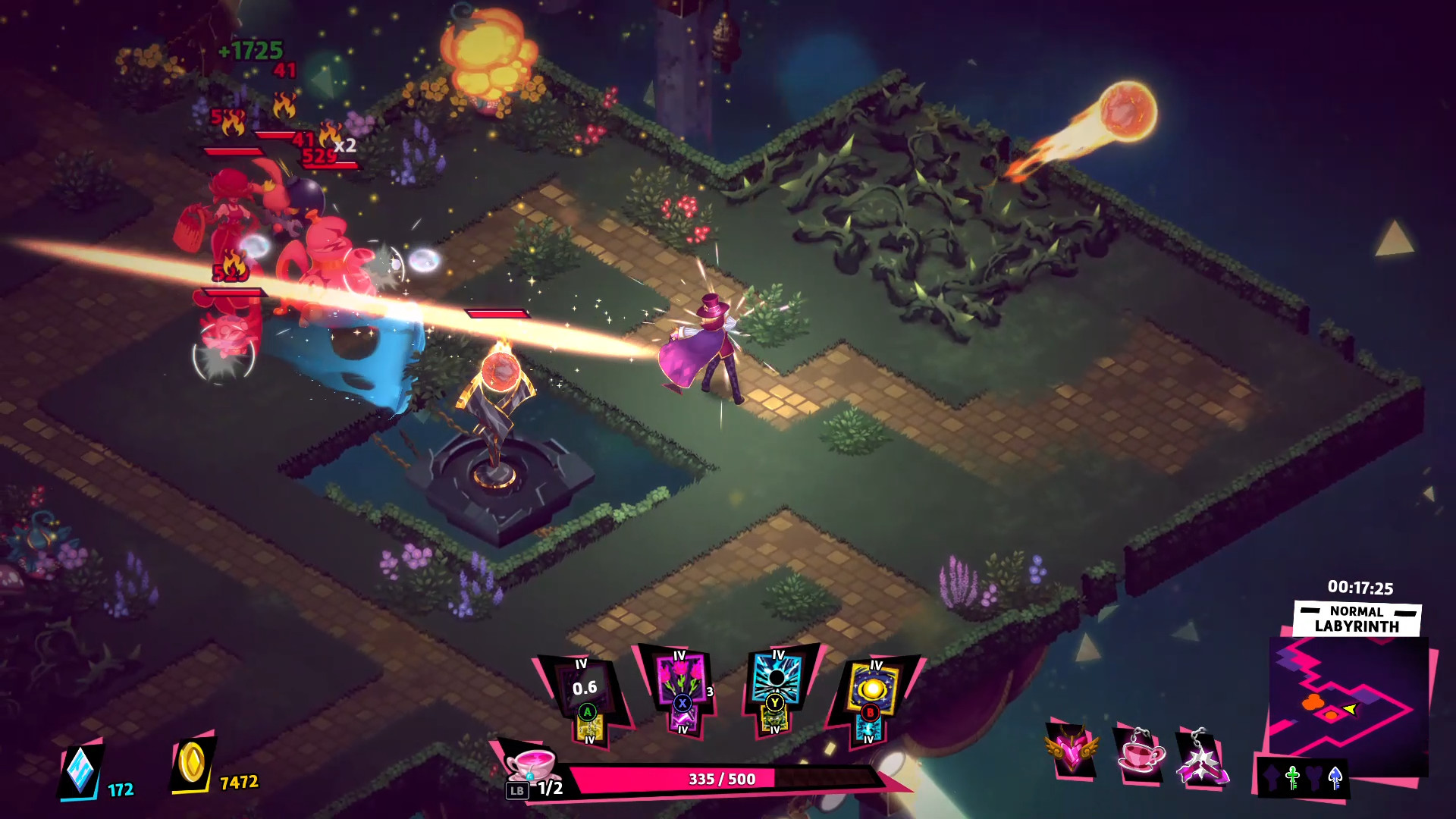 Dandy Ace was made by a team of only 12 people, but it leaves nothing to be desired in relation to the other roguelikes on the marketSource: Mad Mimic
Thus, she helped the team of only 12 members to form Dandy Ace and, after a lot of work and a very promising demo, in March 2021 the game arrived on Steam in its final version, where it was very well received by the players. And with good reason, since it is a very fun indie!
The plot begins when the famous magician Dandy Ace, the protagonist who gives the game its name, finds himself the victim of a cursed mirror that holds him close to his assistants in the Palace that Always Changes. The plan was devised by his envious rival, Lele, an illusionist who never managed to reach the same level of fame as Ace and for that very reason casts his frustrations upon our hero.
In the end, this lint of narrative only serves as an excuse to throw us into the world of this roguelike where the interactions between the characters, their hilarious dialogues and the special participation of several national youtubers and influencers are the highlight. It is worth playing with everything in Portuguese, as you will rarely find such a funny and witty game!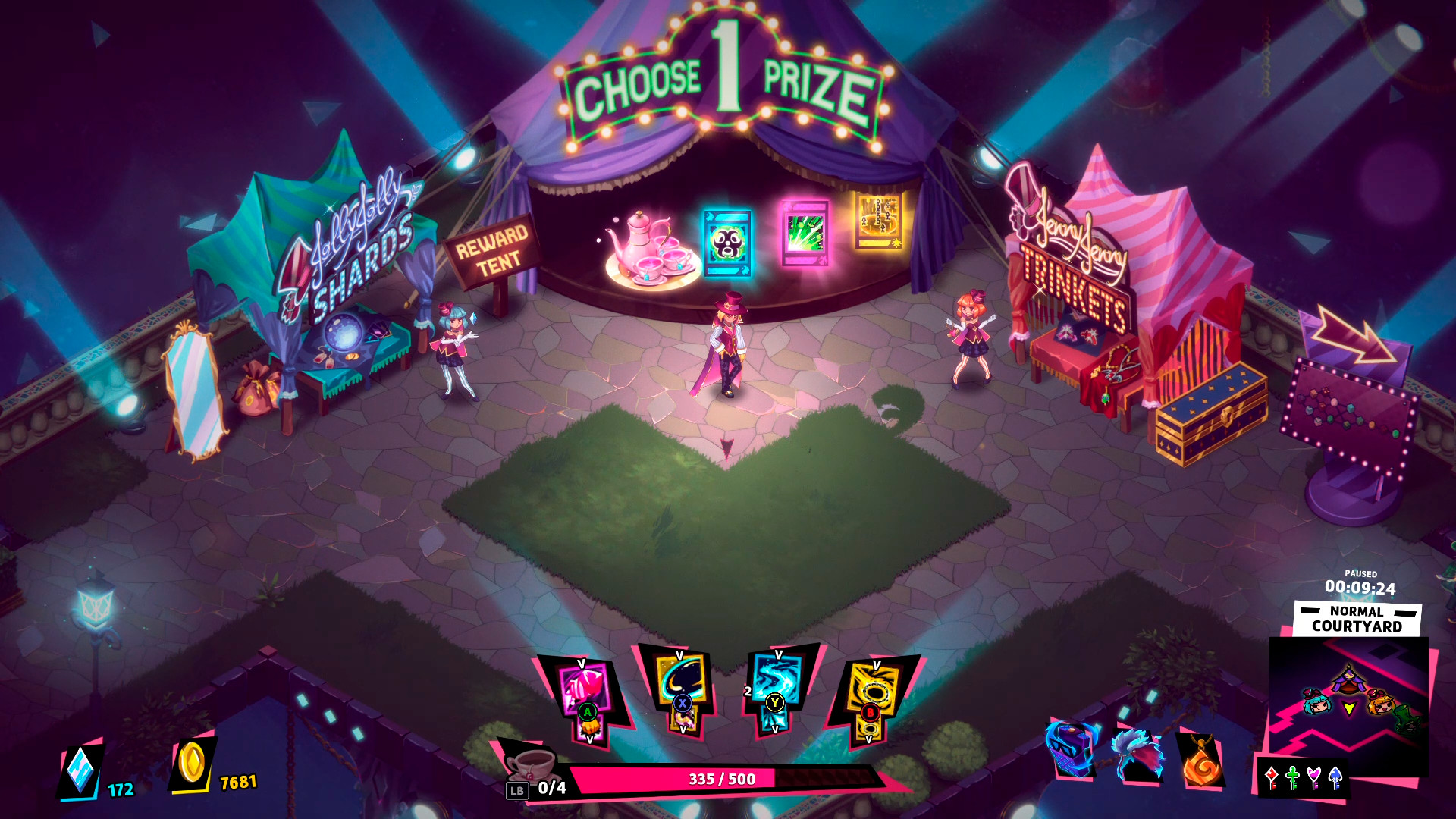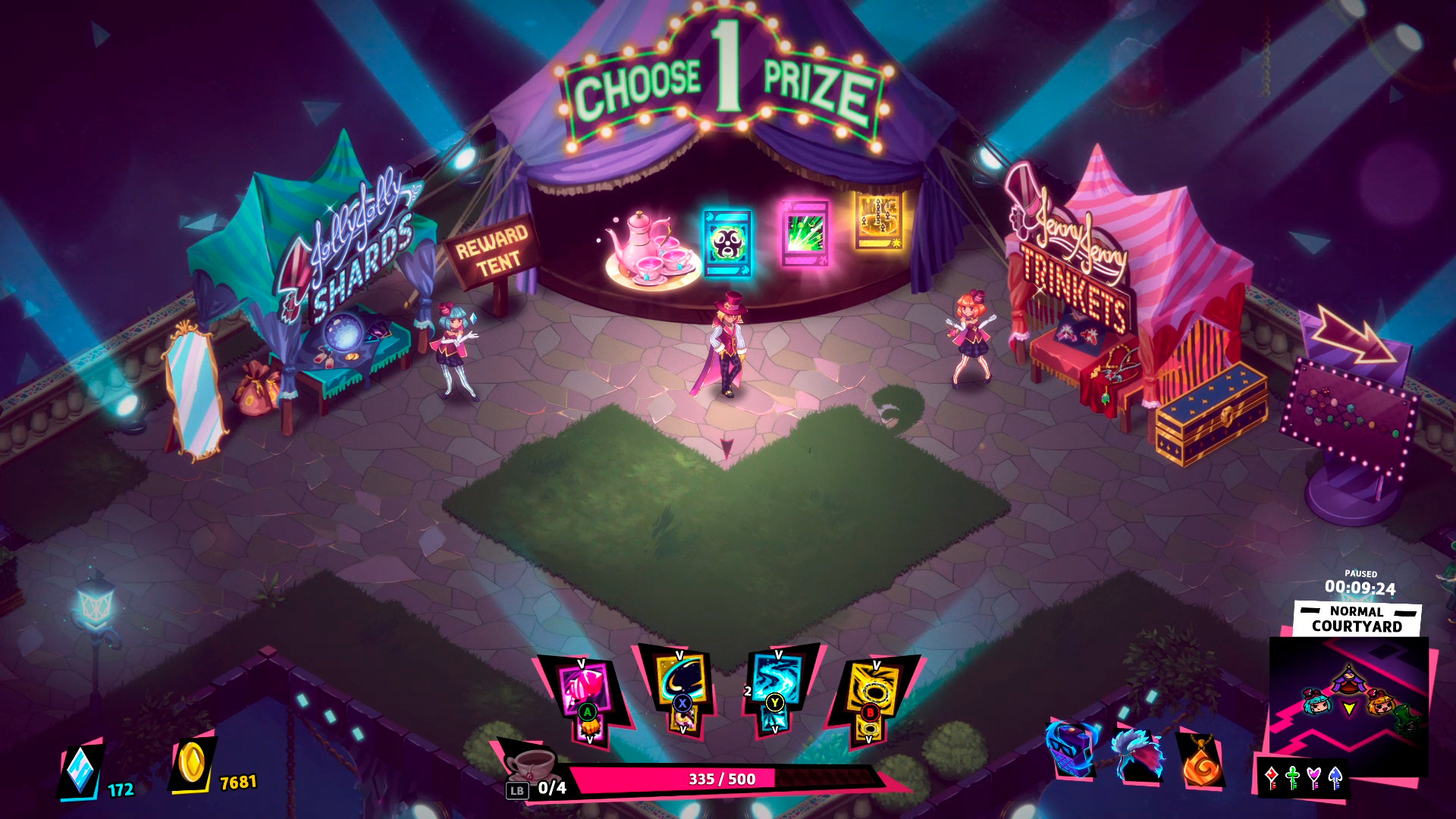 The game features several well-known influencers and streamers, from BRKsEDU to Gabi CattuzzoSource: Mad Mimic
Among the best known figures for the public, get ready to hear the voices of talents such as Kalera (Scisorella), Gabi Cattuzzo (Jolly Jolly), Maethe Lima (Jenny Jenny), Patife (Nnif), BRKsEDU (Severino and Axolangelo), LJoga (Dandy Ace) and VinieMattos (Lele), a full plate for those who follow the Brazilian scene of streamers.
The ace in the sleeve
As soon as the gameplay starts for real you only have three basic cards based on colors: one yellow, which is the control spell, one pink, basic attack spell, and one blue, movement spell, being possible to equip up to four of each color at a time.
As you progress and defeat enemies, more items will be enabled to facilitate your navigation, just open the chests or buy more cards in the room to expand your arsenal, which in a short time reveals its incredible depth and diversity.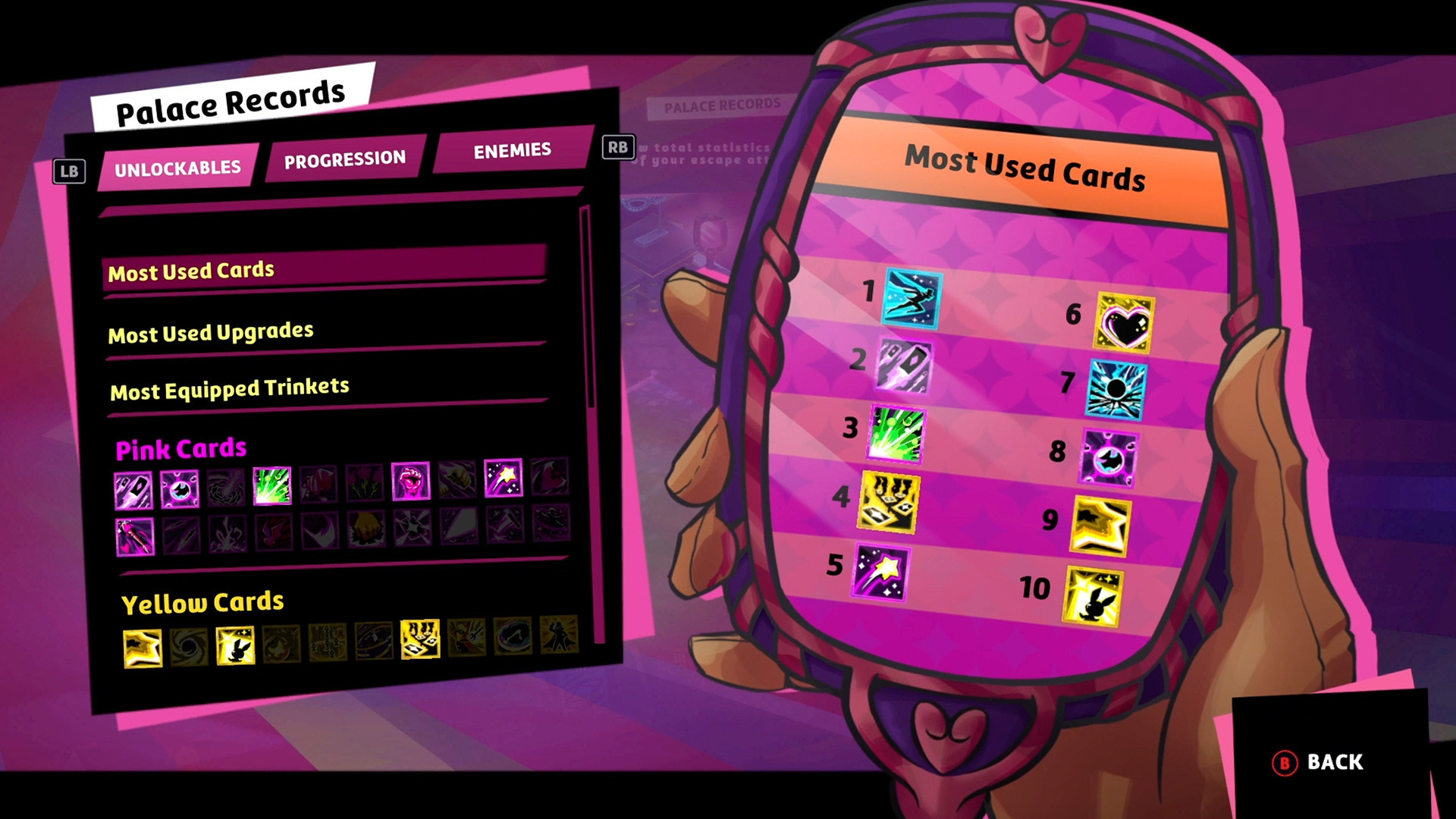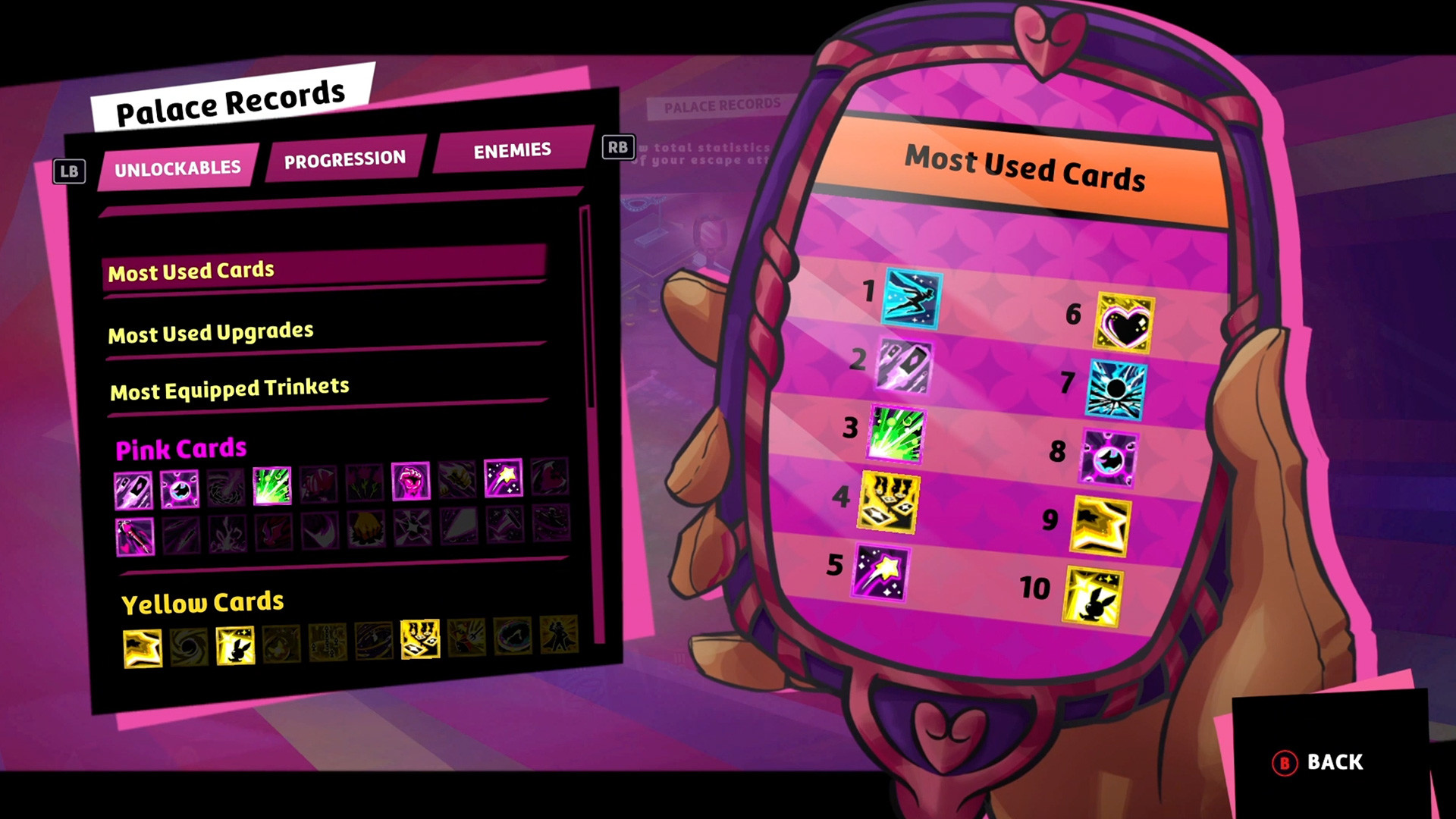 There are three card colors with unique attributes, and they can be targeted for up to 2500 different combinationsSource: Mad Mimic
Altogether, there are 20 pink, 20 yellow and 10 blue cards to collect, and the fun is to experiment a lot and make combinations on your deck in order to build lethal combos, since every skill can be strengthened when using a combo with secondary cards. That alone adds up to more than 2500 different combinations of powers, which can be a little intimidating at first.
It is worth pointing out here that the game's learning curve is very steep and, with that, inexperienced players in roguelikes and adventures focused on cards can suffer a little during the first hours of gameplay, but do not be intimidated by the large amount of text and variables.
The best thing you can do right away is to spend a few minutes reading the card descriptions in detail, because only then will you be able to take advantage of the best combinations between them. It is also worth exploring the different progression routes of the game, as it has branched paths with different enemies and bosses scattered along the way.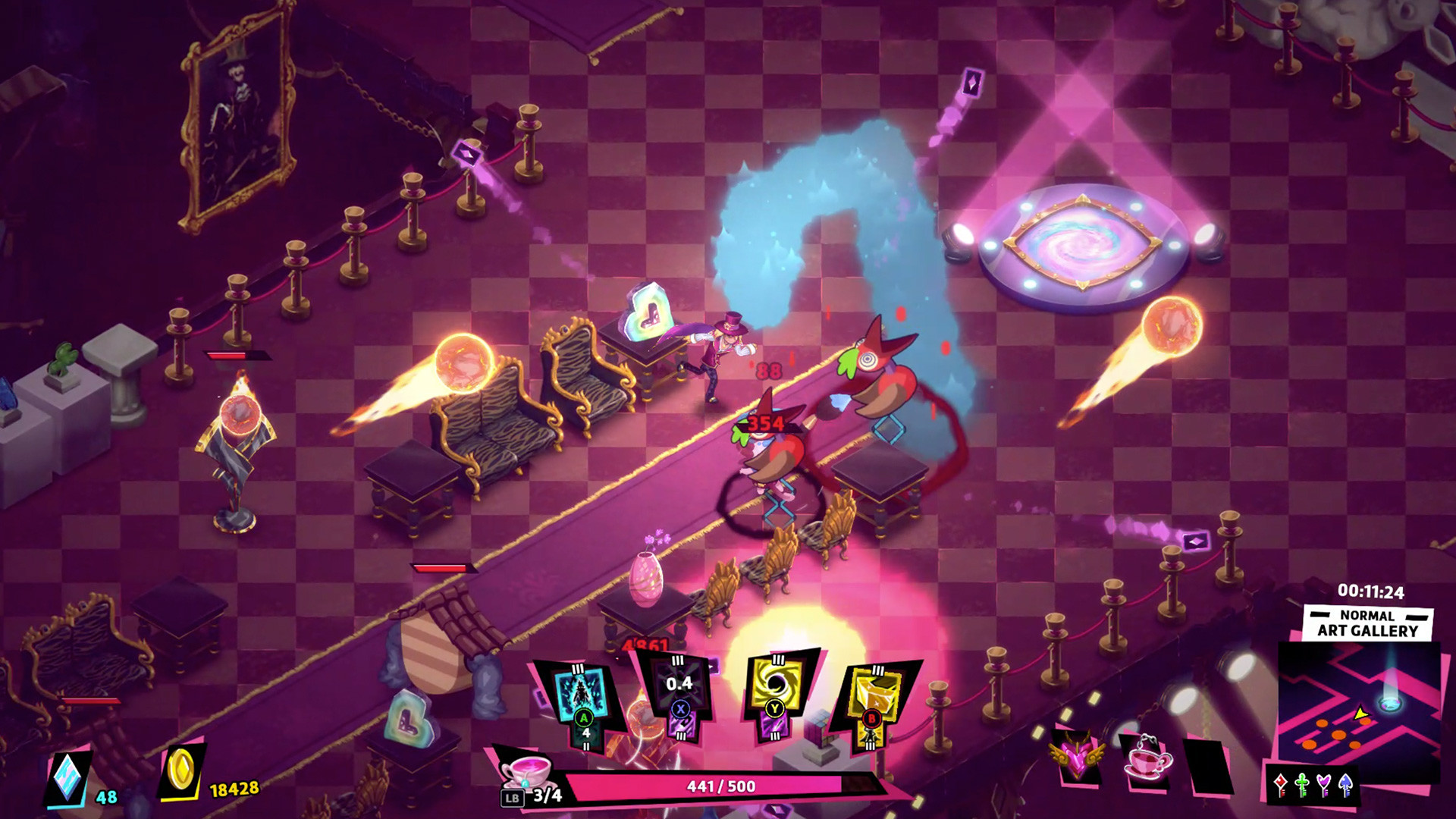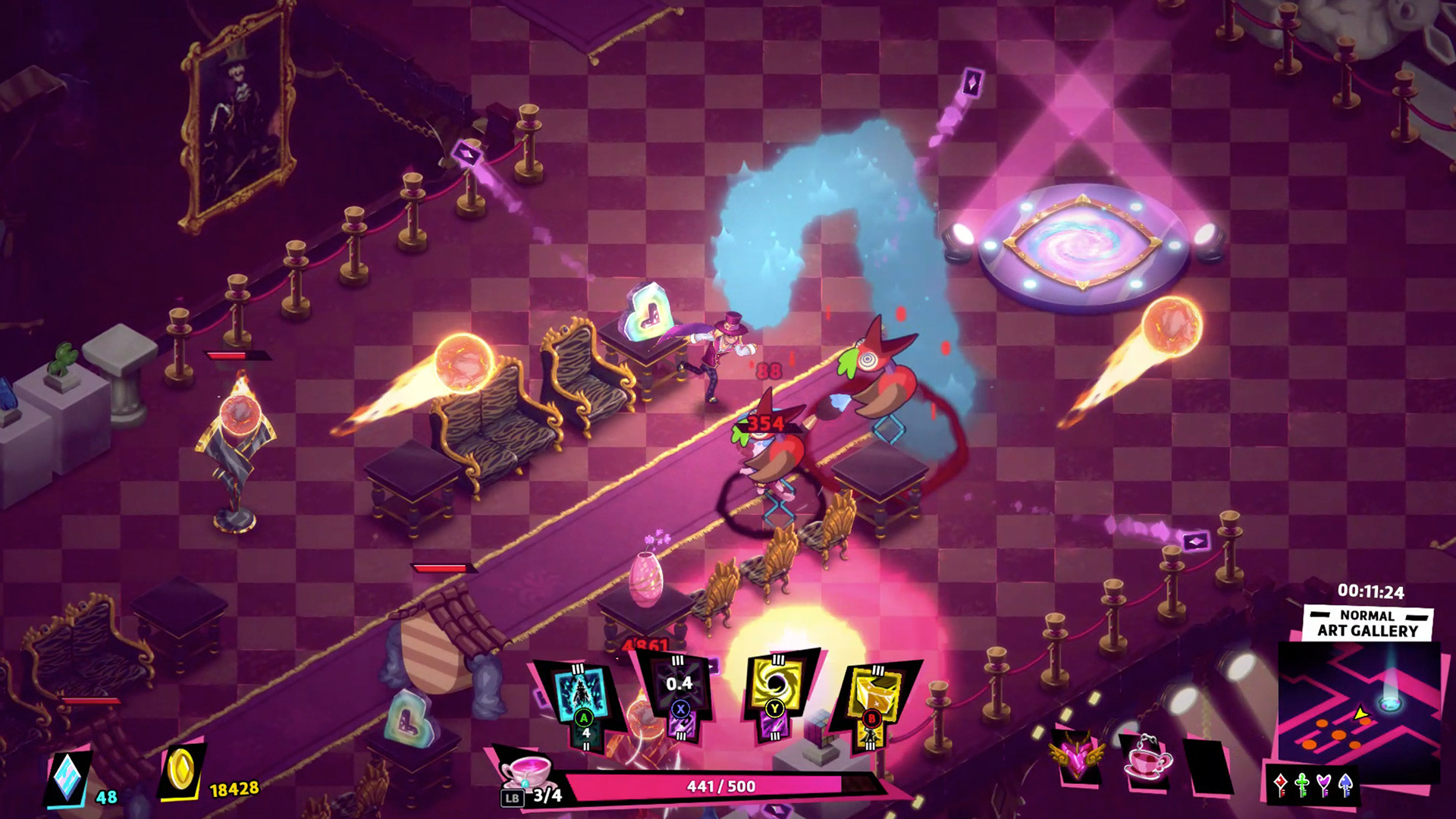 In order to pass the levels, you have to master the combos and effect buffs of the cardsSource: Mad Mimic
As the tradition of roguelikes dictates, it is also possible to have access to permanent improvements that facilitate your next runs. In other words, it is practically impossible to finish the game at first, and the grace is to persist until you have in your inventory high level cards and accessories that reveal ways or increase your healing, allowing you to reach the next levels more fully.
A short but cool game to revisit
Probably the most experienced roguelike players will be able to go all the way in just over five or six attempts, so it's great to know that Dandy Ace it has a very rewarding endgame, exponentially increasing its level of difficulty to unhealthy levels!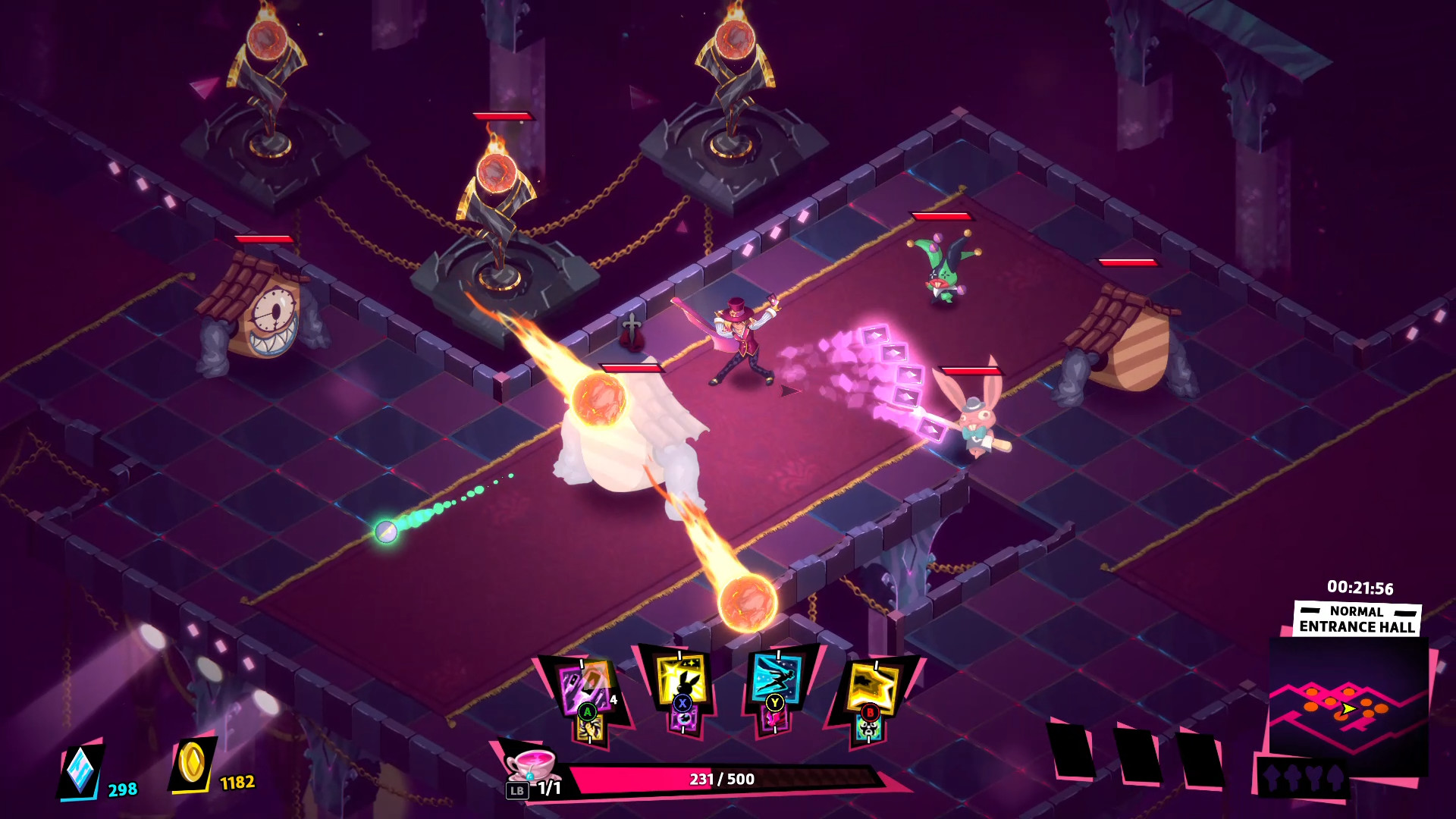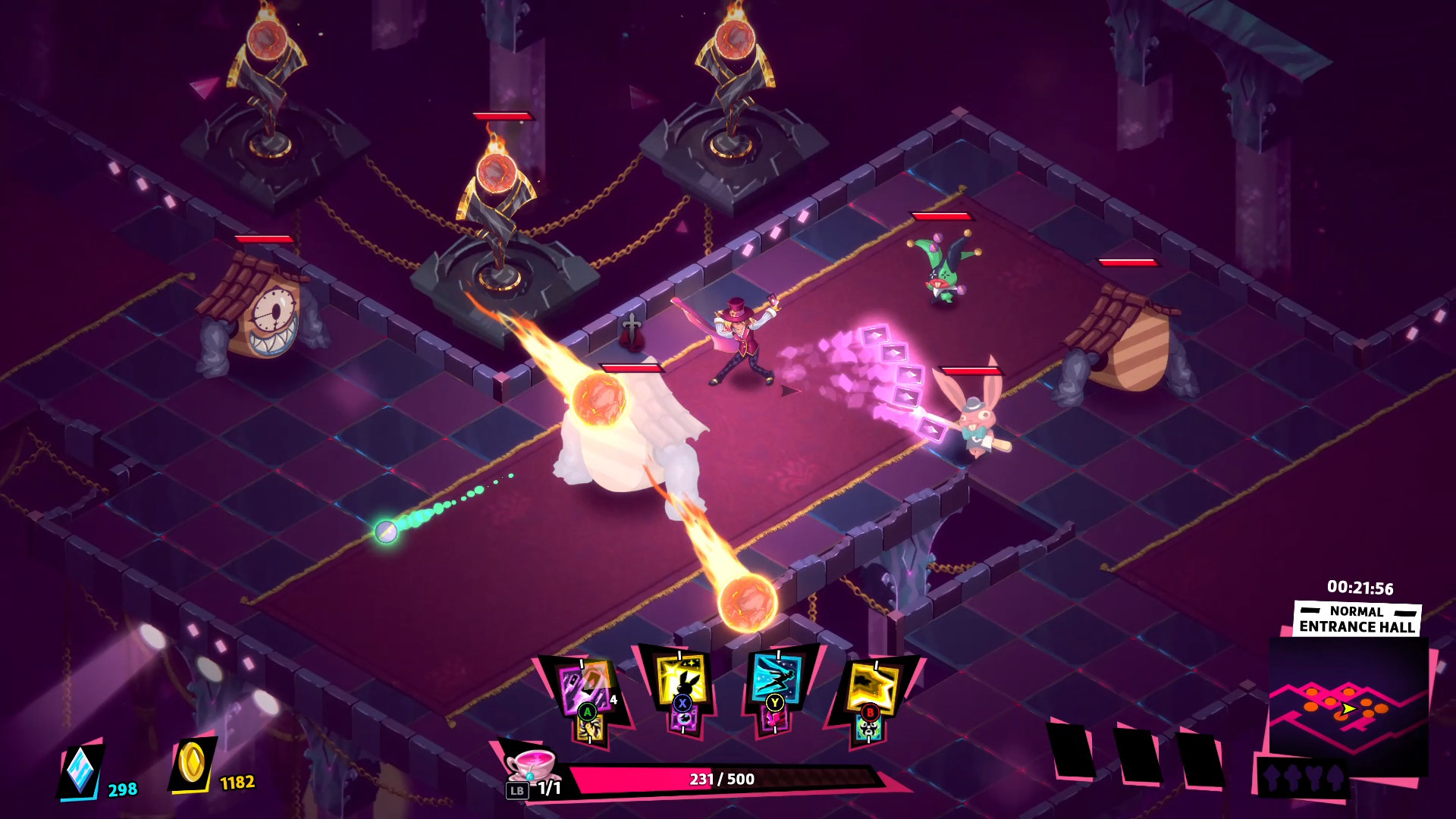 When the Dandy Ace campaign ends, new levels of difficulty are enabledSource: Mad Mimic
There are only 14 rooms to explore in all, and the art direction does a good job of emulating the feeling of being behind the scenes of a magic show, with many shades of purple adorning the scenery. Relevant to the low cost of production of the game, it is a perfectly pleasant indie visually, and very light and easy to run on less powerful machines.
It is only a pity that the same graphic whim was not applied in the sound department, since the title lacks more striking music and even more rewarding sound effects during the fighting. It was worth investing in a cutting-edge composer and more exciting songs.
Verdict
Dandy Ace it may not be the most innovative or creative roguelike ever seen, but it is really cool to see a Brazilian studio venturing into a brand new franchise and making its mark in one of the most popular genres today. The thousands of possible card combinations help to keep your gameplay interesting, but the short campaign and the difficult curve inaccessible to beginners compromise the fun of this charismatic journey a little.
Note: 78
Dandy Ace is a fun and addictive roguelike with a good flavor of Brazilian talents
Strengths
Presence of several Brazilian influencers in the dubbing
Thousands of possible power combinations
Sharp sense of humor and a lot of charisma in the text
Negative points
Generic songs to the max
Somewhat short campaign
Steep difficulty curve for beginners
Dandy Ace was kindly provided by Mad Mimic for the production of this analysis.