It is common to plan a gamer setup starting with the combination of processor and video card, leaving other elements for the end. Although this is not necessarily a mistake, choosing a case with a very committed budget can pose several problems, especially for those who still do not have much experience in building computers.
With that in mind, the Voxel prepared a selection of cheaper cases, but that still offer ease of assembly, accommodation of all parts without compromising cooling solutions and, of course, RGB lighting. An important detail is that, as they are cheaper models, most cases on this list only have a basic I/O interface following the standard: 3.5 mm headphone and microphone jacks, two USB 2.0 is USB 3.0.
K-MEX JAEGER I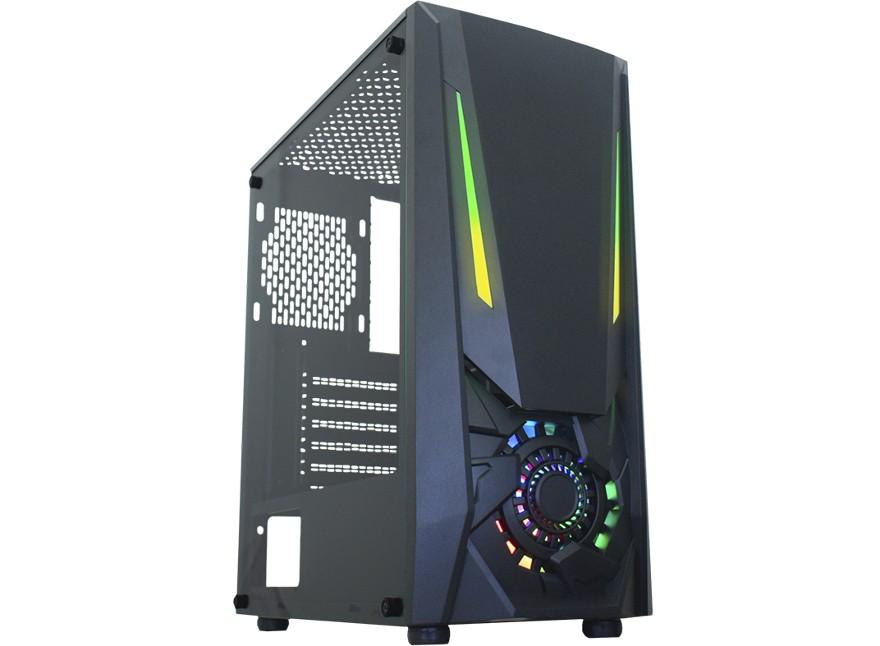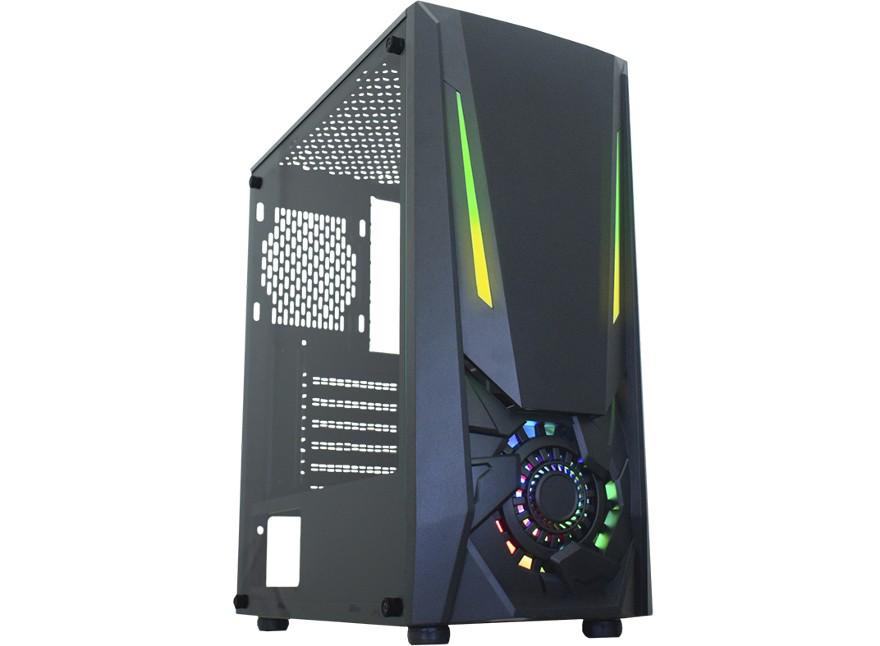 K-MEX JAEGER I CG-01TJ.Source: K-MEX via Kabum
O K-MEX JAEGER I it costs R$ 243.99, and despite being one of the cheapest models on the market, it has excellent user reviews. With great internal space, it supports ATX, micro-ATX and ITX motherboards and video cards up to 300 mm. The chassis has an entire tempered glass side top, giving a good view of the interior, and the maximum height for mounting the CPU cooler is 160 mm.
The source area has coverage and good space for cable management, facilitating air circulation between components. The model supports up to 3 front fans, 2 upper air vents and one rear, compatible with 240 mm and 120 mm radiators, respectively.
Fortrek Black Hawk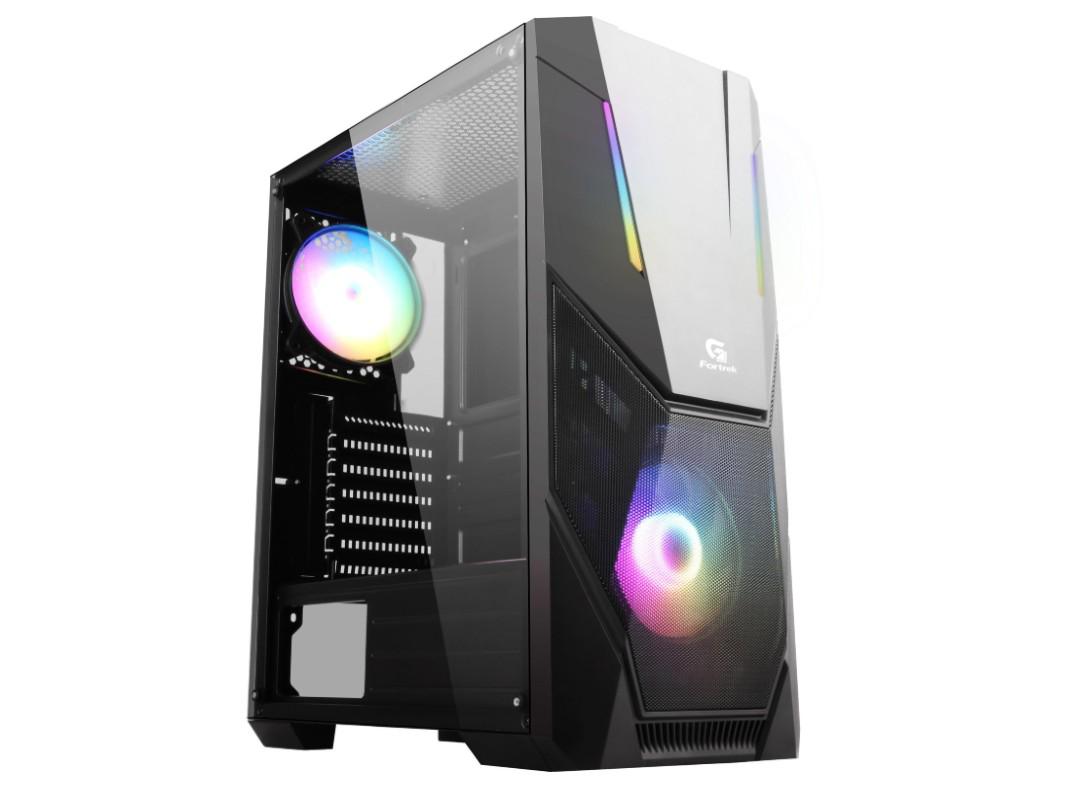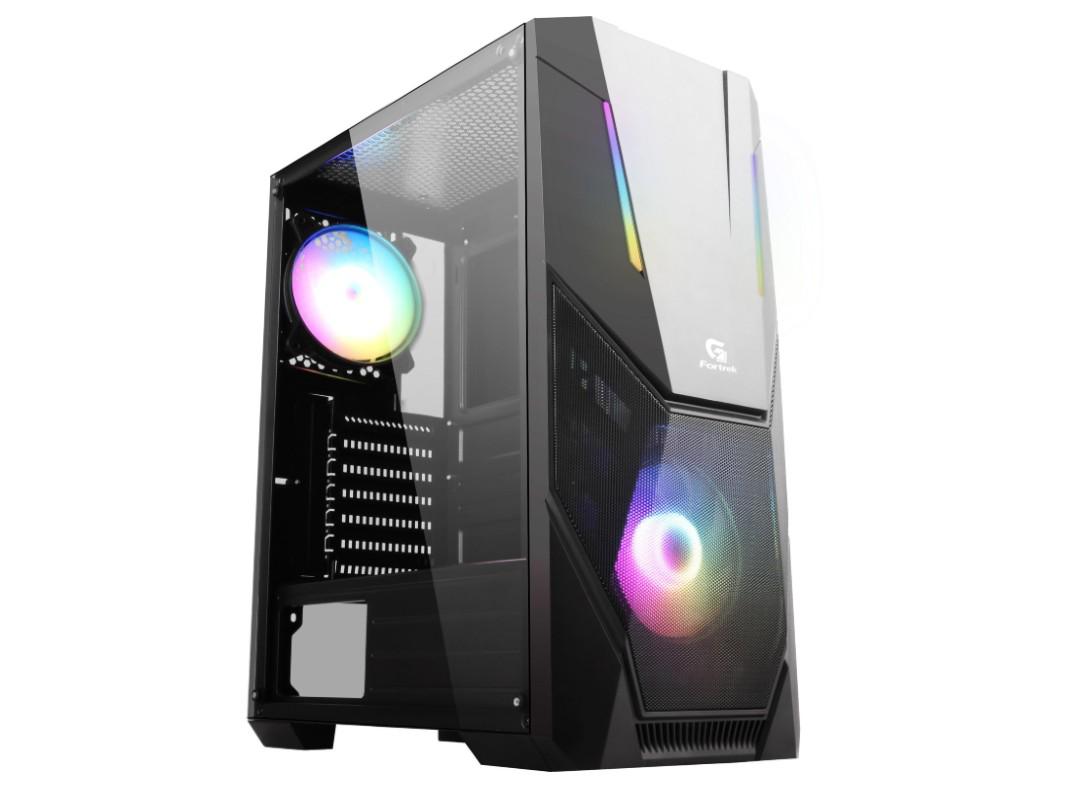 BLACK HAWK RGB FORTREKFonte:  Fortrek
O Black Hawk is a compact Mid Tower, with only 375 mm in height, it costs around R$ 329.90 and is an option for configurations that do not depend on liquid cooling. Compatible with ATX, micro-ATX and mini-ITX cards, it supports VGAs up to 315 mm and the maximum height of the cooler is 154 mm.
The case supports three front fans, one rear and two top fans, all 120 mm, and despite not being incompatible with water coolerlimited space can make positioning the radiator difficult.
NOX Hummer MC Pro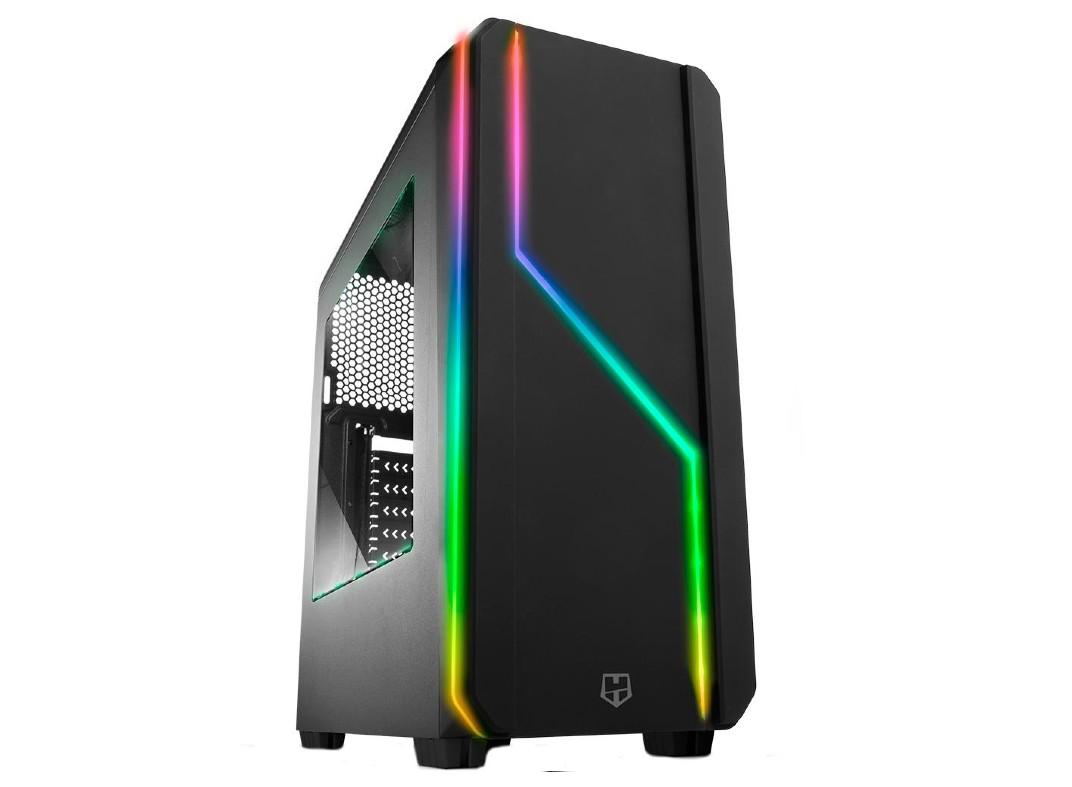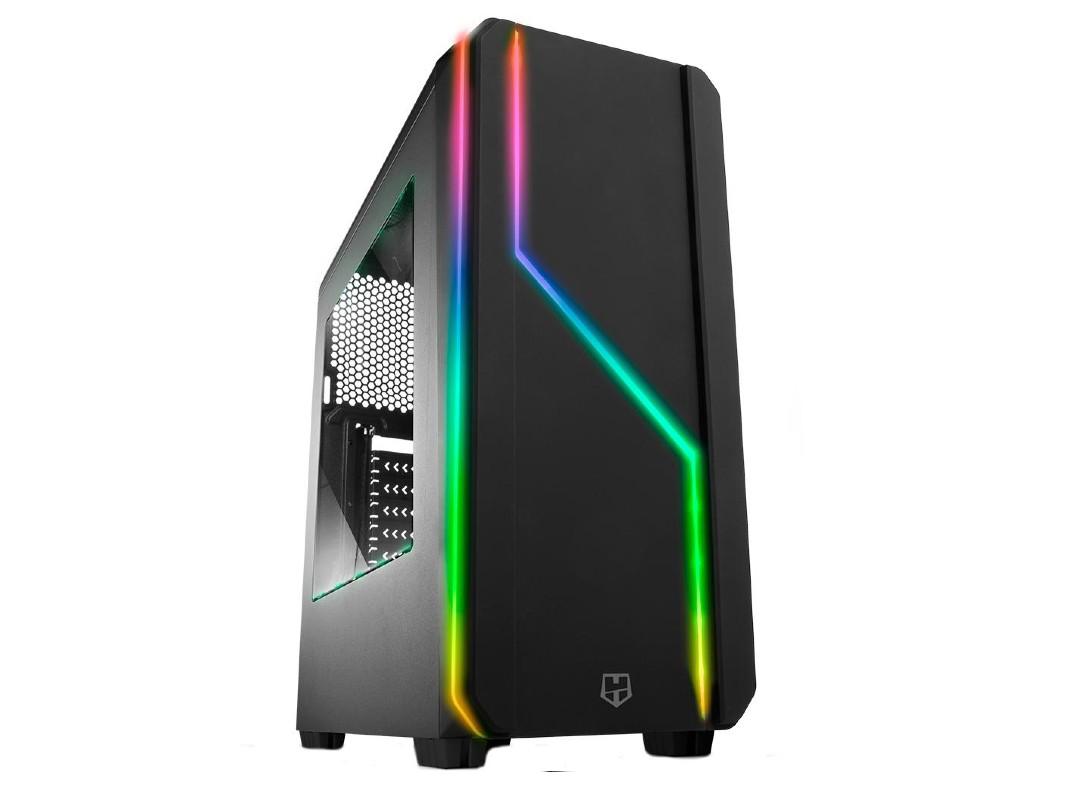 Nox Hummer MC ProSource: NOX via Kabum
O Hummer MC Pro is starting at R$349.90 on offer, but normally costs approximately R$565. At 470 mm in height, the Hummer features a SPCC steel side cover and acrylic window and is compatible with ATX and micro-ATX cards, up to 380 mm, heatsink up to 161 mm.
The case has 3 front 120 mm fans, one top, one rear and two in the power supply compartment. The model offers good cable management space and allows the installation of radiators up to 120 mm at the top and rear outlets, and up to 240 mm at the front, always taking care to position the pipe inlet above the CPU level.
NOX INFINITY ATOM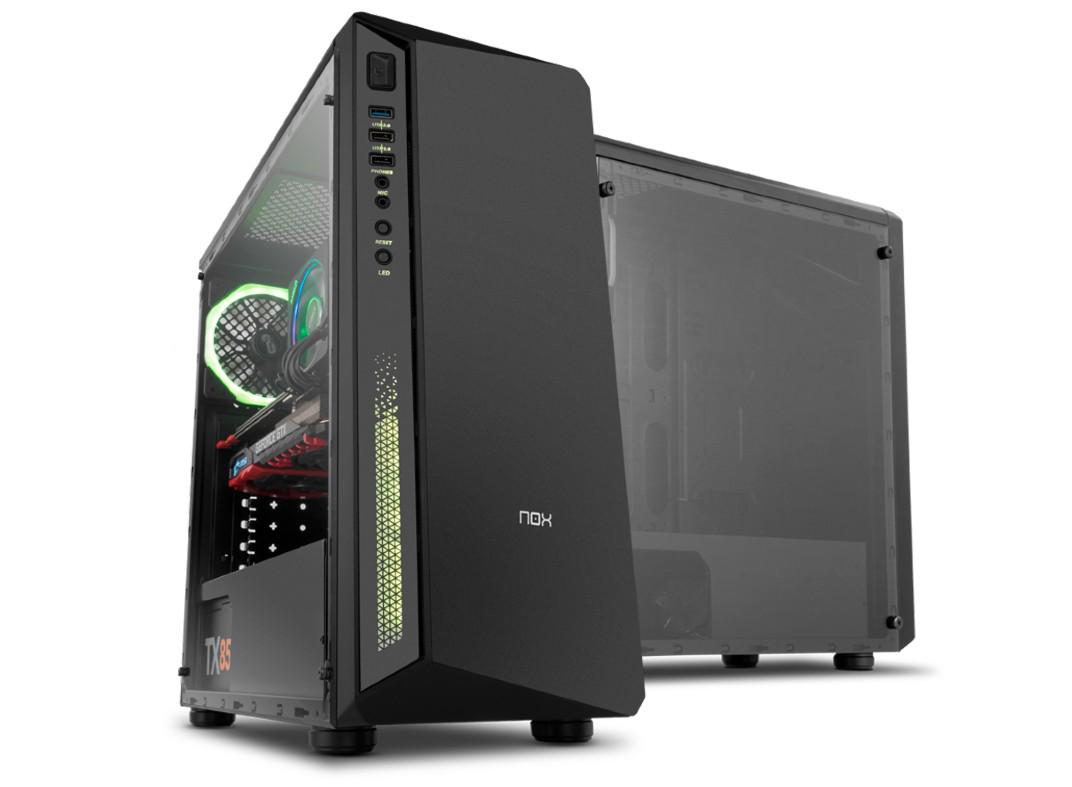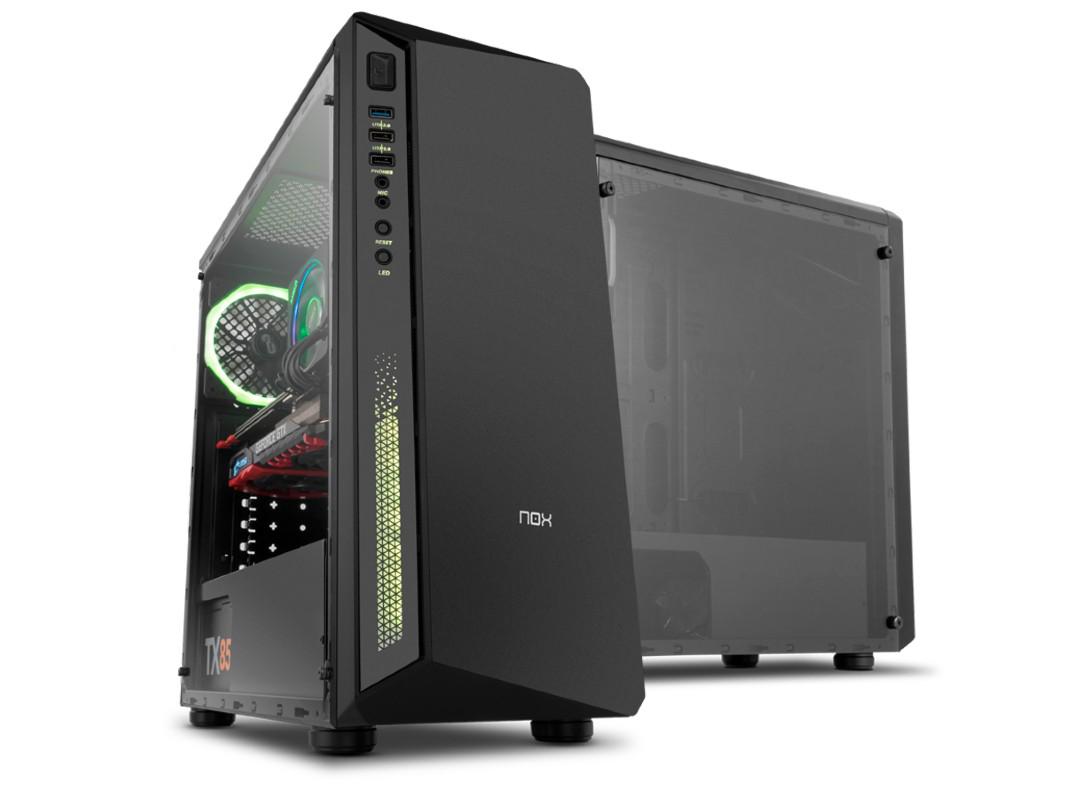 Nox Infinity AtomFonte:  NOX
Another model of NOX with good cost-benefit, up to R$ 470, is the Infinity Atom. The 0.6 mm carbon steel chassis has a tempered glass side panel and medium dimensions without compromising internal space, supporting VGAs up to 375 mm and heatsinks up to 155 mm.
According to the manufacturer's website, the model has up to 3 front fans, one top, one rear and two in the power supply compartment. Despite its size, the Infinity Atom is compatible with 120mm radiators as long as they are installed in the back or the highest hole in the front grille. The case also comes with an RGB controller with a dedicated button on the I/O panel and a pre-installed ARGB fan.
Bluecase BG-024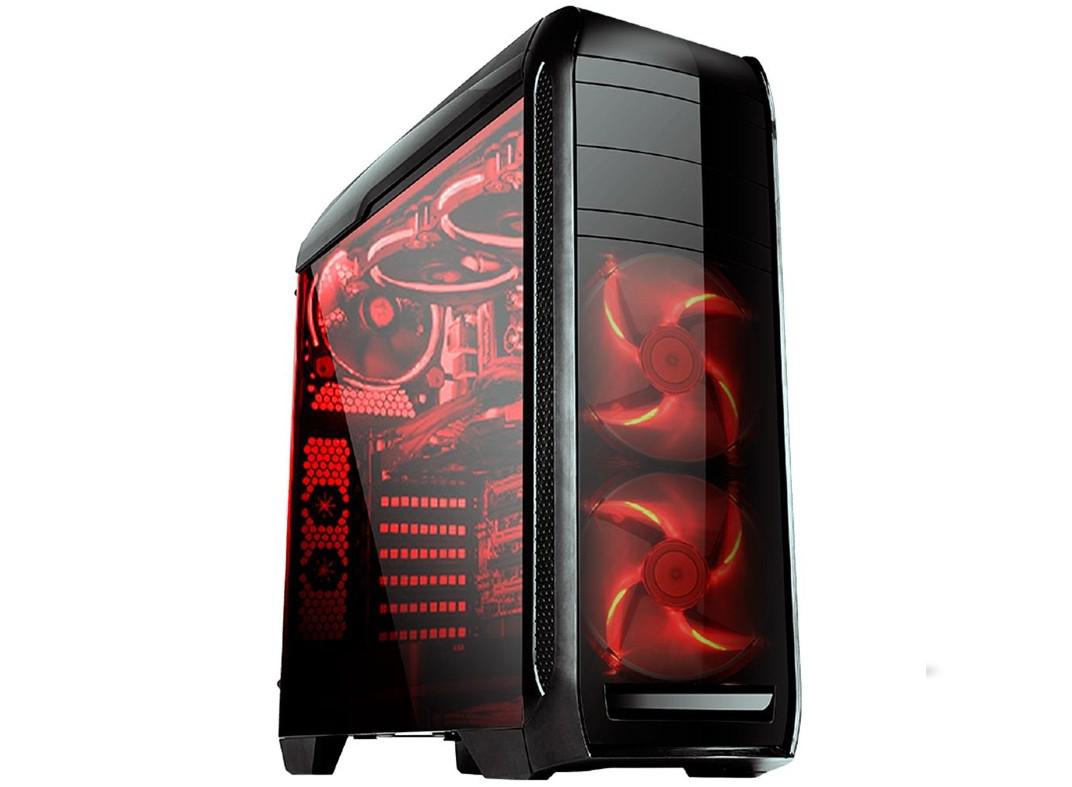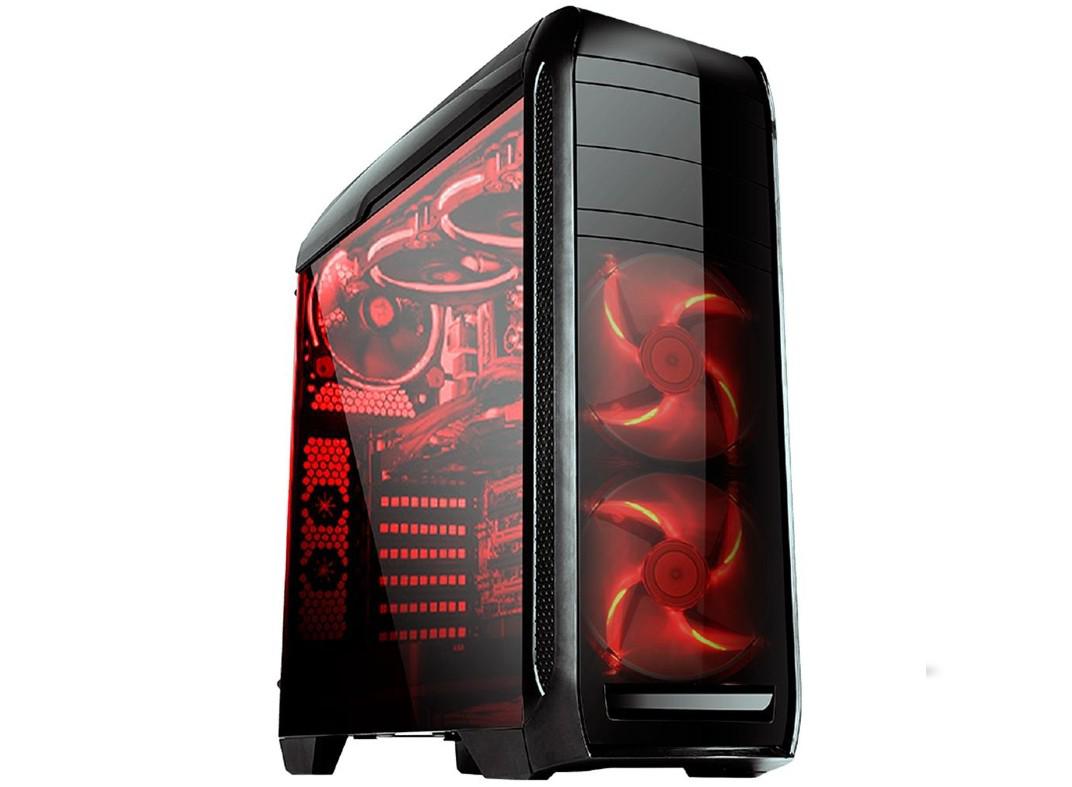 Bluecase BG-024Source: Kabum
O Bluecase BG-024 it is very popular among the cheaper cases, costing up to R$ 412. With 500 mm in height and 490 mm in length, the BG-024 is interesting for those who prefer larger cases. The finish is in acrylic both on the front and on the side, leaving the system on display, ideal for a composition of fans with LED.
In addition to making cable management easier, the internal space accommodates up to 350mm VGAs and a higher-profile CPU cooler. There are a total of 5 spaces for mounting fans, two on the front, with air inlets on the edges, two upper outlets with space for a radiator and a rear outlet.
Aerocool Bolt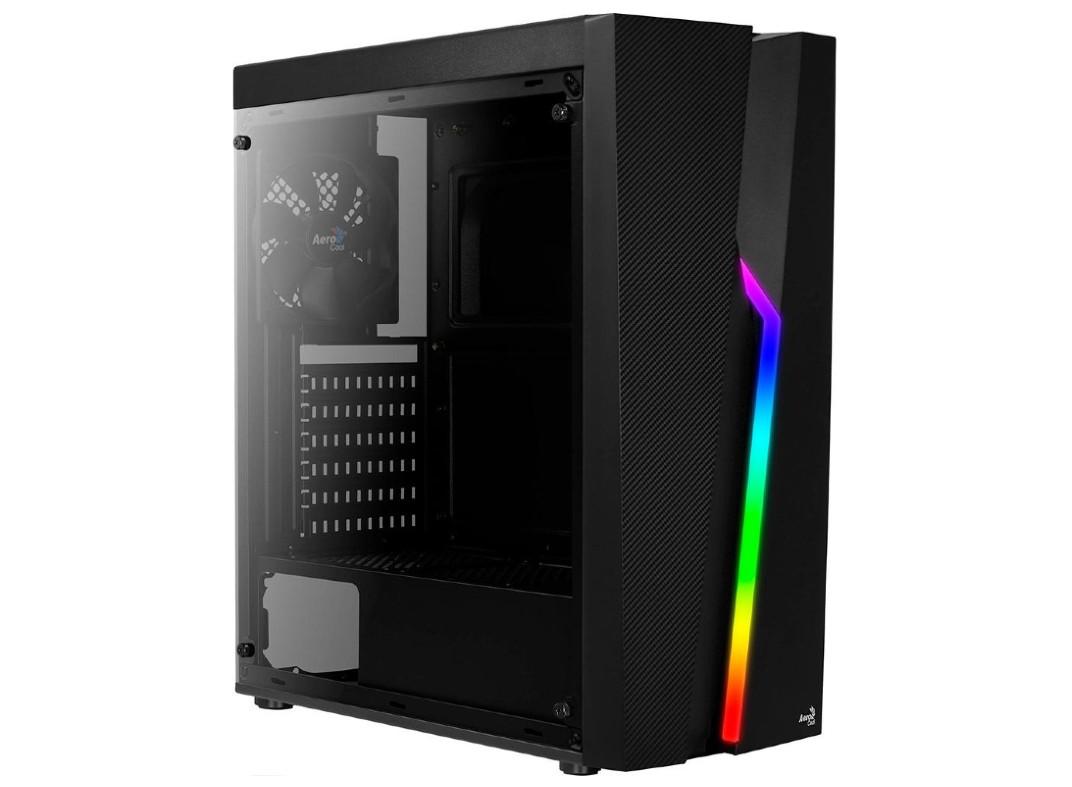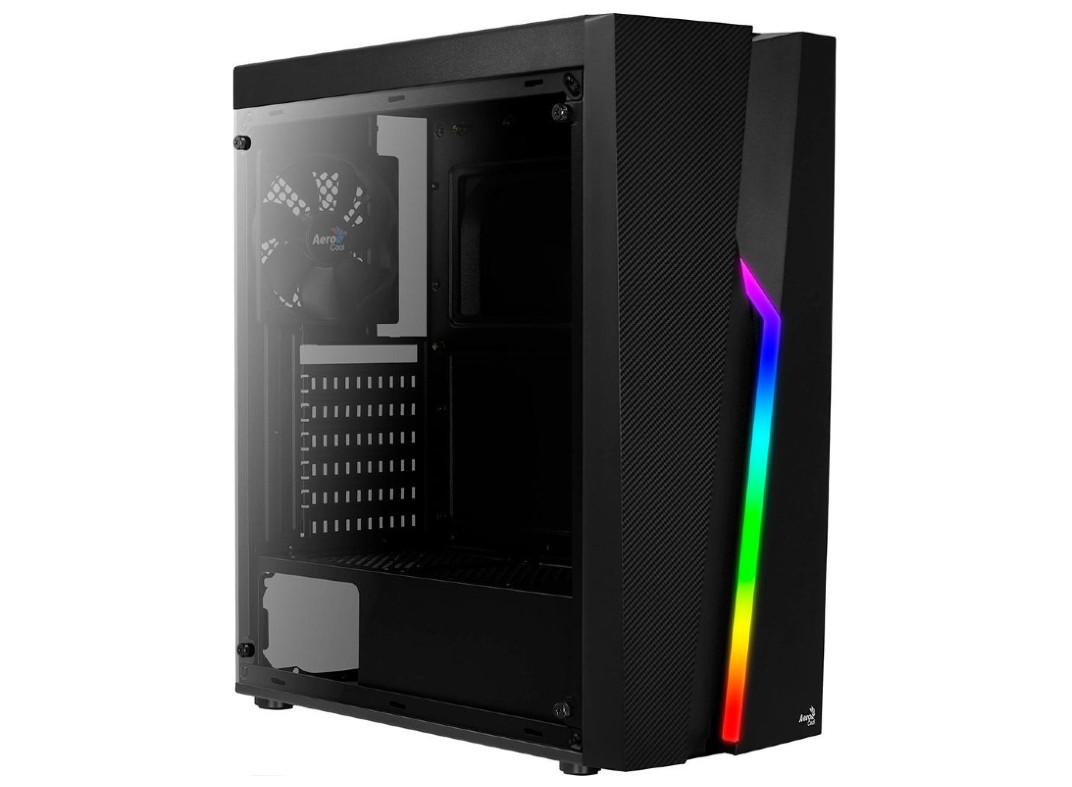 Aerocool BoltFonte: Aerocool
O Aerocool Bolt it is a case with only 444 mm of height and acrylic side panel. The model, which costs on average R$ 450, has a pre-installed rear fan, and space for two at the top and three at the front. An interesting differential is that the front panel already has RGB lighting in up to 13 different modes and a controller with a button on the I/O panel.
Due to its smaller design, the Bolt only supports the radiator on the front panel, limiting the space for the graphics card. The maximum height for the CPU heatsink is 155mm and the space for the VGA is 355mm with no radiator installed.
Aerocool Cylon RGB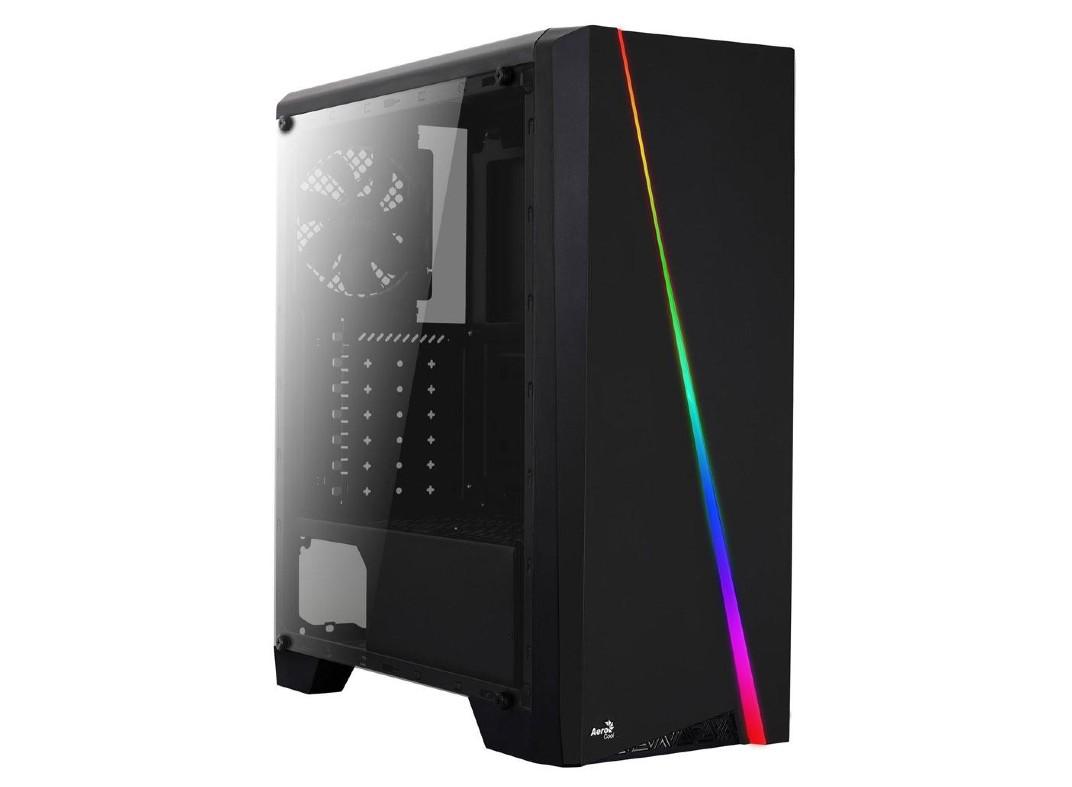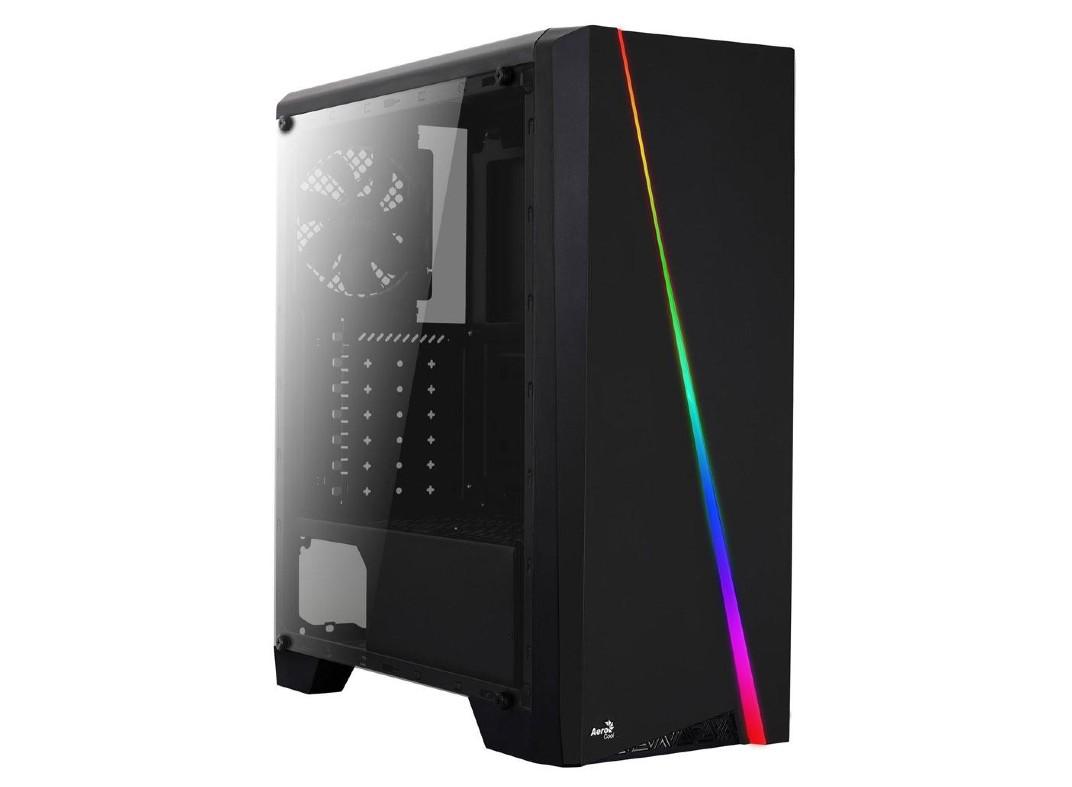 Aerocool CylonFonte: Aerocool
O Cylonalso from Aerocool, is even smaller than the Bolt, ideal for users who need to optimize the space of their environments, without compromising aesthetics and efficiency. The side cover is all acrylic and the front panel also features 13-way RGB lighting, a controller button and, in addition to the USB ports, an SD or microSD memory card slot. The combination is interesting for a R$470 cabinet.
The front grille supports up to three fans, but only 120mm radiators. The top and rear air vents can make it difficult to access the connectors on some motherboards, but they focus on ensuring good circulation in the processor area, with fans up to 155 mm. Another differential in relation to the Bolt is that without a radiator installed, the Cylon accommodates video cards up to 371 mm.
Sharkoon Skiller SGC1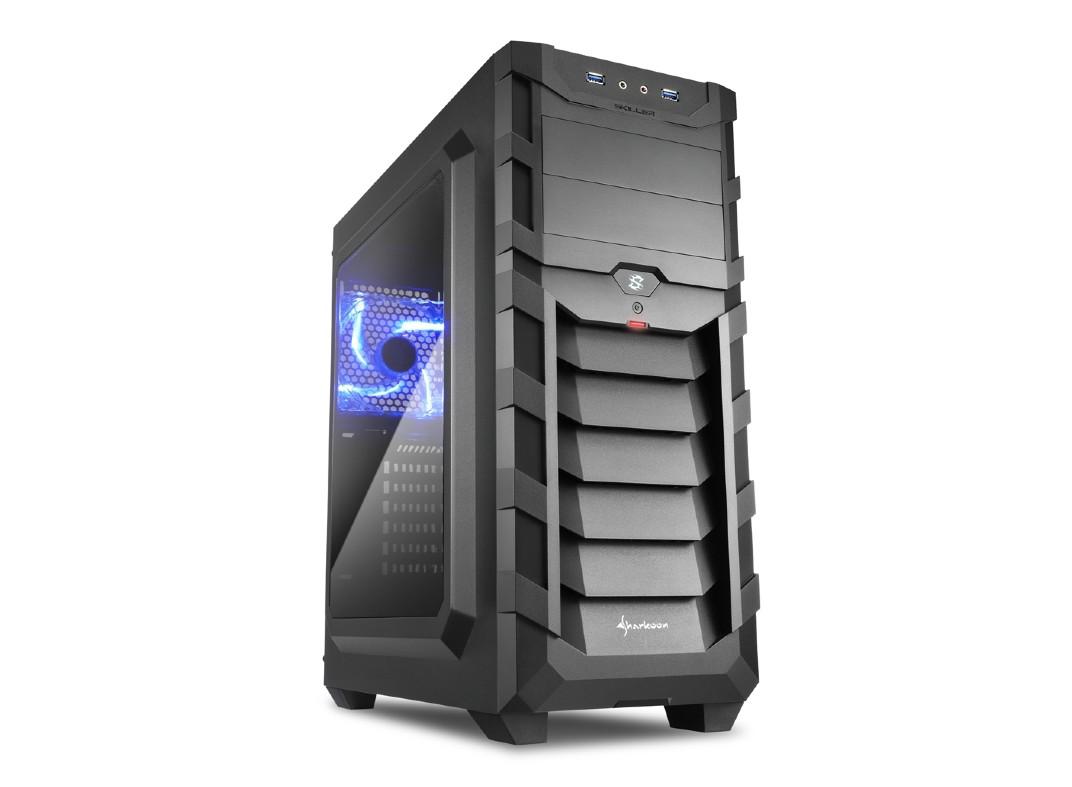 Sharkoon SKILLER SGC1Fonte: Sharkoon
The Sharkoon SKILLER SGC1 can still be considered mid tower but is much wider than most cases in the segment. With space for up to 3 120mm or 2 140mm fans on the top, ensuring excellent airflow. The model comfortably accommodates VGAs up to 400 mm and fans up to 165 mm, making it ideal for air-cooled setups.
The front grille only holds one fan. It is possible to install radiators up to 240 mm at the top, but the set must be up to 5 mm in size so as not to compromise access to memories and other components. The dashboard is simpler with just two USB 3.0 ports.
Sharkoon VG7-W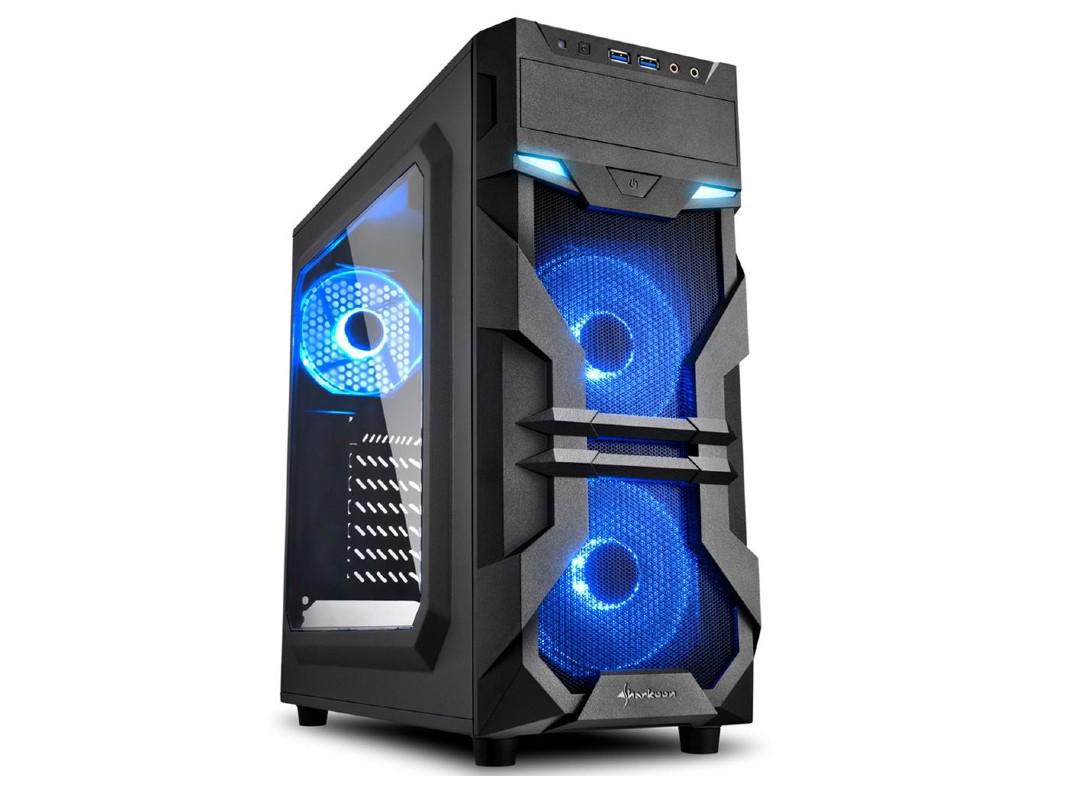 Sharkoon VG7-WFonte: Sharkoon
O VG7-W It has a modern design, but a much more limited cooling design than most gaming cases. Despite having only two air inlets on the front and one outlet, all are very wide and the model is one of the few with all fans pre-installed, justifying the price of R$480.
As it is also slightly larger than average, the VG7-W easily accommodates graphics cards up to 375 mm and heatsinks up to 165 mm. The case offers a good amount of space for cable management and its simplicity makes it an interesting model for users with less experience in building their own PCs.
Warrior Modoc GA179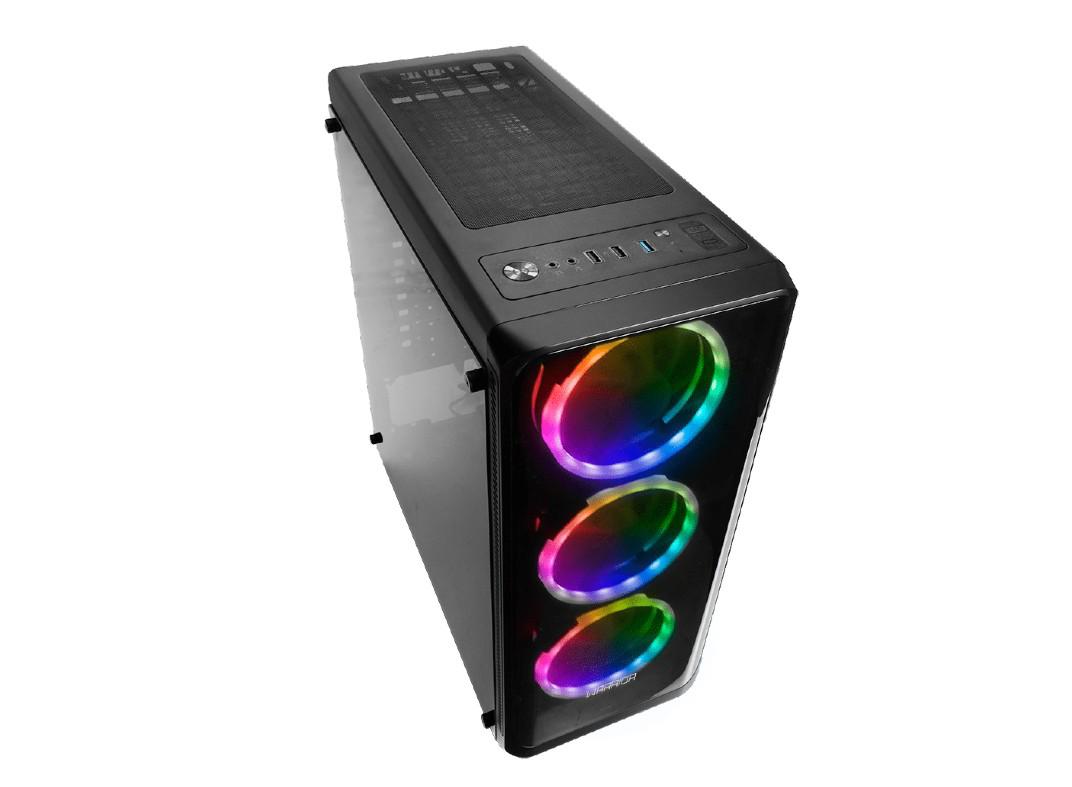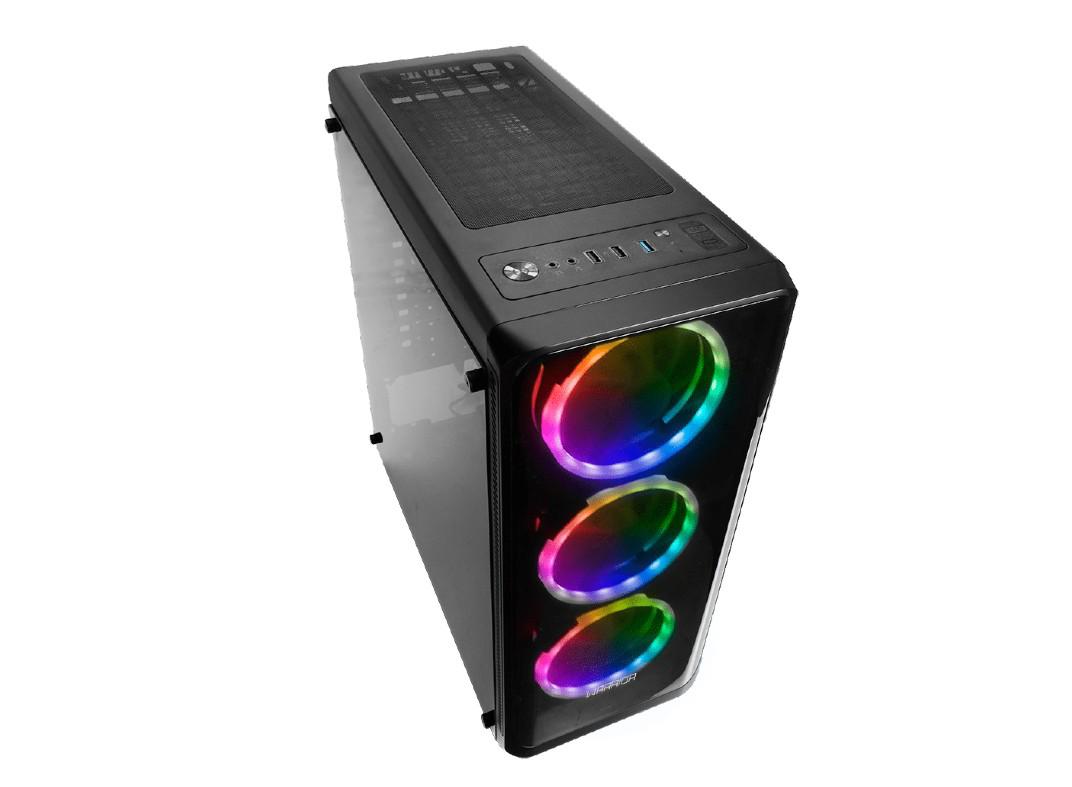 Warrior ModocSource: Arena Warrior
The series Warriorgives multilaseris already known for its cost-effectiveness, and yet the Modoc GA179 can stand out. The model costs R$ 399.90 directly on the brand's official page and comes with 3 front RGB fans. The case has a tempered glass side cover and is in the compact line, with only 380 mm in height, accommodating VGAs up to 330 mm.
As it is a smaller than average model, it is only compatible with micro-ATX and mini-ITX cards and is not compatible with water cooler. On the other hand, the upper air outlet is wide, supporting two 120 mm fans.
Husky Polar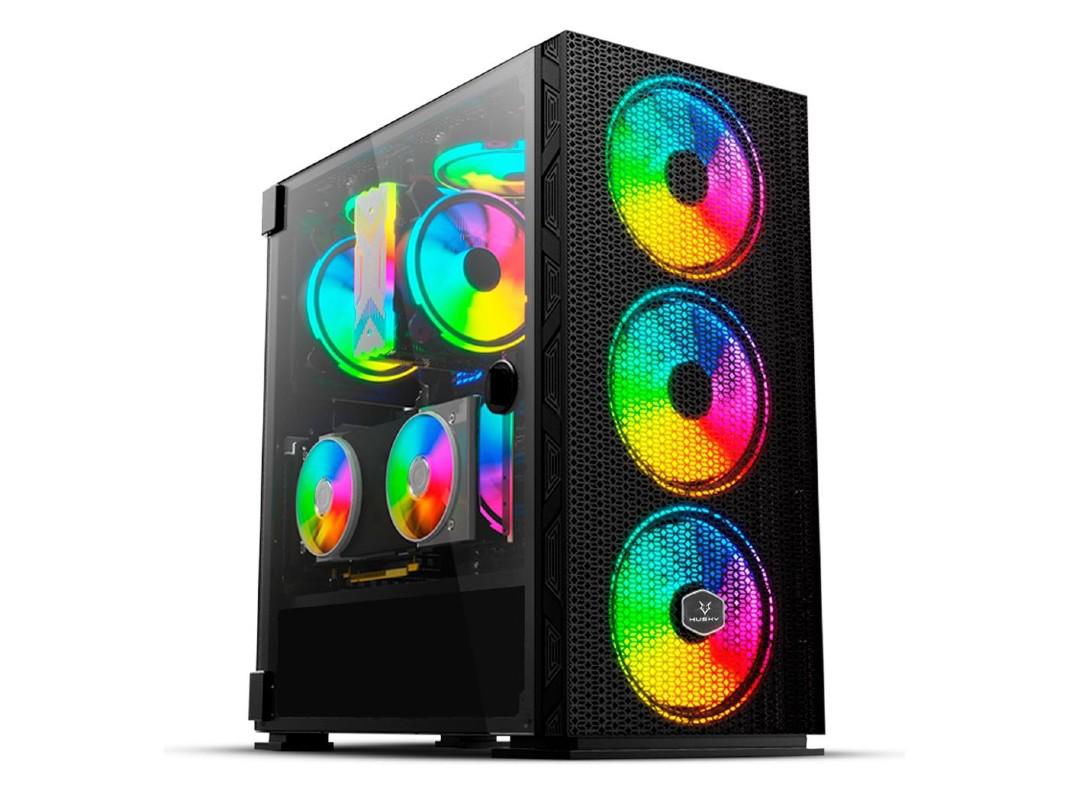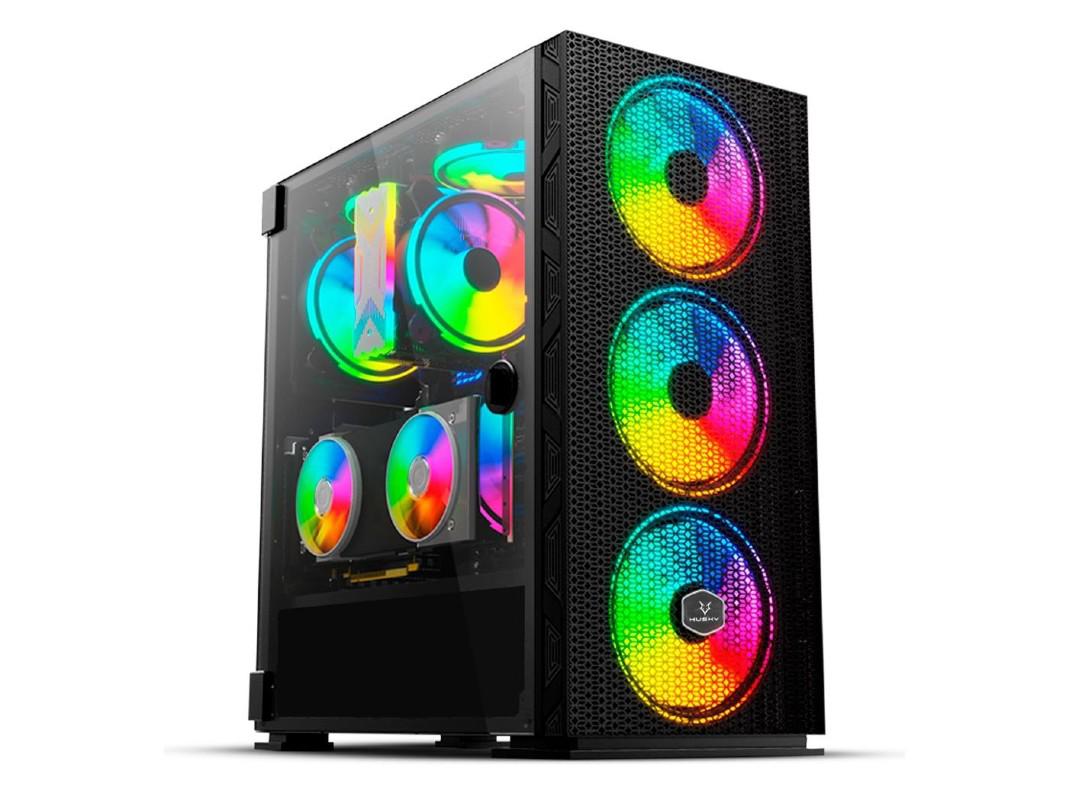 Husky Polar HPO-140Source: Kabum
O Husky Polar HPO-140 it's possibly the most expensive model on the list, going over R$600, but it's not rarely a case that goes on sale. At the moment it is selling for R$ 399, a very interesting value for everything it offers. The model has a built-in tempered glass side cover, LED controller on the I/O panel and 4 ARGB fans installed, three on the front grille and one on the rear output.
The HPO-140 is one of the few cases compatible with a radiator up to 360 mm in the front grille, it has a top air outlet with support for two 120 mm fans or a 240 mm radiator, and a vertical VGA mounting slot, improving airflow. system air.