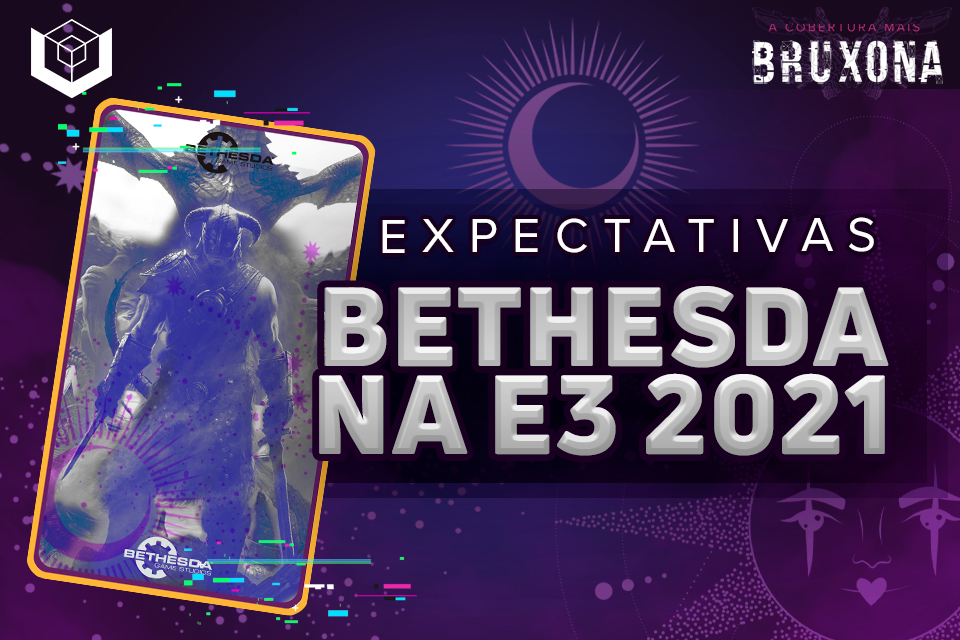 With the 2021 E3 coming up, you can't help but wonder what will be revealed at the various conferences that have been announced at the last minute. Bethesda is one of the companies that is always present there, but it is worth remembering that this time it will participate in the conference of its new owner, Microsoft.
Of course, this doesn't change anything in what really matters, which are the possible news from their main franchises! Are you curious? So take a look at what you can expect from Bethesda at E3 on June 13th!
The Elder Scrolls VI
We already know that The Elder Scrolls VI exists, but the big question is when we will finally know more details or at least see some new image of the long-awaited new chapter of the franchise. The official announcement took place there at E3 in 2018, but Bethesda has remained totally silent on the subject since then.
The impression a lot of people had is that they only mentioned that the game was in development to calm fans down, considering how long we don't see a new game in the series. The hope is that at this E3 they will show at least one teaser or the full name of the game, as we know the launch will take a long time to happen.
ten years of skyrim
It may not seem like it, but 2021 is the year that marks the 10th anniversary of The Elder Scrolls V: Skyrim. The date only occurs on November 11th, but you can imagine that Bethesda has prepared something special for the title, whether it's a special video about it or simply an announcement of its launch on some other platform.
Most likely Skyrim get to PS5 and Xbox Series X   and S with all the necessary optimizations.
starfield
starfield was another title unveiled in 2018 that hasn't had many details released since then, but we already have a sense that this might be the next big game to be released by Bethesda.
Speculation is that we'll see a trailer and possibly even a release date for this mysterious space RPG.
Eternal Doom DLC
eternal doom received two parts of the DLC ancient gods recently, but nothing prevents another content pack to be announced at E3 this year. If you do not intend to reveal a new DLC, it is very likely that our dear Beth will not miss the chance to present what is already available to stir the will of those who have not yet purchased it.
Elder Scrolls Online
The MMO based on the world and history of Elder Scrolls remains firm and strong after 7 years, with expansion blackwood having been released in early June. There isn't a lot of speculation about some new content shown at E3, but Bethesda always gives some focus to Elder Scrolls Online at the event, either to publicize DLCs that have just been released or just to talk directly to the community about future plans.
deathloop
Developed by Arkane Studios, deathloop is an interesting case, as it is scheduled to be launched in September this year. So it would make sense to show it at E3 to increase the hype and let a wider audience know about it.
The problem is that this game already had a promised temporary console exclusivity for the PS5 before Microsoft acquired Bethesda and the other ZeniMax studios. Of course, if it's shown at the Microsoft and Bethesda event, it should already have a launch for the Xbox Series X/S, which is set for May 2022!
Ghostwire Tokyo
Speaking of temporary PS5 exclusives, it's also a must to mention the Ghostwire Tokyo, who walks a little disappeared, but not forgotten! The game that gets you fighting ghosts in Tokyo should hit Sony's console in October this year and Xbox Series X and S later next year, so we'll likely see a trailer or gameplay video during the game. E3.
fallout
There is no indication that a fallout new is about to be announced, but it's been a few years since we've seen anything new about the main series, so you can dream. Most likely, the studio will focus its time on talking about improvements and possible news related to Fallout 76.
Indiana Jones
In January of this year, Bethesda announced the development of a game based on the movies from Indiana Jones, so it's quite possible that we'll see some detail or at least a teaser about it, since the initial announcement is all we know so far.
There's a lot to expect from Bethesda at this E3, right?! Tell us in the comments what you think the studio can reveal this year and what other platforms you believe our beloved Skyrim should be released by the end of the decade!