A car GPS is a great way to get you from point A to point B while freeing up your smartphone. Because there are several models on the market and not all are created equal, here is our buying guide to help you in your choice.
Our selection of the best car GPS
While it is possible to use your smartphone with one of the many navigation apps available on Android and iOS, many motorists still rely on the good old GPS for cars. They have everything you need to light your way, whether you're on short or long trips. With added convenience features like real-time traffic statusthe warning of danger zones (speed cameras)among other essential options for drivers.
There are many models of GPS boxes available in the market, but not all are equal in terms of quality and functionality. You don't know what to fall? Follow our buying guide. We have made for you a selection of best gps in 2022.
TomTom Go Discover
With the TomTom Go Discover, be guided anywhere in the world. It is the most advanced GPS in the TomTom catalogue. It is available in two screen sizes: 6 and 7 inches and is aimed at those looking for a very complete GPS. Its maps cover 183 countries in the world, including all of Europe. You benefit from regular map updates, danger zone signaling functions and more particularly speed cameras.
Thanks to the TomTom Traffic feature, you have access to the best traffic information and see what's happening on the entire road network in real time. The TomTom Go Discover GPS also offers new features: real-time information on fuel prices, on charging stations for electric cars, but also on the availability of parking spaces.
Finally, you benefit from voice commands for entering addresses by voice. Access to danger zones, real-time traffic, Live information (fuel prices, electric car stations, parking spaces) is subject to a subscription, the prices of which vary according to the service. However, by purchasing this GPS, you benefit from one year of free subscription to all associated services.
Garmin Drive 52 LMT-S
This is the entry-level model in the Garmin catalog. It is intended for those who want a cheap and efficient GPS box. It has the most important functions to navigate with confidence. Plan your route and get voice guidance to your destination. You get real-time traffic information as well as lifetime map updates.
This GPS sends alerts that promote safety while driving and approaching tight bends, speed camerasschool zones and displays speed limits on the highways. With Tripadvisor, the GPS offers you places such as restaurants, hotels, sites of interest around you or even parking suggestions when you arrive at your destination.
the Garmin Drive 52 is a GPS without SIM card connecting via WiFi. Four screen sizes are available: 5, 6, 7 and 8 inches from €179.
TomTom Go Essential (5 or 6 inches)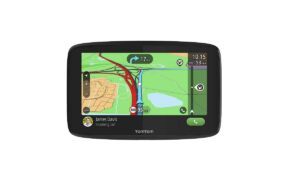 Cdiscount

199.9€

Discover the offer

Amazon

199.9€

Discover the offer

Fnac

199.99€

Discover the offer

Darty

199.99€

Discover the offer

Boulanger

199.99€

Discover the offer

Rakuten

199.99€

Discover the offer

E.Leclerc

200€

Discover the offer
More offers
the TomTom Go Essential is the brand's mid-range GPS unit. This is an upgraded version of the TomTom VIA series. The device is offered in two sizes of 5 or 6 inches and has WiFi connectivity (no cellular connection via a SIM). It contains maps of all of Europe which are regularly updated. Thanks to real-time traffic information, plan your routes while avoiding traffic jams.
The Go Essential lets you enjoy 6 months free danger zone signaling service (fixed and mobile speed cameras). After this period, you will have to pay a subscription from €2.50 per month. Finally, you get hands-free calling functionality, Siri compatibility and Google Now for voice control. This GPS unit is priced at €173 in the 5-inch version and €203 in the 6-inch version.
Garmin DriveSmart 76
Garmin DriveSmart 76 GPS at the best price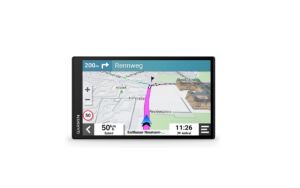 Cdiscount

259.99€

Discover the offer

Amazon

259.99€

Discover the offer

Rakuten

283.04€

Discover the offer

Fnac

300.65€

Discover the offer
The Garmin DriveSmart 76 GPS goes further than the standard Drive 52. In addition to the features of navigation, real-time traffic and danger zone alertsit manages your messages and phone calls while you drive. The device has Bluetooth connectivity to connect to your smartphone.
Notifications appear on the screen and you can communicate hands-free. The system also has built-in Wi-Fi, so you automatically get new map updates whenever you're connected to a wireless network.
Garmin DriveAssist 51 LMTS (GPS + Dashcam)
Garmin Driveassist 51 GPS at the best price
Boulanger

246.9€

Discover the offer

Rakuten

246.9€

Discover the offer

Fnac

292.31€

Discover the offer
The particularity of this GPS is that it also serves as a Dashcam. In effect, a dash camera integrated into the housing to record all events on the road, in this case accidents in order to locate responsibilities. In the event of a collision, the video sequence is systematically secured on the SD card. Apart from this option, you benefit from all the navigation and safety features: lifetime updated maps, real-time traffic information, voice recognition and guidance, imminent collision warnings, display of speed limitsetc.
The GPS has a feature for suggesting places of interest such as restaurants, hotels and tourist sites thanks to Tripadvisor and Foursquare. The box is WiFi enabled so you can update maps directly without having to connect it to a computer.
This GPS has a 5.5-inch screen that displays real-time navigation unlike the brand's other two boxes: the Coyote Mini and the new Coyote Up. You also benefit from a display of real-time traffic information, accidents and disruptions on the road, a voice recognition function, but also predictive alerts for anticipate dangerous bends with indication of the recommended speed.
Despite its effort to resist competition from applications such as Waze and Google Maps, but also from other players in the GPS box market, Coyote is still relatively expensive. the Coyote Nav+ is in fact sold at a price of €345 and comes with a subscription plan of €12.99 per month with a one-year commitment to take advantage of all the brand's services.
| The + | The – |
| --- | --- |
| Danger zone alerts | His price |
| Real-time traffic information and speed limits | Expensive subscription |
| Predictive alerts to anticipate dangerous turns | |
| SIM card holder | |
| Voice commands | |
TomTom Rider 500: best GPS for motorcycles
Equipped with a 4.3 inch screen, the TomTom Rider 500 is a perfect GPS box for motorcycles. It embeds Europe maps for 49 countries with free updates for life. It offers all the basic features of a TomTom GPS: precise mapping, real-time traffic information (via smartphone), speed camera zone alerts, etc.. You also benefit from favorable bonuses for motorcyclists such as the discovery of the most exceptional motorcycle routes in the world. Take on the hilly and winding roads in France and elsewhere.
This GPS is WiFi compatible. No need for a computer to update maps. He is IPX7 certified for guaranteed protection in rainy weather. Its battery offers an autonomy of 6 hours. In the box, there is a fixing kit, a USB and power cable and a detailed user manual. Its price: 378 €.
❓ Why choose a GPS box?
Nowadays, almost everyone uses their smartphone for GPS navigation. Recent cars also embed a GPS application in the on-board system, but many motorists continue to trust the good old GPS box and it is because it still has arguments to make. Not everyone finds it practical to immobilize their smartphone for navigation purposes. A GPS unit is specifically dedicated to this task and embeds all the features that can be found on GPS applications on mobiles. Your smartphone is thus freed up and can be used for something else.
In addition, some GPS connect to your mobile for hands-free call management. Another particularity of GPS for cars is that they carry all the maps necessary for informed navigation, without needing to be connected to the Internet. Most of these GPS offer maps for almost all the countries of the old continent if you choose a European model. Thanks to a fixing system, you can immobilize the box on the dashboard or on the windshield thanks to a suction cup. Finally, some even more practical models offer a Dashcam function, like the Garmin DriveSmart 51, enough to kill two birds with one stone.
🤔 Which brand of GPS to choose TomTom, Garmin, Coyote?
Whether you turn to one or the other of these brands, you are sure to benefit from a reliable and quality product that fulfills its function perfectly. These GPS embark up to 45 maps of European countries and offer free updates for life. All also benefit from an active community for features that rely on crowdsourcing.
However, beware of recurring costs. To benefit from certain additional services such as speed camera warnings, you need a subscription with TomTom which costs €2.99 per month or €29.95 per year. Garmin as far as it is concerned offers these services at no additional cost. As for Coyote, access to all of its services is conditional on a minimum one-year subscription with commitment (€12.99 per month).
👁‍ What are the important features of a GPS?
Full GPS lets you enjoy a smooth driving experience. But not all are equal in terms of functionality. Whichever GPS you choose in our buying guide, you are guaranteed to benefit from the basic functionalities necessary for a guided route from point A to point B with the added bonus of real-time traffic information and signaling of traffic zones. danger and speed cameras. To sum up: a good basic GPS should allow you to:
Plan your trip
Regular update of GPS and cartography
Real-time traffic information
Alerts on danger zones
Dynamic display of speed limits
Voice recognition and voice guidance
Finally, among the rare options found on some high-end models is the integration of a SIM for 2G/3G/4G connectivity, which allows the GPS to be entirely independent of a smartphone. We can also mention hands-free calls, compatibility with a personal assistant, integration of IFTTT functionalities or even the double function of on-board camera.
Our other mobility buying guides