The Zenbook Duo is a powerful notebook and it has an excellent idea, which is to eliminate that bunch of empty spaces that are normally on the sides of the trackpad and replace it with a second large and fully functional screen. And in this model that ASUS launched in Brazil about a month ago, this is even better than in the first generation, thanks to some improvements that make use more comfortable and efficient.
Now that I've spent almost a month testing this model, I can tell you that it's definitely an excellent choice for a very specific niche of people, especially content creators, but as much as its technologies are so cool I'd love to having one, this niche of creators to which he would be nominated is so small that I don't include myself in it. If you want to understand if this is your case or if you just love different technologies, then stay here with me.
DESIGN
With the lid closed, the Zenbook Duo looks like a very ordinary premium notebook, made from an aluminum magnesium alloy with the typical concentric circles around the off-center ASUS logo, which add that look to the look especially when there's some light in motion. in him. I like. Anyway, it's thinner and lighter than the previous generation, and by my standards that's enough to be considered easy to carry around, even though there are many powerful premium notebooks that are thinner and lighter than it.
On the right side we find a USB 3.2 type A port, which is good for connecting accessories, as well as a micro SD card reader and a headphone jack with microphone. On the left side we see an HDMI connector and two USB-C Thunderbolt 4 ports. There is no specific charger input because the charger that comes must be connected to exactly one of these. In other words, when you need to charge, you'll have one less port to use, which depending on your use makes such a hub here practically mandatory, and ASUS doesn't send one along.
Anyway, it's by opening the lid that we see the differences between the Zenbook Duo and ordinary notebooks. For the second screen to fit up there, and I'll talk more about it in a bit, ASUS squeezed the keyboard down here and the trackpad on the right side, which was a very good idea, but it has some side effects.
The main thing is that this notebook doesn't have the support space for your wrists when you're typing. This is not a problem when you are using the device on a table, because the design of the lid makes it turn into a little foot when it is open, which makes it tilt and reduces the gap between the table and the keyboard for you to get that support.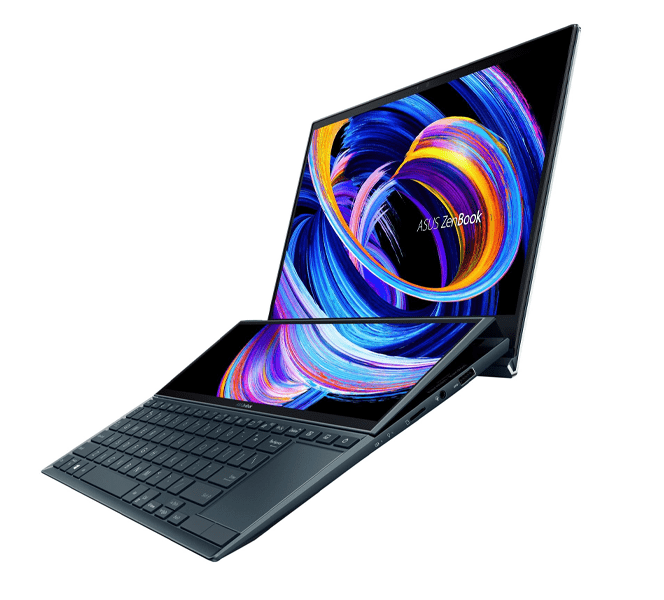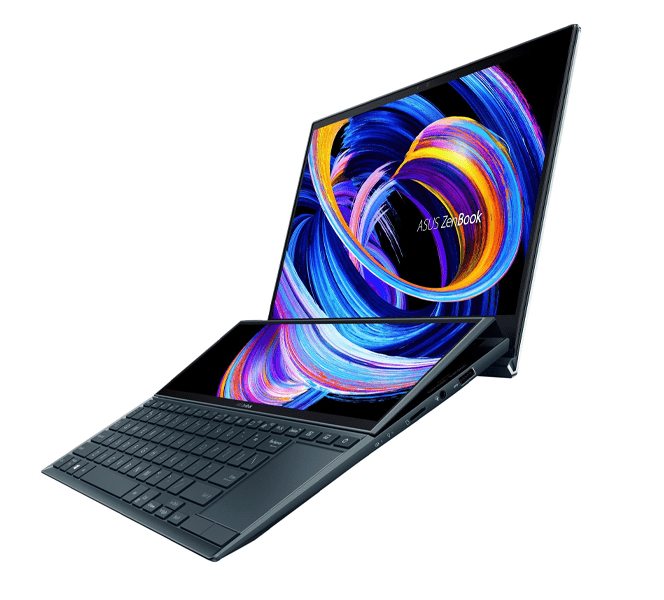 Zenbook Duo (Image: ASUS/Disclosure)
Also, ASUS has included in the box a magnetic accessory that you can stick under the notebook and fold to turn a little bigger foot, which increases the inclination even more and makes the position of use really nice. Only, again, this goes for when you're at a table, because on your lap you're really unsupported and then you'll get tired after prolonged use in that position. If that's your case, do regular stretches so you don't end up with tendonitis.
The second negative side effect of this design is the shape and position of the trackpad. Squeezed in there on the side, it ended up in the shape of a vertical rectangle, which often necessitates more finger paddling to get you to cross the screen horizontally with the mouse pointer. Also, this position on the right creates a bit of awkwardness until you get used to it. After a while, I got used to it and even liked this layout, but I'm right-handed, right. I imagine left-handed people probably suffered the most.
Another design change has to do with the opening of the lid, which causes the activation of a lever that further tilts the second display. This makes it face more towards you, avoiding light reflections coming from above and preventing you from craning your neck to see what is being displayed there. And it goes without saying that the angle is even better when you use the magnetic support too, right?
Also, this extra tilt of the screen has other advantages. It makes the displayed content more aligned with the main screen, which facilitates the integration of the two, and serves to open a larger space for air to flow to the fans, which have the air intake right there. That way, the notebook heats up less, which is great, but it makes me imagine that it's also more vulnerable to accidentally spilled liquids, which I didn't want to test to see.
SCREEN AND INTERFACE
Starting with the main screen, which is 14 inches in the standard 16:9 aspect ratio and with very thin edges, which ASUS calls the Nano Edge, and allows the screen-to-body ratio to be 93%. It's IPS, touch-sensitive, has Full HD resolution and is Pantone color-accurate certified, which is a great set especially for anyone working as a designer, photographer, video editor, or other types of visual services. It can be summed up here saying that the quality is excellent, both for these works and for watching videos and playing games, but on a notebook in the price range of this one it would be nice if the main display were 4K.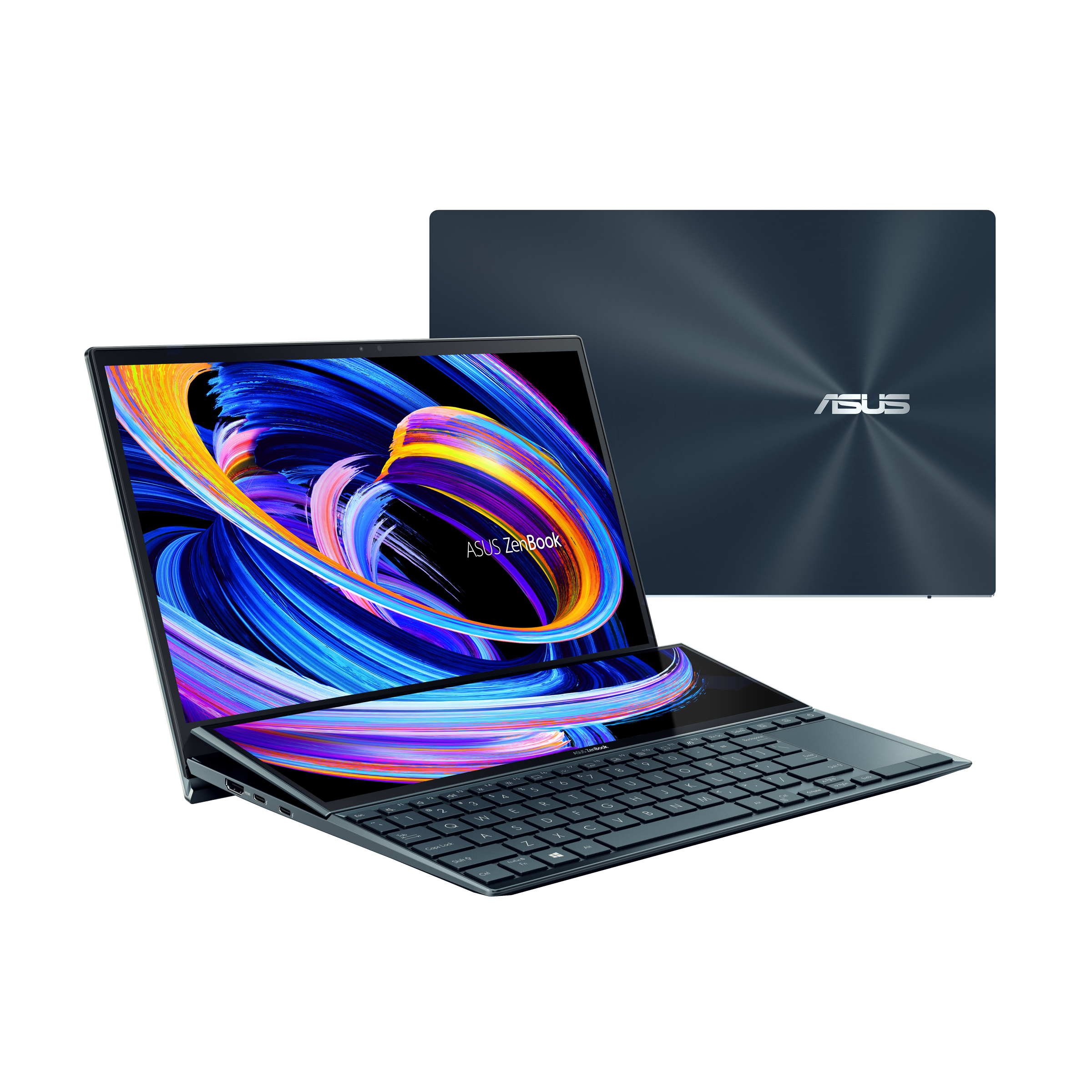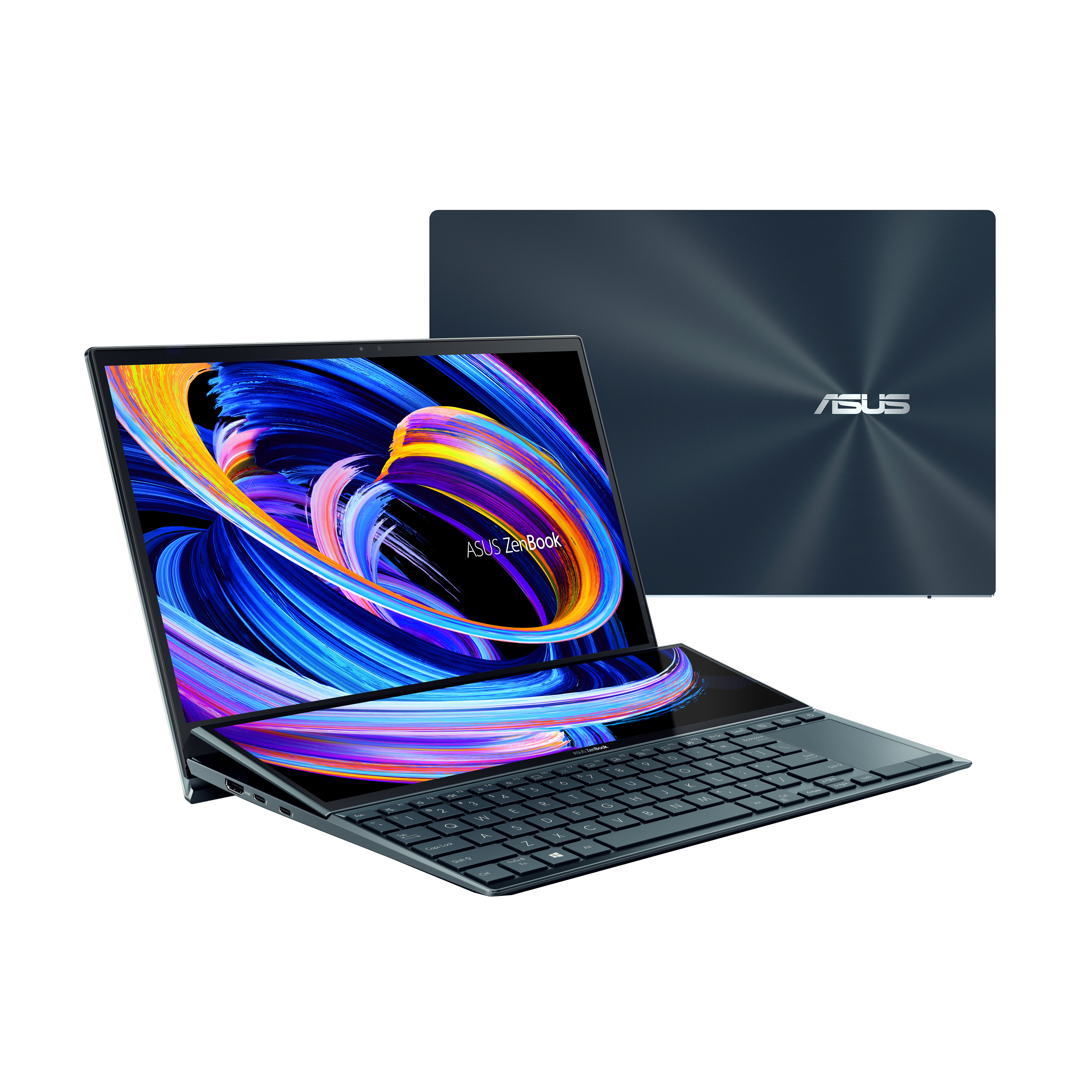 Zenbook Duo (Image: ASUS/Disclosure)
The secondary IPS screen, which ASUS calls Screen Pad+, has a total area of ​​12.65″, is also touch and has a resolution that we can't exactly call Full HD because of the non-standard format, but which has a very close pixel density, so you don't even feel the difference in definition.
Its brightness is almost as bright as that of the main screen, and with the extra angulation of the system I've already explained and the magnetic bracket, it looks great. There's no Pantone certification or anything like that here, but since it's intended to serve only the most minor functions, that's not a problem.
Putting these displays together, ASUS has added software functions that allow the Screen Pad to not only function as a second monitor, but bring good integration and extra features to both screens. By dragging a window with the mouse or your finger, a floating menu appears that has an option to expand the window so that it remains on the screen below.
Dragging to the arrow, you can easily throw the window to the screen below, and if you go through the arrow and keep dragging it down, you can even choose where on the screen you want to position the window. You can also quickly swap the contents of the two screens with each other by pressing the button with the two arrows on the keyboard between the trackpad and the screen, and on the side of the button that allows you to hide, turn off or turn on the second screen, which by the way helps a lot when you need to save battery power and don't mind having that second screen available. There are times when just an ordinary notebook is enough.
I also really liked the customization options, both the position of the control center and the functions it highlights. For me, the coolest thing was being able to configure shortcuts to open different sets of apps already in my favorite position on both screens.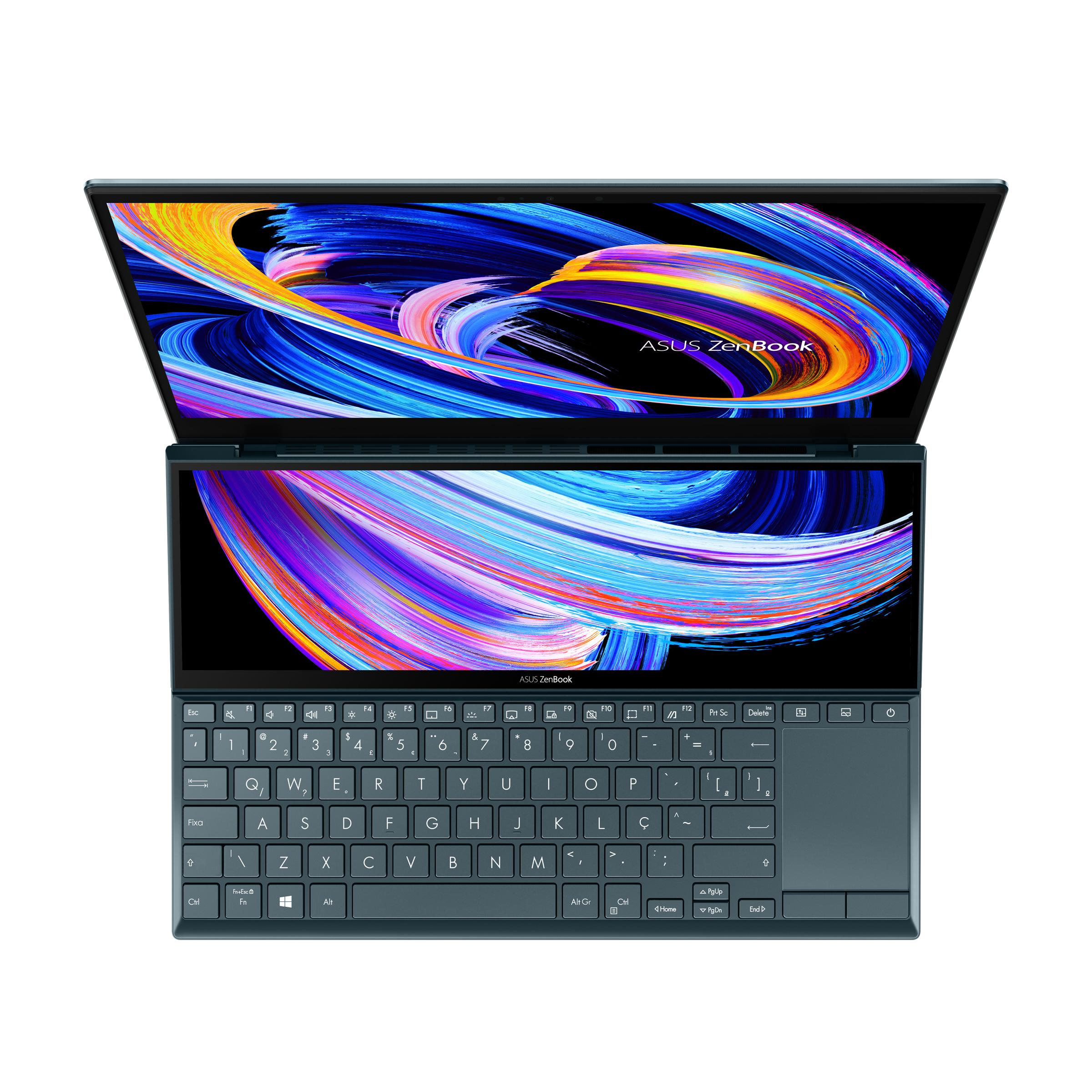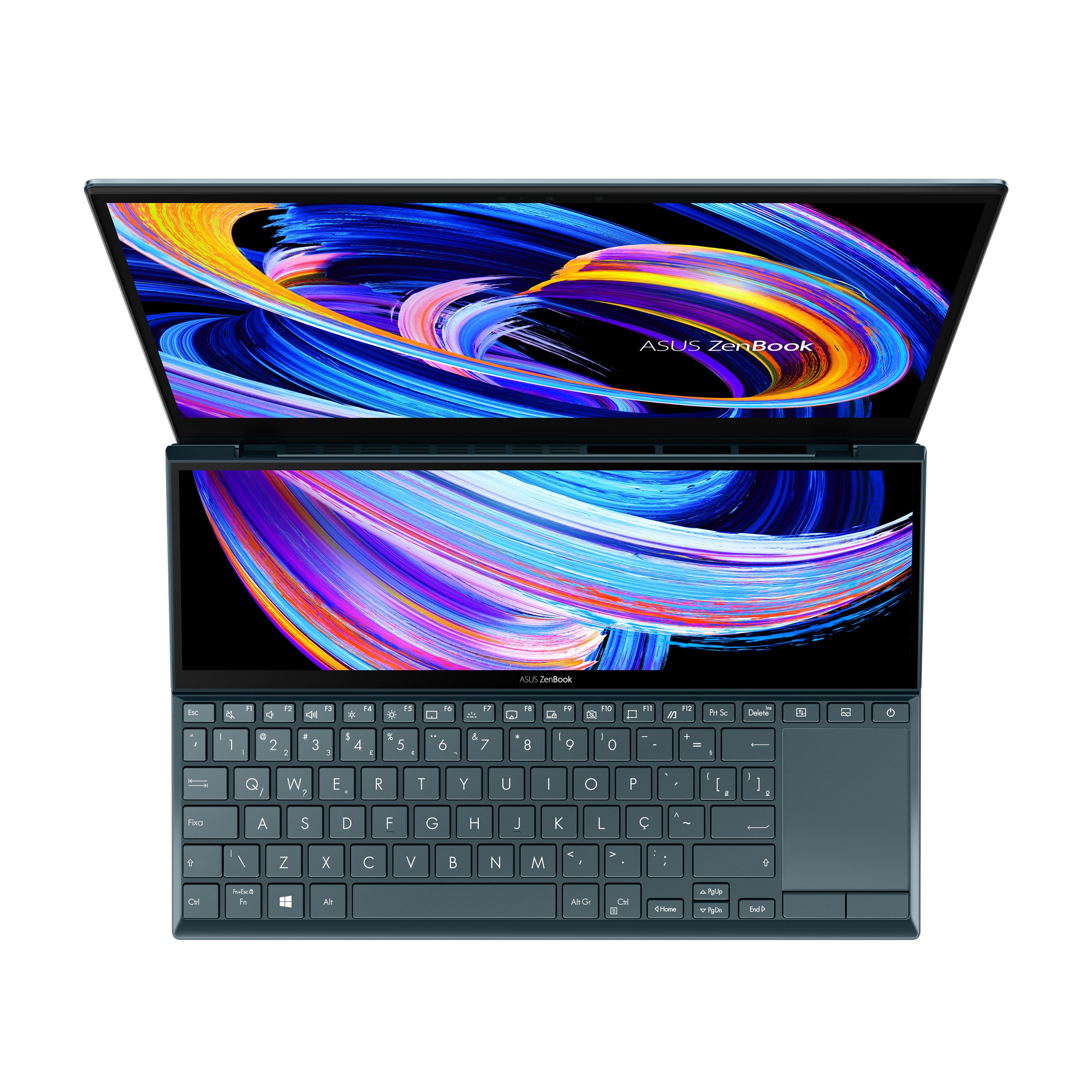 Zenbook Duo (Image: ASUS/Disclosure)
But the function that I think is most interesting for anyone who intends to use Zenbook Duo professionally is the ScreeXpert control panel, which lets you create a custom interface of buttons, disks and slider bars for the functions you use most in the main software from Adobe, including AfterEffects, Lightroom Classic, Photoshop and Premiere Para o, and then every time you open these programs this interface is already there for you to use.
It's exactly this kind of feature that makes the second screen so interesting here, but as I said at the beginning, it's only really useful if you're the kind of content creator who uses these programs. I'm not myself.
Other than that, what we have here is Windows Ten Home running very well, with facial recognition unlocking with Windows Hello if you want.
HARDWARE
The hardware that powers all these functions is also pretty round. Here in Brazil, this generation of Zenbook Duo comes with an Eleventh Generation Intel Core i7 processor, 16GB of LPDDR4X RAM and a high-speed SSD with 1TB of storage. And to top it off, it also comes with a GeForce MX450 graphics card.
For those who don't know, this is a line of video cards from NVIDIA that is aimed at these thinner notebooks, so it ends up not being as powerful as the bigger cards from the brand. For you to have an idea, this one has a slightly lower performance than a GeForce 1650, for example.
In other words, with this set, you have hardware that is much more than you will need for most everyday tasks and simple jobs, which involve just that set of browser, Office suite and the like. And even for tasks that depend on some graphic power, such as rendering a video in Full HD, the Zenbook Duo will indeed break a good branch.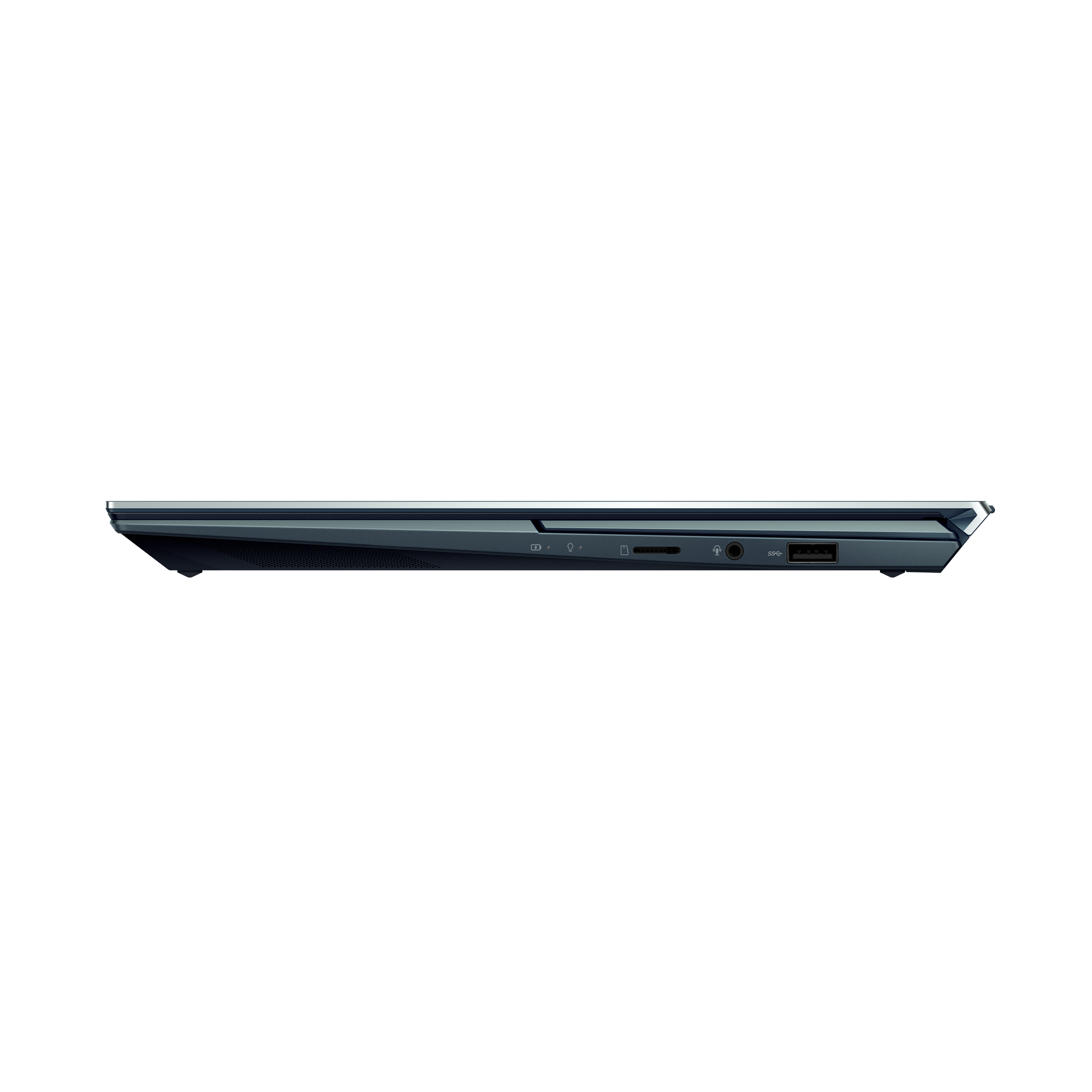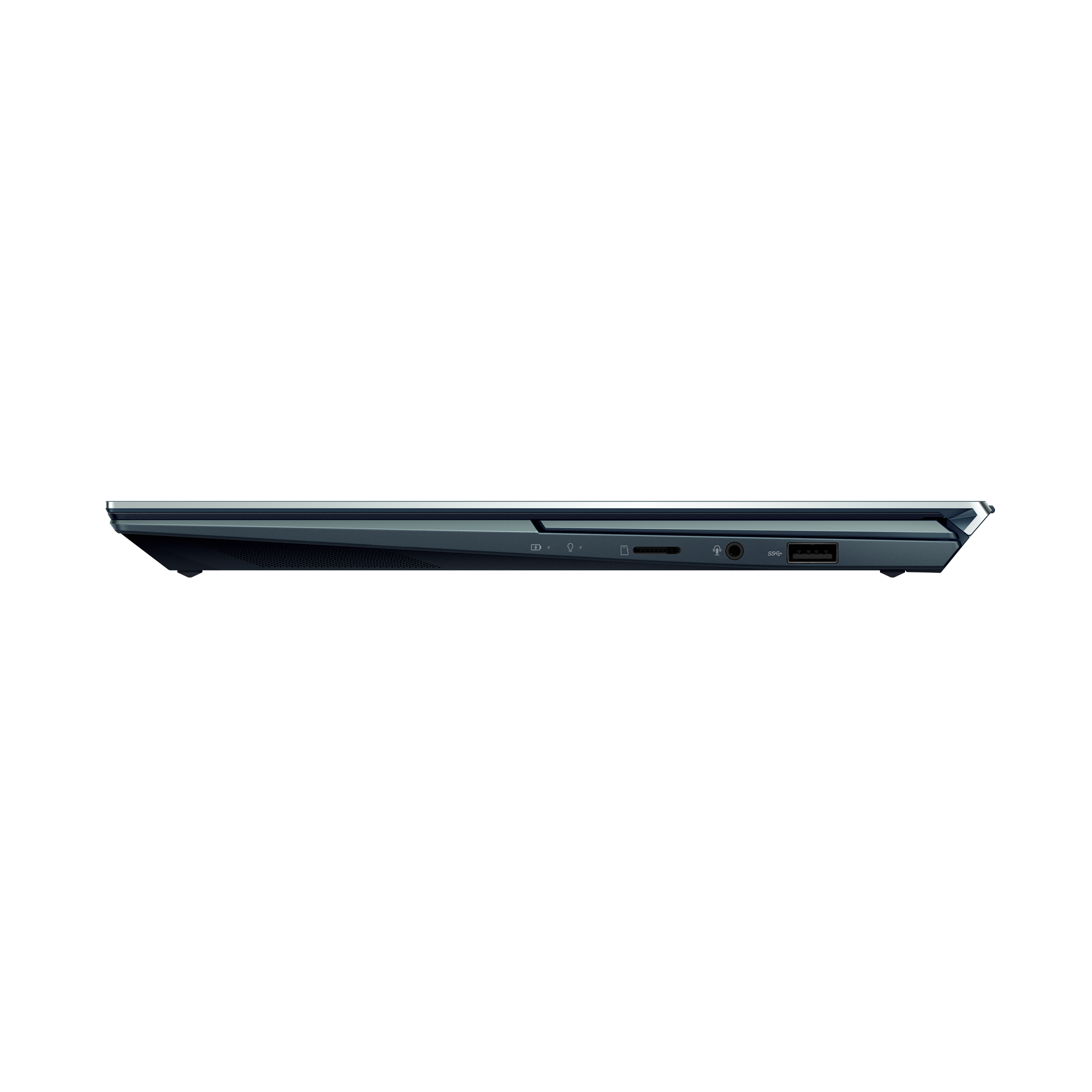 Zenbook Duo (Image: ASUS/Disclosure)
You can even play some not-so-basic games, but they don't require too much, and it handles without problems. It just won't be as fast for more intensive jobs as a PC that has a 1650 or better video card.
It's also worth mentioning his webcam, which can shoot HD footage and does a decent job of video calling, but it doesn't really impress either.
BATTERY AND AUDIO
Moving on to the battery, ASUS says the Duo's reserves allow it to withstand 17 hours of use if you leave the second screen off – which is fine as an option, but would kind of defeat the purpose of investing in such a machine.
With the second screen turned on, during my tests I managed to get through a whole day of work, which for me involves writing a lot, surfing the internet a little, participating in a video call or another, and following our videos on the channel. He put up with 8 hours of that every day without suffocation, but not much to spare either, with both screens on all the time.
With more intensive tasks, like with a few hours of play besides work, then I managed to kill his battery in just over 6 hours, which is still a good result.
It's also worth mentioning that the Zenbook Duo comes with Harman Kardon certified audio, and in my humble non-audiophile status, I found they delivered rich, strong audio.
WORTH IT?
Ok, so if you've followed this far I think you'll understand when I sum up by saying that the Zenbook Duo is rather a low machine, even though the second screen is too small an advantage for most people, myself included. For people like us, I feel that this is not worth the R$18,000 investment that ASUS is charging. And this is visible, ok? In installments, it costs R$ 20 thousand. Pay less than that just by importing, and even then you still have to shell out over ten thousand.
Then it really can't be worth it to the vast majority of people. Maybe if you're a traveling video designer or editor and want a good camera option that you can take around without having to carry around bigger, heavier gear. Or if you usually do lives at events and don't want to take a setup with multiple monitors.
Anyway, these are very specific cases, and even then you'll still have to think for yourself to decide if it's worth the investment for you. As much as I would never buy one of these, what I can say is that I would like to have one.
And you, what did you think of the new Zenbook Duo? Send your opinion and any questions that are left in the comments.