The world's most used operating system, Windows 10 has several functions to keep your computer safe, without the need to install third-party programs. With them, the user can protect themselves from viruses and other types of threats, manage children's access and prevent unauthorized people from tampering with the device.
Windows 10 Security Tools
Many of these features are enabled by default in Microsoft software upon installation, such as the Windows Defender realtime scan. But there are several other options that need to be triggered by the owner to take action, preserving the system.
To help those unfamiliar with these features, we've listed five Windows 10 security tools that can be of great use in different situations. Check out!
1. Antivirus Scan with Windows Defender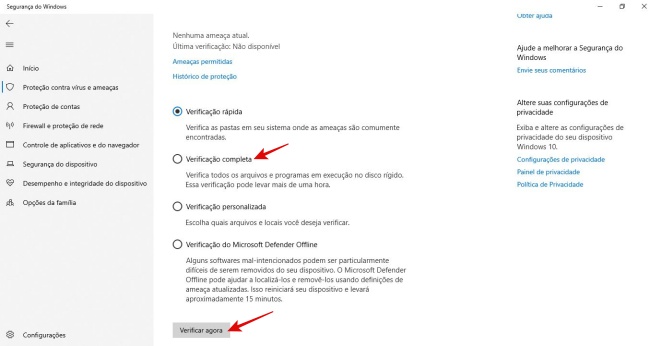 Full scan with Windows Defender.Source:  André Dias/Reproduction
Normally, the program's quick scan is enabled and routinely performs its work, looking for malware that could compromise the machine. However, the program offers more scanning alternatives, including a full one, just like conventional antiviruses.
Just choose the desired scanning mode and perform a scan as per your needs. You can select folders and files for the software to examine, in case you need something more specific and faster, or start a more time-consuming, full scan of all the data on your hard drive.
Click on the Windows Defender shield in the system tray to open "Windows Security". Then press "Virus and Threat Protection", go to "Scan Options", select "Full Scan" and then "Scan Now". There is also "Custom Scan" to indicate specific locations on the HD.
2. Parental control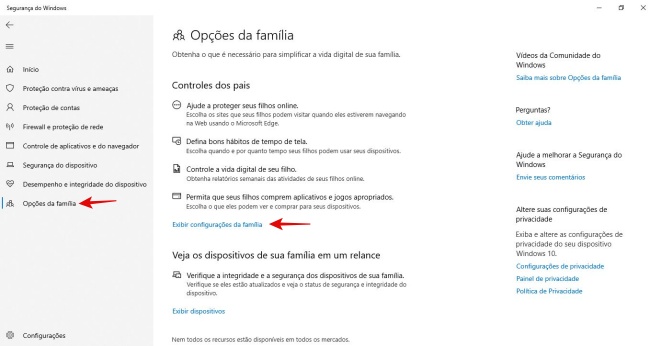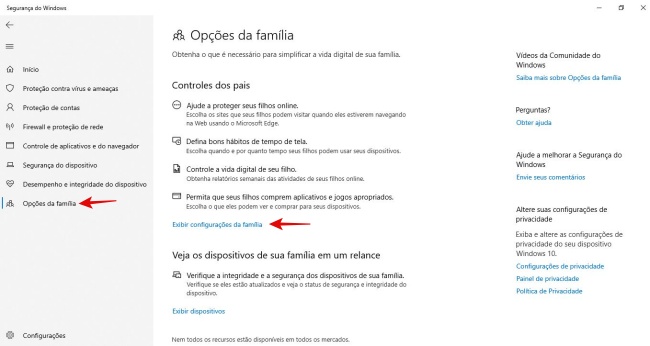 Setting up filters to manage children's PC access.Source:  André Dias/Reproduction
Windows also has a very useful function for those who want to control what children do on the computer. This is Parental Control, a tool that has certainly been used a lot during the new coronavirus pandemic, with children spending more time at home and using all available devices.
With this feature, the user can set limits on the time they use the device, restrict access to programs and games, and determine which websites are allowed for them to visit. You can also get reports of your kids' online activities and even track them on the map if they're using a laptop.
On the same "Windows Security" screen, click on "Family Options" and then on "View Family Settings". Next, you can configure parental controls as desired, choosing the functions to activate and the gadgets that will be part of the family group.
3. System Restore Point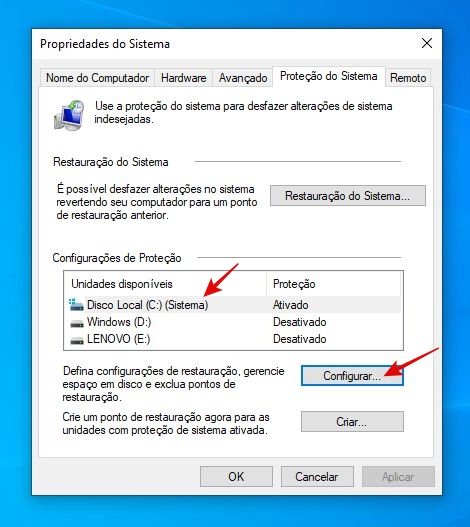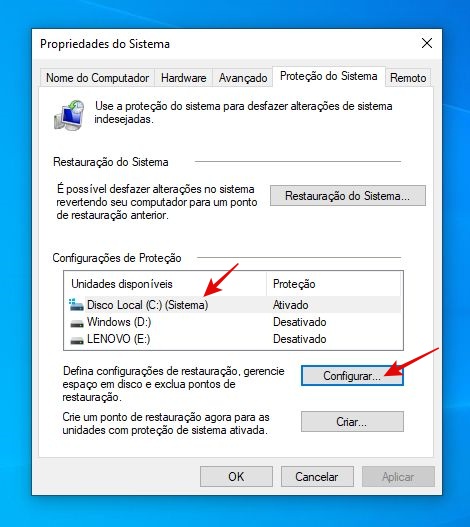 Creating restore point.Source:  André Dias/Reproduction
Are you going to install a new program or game, make any changes to the settings that might cause a problem? It's good to have a Windows restore point for safety, to avoid further difficulties that arise during tasks like these.
System restore is also useful to guard against errors related to Windows update and malware action (depending on the case), besides helping to get rid of difficult to uninstall software. With it, we can return to a previous state, when the computer worked correctly.
Type "system restore" into the desktop search bar and click "Create restore point." Now, select the system disk, press "Configure" and then "Turn on system protection". If you want, adjust the maximum space allocated to the resource, click on "Apply" and then on "OK" to finish.
4. Memory integrity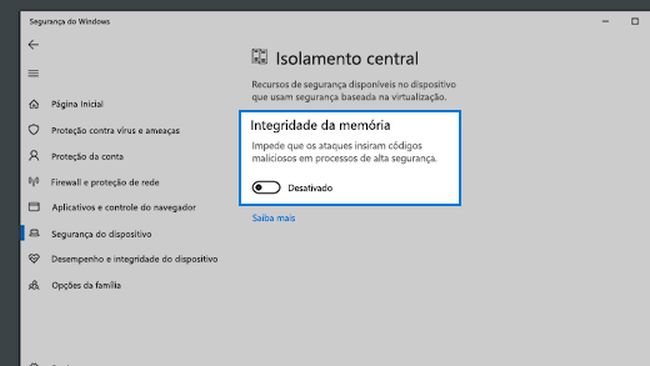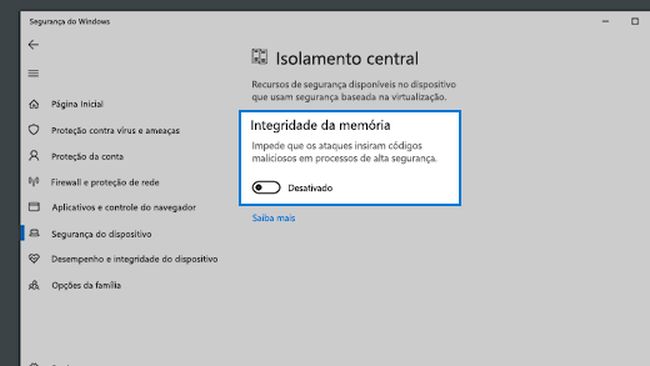 Triggering memory integrity to protect important processes.Source:  Microsoft/Disclosure
The principle of this function is to create a safe place within a piece of system memory, making it difficult for viruses to get there. In this preserved environment, high-security Windows processes are better protected from external threats.
If you want to use it, click on the "Windows Security" menu and follow the path Device Security > Core Insulation > Core Insulation Details. Then use the slider under "Memory Integrity" to turn it on.
5. Dynamic lock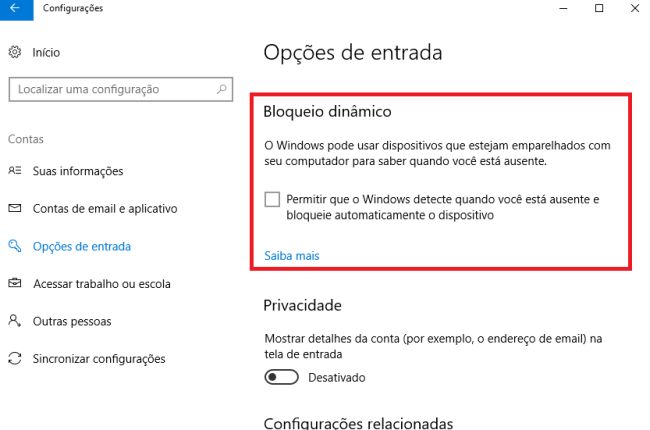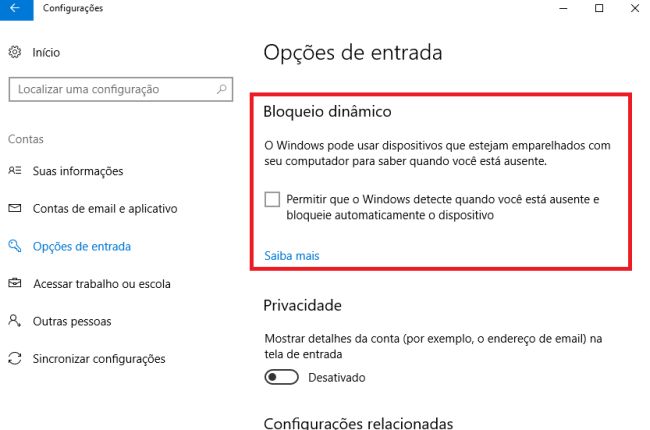 Lock your PC automatically.Source:  Microsoft/Disclosure
Finally, it pays to know about automatic computer blocking when you walk away from it. The idea is to prevent third-party access to the PC while we are away from the machine, using a paired cell phone via Bluetooth to block it.
In the "Settings" menu, go to Devices > Add Bluetooth or another device and press "Bluetooth". Choose your phone from the list and pair it. Go back to "Settings", go to Accounts > Options Login and check the "Allow Windows to automatically lock your device when you're away" option under "Dynamic Lock".