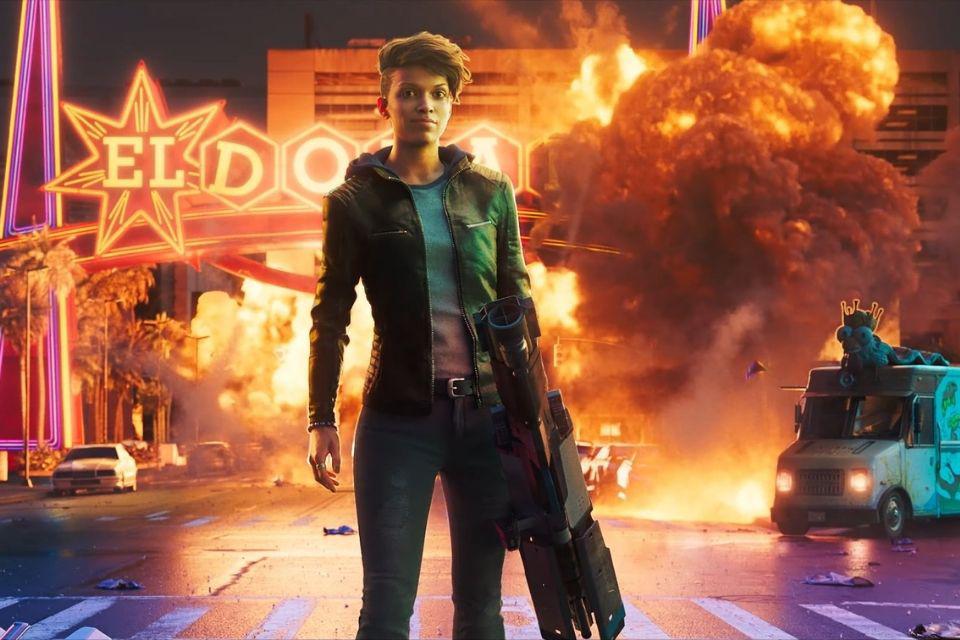 The year started hot in the world of video games, already with great releases for the month of February and March. But even with highly anticipated games like Elden Ring e Horizon Forbidden West already available, maybe shooter fans are feeling a little left out for now.
But only "for now" really! The year 2022 still has important releases ahead, so check out our list below to keep an eye on the 12 most promising shooters of 2022!
Tiny Tina's Wonderlands
The spin-off of the world of Borderlands has been widely promoted by 2K and long awaited by fans of the series. Tiny Tina takes her roleplaying game to a level we've never seen, and players will be able to live this adventure in the game!
It's an interesting way to take the time-honored and twisted universe of Borderlands and bring new elements to it, such as magic and fantastic creatures from mythology. In short, it's a way to put more RPG in the FPS, coming from the insane mind of one of its most popular characters!
Sniper Elite 5
the franchise Sniper Elite it never wins many awards, but it delivers competent games in each new edition and has deservedly won over its fans.
This year the game will reach its fifth edition, bringing more action and, of course, spectacular shooting! Let's see how advances in technology will make accurate shots in X-ray vision even more amazing.
exomecha
This game may not be as well-known as the others on this list, but it will likely be of interest to orphans of Titanfall.
exomecha delivers multiplayer matches where players face off as foot soldiers, or controlling spectacular mechs. And the robots are quite varied, ranging from humanoids to even giant mechanized dragons!
Saints Row
This year we will have the return of Saints Row in a reboot that has already been talked about! Not every longtime fan of the franchise was happy with the game's new aesthetic, but we can't deny that a reboot of Saints Row deserves to be on this list.
Whether for the irreverent shootings or his acid sense of humor, the games in the series live in our hearts! The new Saints Row It also features an unprecedented dynamic that will encourage players to jump on the hood of the car to shoot enemies that looks like a lot of fun!
Redfall
Redfall is a vampire hunting FPS that will offer players special weapons and super powers to face supernatural monsters. But your biggest advantage will be your partners in the game, as this is a cooperative shooter.
The title is developed by Arkane Austin, who gained fame with his remake of Prey and the creation of Dishonored. In other words, we can expect the dev's established formula, which brings a different look to the genre and knows how to create very fun skills!
Splatoon 3
One of the most different games on this list, but it definitely deserves to be on it! Splatoon has established itself by bringing an innovative proposal where its main objective is not so much to throw its paint at opponents, but rather to paint the scenario.
The third game in the franchise looks like it will bring a lot of focus to the campaign, in addition to expanding the multiplayer gameplay with several new options both in competitive and in cooperation against the machine!
Scorn
Scorn has been going through a long development cycle, but we're not letting the hype die because this FPS inspired by the work of HR Giger looks phenomenal!
And the visuals aren't just there for their impact, but the game's aesthetic style also influences the type of weapon you'll find and gameplay, delivering a bizarre and innovative experience for the genre!
S.T.A.L.K.E.R. 2: Heart of Chernobyl
S.T.A.L.K.E.R. finally returns in this new generation, with a game more ambitious than ever. The game brings an open world for players to explore a post-apocalyptic Europe, encountering from monsters to supernatural phenomena.
The game also promises that the player's actions will impact the world in a dynamic and interactive way.
Atomic Heart
This is a game that has drawn a lot of attention for the originality of its setting. Atomic Heart takes players to an alternate reality Soviet Union, where something has happened in a secret facility, giving rise to monsters and revolting machines.
Players also explore an open world in this FPS, unlocking not only different weapons, but also various special abilities. The game promises a lot of action with some very unforgettable visuals!
Vampire: The Masquerade – Bloodhunt
The battle royale genre keeps gaining new options, which try to deliver enough innovations in gameplay to deserve a chance. And this is exactly the case for Bloodhunt.
The game promotes itself in the aesthetics of the renowned RPG Vampire: The Mask, bringing some of the vampiric races of the game for you to use in matches. Bloodhunt also incorporates classic RPG elements into the gameplay, such as diablerization, and seems like a very interesting alternative for the segment!
Evil West
Evil West mixes wild west with vampires and steampunk to deliver an original and fun atmosphere to your shootouts! Players will be able to use creative weapons and a variety of electrical powers to take on vampires and other monsters.
It may sound crazy, but there are already a lot of people remembering Damnation when looking at this game. So if you're a fan of the oldies, it's worth checking out. Evil West also!
Wanted: Dead
Chinese games are increasingly attracting attention with visual spectacles, even if they don't have completely new premises.
Wanted: Dead doesn't reinvent the wheel, but tries to make good use of the established mechanics of shooting games to offer a fun action title with state-of-the-art graphics!
So, looking forward to playing any of the games on this list? Or what do you want left out? Be sure to let us know your most anticipated shooter for 2022 in the comments!