For better or for worse, social networks continue to grow in number of users each year. However, these platforms also increased the amount of digital influencers — even in our country. Some profiles, however, remain at the top of the most followed lists and are unlikely to be debunked in the near future.
But after all, who are these people? In this article, we will list the 11 people with the most followers in Brazil in 2021, specifically focusing on Instagram, which is one of the most relevant social networks at the moment. If you are interested in any of these profiles, be aware that the platform is currently testing a feature to bookmark users.
11. Maisa (@maisa) — 39.9 million followers

Maisa started her career on SBT many years ago.Fonte: IG
Much loved in all her social networks, Maisa started her career on SBT as a child and today she has almost 40 million followers. In addition to being a presenter, she is also an actress and is currently dedicated exclusively to productions linked to streaming services, such as Netflix.
10. Bruna Marquezine (@brunamarquezine) — 41.3 million followers


Actress Bruna Marquezine is an ambassador for several brands.Fonte: IG
Actress Bruna Marquezine, ambassador of several national and international brands, opens the Top 10 of this list with style. The model also travels the world to carry out various jobs and is very active in her social networks, even risking taking firm positions on some issues.
9. Marília Mendonça (@mariliamendoncacantora) — 41.6 million followers


Marília Mendonça was already very successful before her death.Fonte: IG
The profile of Marília Mendonça, singer from Goiás, who died in a plane crash at the beginning of November, is still active and accumulating more and more followers. Also known as "Queen of Sofrência", she was already gaining notoriety due to her live broadcasts during the pandemic and music releases.
8. Larissa Manoela (@larissamanoela) — 41.7 million followers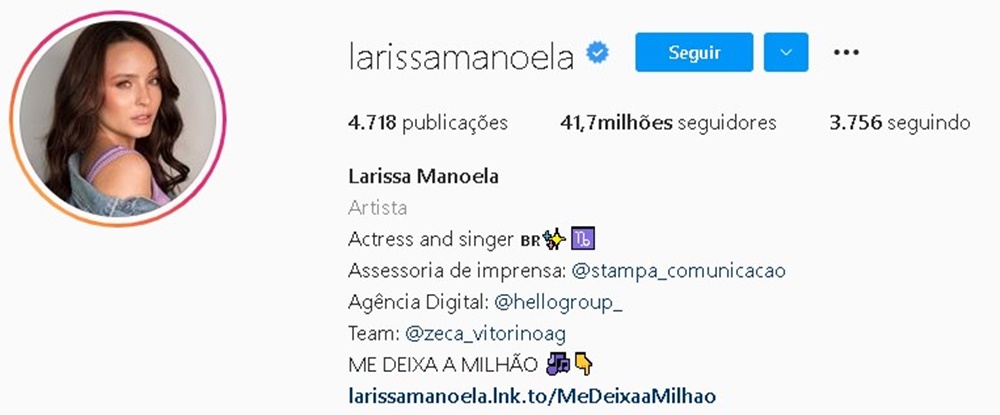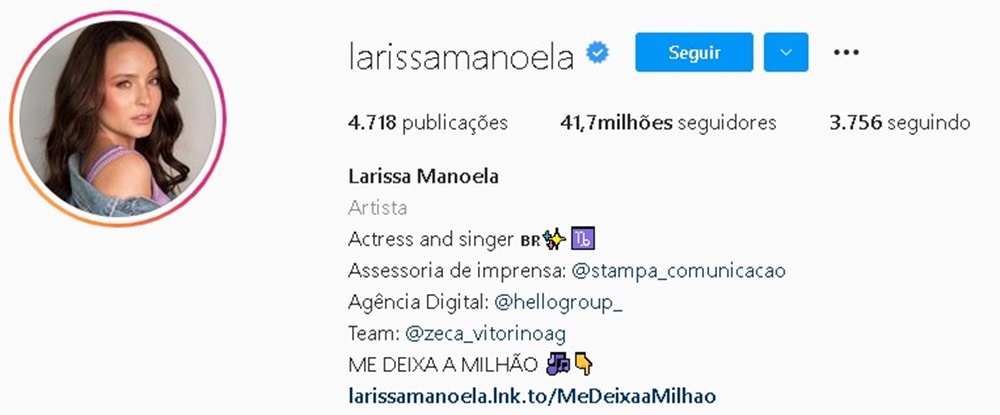 Larissa Manoela also started her career at SBT.Fonte: IG
Like Maisa, Larissa Manoela also started her career on SBT, but today she divides her time between recordings on Globo and Netflix. The actress is also successful because of her musical performances, which shows that she has many talents.
7. Gusttavo Lima (@gusttavolima) — 41.7 million followers


Gusttavo Lima shows his talent on social media.Fonte: IG
The singer from Minas is very successful on social networks because of his music and sharing his personal life — especially the daily lives of his children. The end of his marriage in 2020 (and the rapprochement as early as 2021) with Andressa Suita seems to have increased Gusttavo Lima's digital strength.
6. Tatá Werneck (@tatawerneck) — 50 million followers


The comedian Tatá Werneck is successful at IG.Fonte: IG
The comedian and host of the show Lady Night it breaks the mark of 50 million followers and conquers the internet with its incomparable humor. Tatá also has an extensive curriculum as an actress, but today she has dedicated herself to other fronts of her career and also to her family.
5. Marcelo Vieira Jr. (@marcelotwelve) — 50.2 million followers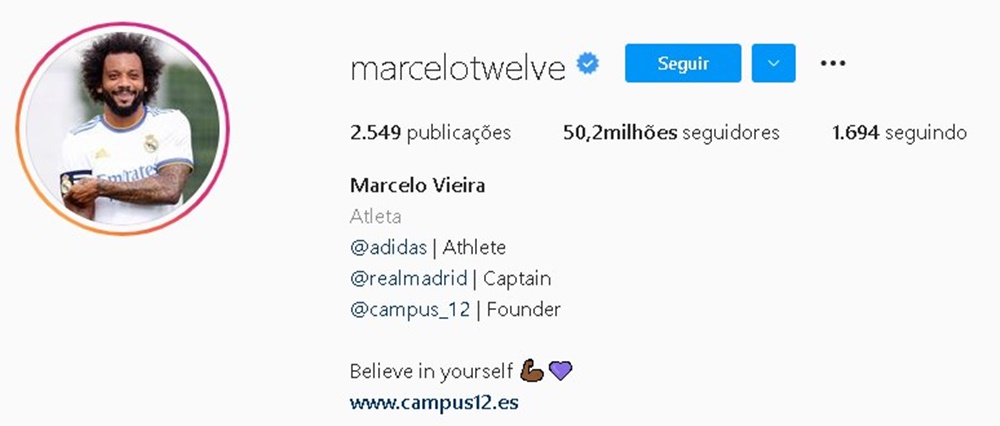 The Real Madrid starter since 2007 is one of the few "non-artists" on the list.Fonte: IG
The first "non-artist or musician" on the list is player Marcelo, a highlight of the World Cup in 2018 and a member of Real Madrid since 2007. Avoiding getting involved in controversies, his profile is very well behaved and he stood out precisely because of his technical quality that he demonstrates in matches.
4. Whindersson Nunes (@whinderssonunes) — 54.6 million followers

Comedian and youtuber Whindersson Nunes has nearly 55 million followers.Fonte: IG
The comedian, comedian and youtuber from Piauí impresses with his nearly 55 million followers. Charisma is one of the trademarks of Whindersson Nunes, who despite constantly struggling with depression, still lavishes happiness on social media to serve as an inspiration to other people.
3. Anitta (@anitta) — 56.7 million followers


With talent to spare, Anitta is the most followed singer in Brazil.Fonte: IG
The Top 3 on the list starts with none other than Anitta, the most followed artist in the country. The singer's success story is unquestionable and today she accumulates not only a legion of fans and awards, but an enviable fortune.
2. Ronaldinho Gaúcho (@ronaldinho) — 61 million followers


Former player Ronaldinho Gaucho is second on the list.Fonte: IG
Twice elected the best player in the world, Ronaldinho Gaúcho is the second most followed in Brazil. Although he has already retired from the pitch for a few years, he still serves as an ambassador for Barcelona, ​​a club for which he has made history alongside other big names.
1. Neymar Jr. (@neymarjr) — 165 million followers


The "boy Ney" tops the list in Brazil.Fonte: IG
In the isolated lead on the list, Neymar has no fewer than 165 million followers. The holder of Paris Saint-Germain and the Brazilian national team has fans not only in our country, but all over the world. His talent with the ball definitely explains this number so expressive on social media.
Do you follow any of these profiles on social media? If you like Instagram, know that it is now possible to activate a secret font for the texts of the stories. And if you're interested in becoming an influencer on social media, you should keep an eye out for the next edition of "Creator Week".