From May 12 to 31 (included), take advantage of a € 100 discount for any pre-order of a Zenfone 8 (8GB / 128GB version) on the Fnac website with the code "Zenfone8". Discover the details of the offer and the description of these new smartphones in this article.
The ASUS brand has just announced its latest Zenfone 8 and Zenfone 8 Flip with a nice surprise! First of all, fans of the Flip camera unveiled with the Zenfone 6 and carried over to the Zenfone 7 will not be disappointed since the new Zenfone 8 Flip uses the same concept that made it a success with a community of creators of content. Its ability to deliver the same photo and video qualities both front and back has won over many influencers and vloggers. It is therefore logical that ASUS offers us this third iteration.
But it is especially with its Zenfone 8 that ASUS has surprised with an extraordinary proposal! By cultivating its difference with other smartphones on the market, the manufacturer offers us a compact smartphone that will delight little hands without compromising on performance. Brief review of the 5 points to know about THE compact smartphone of 2021.
Zenfone 8: design and performance
Zenfone 8 redefines design to deliver ultimate performance without being heavy or bulky. The curved 3D back cover conforms perfectly to the palm of the hand for a comfortable grip and total control. On the back, the all new anti-reflective glass gives it a clean and elegant appearance by limiting fingerprints. It is also the brand's first smartphone to offer IP68-certified water and dust resistance to deal with everyday unforeseen events. The ZenUI 8 operating system combines fluidity, speed and simplicity. It includes the all new one-handed mode, which allows users to reach any part of the interface easily and effortlessly with their thumbs. Combined with the ergonomic dimensions of the Zenfone 8, it offers unparalleled ease of use.
On the performance side, no compromise since ASUS has equipped its Zenfone 8 with the new Qualcomm® Snapdragon ™ 888 5G mobile platform accompanied by an Adreno ™ 660 graphics chip. To date, it is therefore the most powerful platform. on Android. RAM and storage are not left out as there is a 16GB version of RAM in LPDDR5 and storage space of up to 256GB in UFS3.1. The Zenfone 8 is quite simply the most powerful in its class in addition to being the most compact of ASUS smartphones.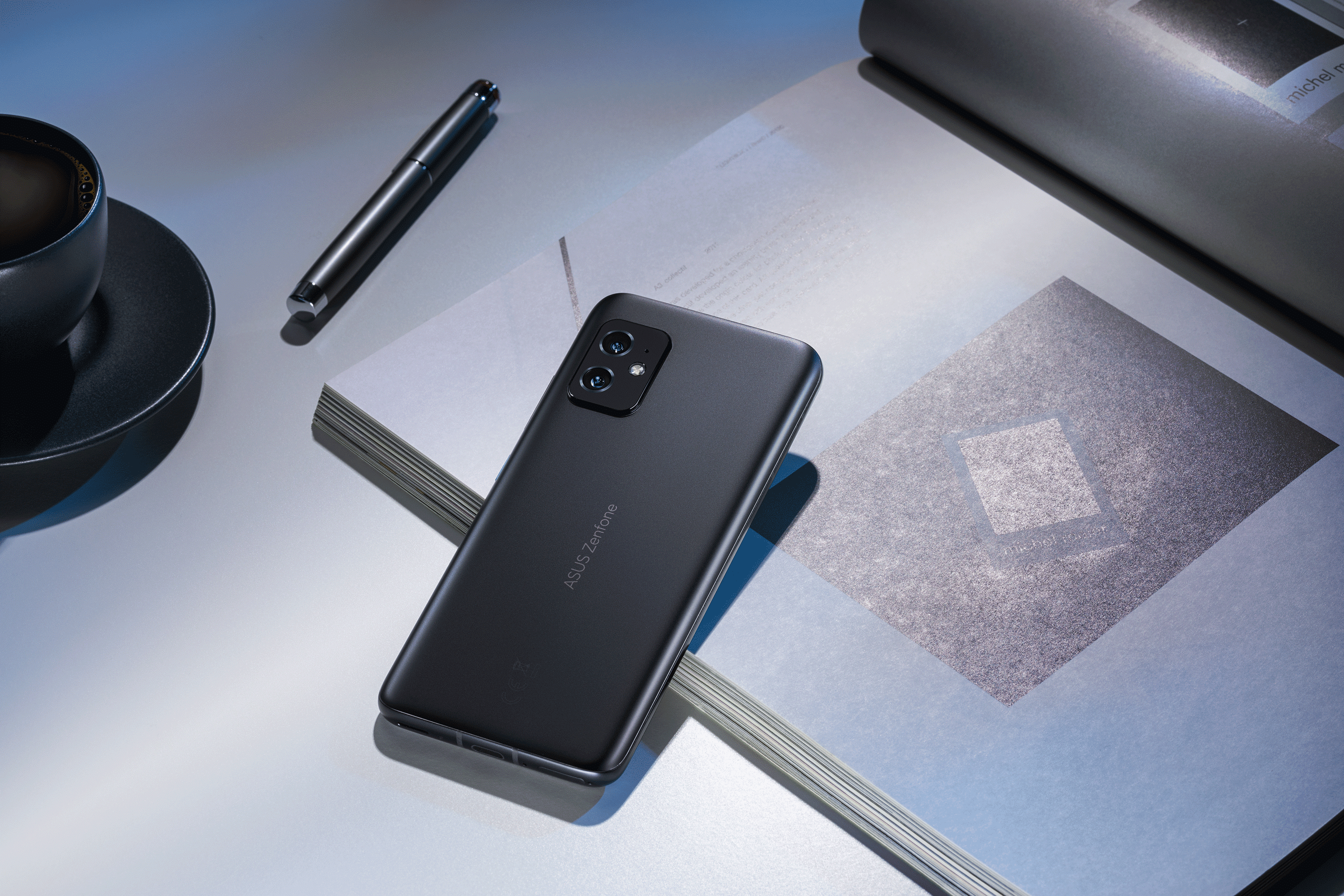 A new Battery Mode that allows you to choose between autonomy and performance
Despite its compact size, the Zenfone 8 packs a powerful 4000mAh high-capacity battery that keeps it running longer and a 30-watt HyperCharge adapter for fast charging. The new Battery Mode integrated into the ZenUI 8 interface allows users to choose between battery life and performance according to their needs, with several preconfigured automatic modes. Advanced Mode allows users to fine-tune battery performance settings to suit their tastes.
The Zenfone 8 takes special care of its battery in order to extend its life and prevent wear. The battery maintenance system thus has a variety of configurable and customizable options including constant charge, programmed charge and charge limitation. There's also advanced app management that limits idle apps in the background to achieve up to 67% more energy savings. Under optimal conditions, the phone can be charged in 25 minutes for 60%, and in 80 minutes for 100%, thanks to its 30W charger.
Photos and videos: a 64 MP main sensor and new video features
The Sony IMX686 64 MP wide-angle primary lens delivers unprecedented resolution and high light sensitivity for quality photos day and night. The second 12 MP Sony IMX363 ultra-wide-angle lens offers even more freedom for compositions, and can also take incredible macro shots. Together with the main sensor, the ultra-wide-angle lens also allows for impressive HDR shots and low-light photos, increasing the brightness of dark images up to 4 times.
The Sony IMX663 front camera delivers excellent selfies while taking up as little screen space as possible, and it also supports dual-pixel autofocus for crisp, crisp images. The Zenfone 8 offers a video recording experience like no other smartphone. The wide-angle camera offers industry-leading 8K 30 fps video recording with electronic image stabilization, and the ultra-wide-angle camera offers 4K 60 fps recording, allowing users to capture every moment in stunning detail. high quality.
This generation comes with new video features including HyperSteady, Free Zoom, and Pro Video Mode to give videos a professional touch. Thanks to its three microphones, the Zenfone 8 records high quality sound while shooting, and the audio can also be optimized with features such as Wind Filter, Mic Focus and Acoustic Focus to focus on the sounds of objects. selected and isolate them.
An HDR10 + certified AMOLED display
Zenfone 8's ultra-fast 120Hz AMOLED display, with its 1ms response time, ensures smooth viewing and blur-free images. Together with industry-leading visual processing company Pixelworks, it delivers lifelike visuals with a 112% DCI-P3 color gamut, displaying each color even more faithfully and accurately with a Delta E of less than 1. .
The display is also HDR10 + certified to bring out details, even in the darkest scenes. It is protected by the new Corning® Gorilla® Glass Victus ™ glass. The Zenfone 8's 5.9-inch screen is the perfect size for one-handed use. The all-new one-handed mode gives users full, comfortable control using just their thumb – swiping down from the edge of the screen reduces window size and puts all controls at their fingertips. Users can even adjust the height of the window according to their preferences.
And if you had to give you another reason to fall for this compact but powerful smartphone, a pre-order offer of a discount of 100 € is currently available on the FNAC website by entering the promo code "Zenfone8" from the May 12 to 31, 2021 on the most affordable version in 8GB / 128GB. This offer is valid on both black and silver colors, but don't delay because quantities are limited.
This article is a sponsored post provided by Asus.