It's Black Friday Week! The week before Black Friday is a good deal. If you don't know what to give for Christmas which arrives in less than a month, you can take a look at our selection of high products on sale before Black Friday 2020. There is something for all tastes and budgets, to be found. please, follow the guide!
The top high-tech offers before Black Friday 2020
It's this Friday, November 27th that the Black Friday deals should have started. Indeed, some brands have decided to postpone the event for a week to postpone it to December 4. That said, the end of the year period and preparations for Christmas gifts oblige, e-merchants play the game and offer before the hour as part of Black Friday Week (the week before Black Friday) good deals on many high-tech products.
Mobile telephony operators are also going there with their promotions, notably Red by SFR which unveils for the occasion a crazy offer: 200 GB at 15 €! Find our daily selection of the best promotions during Black Week.
Red by SFR 200 Go package at € 15
For Black Friday, Red by SFR brings out the big guns and offers a unique package. The Red by SFR 200 GB mobile plan at € 15 per month is available until Monday, November 30, 2020 inclusive. In addition to being non-binding, this package has a rate that does not increase, even after the first year. It is therefore suitable for all those who wish to subscribe to a mobile plan and keep it over time.
For this low rate, you are entitled to: 200 GB of Internet in metropolitan France (over 200 GB, recharging from 50 GB to 10 € possible, 1 maximum recharge then internet use blocked. SFR Wifi and modem use included) but also a 15 GB envelope of internet usable in the European Union / DOM.
Of the game too; unlimited calls 7 days a week to all mobiles and landlines in metropolitan France and overseas departments (excluding Mayotte) from metropolitan France, unlimited SMS and MMS 24 hours a day to all operators in metropolitan France.
From mainland France and unlimited calls, SMS and MMS in the European Union / DOM and from these same destinations. It takes 10 euros for the triple-cut SIM card, to be paid at the time of ordering.
Amazon Echo Dot 4 + Philips Hue bulb at € 34.99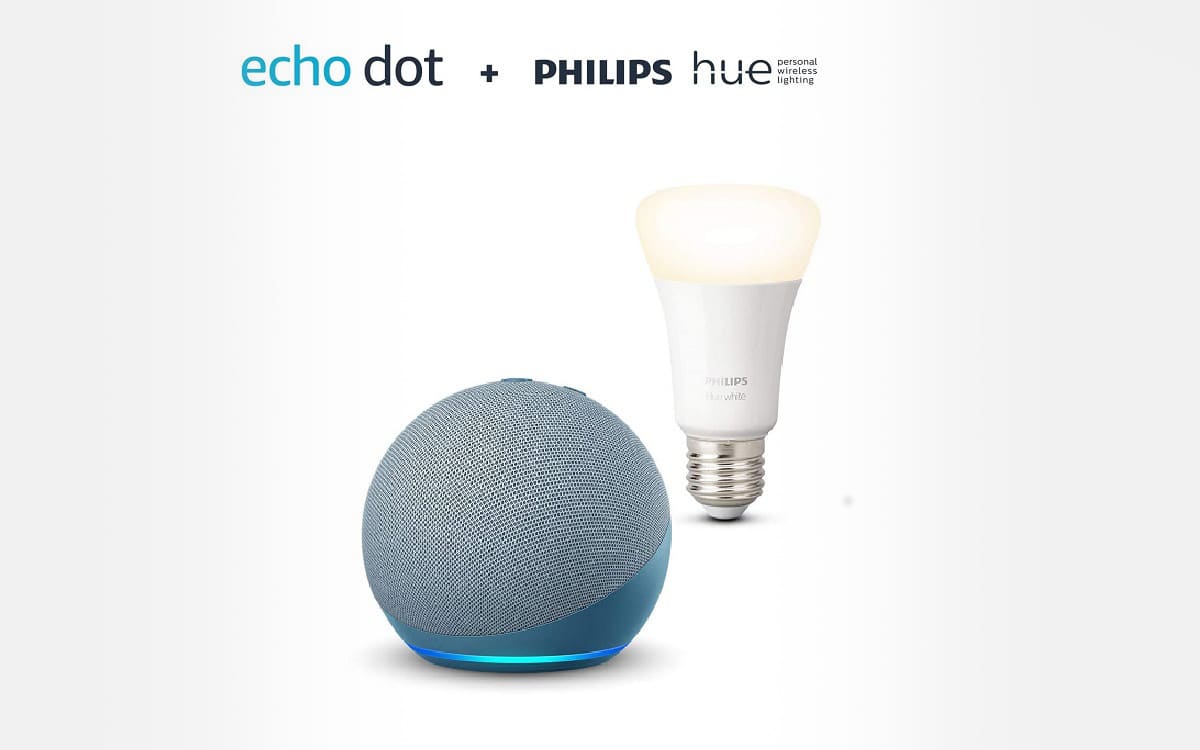 We continue our selection of the best offers of this Black Friday Week with the new Echo Dot 4 from Amazon. It is offered at the contained price of € 34.99 with a Philips Hue White E27 connected bulb compatible with Bluetooth and Zigbee. Rather not bad knowing that in separate purchase, the whole will come down to 79.94 €.
It is therefore a saving of 44.95 € that you realize by purchasing it via this good plan. Regarding the characteristics of the Echo Dot 4, it broadly resumes the features already found on the Echo Dot 3. The advantage of the Philips Hue bulb provided is that it is Bluetooth and Zigbee compatible and that it does not require the Hue Connection Bridge (sold separately) to operate. You can control it from your smartphone by installing the free Hue Bluetooth app.
Game & Watch Super Mario Bros at € 44.95
Here is an original gift to offer for Christmas! The Super Mario Bros Game & Watch is priced at just € 44.95 on the Amazon side. Simply the best deal around. Super Mario Bros. is included in the console as standard and playable in alternate mode as it was back then. In 2nd, we have the game Super Mario Bros 2 (also called here Super Mario Bros: The Lost Levels) and in third, there is Game & Watch: Ball, which features Mario juggling balls.
Google Nest Mini connected Christmas box at € 49.99
Like last year, it's the return of Google Nest Mini connected Christmas box! It is sold at a price of 49.99 euros instead of 89.99 euros on the Fnac and Darty sites. This promotional offer is part of a sale ending on December 1, 2020 at 9 a.m. and access to the Deezer Premium music streaming platform is offered for a period of 6 months.
In addition to the Google Nest Mini voice speaker, an electric garland and a connected outlet We earz are also included in the pack. With the connected plug, the user will be able to control all their electrical devices by voice or through an application on their smartphone.
Huawei Watch GT 2e connected watch at 99 €
We continue our selection of gift ideas for Christmas with the connected watch Huawei Watch GT 2e which goes below the 100 euros mark on the side of the online store Amazon which offers it on sale at 99 €. Rather not bad knowing that it is generally around 130 €. A beautiful connected object to put without hesitation under the tree!
In terms of functionalities and technical characteristics, we find the Kirin A1 chip, a 1.39-inch AMOLED HD touch screen (resolution of 454 x 454 pixels) and above all a storage space of 4 GB. Its autonomy is also one of its many strengths since it can reach up to 14 days.
The Watch GT 2e is also waterproof to a depth of 50 meters and also incorporates a host of features such as 85 training modes, VO2Max control, heart rate monitoring at all times or monitoring and analysis. sleep with Huawei TruSleep 2.0 technology.
Bose SoundLink 2 Mini Bluetooth speaker at € 118.99
If you want to offer a Bluetooth speaker, you can take advantage of this good deal seen on Cdiscount which allows you to get the excellent Bose SoundLink Mini II at 118.99 € instead of 159.99 € on average, i.e. a reduction of 26% . You have the possibility to pay in 4X free of charge.
The Bose SoundLink Mini II delivers powerful bass and great sound. There is also a USB-C charging port, an AUX input and a built-in microphone for using the hands-free function or accessing a phone's voice assistant. Finally, the speaker has voice prompts for easy Bluetooth pairing and is able to memorize up to eight devices at a time.
Urban Ride 85 electric scooter at € 129.91
Urban mobility is also in the spotlight with the UrbanGlide Ride 85 electric scooter, which is priced at 129.91 euros from Electro Dépôt. Regarding its functionality, the UrbanGlide Ride 85 can reach a top speed of 25 km / h, for an estimated range of 20 kilometers.
The autonomy depends on several factors such as the quality of the road and especially the weight of the user. The electric scooter has a 6Ah lithium battery which allows it to be fully charged for 4 hours. It is also equipped with a 250W motor, front / rear suspension and two 8.5-inch wheels.
Philips Hue discovery pack at € 159.89
If you wish to connect your interior, the good Baker plan that follows is likely to interest you. The starter pack with 5 connected objects from Philips Hue is 159.89 euros or 60.10 euros less than its recommended price. The 5 connected objects are as follows: 2 White & Color E27 bulbs, 1 Hue Play, 1 Dim Switch remote control and 1 Hue bridge.
Bose quietComfort II headphones at € 209.99
The Bose QuietComfort II is priced at € 209.99. An excellent deal since this model is usually sold for € 379.99. This saves you 170 €. Amazon also offers free payment for the item in 4 installments by credit card.
As for the strengths of the headphones, the QuietComfort 35 II is notably equipped with noise reduction technology. Featuring Google's voice assistant and Alexa, the wireless headset responds to your voice to play music, send a text, or take a call. It has a maximum autonomy of 20 hours thanks to its rechargeable lithium-ion battery. Finally, the device is supplied with a case, a USB cable and an audio cable.
Mega pack PSVR V2 + PS Camera V2 + 5 games at € 229.99
For people who want to try their hand at console virtual reality, the PSVR V2 is the ideal solution. The latter is compatible with Sony's new console, the PS5. So you can continue to enjoy 100% immersive games on the new generation. As long as you get the PSVR adapter for the PS5 which is completely free.
For Black Friday Week, the PSVR V2 mega pack with the PS Camera V2 and the five games included in the pack are offered to € 229.99 only, instead of the suggested retail price of € 329.99. That's € 100 savings on the pack. The 5 games included in the pack are: PlayStation VR Worlds, The Elder Scrolls V: Skyrim, Astro Bot: Rescue Mission, Resident Evil 7 and Everybody's Golf VR.
Which brands have the best Black Friday deals?
If you want to do some high-tech shopping for Christmas, there are a few shops that stand out with their promotions. Below, we have made a small list for you and for each one, we will set up a dedicated article in which you will find their best tips.