The news that LastPass will stop allowing a free account at the same time for PC and mobile took many users by surprise and was part of the community to go after a new program to save passwords.
In addition, many people have never used a password manager, but they may have started to consider it recently – the Google Chrome browser is often a basic alternative and Dropbox is slowly entering the industry.
For both cases, the TecMundo selected a dozen free services that store your registration codes and bring an additional layer of security when logging in to social networks, online stores and other registrations.
1. Bitwarden
Considered the best alternative to LastPass after the change, Bitwarden also has a paid version, but at least for now the free version offers an almost impeccable service in password management.
The app in desktop and mobile versions.Source: Bitwarden
This is an open source program that offers synchronization with more than one device and for up to two users, in addition to storing important digitized documents, such as identity cards. It is also possible to use a password generator to create unique and protected codes.
2. KeePass XC
KeePass XC is another open source program capable of generating and storing codes for the user on the computer, with integration with the main browsers on the market and versions optimized for Windows, macOS and Linux.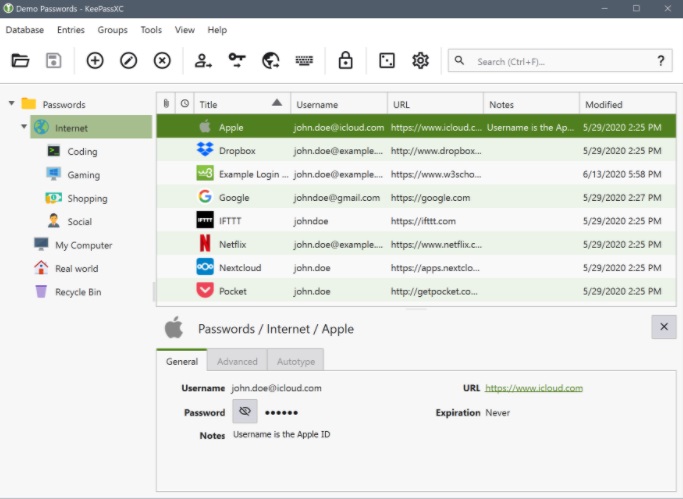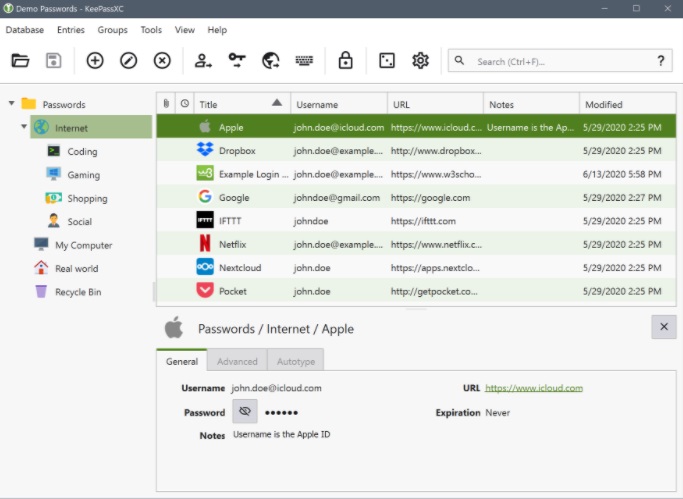 KeePass XC on your computer.Source: KeePass XC
However, it has some negative points in relation to competitors: the interface is a little more complicated for less experienced users, in addition to requiring the use of a third-party cloud like Google Drive to synchronize with other devices.
3. Zoho Vault
The free version of Zoho Vault is ideal for individual use and already offers a number of features that many complete programs do not include. It allows unlimited storage of passwords and notes, as well as attachments.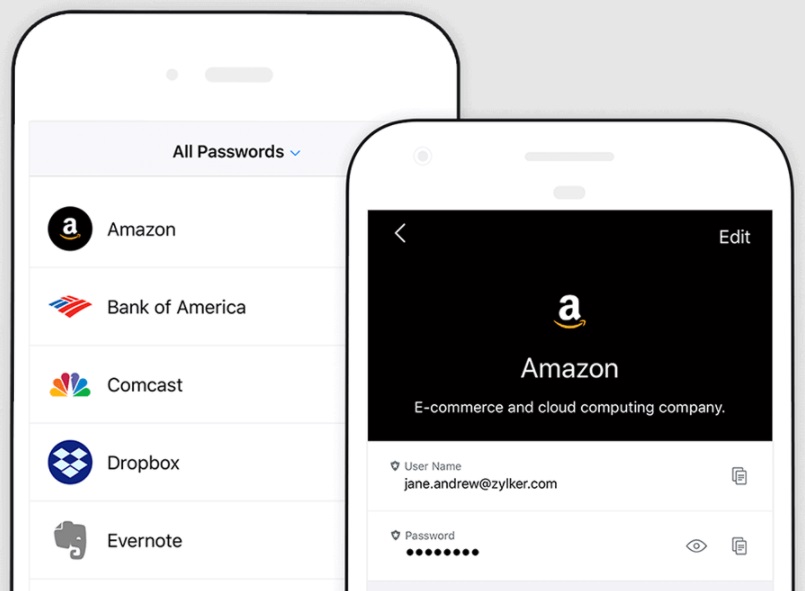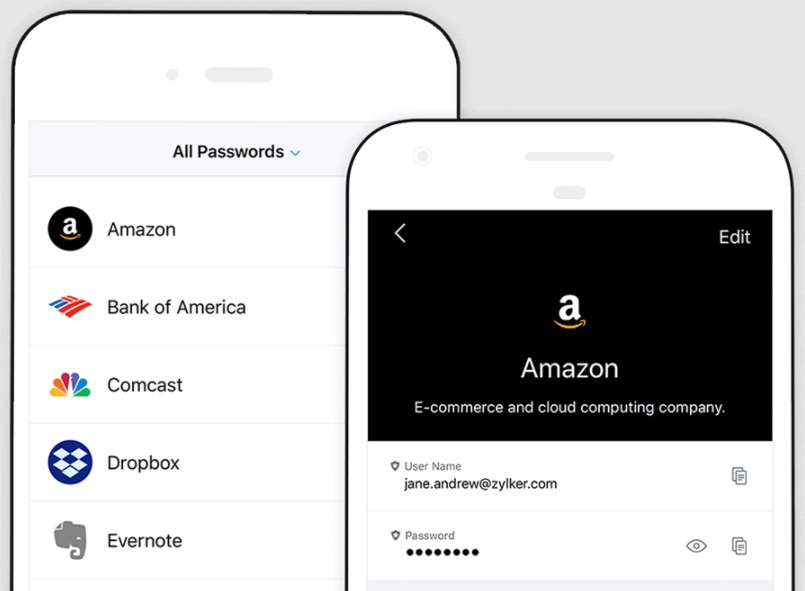 Zoho Vault.Source: Zoho Vault
The app also maintains password access and activity monitoring to check if you have been the victim of a vulnerability and allows offline access. There are even complete reports that evaluate your passwords on topics such as security and repetition between services, for example.
4. Dashlane
Dashlane is a password manager that has changed a lot over time, regaining many users who stopped using the service a few years ago. Apart from managing and creating passwords, it allows the sharing of up to five accounts securely, personalized security alerts about intrusions and leaks. Like most programs in the industry, it also features automatic forms and payment filling.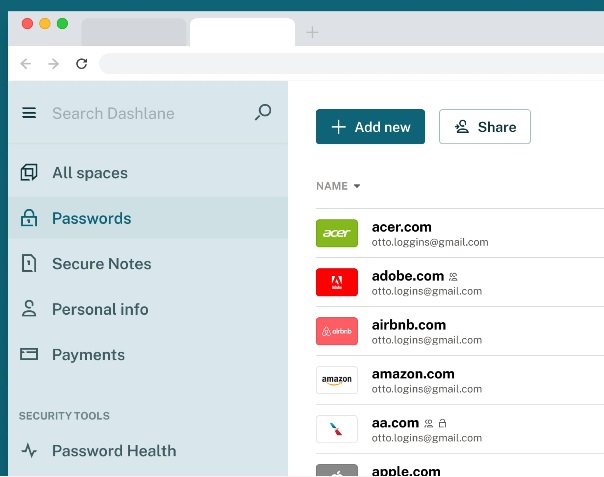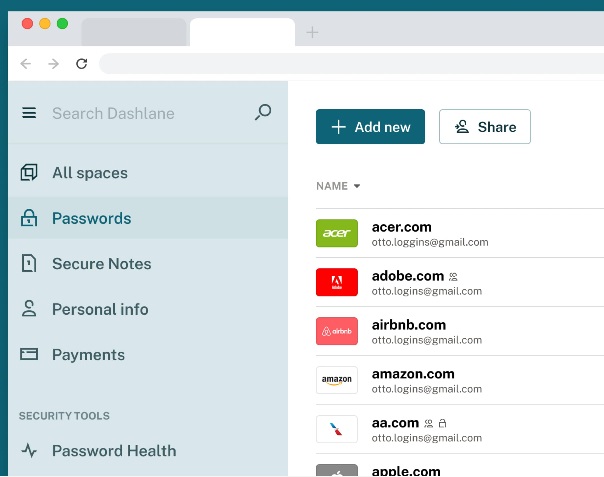 Dashlane's organization is one of the differentiators.Source: Dashlane
It has only one important limitation: the app only allows the storage of 50 passwords per device. If you are logged in to many services, this can be a problem.
5. WWPass PassHub
WWPass PassHub is a password manager that also generates secure codes, encrypts this data and allows unlimited synchronization between devices. It even uses a QR Code scheme to make it easier to open your code vault anywhere with the app installed.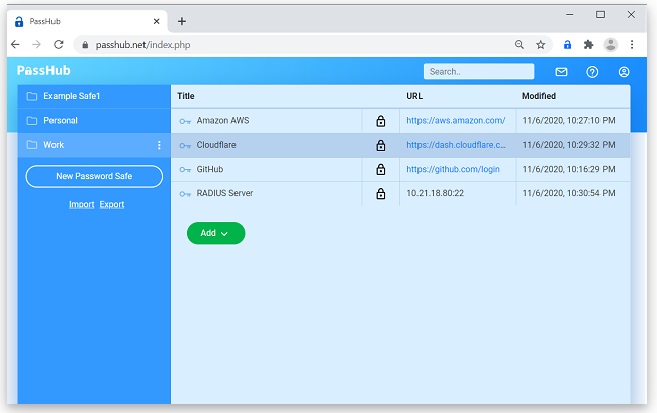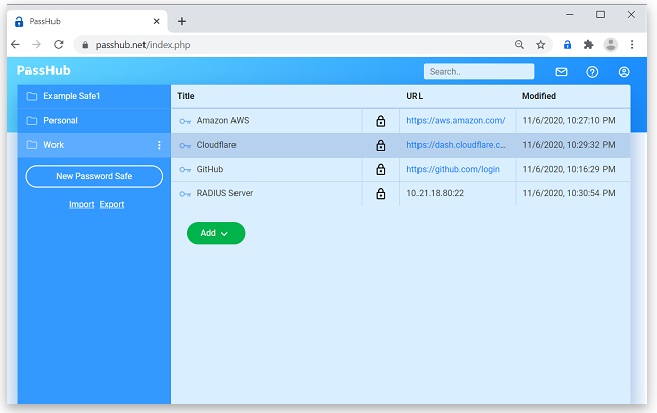 The PassHub interface.Source: PassHub
The free version allows the storage of 200 passwords or 100 MB of file storage.
6. NordPass
NordPass is a password manager maintained by the same company as the traditional NordVPN. It is another option that maintains a paid plan, but whose free option can already serve many users.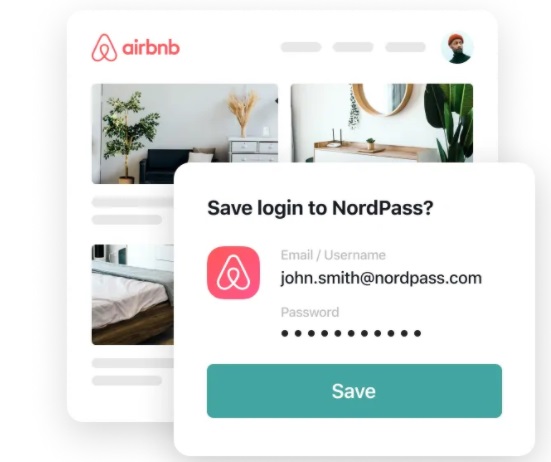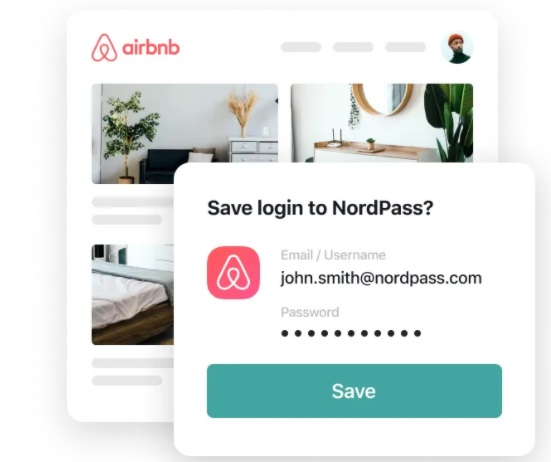 NordPassSource: NordPass
It is easy and intuitive to use, allowing automatic synchronization between any device, unlimited stored codes and space for attaching documents. However, the app lacks differentials and additional functions.
7. Myki Password Manager & Authenticator
Highly praised, the Myki password manager works offline, uses secure features to manage your account (such as two-factor authentication or biometrics) and allows you to log in between devices.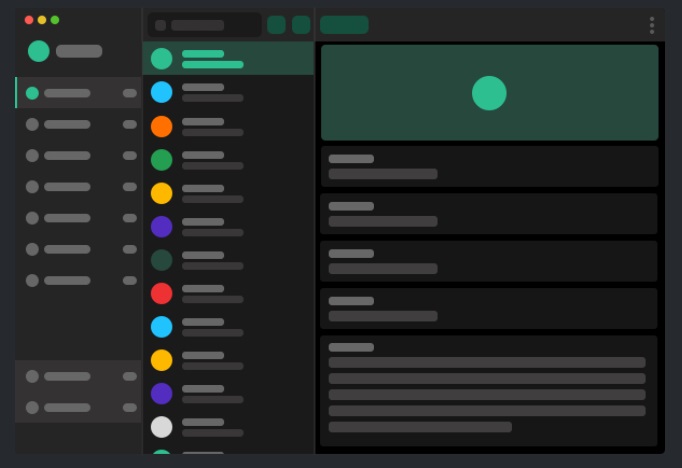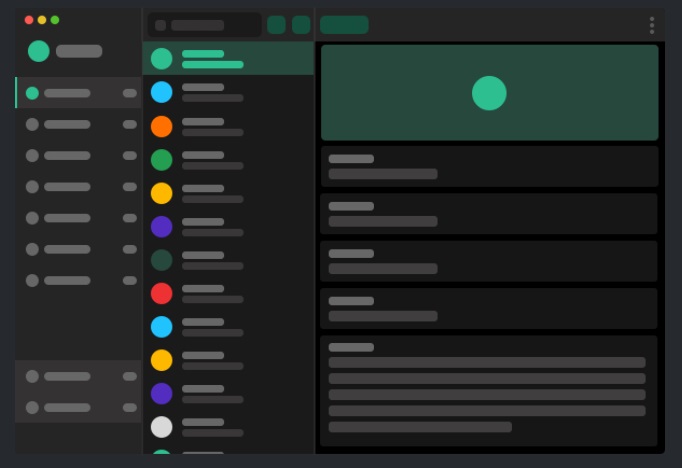 Myki has the advantage of security to trigger saved passwords.Source: Myki
It also has a digital wallet to store credit cards and facilitate payments in online stores.
8. LogMeOnce
LogMeOnce brings a number of useful features already in the free plan. It features unlimited passwords and synchronization, as well as allowing 1 MB of encrypted storage and technical support by email.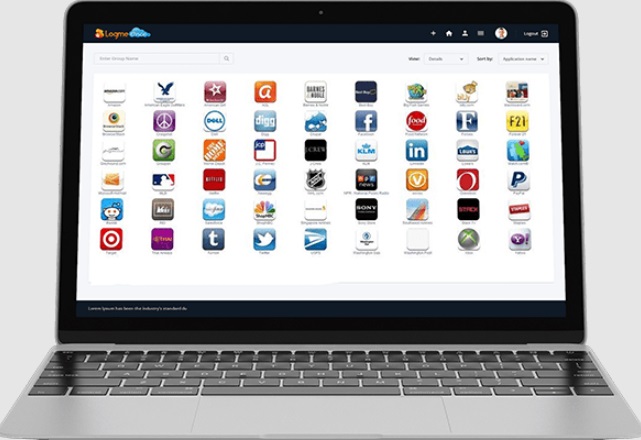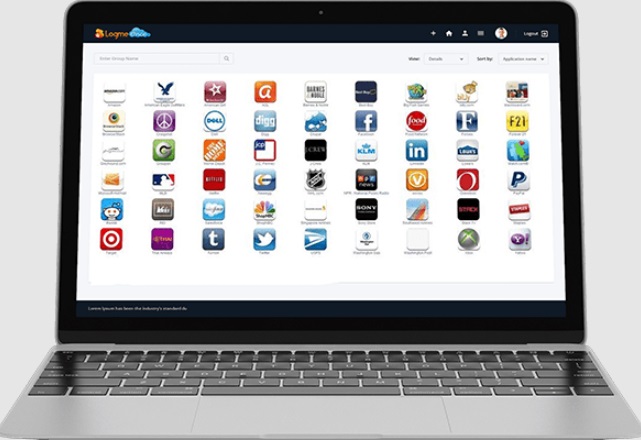 The LogMeOnce manager on the PC.Source: LogMeOnce
The app also monitors forums and services for any leaks in your passwords and encrypts your saved passwords even if they are on third-party storage services, such as Google Drive. One of the negative points is that there are ads in the smartphone version.
9. True Key
TrueKey is the password manager for the traditional security app developer McAfee. The free version only allows the storage of 15 passwords, but it brings local data encryption and synchronization between devices.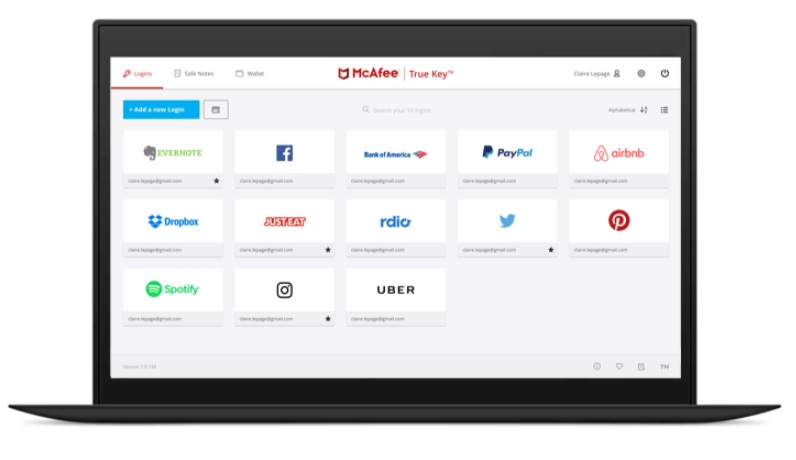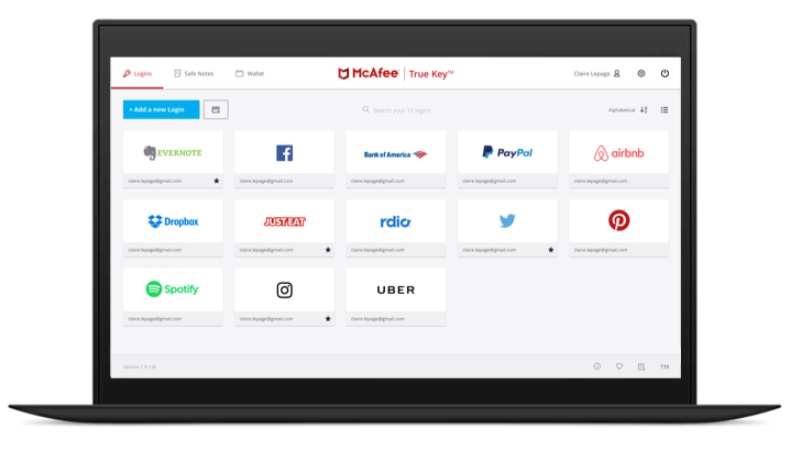 The main interface of the service.Source: TrueKey
If you want to migrate to the paid version, it is one of the most affordable: the annual plan costs less than R $ 30 and offers unlimited resources.
10. Sticky Password
This password manager offers the industry's top application features without any limitations. Everything is protected thanks to standard AES-256 encryption and accounts are synchronized within the same Wi-Fi – a great resource for businesses and homes.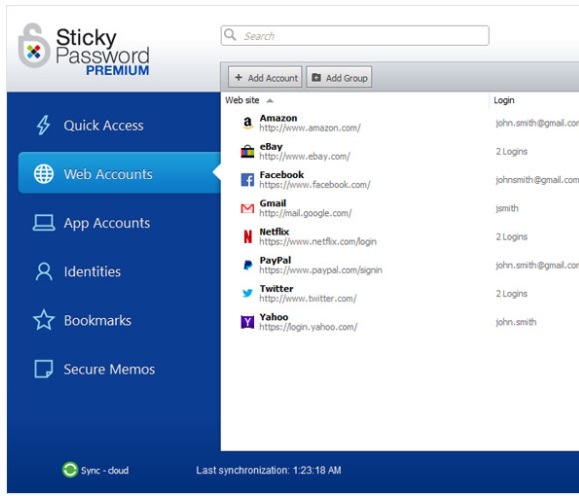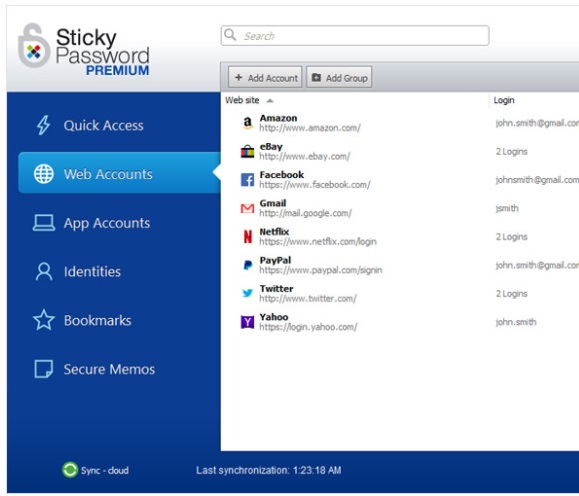 Sticky Password.Source: Sticky Password
Sticky Password also has a portable and executable version via USB device for Windows.